Sprout Social is one of the most popular tools for social networks and business owners. The social media management software comes with a wide range of enterprise-focused tools. Also, its intelligent social inbox makes it simple to work with your team. But, its Price is a
significant
disadvantage. And that's why people look for some kick-ass Sprout Social alternatives.
Luckily, there are a lot of excellent alternatives available on the market. Many of them are much less expensive and come with even more amazing features.
This article will present the most popular 17 Sprout Social alternatives for 2022. We'll review every app's unique options and pricing. So, you can take a thorough look at the value for money
or
workflow. And why these are fantastic alternatives to sprout social. With no further ado, let's dive right in.
Why Should You Consider Alternatives to Sprout Social?
Sprout Social has many great benefits, but some unpleasant aspects as well. That's why people look for better alternatives. So, let's discuss some of the significant shortcomings of Sprout social.
1. Has High Price
Sprout Social has a high price for all its plans. And these plans offer the same features that many other brands are offering for a much lower cost. This is a major reason people are looking for its alternatives.
2. Does Not Support YouTube And Pinterest
If you're looking to keep track of your Pinterest and YouTube, Sprout does not support it.
It only supports Twitter, Facebook, Google + pages, Instagram & LinkedIn (profiles and pages).
3. Does Not Offer an AI Content Generator
An AI social media content generator is the most in-demand feature these days. This is because it saves you a lot of hassle and saves a ton of your time as well. All this while producing top-notch written content for you.
Sprout Social does not offer it. And this is a good reason, SocialBu is a great alternative. It provides an easy-to-use AI Content Generator.
To know all about SocialBu's AI Content Generator, read our blog; How to Use SocialBu to Generate AI-based Content for Your Social Media.
4. Does Not Offer an Impressive LinkedIn Integration
Sprout Social has a Lack of integration with LinkedIn. You can only post to LinkedIn corporate pages and user profiles using the Compose window. But, it does not incorporate LinkedIn's feed into the messages stream. It is also not possible to have LinkedIn activity linked to any reports. And this is a huge reason users often search for alternatives.
17 Kickass Sprout Social Alternatives for 2022
Here are some of the best Sprout Social Alternatives that can make your work easier and more fun.
1. SocialBu
SocialBu is one of the best and most well-designed social media scheduling tools. Many marketers love it as it saves their time and hassle. It is one of the best alternatives offering all the features that sprout social lacks. And that too in a more affordable pricing structure.
This tool also offers advanced features and is very easy to use. It solves improves your social media presence and maximizes your results as well. It is available on LinkedIn, Facebook, Instagram, Twitter, and Google My Business accounts.
SocialBu is the best Sprout Social alternative with an affordable price, simple interface, and quick results
.
Key Features
Social Media Scheduling
SocialBu offers unlimited scheduling across many social media platforms. Also, it provides advanced features like Twitter thread scheduling, Instagram post and story scheduling with a swipe-up link, etc.
Instagram Direct Story Scheduling
You can schedule your Instagram stories directly with SocialBu. It will keep you stay consistent in posting stories and keep your audience engaged. And this will help in improving your engagement rate as well as boosting your following.
Social Media Monitoring
The social media monitoring feature helps you keep track of all social conversations. It also monitors keywords, accounts, and hashtags that apply to your business. It saves you a ton of time and increases your efficiency. SocialBu monitors trends, relevant hashtags, and brand mentions to handle it all.
Social Inbox
SocialBu provides an efficient and easy-to-use unified inbox. It combines your social media inboxes into one dashboard. You're able to see and engage with all your social conversations from one place, which is a convenient feature.
AI Content Generator
SocialBu's AI content generator is an incredible tool that makes it easy and quick to create unique written content for your social media accounts.
Dynamic Automation
You can automate every social media scenario with SocialBu. This can be an automated response, alerting an external service about a new post, or alerting a user if a post contains a certain keyword.
Social media Monitoring
You can track all social media conversations with the social media monitoring feature. Also, you can track hashtags, accounts, and keywords relevant to your business. It makes your job easier and more efficient. SocialBu can take care of it.
Analytics
SocialBu has an advanced feature of post insights. It lets you know where your followers are converting. Know your top-performing Instagram posts by calculating your engagement rates. The analytics feature will also let you know the times when your followers are the most active.
Customer Support
SocialBu offers efficient customer support and mobile phone support.
Starting Price: $8 per month. There is a free version available as well.
2. Hootsuite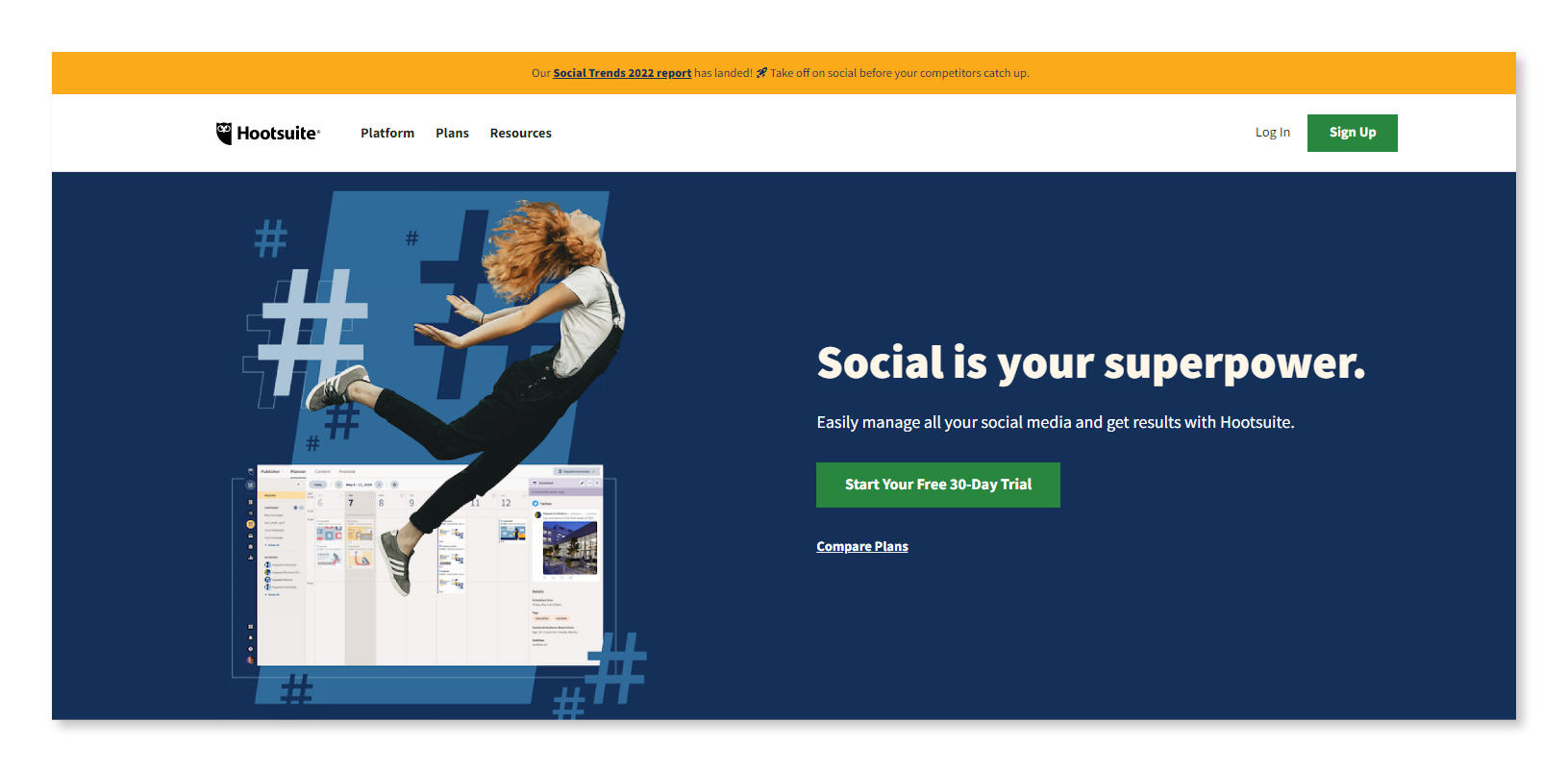 Hootsuite is another top-notch sprout social alternative. It is an efficient all-in-one social media management and organizing tool. The features of this tool are completely satisfactory. 18 million people use it worldwide.
As an alternative to sprout Social, Hootsuite can be a great choice.
You can create and schedule posts, manage
all
your channels, and plan upcoming campaigns with its appealing features
.
The supported platforms include Instagram, Facebook, Twitter, LinkedIn, and Pinterest.
Key Features
Multiple Platforms Control
Hootsuite will help you save time in your social marketing. You can manage Facebook, Instagram, YouTube, LinkedIn, Twitter, and Pinterest all in one place instead of logging into each social media platform one at a time.
Streaming
The "Streams" feature can help keep track of the latest conversations and the progress of different networks on one dashboard.
Analytics
Hootsuite also offers a wonderful Analytics feature for analyzing social media performance. Managers of agencies know how difficult it can be to measure the impact of social media on their businesses. Hootsuite's Analytics feature allows you to showcase your work.
Other promising features of Hootsuite are
Content curation
Social media monitoring
Performance reporting
Basic task management
Filtering
Content library
Starting Price: $19 per month. There is also a free trial available.
3. Agorapulse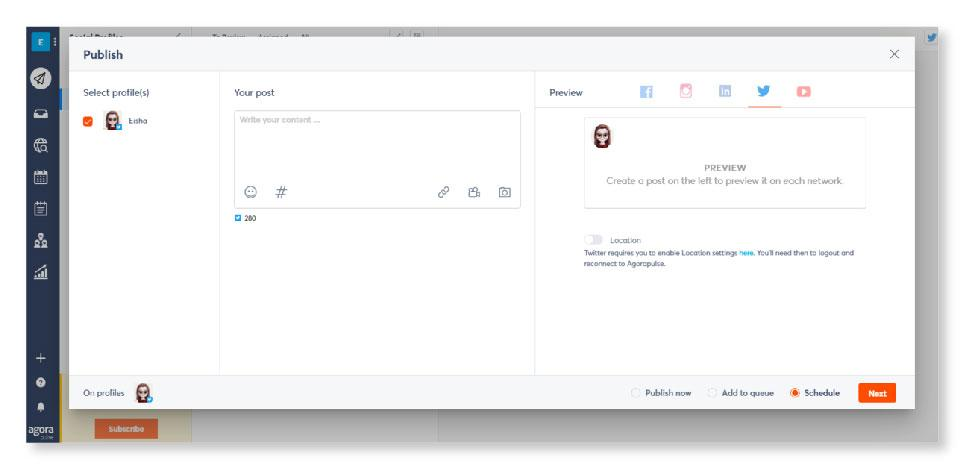 Agorapulse is a complete social media management system with over 11,000 users. It helps to develop and plan social media content. It combines these tasks throughout Facebook, Instagram, LinkedIn, Twitter, and YouTube.
We can say that Agorapulse is a good sprout social alternative.
You can finally get rid of all those annoying messages on your social media feeds that pop up everywhere and distract you with this tool
.
Key Features
Social Inbox
You will no longer need to read content from top-to-bottom and side to side in streams thanks to Inbox Zero.
Social Media Reporting
You will get Unlimited reports with every plan. You can download it using CSV or PDF.
Ads Comments Management
You can easily collect, moderate, and manage comments posted on your Facebook ads which is a huge plus point of this tool.
Post Scheduling
With Agorapulse, you can schedule the content, queue it up, format it, and publish it to multiple social networks at once.
Other impressive features include;
Activity Tracking
Benchmarking
Behavior Tracking
Collaboration Tools
Data Visualization
Keyword Filtering
Starting Price: $99 per month. There is also a free trial available.
4. Buffer
Thanks to Buffer for its easy-to-use and efficient features, it can be a good alternative to sprout social because it integrates WordPress, Google Chrome, RSS readers, and other tools that are important for finding content.
Key Features
Post Scheduling
With this feature, you can add specific time slots for the day when you'd like your content to be live on social media and save a lot of precious hours.
Built-In Analytics
Buffers have built-in analytics that measures engagement metrics such as clicks, comments, shares, and favorites.
Advanced Stats
Advanced stats help you see graphs of your essential stats side-by-side. You can set your timeframes that alter how you look at your data.
Buffer has some more exciting features like;
Calendar Management
Collaboration Tools
Data Import/Export
Multi-Account Management
RSS feed integration
Starting Price: $15 per month. A free plan is available as well.
Another interesting read if you want to know more about scheduling tools; 25+ Best Social Media Scheduling Tools Free For 2022
5. Social bakers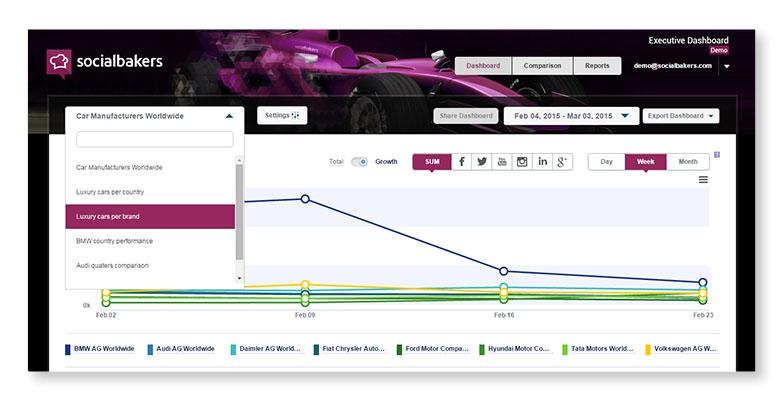 Socialbakers is an excellent Facebook analytics company that has partnered with the mega-popular social media site for years and now owns it. In addition, it has merged with another well-known name in customer experience software called Astute. It helps in giving them everything they need along their path, from awareness to advocacy.
SocialBakers' user-friendly interface makes it simple for Social media administrators to quickly update and manage their social media profiles. Since it is an AI-driven platform, it allows you to use the application to post at the most optimal times and boost the reach of your posts. And all this makes using social bakers as an alternative to Sprout Social a great option.
Key Features
Multiplatform Analyzation
It offers Flexible Widgets to allow analysis across platforms including Facebook, Instagram, Instagram Stories, Twitter, LinkedIn, Pinterest, and VKontakte.
Seamless Social Media Management
It has also expanded the publishing process and schedule to incorporate Instagram video, LinkedIn, and LinkedIn Showcase Pages. All within one calendar.
Content Hub
It comes by integrating a Content Hub of your publishing process, allowing users to take action with the content they see there.
Some other attractive features of social bakers are;
Customizable Reports
Influencer Tracking
Post Scheduling
Social Promotion
Starting Price: $200 per month.
6. Mav social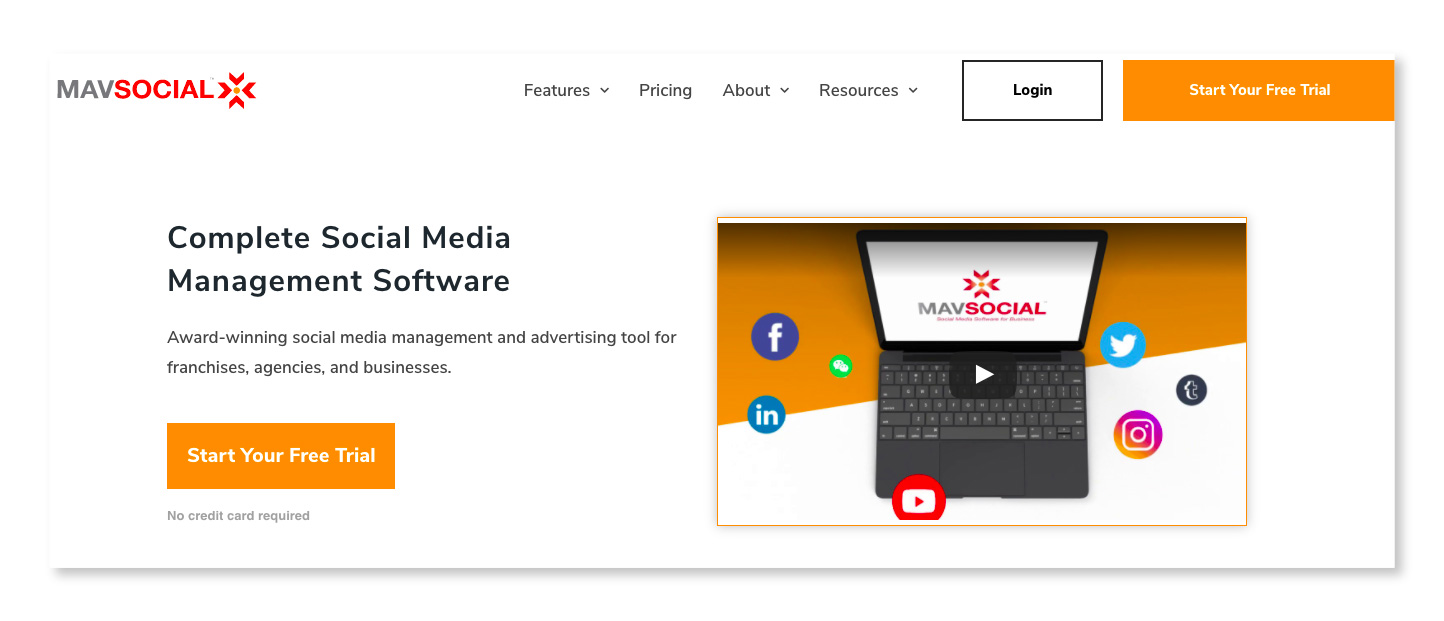 MavSocial is a fully integrated social media management & advertising solution for brands and agencies. It is an editorial and content management tool for advertisers and brands. MavSocial lets users upload media files to a cloud-based library, allowing them to easily organize, analyze, and plan for different social media channels.
MavSocial is an excellent sprout social alternative because it is a fully integrated social media management and advertising tool for franchises, SMB, agencies, and enterprises.
Key Features
Campaign Calendar
The campaign calendar is excellent for visually checking out the dates and times you've covered.
License Content
MavSocial gives you access to over 100m free stock images, which means you can easily find a perfect match for any content.
Scheduling and Automation
With MavSocial, you can easily schedule and automate the content that you want to publish on your social media platforms. The scheduling process is super quick and easy.
Other key features of Mav Social are
Audience Targeting
Customer Segmentation
Multi-Account Management
Performance Metrics
Starting Price: $19.00 per month. It offers a free plan as well.
7. Sprinklr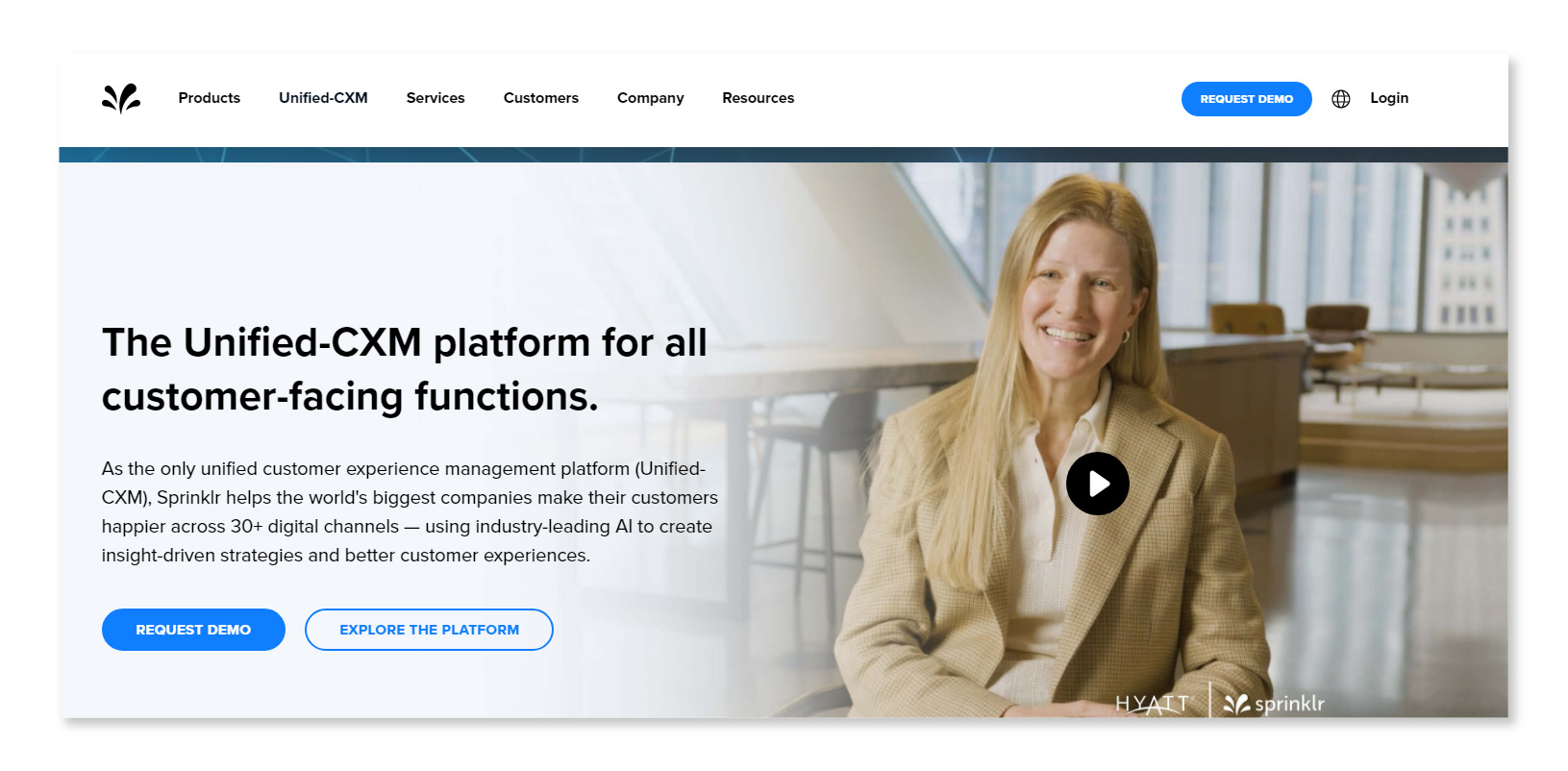 Sprinklr is a top-notch cloud-based customer experience management tool. Experts in this field designed it. Hence, proving that Sprinklr is a fantastic Sprout social alternative as well.
This tool provides comprehensive social media analytics and a scheduling feature. In addition, you can sign up for other Sprinklr packages for information on social media advertising and social media support and planning for content marketing.
With Sprinklr, you can easily manage all your social media channels from one place. In addition, you will monitor and interact with customers in real-time over email list-building campaigns as well.
Key Features
Easy Scheduling
It offers you the flexibility and capability to schedule or make social media posts to prepare for specific channels of your business.
Social Media Management
Sprinklr will manage your social media profiles using its features for managing social media.
Analytics Tools
Sprinklr is a social platform with an extensive and robust set of tools to help track the development and implementation of digital and social media programs.
Sprinklr has some more amazing features.
Advertising Management
CRM
Workflow Management
Tagging
Starting Price: Sprinklr has customized pricing. You can request a demo as well.
8. Sendible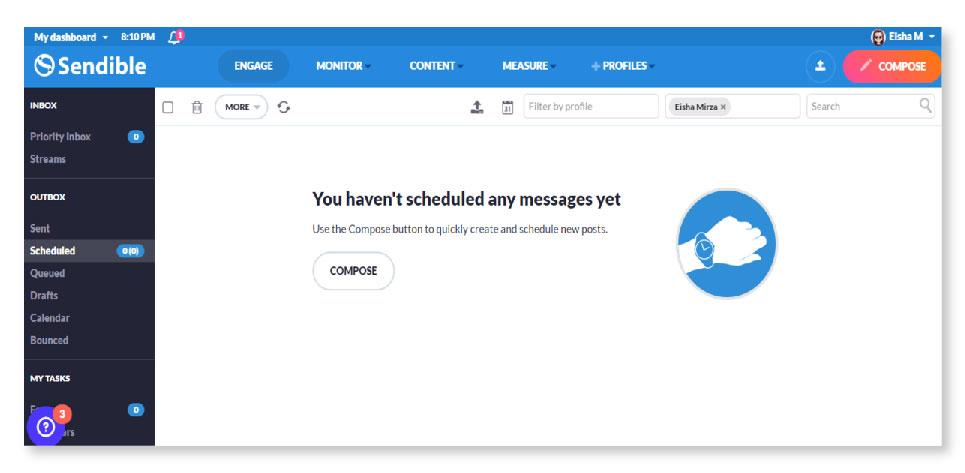 Sendible is the most popular social media management platform ideal for companies looking better to manage social media on behalf of their clients. The Sendible platform connects all your social media networks to form a central hub.
Sendible is a social media marketing platform that enables you to engage with your audience across multiple channels. Sendible's powerful analytics gives users the ability to track and monitor. The success of their campaigns, lets them see ROI for every campaign they run on this tool.
It is a terrific sprout social alternative because it gives you the most efficient way to create a winning social media strategy across several brands on a massive scale. And all these are important reasons Sendible is a superb sprout social alternative.
Key Features
User-Friendly Dashboard
Sendible's dashboard provides a comprehensive, integrated overview of your Social Media Accounts' performances across the chosen timeline.
Post Scheduling
Sendible can schedule posts and update the content simultaneously across multiple social networks, all with a simple, user-friendly interface.
Team Collaboration
With Sendible, you can effortlessly collaborate with your clients and teams to plan, measure, and most successful content on every social media platform.
Other promising key features of Sendible are;
Approval Process Control
Automated Publishing
Calendar/Reminder System
Campaign Analytics
Starting Price: $29 per month. A free plan is available.
Hey! if you want to know about tools specifically designed for Instagram marketing, then you'll enjoy reading our blog; 13 Best Instagram Marketing Tools to Grow IG Account [2021]
9. Coschedule

CoSchedule is an all-inclusive marketing solution. It is another excellent tool to organize your social media marketing in one place.
It integrates with a variety of popular social networks and provides support for blogging platforms, email marketing, blogs, and other essential marketing features.
Coschedule is one of the best sprout social alternatives because it makes creating content simple. You can plan, organize and execute all things marketing with just a few clicks on this platform – no more spreadsheets or juggling different programs.
This tool offers ​​features like the "ReQueue" bucket, allowing teams to automatically recycle and schedule their best messages. And this is why it is a fantastic alternative to Sprout Social.
Key Features
Auto-Updates
CoSchedule can intelligently change the dates of all projects to ensure that you and your team are up-to-date.
Top Content Report
CoSchedule provides a comprehensive "Top Content Report," which documents social shares and engagement. It is a fantastic feature for content creators to figure out which pieces resonate most with readers.
Marketing Calendar
With a marketing Calendar, you can look over all your projects in one place, assign them priority according to your needs, and then communicate these updates and projects with your team members and top-level managers.
Other key features of Coschedule are;
Analytics
Scheduling
Social campaign reports
Bulk uploading
Starting Price: $80 per month. There is also a free version available.
10. Meetedgar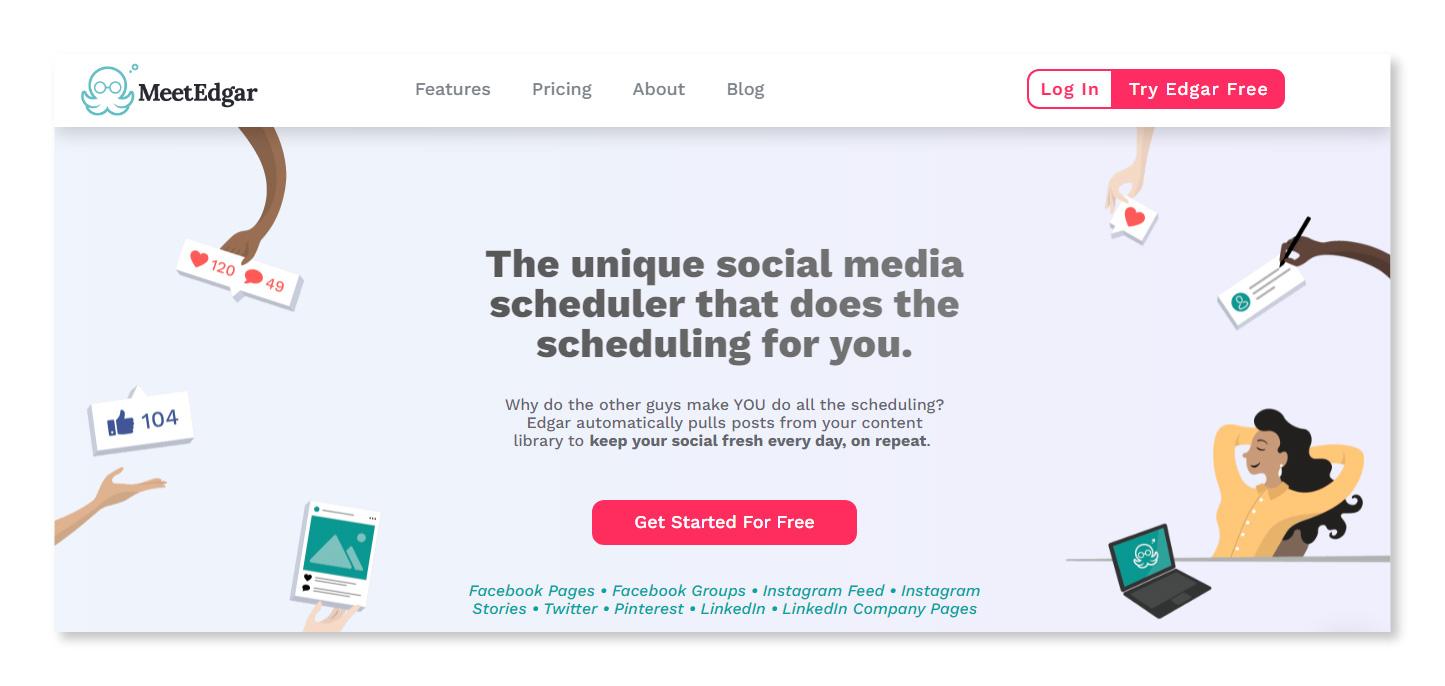 MeetEdgar is a social media management platform that helps users organize and publish content across multiple digital platforms. This tool is loaded with time-saving and efficient features that will quickly help you manage your social media accounts. Hence, making it an efficient alternative to Sprout Social.
MeetEdgar is the perfect Sprout social alternative because it manages social media accounts, regardless of how many platforms they're active on. Overall, it helps you a lot in staying consistent on your social media platforms.
Key Features
Categorized Scheduling
MeetEdgar offers four categories that help you keep your social media content organized.
Automatic Variations
MeetEdgar also has innovative features like Auto-Variations, which takes whatever link is input to scan and presents you with multiple possibilities of posts automatically. One example of this can be an article you've chosen to incorporate into your posts, and this tool will automatically choose different text excerpts to create content based on that piece.
Advanced Filters
Staying prepared is an ample precedent, and MeetEdgar makes it smooth to type via your whole content material library the usage of their effective filters.
Other impressive features of MeetEdgar are;
Social media scheduling
Content Calendar
Shared Inbox
Approval Workflows
Posts suggestions
Starting Price: $19 per month. It also has a free version.
11. Socialoomph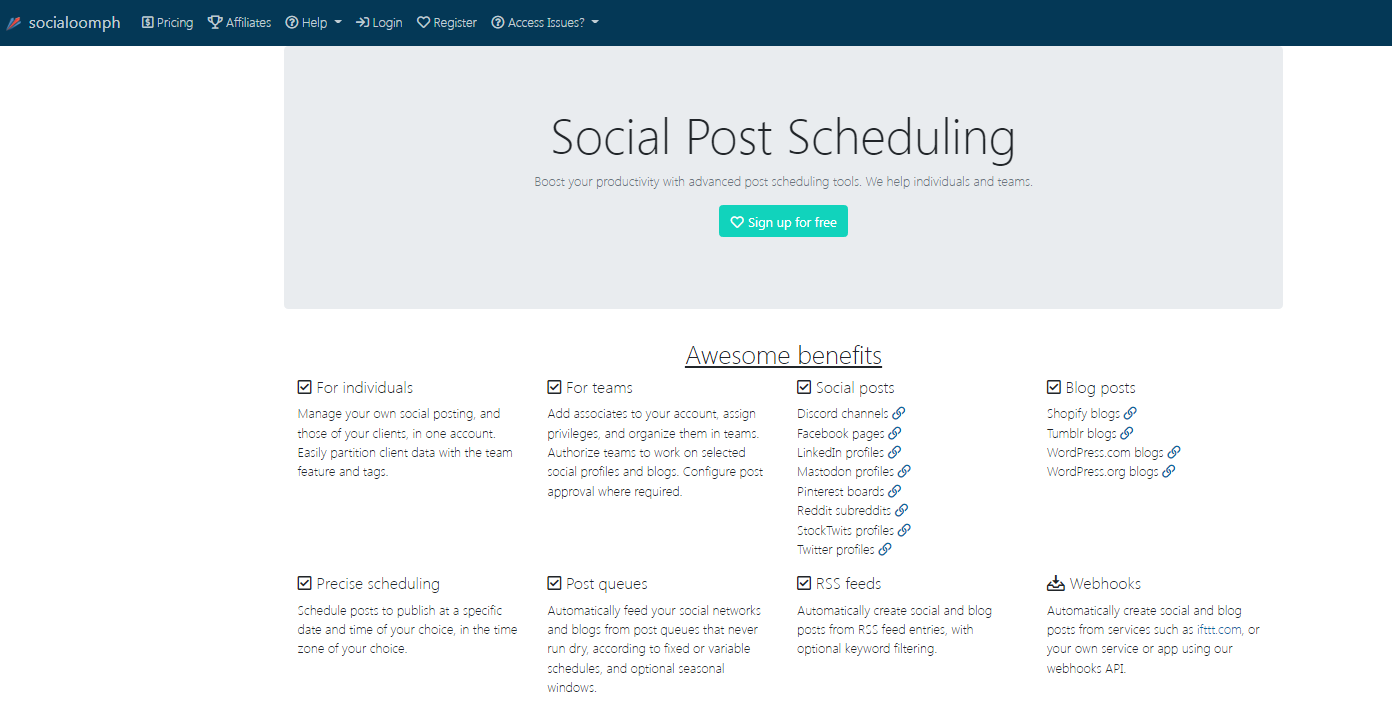 SocialOomph is another great alternative to sprout social because it is very affordable. This tool is a complete social media scheduling solution. However, it is primarily geared closer to Twitter, and it has a few, in reality, exciting functions now no longer observed everywhere else.
It is another best sprout social alternative because it can schedule updates on various networks such as Facebook, Twitter, and LinkedIn. The pricing of this tool is affordable, but you can easily cancel the purchased plan anytime. Incredible, isn't it?
Key Features
Precise Scheduling
You can easily schedule social media posts to be published at a specific time and date. You can select the time zone of your choice as well. This is the awesome quality of SocialOomph's precise scheduling.
Post Queues
You can automatically feed your social media networks from post queues offered by SocialOomph that never run out. They will be set according to fixed or variable schedules.
Other attractive features of Socialoomph are;
RSS feeds
Post tags
Webhooks
Starting Price: $15 per month. A 30-day free trial is available. A free plan is also available.
12. eClincher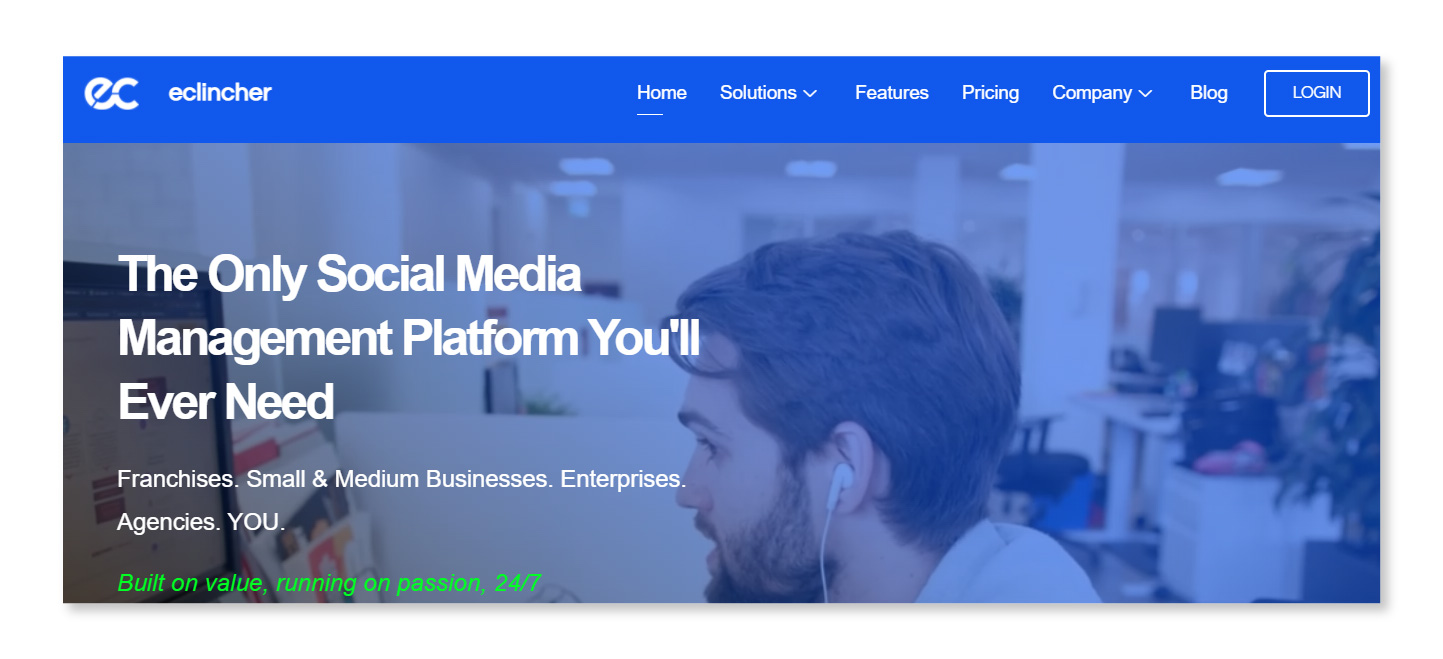 eClincher is one of the best social media management tools. It comes with a lot of unique features, including auto-posting, advanced publishing, recycled content, content curation, and analytics reporting to name a few. It has a complete suite of publishing, monitoring, and reporting tools. One of our favorite eClincher capabilities is Pocket integration. And all this makes eClincher an excellent sprout social alternative.
Key Features
Auto Post RSS Enhancement
This selection has extra channels, supplying you with additional assets to pick out content material to publish.
Social Inbox
With this feature, conversations from Facebook Messenger and Twitter DM that encompass images, animated gifs, and stickers could be displayed in your social inbox.
Other smart features of Eclincher include;
Automated publishing
Visual calendar
Smart queues
Bulk uploads
Starting Price: $59 per month. Free version available.
If you have an agency, then you'll love reading our blog; 10 Best Social Media Management Tools for Agencies
13. Loomly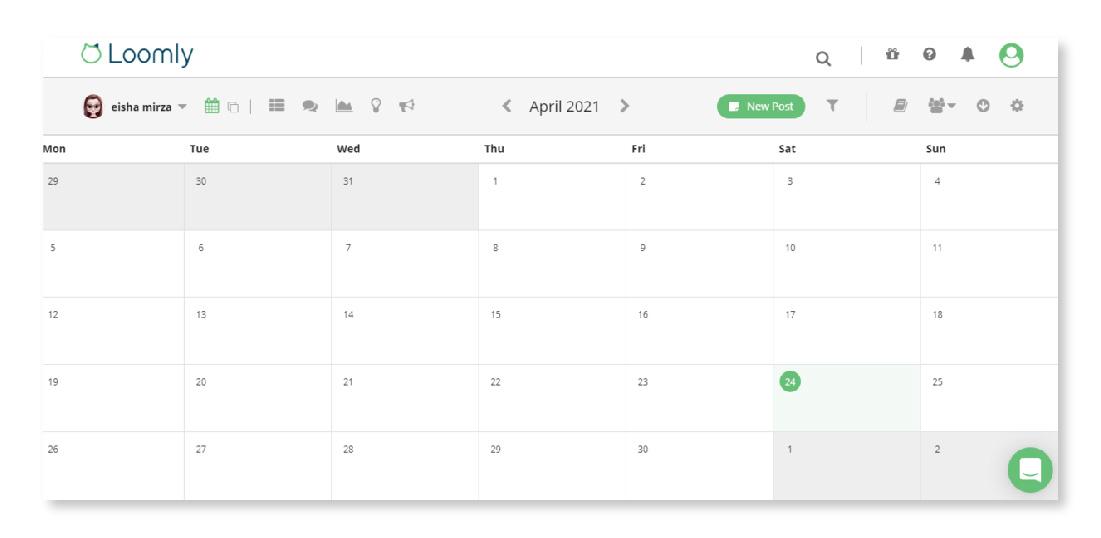 Another awesome sprout social alternative is the super famous Loomly. Because it is an easy social media calendar app that aids social media managers in composing and scheduling posts, it's hired by many top brands, agencies, and freelancers searching out methods to streamline their inner workflow for growing and posting updates on social media.
It is also an excellent social media management tool for content creation and branding. It gives you post ideas based on the RSS feed, date-related events, trending topics, and social media best practices.
Key Features
Single Dashboard
Loomly affords customers a single dashboard to seamlessly prepare the schedules in their postings.
Cross-Platform Preview
It presents customers with the functionality of previewing their posts to see how it appears on numerous social media platforms.
Other impressive key features.
Automated Publishing
Calendar Management
Website Analytics
Third-Party Integrations
Starting Price: $34 per month.
14. Social Pilot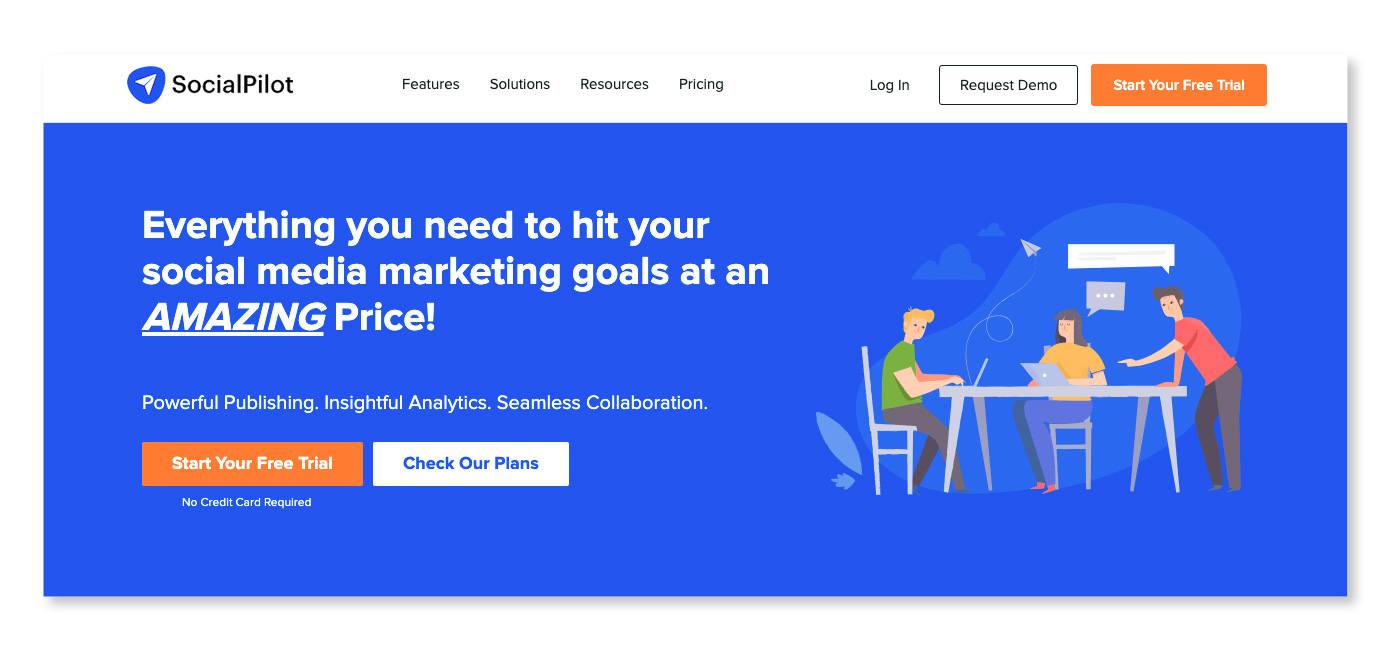 SocialPilot is a great sprout social alternative platform for advertising and scheduling for social media groups and professionals. This comprises tweets, posts, and updates.
Also, SocialPilot no longer limits the range of characters that customers can post, unlike on social media channels. SocialPilot additionally functions Custom FB Branding, Bulk Scheduling, Client Management, and Social Media Analytics.
Key Features
Facebook Branding
SocialPilot can override this setting, permitting customers to place their very own branding instead of Facebook default.
Bulk Posting
SocialPilot can grow bulk posts without problems, making the gadget a super alternative for organization stage clients.
More key features of Social Pilot are
Campaign Management
Multi-Account Management
Performance Metrics
Reporting/Analytics
Starting Price: $10 per month. You can also get its free trial.
15. Later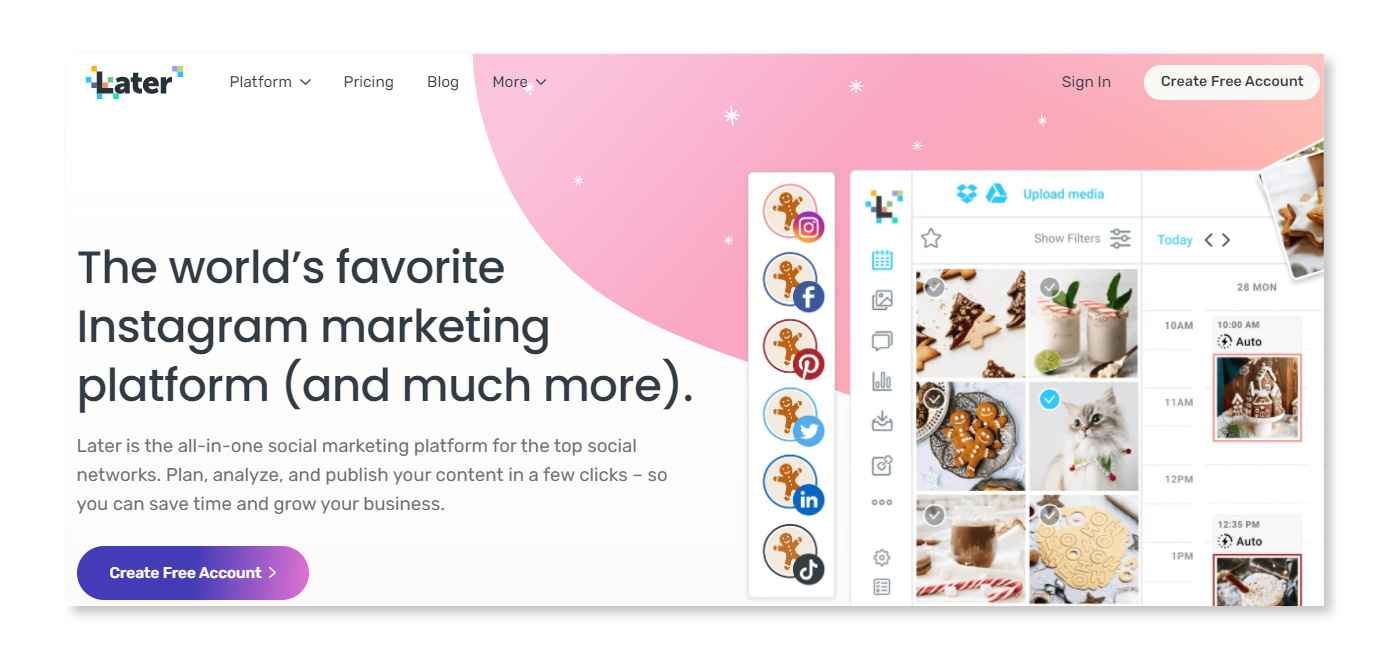 Later is also a fantastic sprout social alternative. With Later, scheduling social media posts is very easy. You can use the drag and drop feature and your week's worth of posts are ready to be published. It means you can select any photo or video you like and drag it to the required date on the calendar. The photo/video will be scheduled.
Overall, ​​Later helps streamline your social media strategy so you can set yourself up for more sales and success. Their features focus on visual scheduling, media management, marketing, and analytics.
Key Features
Hashtag Suggestions
You can use the hashtag suggestions feature to find suitable hashtags for your posts. Also, you can save these hashtags. These can be posted or scheduled as the first comment to your posts.
Social Media Scheduling
It offers unlimited scheduling across multiple platforms. In addition, this tool provides advanced features like Twitter thread scheduling, Instagram story scheduling with a swipe-up link, etc.
Other Key Features of Later are
Automated Publishing
Monitoring
Multi-Account Management
Starting Price: $15 per month. It also offers a free version.
16. Zoho social
Zoho Social counts as one of the best sprout social alternatives because it is an entire social media control platform for businesses & agencies. It facilitates your timetable posts, reveals mentions, creates custom dashboards, etc.
Using Zoho Marketing Automation, you may enhance your brand's attainment through social media to make posts and share promotional campaigns on Facebook, Twitter, and LinkedIn. Zoho Marketing Automation additionally lets you research your performance.
Key Features
Flexible Scheduling
You can schedule your posts for instances while your target market is maximum active.
Monitoring Dashboard
Its Multiple listening columns assist you in staying tuned to the entirety of its relevant content.
Social Analytics
This feature helps you with pre-construct reports or creating new ones from scratch, primarily based on the stats that depend on you.
More attractive features of Zoho Social are
Calendar Management
Chat/Messaging
Customizable Reports
Keyword Tracking
Starting Price: $15 per month. A free trial is available as well.
17. Status brew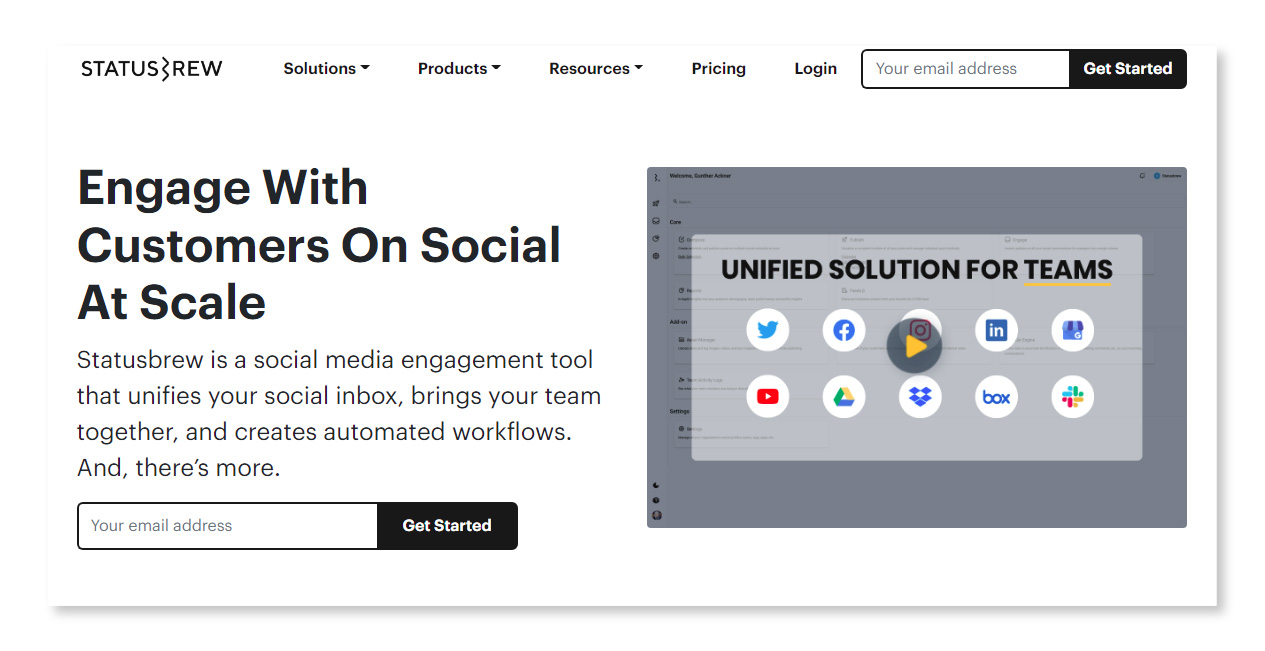 Statusbrew can be considered an excellent alternative to Sprout social because it is an excellent social media management and engagement tool. In addition, it is trusted by over 10,000 top-notch businesses globally because of its fantastic customer satisfaction.
With this excellent tool, you can efficiently manage your social media activities. You can also discover new audiences and engage with them to boost your social media presence. Overall, it offers excellent features that save a lot of your time and hassle.
Key Features
Unified Inbox
You will delight your audience and engage with them properly with the unified inbox of StatusBrew.
Fast and Impactful Publishing Tool
With this, you can equip your team with the most impactful publishing tools. This way, they'll be able to reach a wider audience with less effort.
Social Listening
You can quickly discover new audiences with the help of Statusbrew's social listening feature. It helps you listen to all the social conversations about your brand and products. And all this makes Status brew a great sprout social alternative.
Other appealing features of Statusbrew are;
Content categories
Social Media Monitoring
Social Performance Management
Sentiment Analysis
Starting Price: $25 per month. A 7-day free trial is also available.
Bottom Line on Choosing Sprout Social Alternatives
As you can see, there are many Kickass Sprout Social alternatives on the market. These excellent tools have precise features, making them as good as Sprout social. Some tools mentioned above are much more affordable than Sprout social. And all this makes these 17 tools perfect alternatives to Sprout social.
We're so grateful for our loyal customers and our excellent daily feedback. Get in touch with us at ([email protected]) if you have something you'd like to share.
If you enjoyed reading this article and want more such blogs and feature updates, follow us on Social Media;