Anyone that's ever considered implementing Social Media Automation for their business knows about Hootsuite, one of the pioneer and most popular tools for Social Media Management.
Since its inception, many other social media management tools have flooded the market with various differentiating features and value propositions, so it's gotten harder to discern which one is the best for your company.
Since small businesses generally start with minimal marketing budgets, the vast majority might not be able to afford the Hootsuite limited feature, Team Plan for $99/month, In contrast, while others might require the support of larger teams or more features in this price range.
For such businesses and professionals, we have curated a list of the top 9 Hootsuite Alternatives in 2021.
Is There a Free Alternative to Hootsuite?
This is a very frequently asked question. The good news is, Yes! There are free alternatives to Hootsuite. Among multiple options, SocialBu is one of the best Hootsuite alternatives as it offers a completely free account. Later is also a great free alternative. Other than that, many amazing tools offer a free trial. To know more about these amazing free alternatives of Hootsuite, keep on reading.
9 Best Hootsuite alternatives
of the year 2021
Here is our list of the 9 best Hootsuite alternatives for 2021;

If your top priorities looking for a social media management tool are value for money, integrated function-sets, and a clean interface, SocialBu is your best bet.
With its unique value coming from Social Media Automation functions, it specializes in features revolving around this by offering support for multiple platforms (Facebook, Twitter, Instagram & Stories, LinkedIn) and data sources for scheduling Posts.
Other than Posts, SocialBu also supports the Instagram Stories API so that you can directly preview, publish and recycle Posts on your Insta Feed and Stories. You can also go a step further and monitor hashtags mentioned in your content on Instagram and Twitter.
Another two examples of unique features are RSS Scheduling and Bulk Import, where you can either set up posts on any platform to be automatically sourced and published from either an RSS Feed or be uploaded in bulk from a . CSV File. Both these and many other similar options save immense amounts of time for digital managers.
Because it's set up for teams handling multiple social media accounts (up to 150!), features like Social Inbox, Calendar, and RSS Feeds are highly helpful in getting a bird's eye view of what's happening across all the accounts in a specific period.
Such features allow you to monitor all information needed regarding your social media posts and interactions in one place, With these, teams can also interact in-app by leaving comments or suggestions for the following steps to take.
Instagram
Facebook
Twitter
LinkedIn
Google My Business
Starting Price: SocialBu pricing starts at $8.00 per user per month. There is a free version available as well.
G2 Ratings: 4.4/5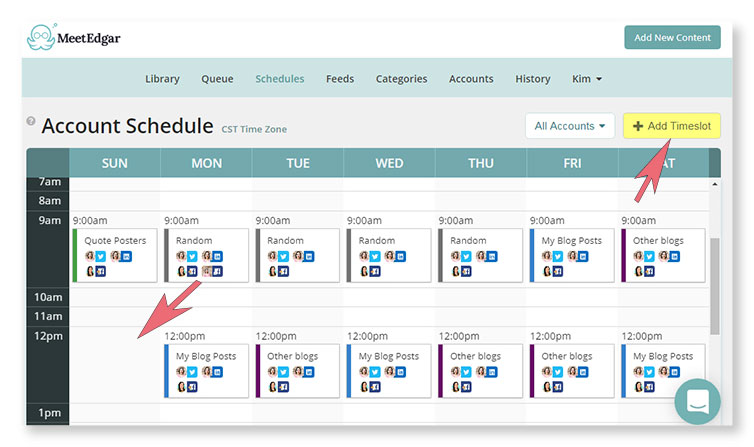 MeetEdgar is also a great alternative to Hootsuite and one of the best social media management tools. With a focus on sourcing, publishing, and re-purposing content' auto-magically,' Edgar seeks to minimize the repetitive nature of Social Media Management by saving time for its users in many ways.
At its core, ME differentiates itself based on the Unlimited Content Library functionalities crafted specially to make and keep content running for more extended periods. These features include Evergreen Content Shuffle, Auto-Publish from RSS Feeds, websites or podcasts, and Category-Based Scheduling.
ME also features innovative features like Auto-Variations, which takes whatever link is inputted to automatically scan and present you with multiple possibilities of posts. One example of this can be an article you've chosen to incorporate into your posts, and ME will automatically choose different text excerpts to create content based on that piece.
Results on these variations can also be tracked using the in-built shortener or with A/B Test Social Messaging so that you know what worked best and what type of content is to be prioritized with each audience in upcoming schedules.
Facebook
Twitter
Pinterest
Instagram
LinkedIn
Starting Price: $19/month
G2 Rating: 4.5/5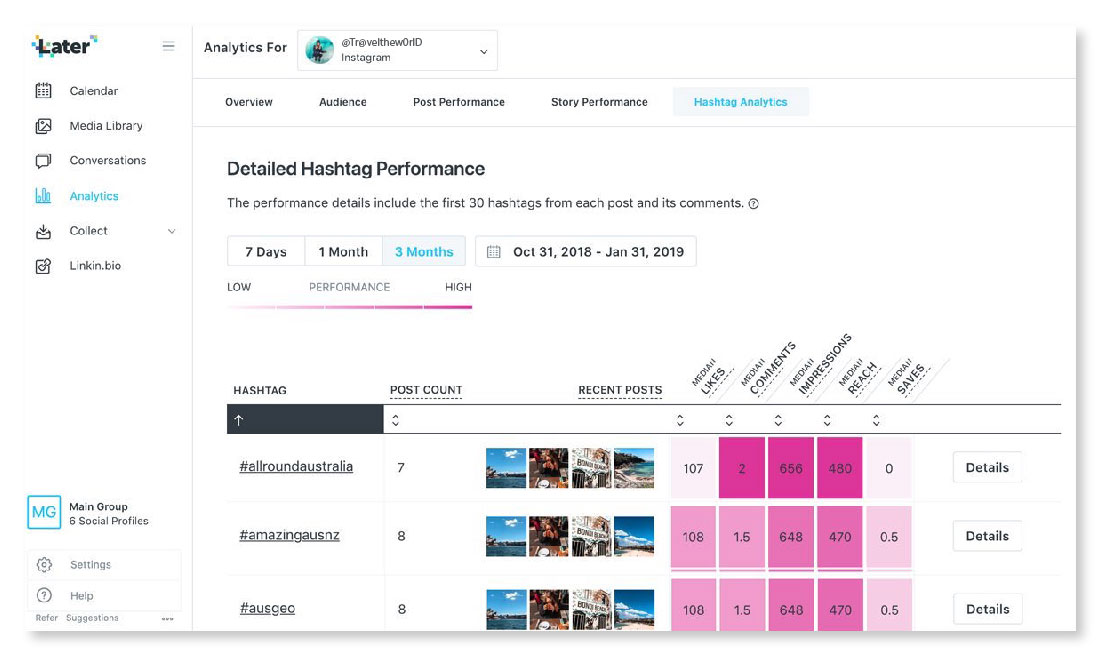 Later is one of the top alternatives to Hootsuite. The best thing about this advanced social media management tool is that it offers a completely free plan, as well as paid plans.
With most other Social Media Management tools, you'll see a generalization in their features and platforms as they pitch themselves as all-in-ones.
Later, this isn't the case as it brands itself as the '#1 Marketing Platform for Instagram' and offers support for Facebook, Pinterest, and Twitter. This has meant a specialization and focuses on Instagram features while also providing support for other platforms if you require their usage.
Just like Instagram, Later's priority has also been the visual aspect of social media. It competes with Hootsuite based on ease of use rather than the number of features by offering a seamless and intuitive interface.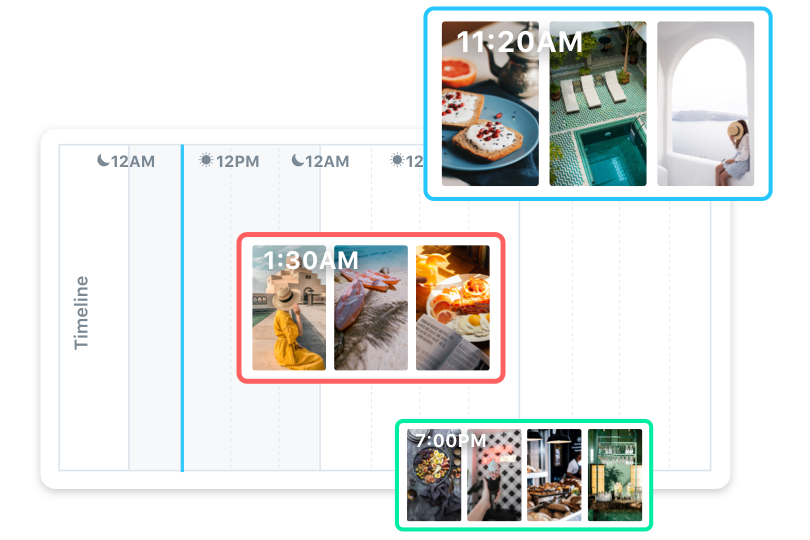 Source: Later's Features Page
For Instagram specifically, Later offers unique features such as Story Scheduling via Instagram's API (no chance of TOS Violation), Trackable Links, and detailed analytics like reach, completion rate, comment count, etc.
These insights are created explicitly according to each brand's following as location data is used to pinpoint the time zones of your audience and then output a 'best time to post, instead of just showing generic ones.
For Integration, Smart Scheduling shows you the best times to post with Drag-and-drop enabled on a visual Instagram Planner layout. Later can even find user-generated content to post, allowing you to see both content and the best timings to post on a single page, offering an unparalleled experience.
Instagram
Facebook
LinkedIn
Pinterest
Twitter
TikTok
Starting Price: $15/month. A free plan is available.
G2 Rating: 4.7/5
Content Sourcing, Posting, and Analytics. These are the three functions where Sendible stands apart from the pack of Social Media Management Tools. Sendible's name is always highlighted whenever someone talks about the best social media management tools. 
Although Hootsuite offers more content features in their dashboards, Sendible offers value from their analytics and CRM Section. As customer-side CRM is included in the tool, LinkedIn and Klout accounts can be integrated for lead management and customer profiling.
Once profiles and leads are developed, geographical, or any other form of targeting can be applied to them, so the results of these outreach efforts are organized and published in reports shown at regular intervals.
If your plan doesn't allow for direct contact, Sendible also enables the building of influencer lists so that you can choose between each of those brand ambassadors and compare each one's performance of posts.
As shown below, Sendible's Dashboard provides a comprehensive, integrated overview of your Social Media Accounts' performances across the chosen timeline alongside a Social Inbox that displays all the brand mentions in a real-time feed.
There are also options available for Teams to communicate through messaging or macro-responses for common queries within this feed. These Feed items can be filtered to show analytics and interactions on specific campaigns or accounts on any supported platforms.
Overall, Sendible is one of the best social media management tools and a great Hootsuite alternative.
Instagram
Facebook
Twitter
LinkedIn
Google My Business
Pinterest
Starting Price: $29/ month
G2 Rating: 4.5/5
Competitive pricing, unique automation features, and an uncluttered interface are what make SocialPilot special. 
Because Hootsuite doesn't have a Social Media Calendar and SocialPilot does, this gives you the immediate advantage of being able to easily drag-and-drop content, organize it at any frequency, and even see which posts are performing best, so they can be termed 'evergreen content'- prime for repetition.
As shown below, this Editorial Calendar shows you the schedule for content across any filter level: monthly, weekly, daily, or across all accounts vs. specific ones. This level of customizable focus allows you to take a macro and micro view of what's happening across all accounts and campaigns, not bogging you down in clutter.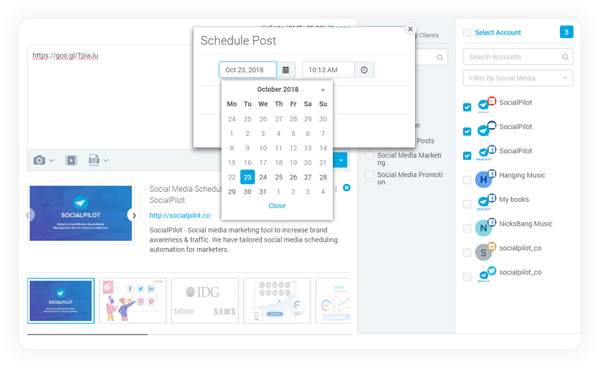 Another primary difference comes in with how Hootsuite only allows for text posts to be scheduled in advance. In contrast, SocialPilot does support Bulk Scheduling of Posts with Images (up to 500) on all supported platforms (Facebook, Twitter, LinkedIn, Tumblr, and Instagram). This allows SP Users to simply add URLs of Images in a . CSV file and have the tool attach all linked images directly into posts.
With SocialPilot's Collaboration features, the responses to incoming interactions and other work tasks can be easily split between team members and enable them to collaborate on campaigns within the app.
Supported Platforms
Facebook

Instagram

YouTube

Twitter

Pinterest

LinkedIn

Google My Business
Starting Price: $30/month
G2 Rating: 4.5/5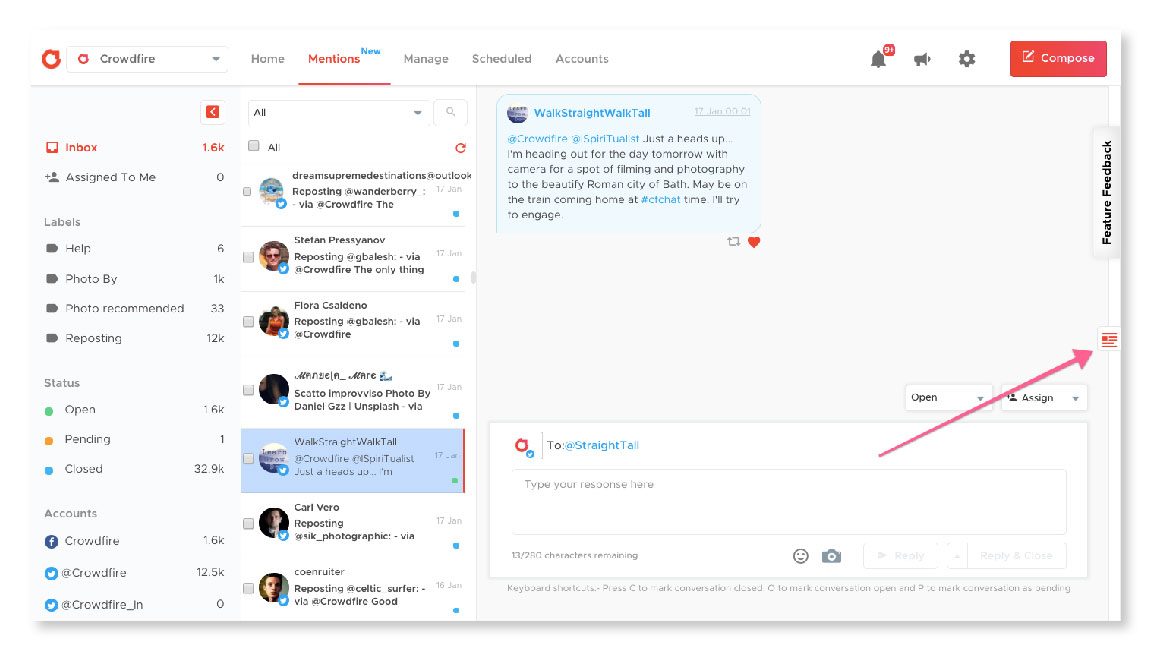 Crowdfire is also a powerful alternative to Hootsuite. This superb social media management tool is used by businesses and individuals worldwide to drive social media engagement and growth. It is a wonderful tool that helps you schedule and discovers content for social media. In addition, you can easily manage all your social accounts from one place.
Keep an eye out for updates from your website, blog, or online shops, and design quick, beautiful posts for every update to easily share on all your social profiles. Crowdfire heavily focuses on its core social management function, with a powerful emphasis on scheduling content across your social channels at the most suitable times. You can also get competitor analysis through this tool. Overall, it is an easy-to-use yet powerful tool.
Supported Platforms
Facebook

Instagram

YouTube

Twitter

Pinterest

LinkedIn

WordPress

Etsy

Shopify

Medium

500px

Vimeo, etc.
Starting Price: $9.99/month
G2 Rating: 4.2/5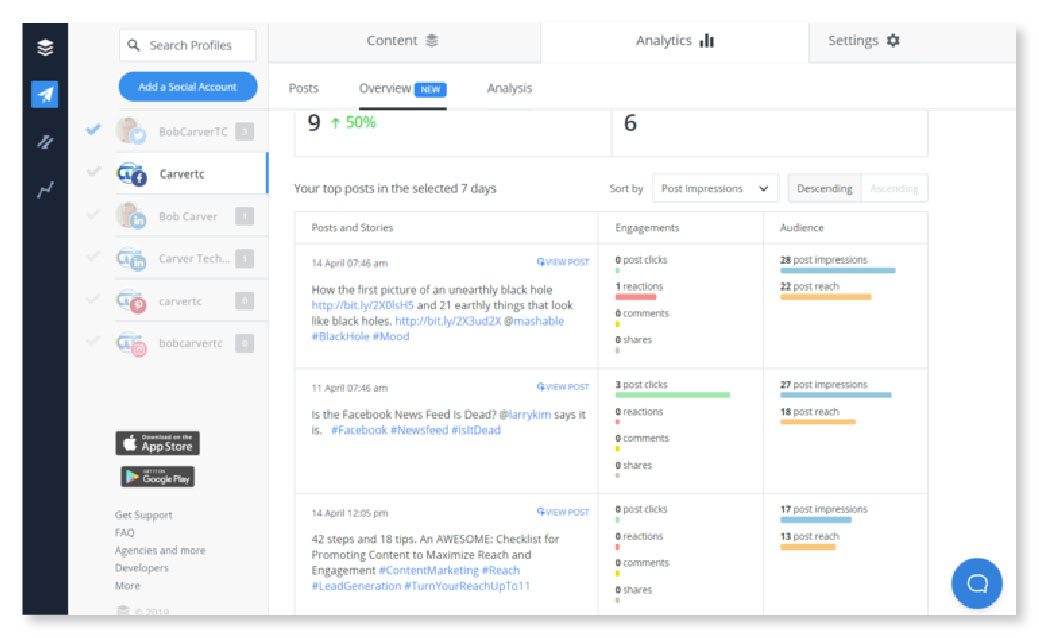 Buffer is one of the most known social media management tools in the industry. It has helped many businesses to reach their target market. Many brands, agencies, and influencers claim that they experienced a boost in engagement on their social media pages after using Buffer.
Buffer offers multiple social media management services like publishing, analytics, and engagement. The customers who have used this tool love it for its quick and intuitive results. In addition, you can get excellent assistance from publishing, engaging, team collaboration, and analytics during social media campaigns.
For social media marketers, Buffer alleviates and automates the task of updating, connecting, and converting potential customers on different social channels. All this makes Buffer an excellent alternative for Hootsuite. 
Supported Platforms
Instagram

Facebook

Twitter

LinkedIn
Starting Price: $6/month (per social channel)
G2 rating: 8.1/10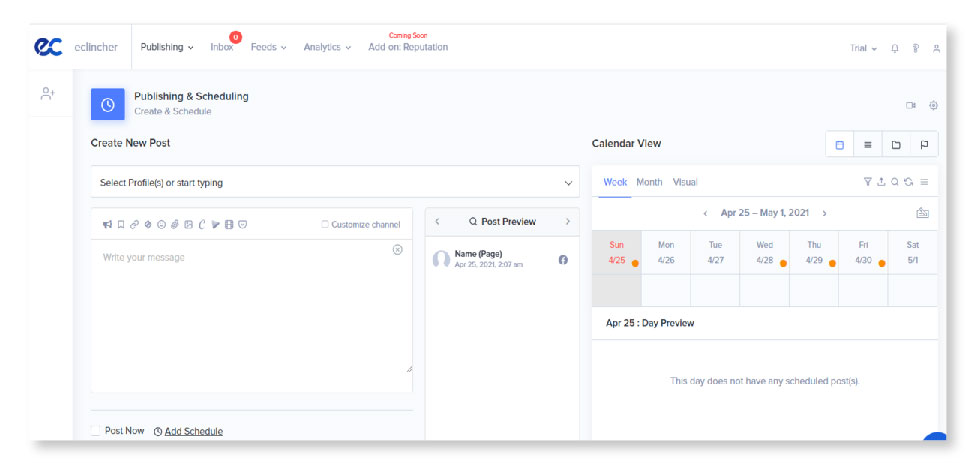 Eclincher is one of the top social media management tools. It comes with many unique features, including auto-posting, advanced publishing, recycled content, content curation, and analytics reporting to name a few. You can effortlessly schedule your posts on various social platforms, profiles, and pages with this tool. The unified social inbox is also of immense help. 
It offers a visual calendar that helps you plan, create, and schedule your content with ease.
After scheduling your content, you can publish it with smart queues. This will save your time and boost your social media engagement. You can also bulk upload and schedule media files from an excel file or a CSV. You can also monitor what's happening on social media using keywords and hashtags with this tool.
Eclincher's user-friendly platform helps businesses grow their audiences and manage their brand reputation on multiple social networks, from posts to results. All this makes Eclincher a great alternative to Hootsuite as well. 
Supported Platforms
Instagram

Facebook

Twitter

LinkedIn

Pinterest

YouTube

TikTok
Starting Price: $59/month
G2 Rating: 4.7/5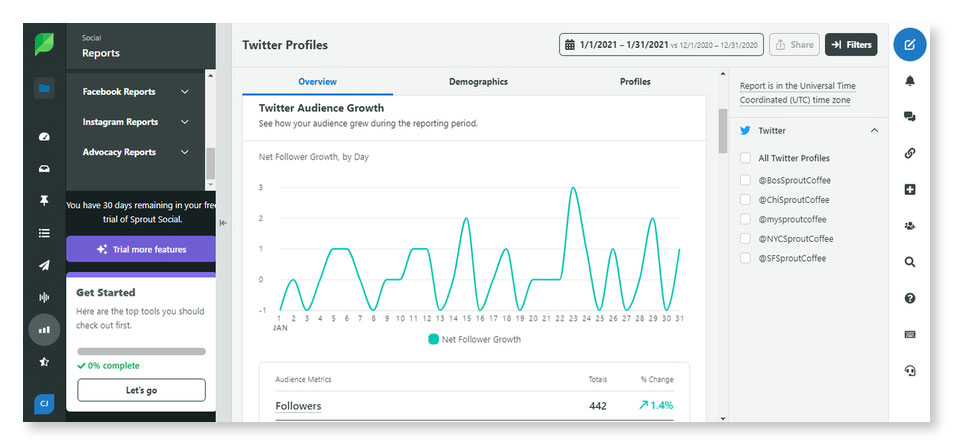 Sprout Social is also a prominent alternative to Hootsuite. It is one of the best social media management tools, with functionality for multiple-person teams and a focus on engagement, publishing, and analytics. This tool is a simple yet efficient tool. It saves your time and makes managing social media accounts simple. 
You can overcome publishing obstacles and automate time-consuming tasks easily with Sprout.
Other than that, you can design your publishing strategy and maintain oversight from a central hub. Also, you can easily organize posts across profiles, networks, and campaigns utilizing its visualized calendar to support long-term strategy. With its social inbox, you can unify your social accounts into a single stream to view incoming messages, foster conversations, and respond to your followers quickly. This tool also offers team and engagement reports which are immensely useful. Overall, it is a powerful, all-in-one social media management tool.  It is needless to say that it is definitely a great alternative to Hootsuite. 
Supported Platforms
Instagram

Facebook

Twitter

LinkedIn

Pinterest

YouTube
Starting Price: $89/ month
G2 Rating: 4.3/5
Final Note
With all these fantastic tools having unique value propositions and features, it's pretty hard to discern between them.
We suggest you take the trial periods of each and compare your requirements with their functions offered to see which one offers the best fit, in terms of cost-benefit.
If you are looking for a free alternative then SocialBu and Later are great options. All the tools that we have mentioned in our article offer amazing features and are some of the best social media management tools. All this makes these tools great Hootsuite alternatives. 
You can keep our article as a guide and select the tool that sparks the most interest in you, the one that is the best fit for your requirements.
If you're already using one of these or any other Social Media Management Tool, be sure to tell us which in the comments below and why they're your favorite.