Google My Business is a platform that allows businesses to list their business details like name, directions, menu or catalogue, reviews, and direct call or text option.
The startups struggle to create and maintain their name and popularity, unlike well-developed businesses that need no promotions or advertisements. So, Google My Business is like a free advertisement for them where people can first check out the details, and if pleased, they will visit.
So explore with us the reasons that if you have a small business, then why it is more crucial than ever to create and maintain a GMB listing for your business in this post-pandemic era.
Why Is Google My Business Important for Small Businesses?
If you have made a Google My Business listing for your business, there is a high chance you have already attracted people's attention.
In a global survey, 75% of the in-store shoppers said that they searched online before going to the store. They searched for things like the closest store, location, directions, stock, contact information, and wait times.
Also, 51% of the people say that before making an online purchase, they search it online on Google. Whereas more than 50% of shoppers say that they use Google to discover a brand.
These statistics are just a mere explanation of why is Google My Business important.
If you also think, "How can I use Google My Business effectively?" Then read this blog carefully. We will briefly explain how GMB benefits small businesses and what you can adopt to benefit the most from it.
1. Your Business is Easy to Locate
Why is Google My Business important for SEO? Having a GMB listing for your business means that your business is easier to find for local people. For example, it is 100% possible that you have searched the "places near you" on Google before going anywhere to eat or purchasing anything online. It will show the nearest places in your specified category. You can check the location, reviews, and ambiance, then decide whether or not you want to visit.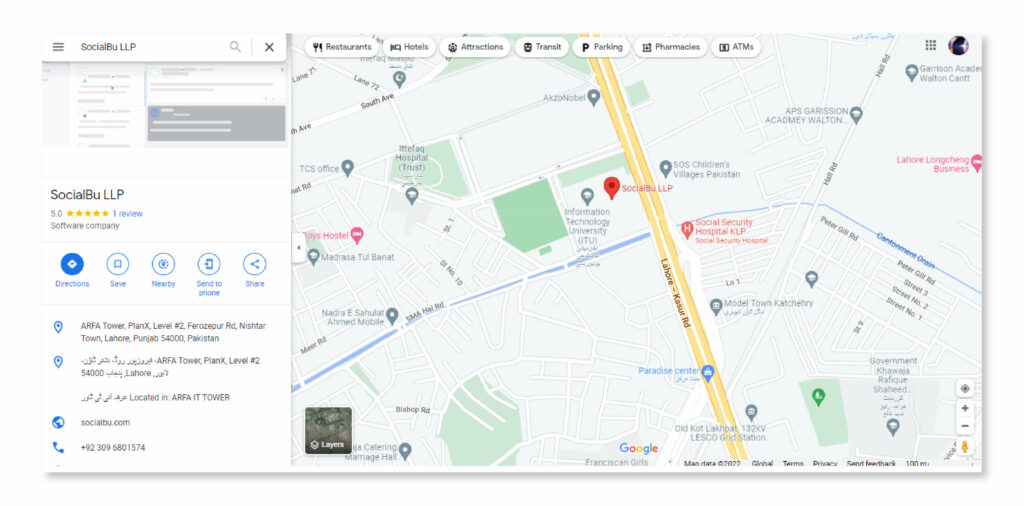 The catch is that the places Google shows you have listed their businesses on Google; otherwise, you wouldn't have seen them. It is highly possible if you create a GMB listing. These daily searches can significantly benefit your business. So we can say that Google My Business can be the best platform to drive the biggest local SEO for your business.
Also, people's searches have become quite specific now, but Google has also updated its algorithms to match the searches. Therefore, you must ensure that all the information you have provided in the GMB listing is always up-to-date.
2. Google My Business Makes the First Impression
How would you feel if you heard a new place opened and it is pretty good too, but when you search about it, there's nothing to see? Disappointing, right?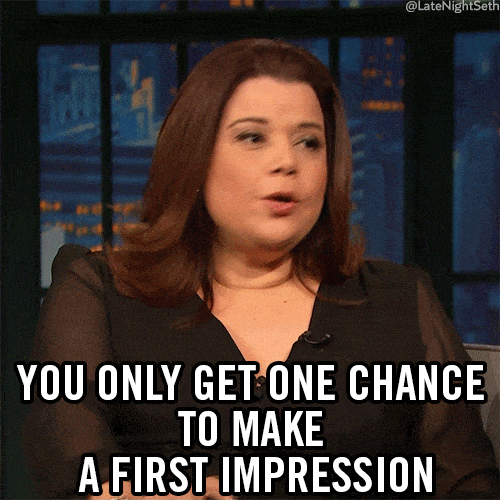 That is why we are stressing here on Google My Business listing as an essential part of your marketing strategy.
When people search about your business and find all the necessary information they need with just a click, they will surely be impressed. And this is exactly what you need.
3. Connectivity with Potential Customers
Another great thing about the Google My Business listing is that potential customers can contact you directly. GMB has an option for a direct message or call and an option for "questions," too.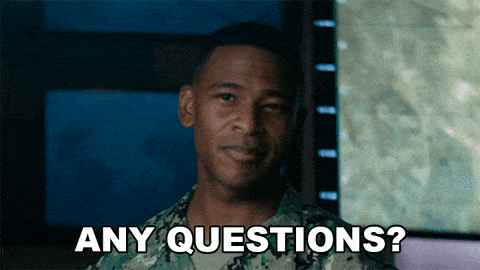 So if they need to know anything about the safety protocols, availability of items or rush hours, etc., they can contact you directly.
Make sure to respond as soon as possible to their questions as well.
4. Your Reviews Speaks Up for You
Usually, we check reviews before going to any new place or outlet. If the reviews are not good, we will drop the plan. Happy customers mean good reviews, and good reviews mean more customers.
Also, only 44% of local businesses have a GMB listing. So, if you have a small business, you have extra leverage to make the most out of GMB listing, as many people are not adopting it.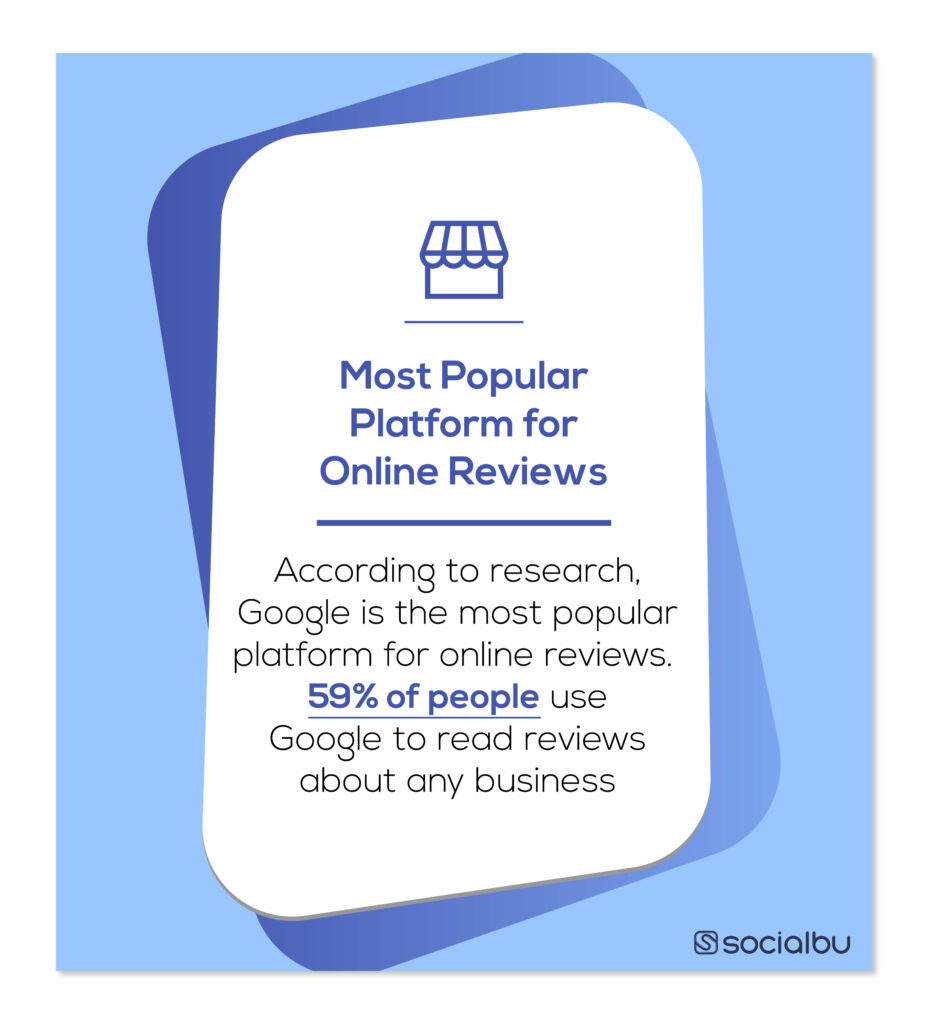 Provide your customers with the best service and create a GMB listing to provide them with a platform to leave reviews. For example, 49% of businesses listed on Google receive +1000 plus reviews monthly on Google. Make sure your business is one of them.
Interesting reading: Why is My Google Review Not Showing Up?
5. Google My Business Keeps the Customers Updated
When your customers get answers to all their basic queries in one place, they are impressed and would like to get your services too.
So always keep your Google My Business listing up-to-date with all the latest information.
If the timings change, change them on your GMB listing too. For example, provide the exact information about the rush hours on the GMB listing. And if you have moved to another place, then update the location on the GMB listing too.
If you have a GMB listing but do not update it regularly, then it is simply nothing more than wastage.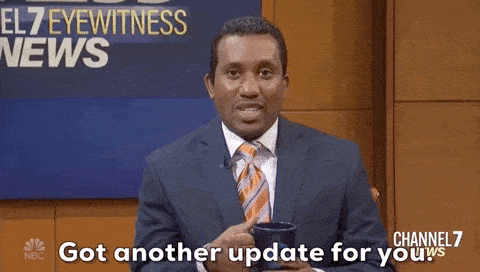 6. GMB Analytics Helps to Improve Your Business Strategies
GMB is not only great for promoting your business, but some great features of Google My Business can also help you understand your customers' interest in your business.
You can check the 'Insights' from your GMB account. Some of the metrics are briefed below.
Photo Views: It will show you the number of views the photos on your profile are getting. It also shows how often your photos are compared to the other businesses similar to yours.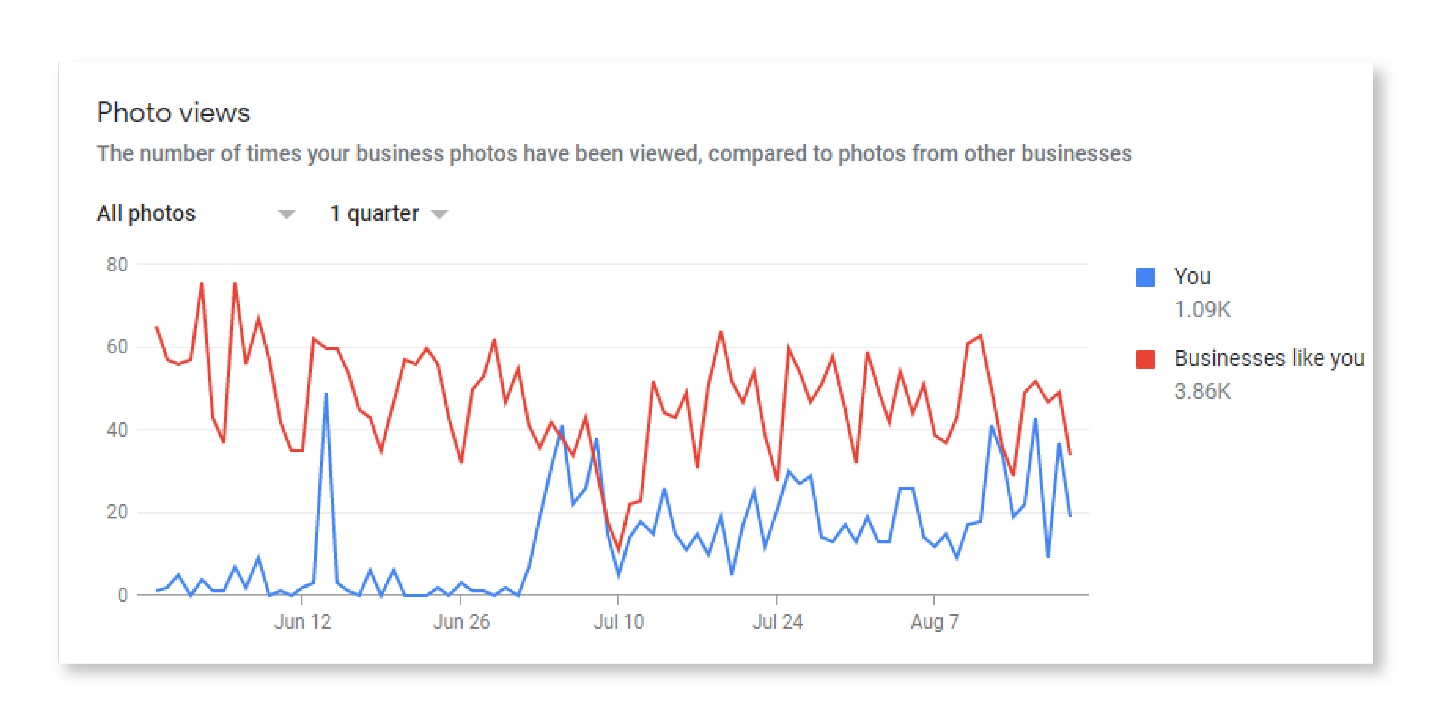 Customer Actions: It shows the customers' interaction with your business, how often they visited your website, or how often they have called you or asked for directions.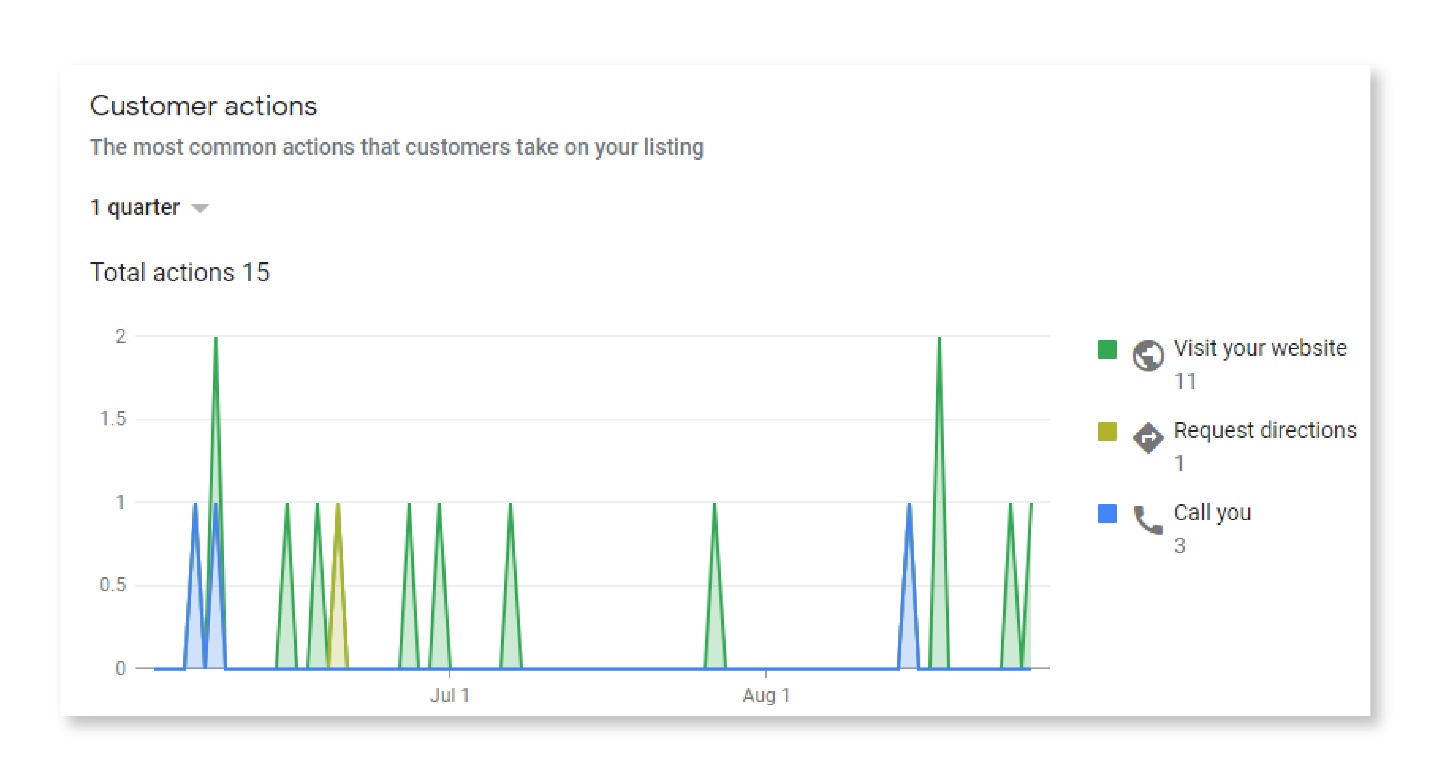 Audience: It will show you the number of people following you.
Customer Views: It shows you what google services customers use to search your business.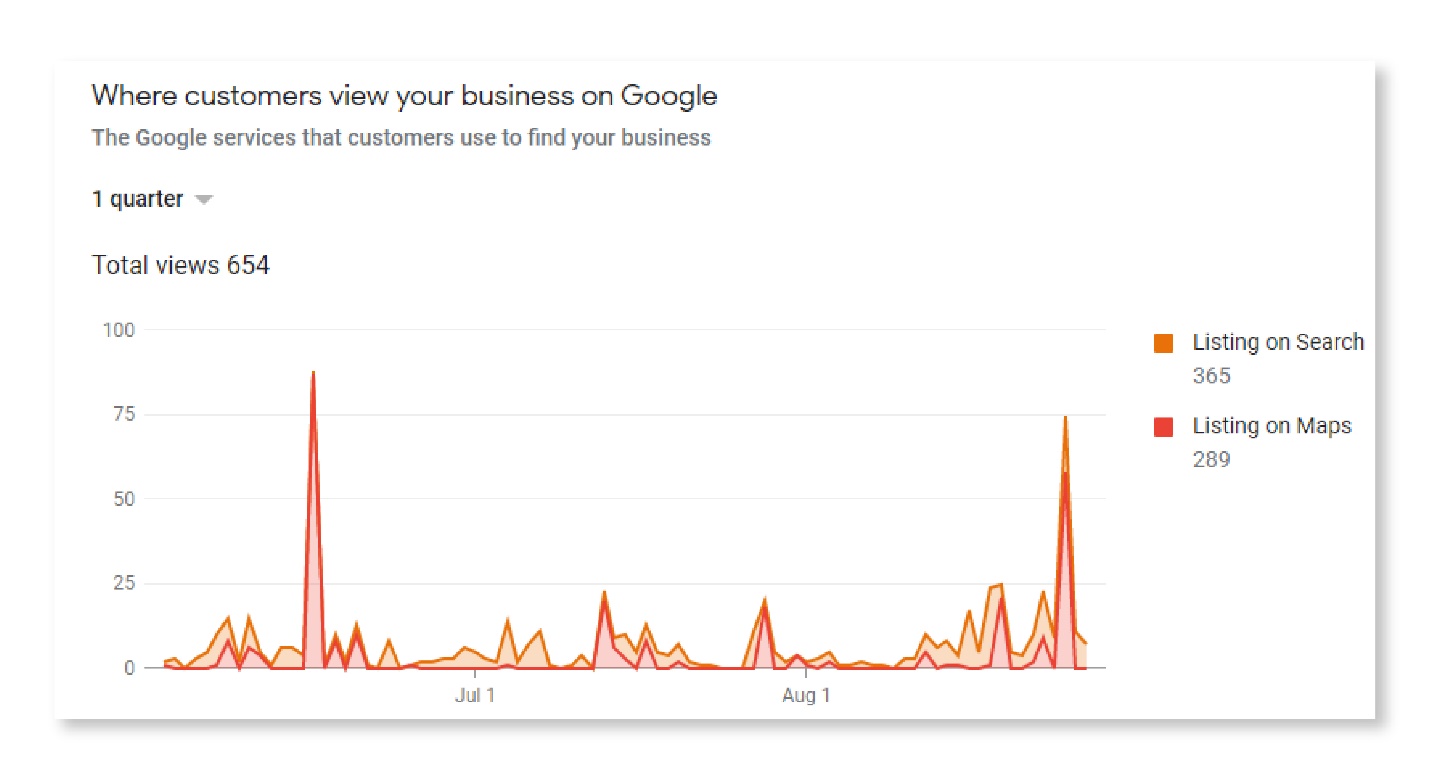 Clicks on Website Link: It will show you how many clicks your website link got.
Photo Quantity: This insight shows the number of photos that appear on your GMB listing compared to the photos of businesses like yours.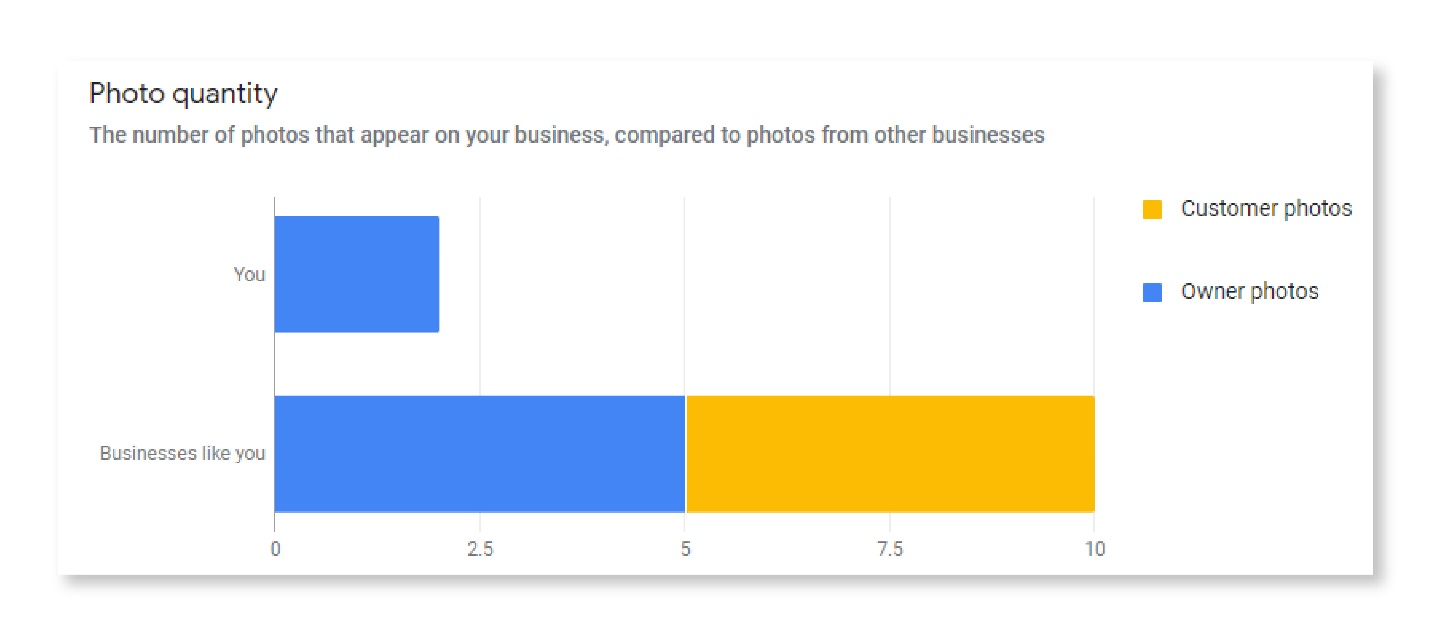 Search Queries: It shows you what keywords customers use to search your business. If you analyze these keywords, it can boost your online traffic.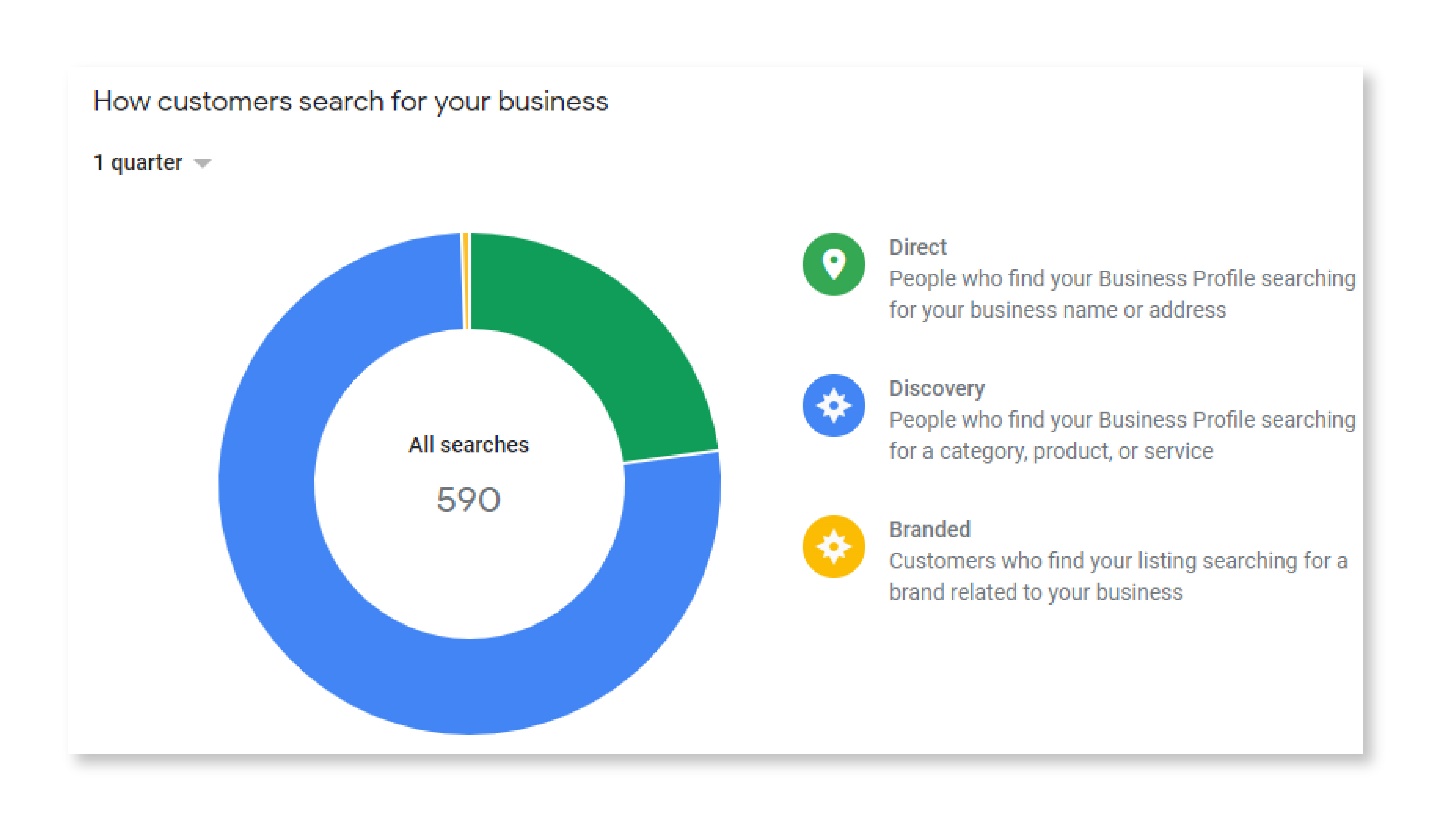 All these insights about your business will help you better understand your customers, how they find you and what changes they would like. As a result, you can devise a more efficient business strategy using these insights.
7. Google My Business Is Free to Use 
Everything comes with a price. But Google My Business is free of cost with all these amazing features. The only cost you will pay is the proper management of your GMB listing. It is the most important factor that makes GMB best for small businesses and startups. They get the best tool without any price.
Interesting reading: How to Optimize your Google My Business Listings
Manage Your Google My Business Account with SocialBu
Now we have understood why is Google My Business is important for small businesses. But suppose even if you have a GMB account but do not manage or update it properly, it is useless.
Managing and updating your Google My Business account is as important as having one. However, we understand that sometimes managing a business and keeping all the accounts updated can be tiring.
SocialBu can help you with the management of your Google My Business account. Not only can you schedule your GMB posts on SocialBu, but it also offers many other features to keep your content updated.
Schedule Google My Business Posts with SocialBu
To schedule a post for your GMB listing on SocialBu, all you have to do is,
Login to your account.
Create a new post.
Select your GMB account.
Choose the Post Type and add a Call to Action.
Schedule it to the date and time you want it to go live.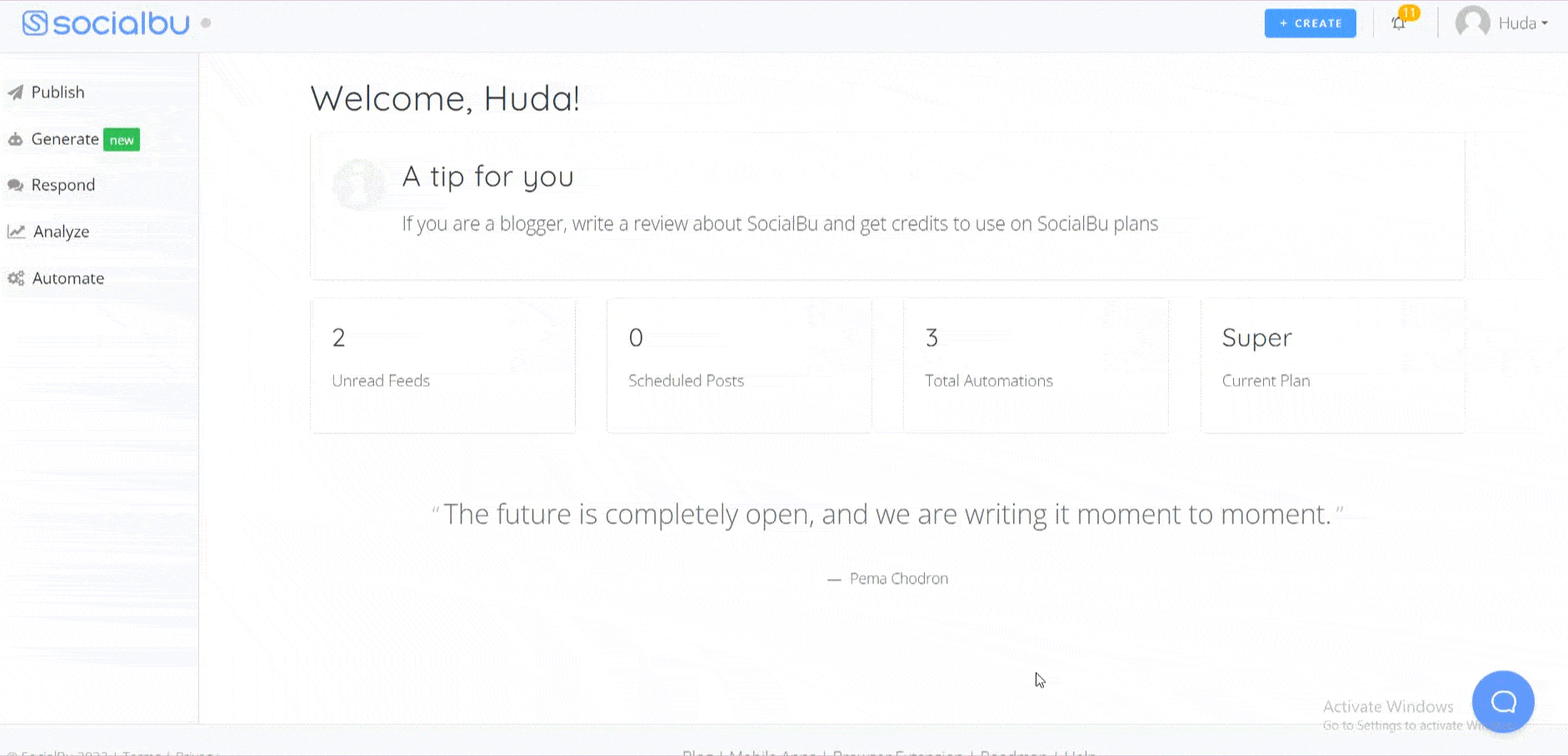 Scheduling your GMB posts can help you save time and keep your customers updated with all the recent news.
Customize Your Google My Business Posts
You can customize the settings when creating a Google My Business post with SocialBu. For example, when you click on "All Options," an interface will open where you can choose what type of post you are creating.
You can select the "Event" and "Call to Action."
You can also add emojis to your post.
The hashtag integration suggests your hashtags related to your post caption.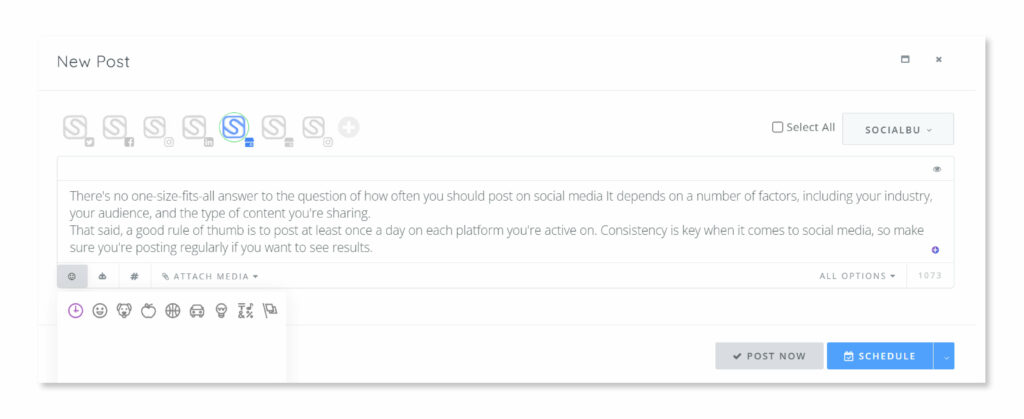 Add Media to your Google My Business Posts
After you have created your post, you can add media to it directly from SocialBu. It has multiple options to add media.
You can add media from the device.
You can import media from the SocialBu gallery.
It has Canva integration, where you can design and add media with Canva.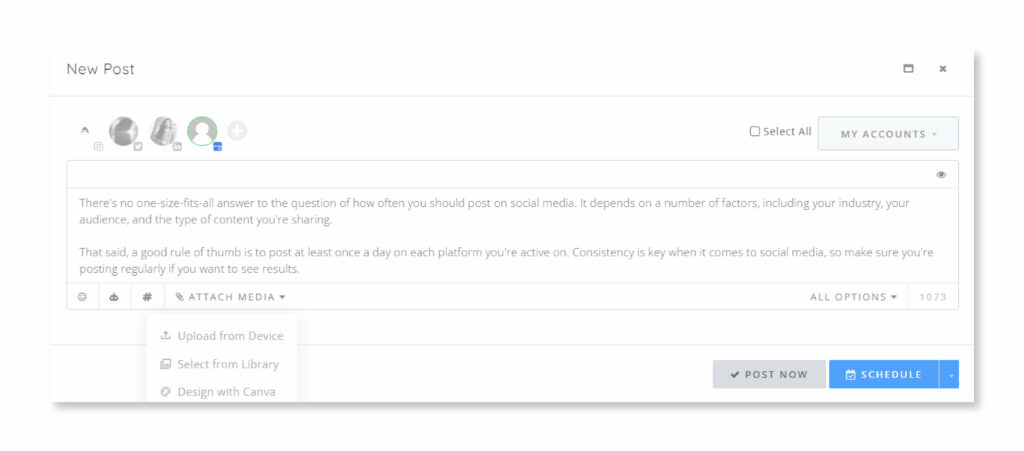 Overview All Your Scheduled Content with Social Calendar
After you have created and scheduled your Google My Business posts with SocialBu for the days, weeks or months, you can overview them all from one place. A social calendar gives you an overview of all the content you have scheduled for the upcoming week or month and even lets you make changes.
You can also check the past scheduled content from here.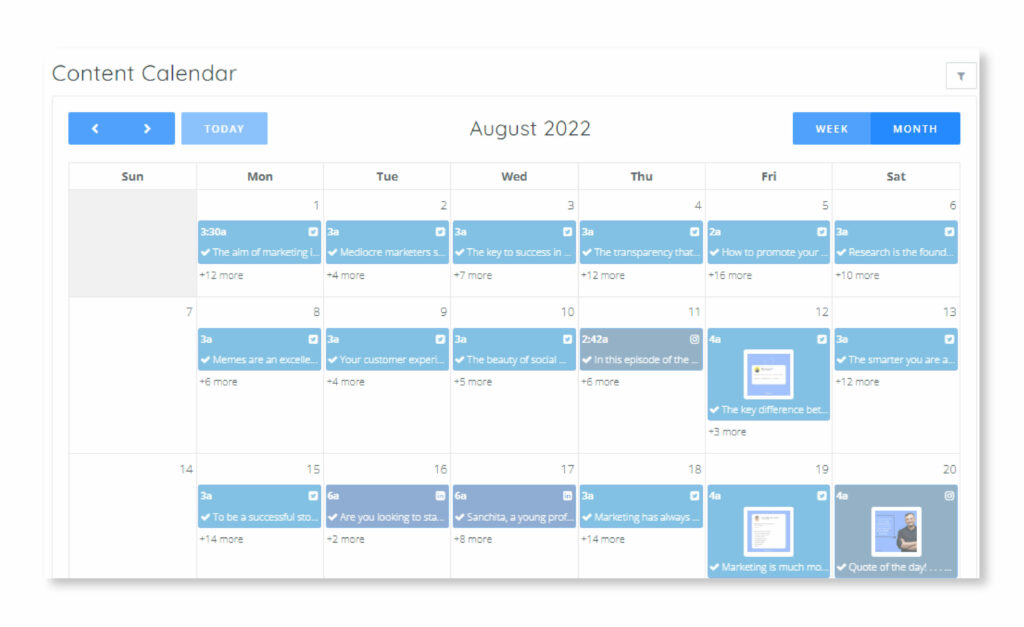 That's how SocialBu can make this tiring task of keeping the Google My Business account updated easy for you. It saves you time and effort, and let's not forget about worrying too much.
FAQs
What are two key benefits of Google My Business?
We have discussed several GMB benefits in this blog. But the two which are key benefits of using GMB for your small businesses are:
You share all your business information with customers with GMB. You do it by uploading pictures, location, contact info, etc.
You can handle multiple GMB listings under one account only.
Is Google My Business worth it?
It doesn't matter if you are a local, national, or multinational company. Having a GMB listing is always worth it. The local traffic it drives is remarkable, making online business management a lot more productive and interactive.
How often should I post on Google My Business?
It is always good to post at least once a week. Or whenever you have an update or announcement to make. However, make sure that when you post something important, try not to post anything else for some days or as long as you want your customers to see that. It is because only the recent post is shown prominently.
Conclusion
Google My Business is a tool packed with benefits for small business owners. We have stressed enough why is Google My Business important for small businesses in this blog. It is one of the best tools to promote your business online and let's not forget it is free to use also.
You can share your business information with the public here and ensure you add enough media and update it from time to time. Don't forget about the reviews, and make sure you reply to them.
So, if you are an owner of a small business, do not miss out on this. Try it yourself.