Social Media Platforms are ruling the business world. Instagram is not just about posting pictures and videos like every other social media platform. It is now considered one of the biggest marketing platforms as well because of its vast audience and incredible growth opportunities. So if you know how to optimize Instagram account for business, you can give a boost to your company's success online.
Instagram has become a top priority of digital marketers and is essential to many businesses marketing strategies. It has an estimated 1 billion active monthly users and is becoming the most significant business space. To run a successful business, creating your Instagram business presence is now indeed a necessity.
Instagram is a fast-paced social media platform where you can visually present your business (services and products). In addition, visuals can convey inspiring and graphically compelling stories about your company and brand. Overall, Instagram is the ideal platform for ease in your marketing strategy but to utilize this incredible platform to its fullest, and you have to optimize your Instagram account. And this article will discuss all the details.
Some awesome benefits of Instagram profile optimization are;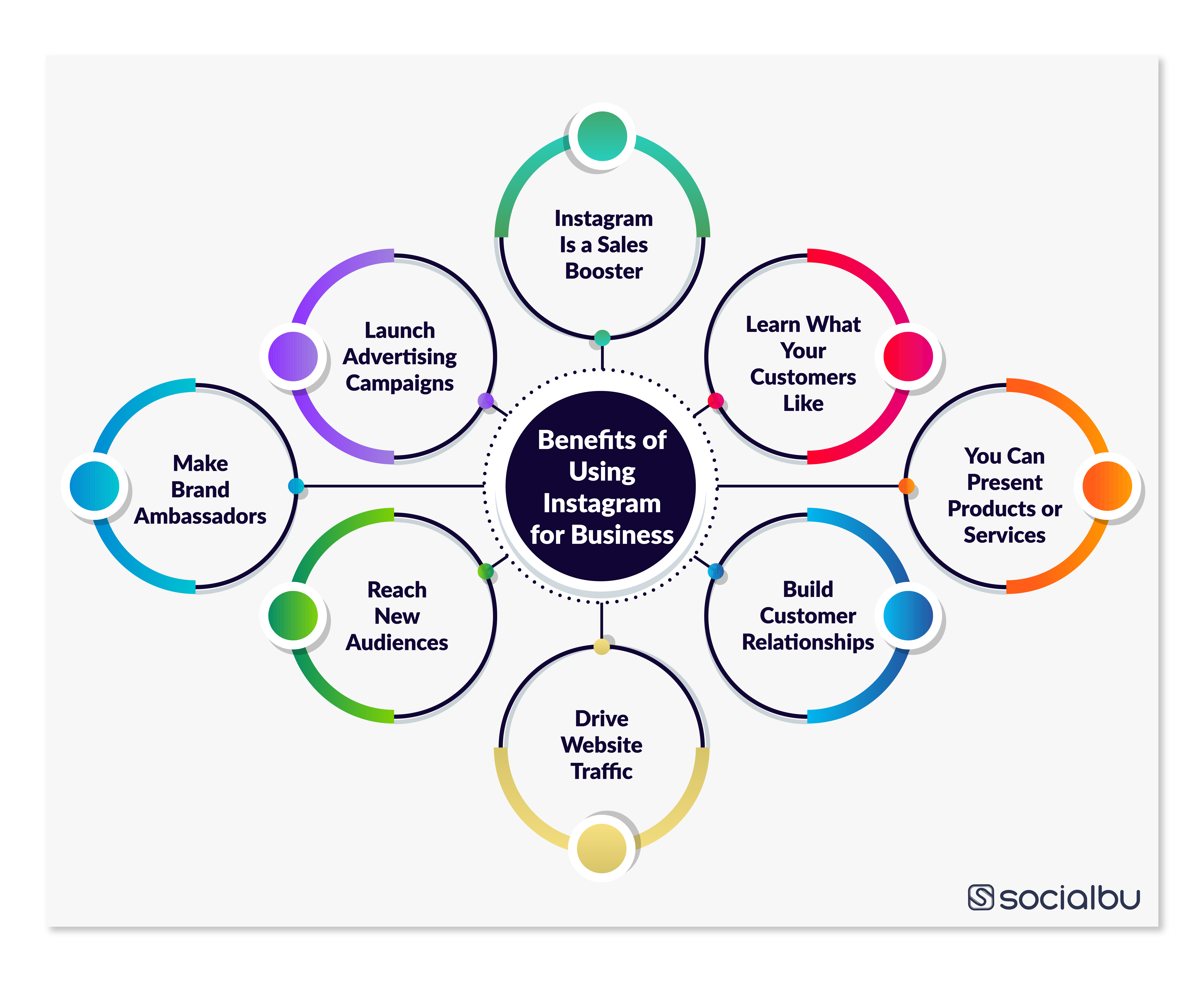 Importance of Instagram Optimization for Businesses
The most widely utilized social media network for sharing videos or photographs is Instagram. Still, it is also increasingly being used as the preferred social media channel for connecting with clients and marketing. In addition, Instagram's naturally dynamic and slick user interface draws in younger people more than any other social media platform.
It is an incredible platform for social media marketers and business owners promoting brands and goods. The majority of Instagram users follow at least one company account, and they enjoy discovering new companies.
Here are some of the top benefits  if you optimize Instagram account for businesses;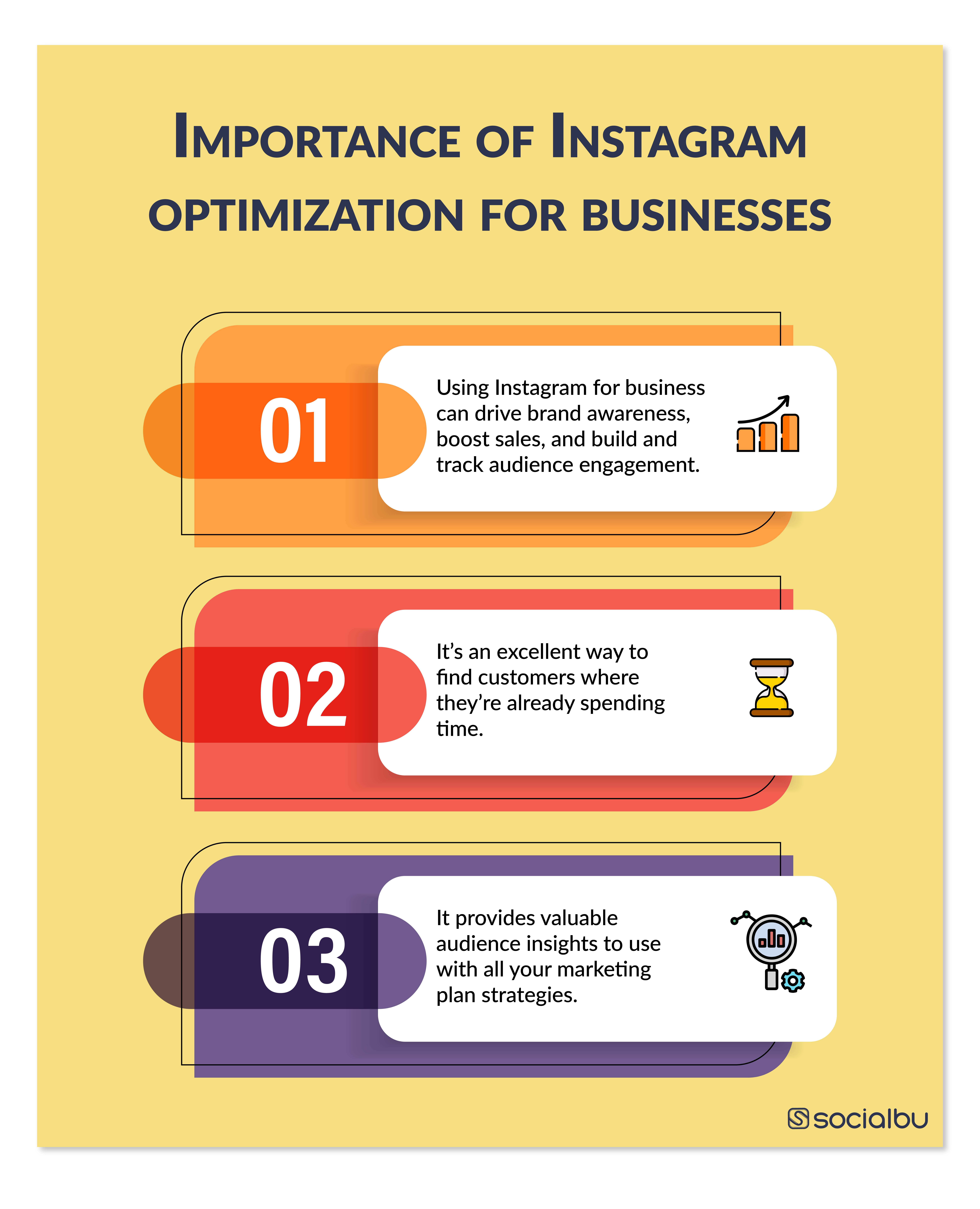 Instagram has gone from being a platform for sharing videos and photos to a significant business promotion platform in just ten years. Utilizing features like Stories, Feed, and live Instagram broadcasts, millions of businesses sell their goods through Instagram promotion. You can even create an Instagram store using your company account to allow your followers to shop inside the app.
However, to leverage all these benefits to the max, you have to optimize your Instagram account for business, and we are here to help you with exactly that. So keep on reading to find out how you can easily optimize your Instagram account for business in 2022.
The Best Way to Optimize Instagram Account for Business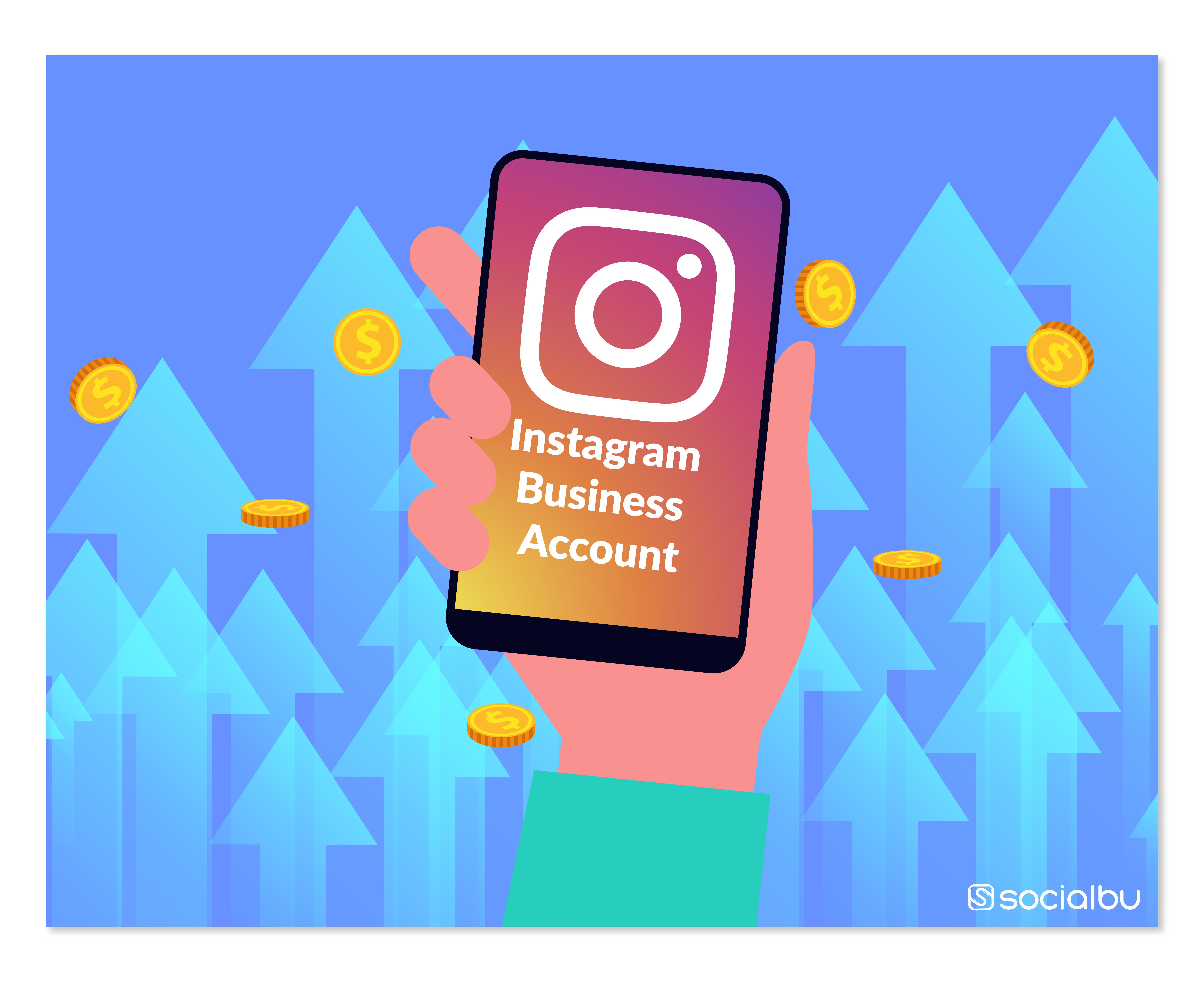 Here are a few essential things that you should do before you start working on optimizing your Instagram account for business;
1. Make a Detailed Strategy and Set Your Goals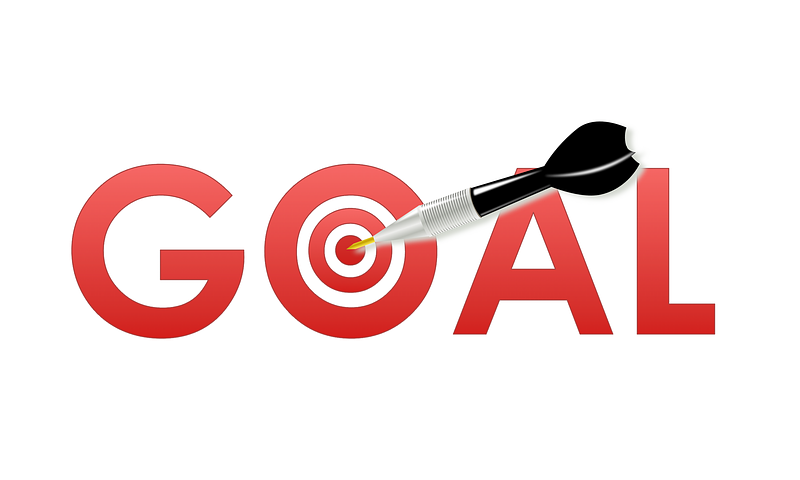 The first step in developing a long-term Instagram marketing strategy is setting your business's content goals. What you want to accomplish on Instagram should be clearly outlined in your Instagram strategy. Next, you will create a marketing strategy considering your customers' value. Determine how Instagram can assist you in achieving your business goals by starting with those. We advise using the innovative framework to ensure your objectives are Measurable, achievable, relevant, and Timely.
Your Instagram content may be better suited to achieving your marketing objectives the more precise your aims are. For example, assume that increasing social media sales is one of your marketing objectives. Therefore, your plan should include posts that direct users to landing pages. Making a properly researched Instagram strategy and setting your goals straight is one of the most important steps to optimizing your Instagram account for business.
2. Comprehend Your Target Audience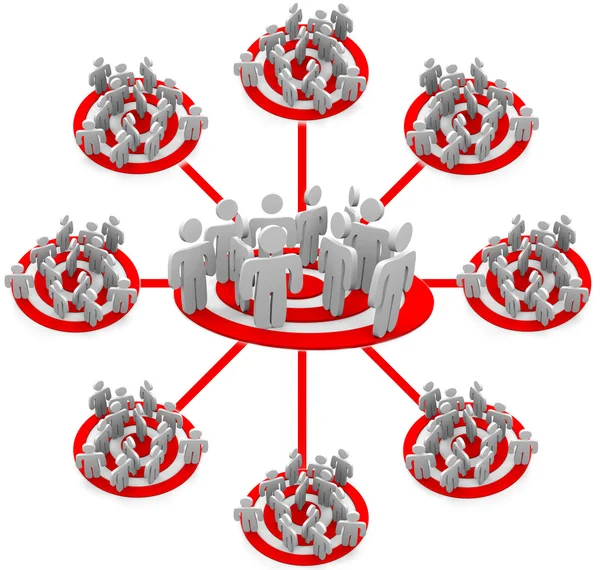 Understanding your audience well is the foundation of every effective social media strategy. To get an idea of who utilizes the site, look at the demographics of Instagram's audience. Since identifying your target market is one of the most crucial components of your marketing plan for any marketing product, we've developed a step-by-step guide that explains all the specifics. The short version is this:
Identify your current customers.
To find out who follows you where you are on other social media platforms, check the statistics.
Compare the differences between your audiences by conducting competitive research.
You can produce content more effectively when you know your audience, which ultimately helps you optimize your Instagram account for business. Examine the content your audience shares and interacts with, and use this information to guide your creative strategy.
3. Track Your Analytics
Having clear goals makes it simpler to pinpoint crucial social media metrics to keep an eye on. Plan to concentrate on metrics related to the social funnel even though they differ for each organization. Set goals following customer journey stages:
It consists of analytics like impressions accounts reached and follower growth rate.
Metrics for engagement include the rate of likes and comments and the rate of amplification (based on shares).
Keep a check on measures like click-through rate and bounce rate. Conversion metrics include cost per click and CPM if you're employing sponsored advertisements.
These metrics are based on customers' behaviors, including retention rates, repeat customer rates, etc.

Interesting reading:
Use Instagram Filters to Increase Engagement on Instagram
4. Create a Content Calendar
Once you've identified your audience and goals, you can optimize your Instagram account for business with a purpose. You may avoid missing critical dates and allot adequate time for creative production with the help of a well-planned social media content calendar.
Plot out and research important events beforehand. Back-to-school or tax season, holiday preparation, Black History Month, or particular days like Giving Tuesday or International Hug Your Cat Day are times when this might apply. See when your clients begin making plans for specific occasions by looking at sales data.
Seek opportunities to create recurring themes or chapters that you can develop into stages. You can check off specific boxes using "content buckets," as some people refer to them, without having to overthink creation. The more preparation you do in advance, the easier it will be to provide consistent content and react to unforeseen or last-minute situations.
Plan to post when your audience is online. Posting when people are engaged is one of the best strategies to increase organic reach because newsfeed algorithms evaluate "recency" as a key ranking signal. You can also use apps like SocialBu to schedule your Instagram posts.
How to Optimize Instagram Account for Business: Top Tips and Tricks
Here are some of the best tips and tricks that have proven to make your Instagram account optimization faster and easier;
1. Choose an Optimize Instagram Profile Photo

Most firms use their logo as their profile photo while optimizing Instagram accounts for business. To improve recognition, keep your photo the same throughout social media networks.
The size you should try to upload is 320 x 320 pixels since your profile photo displays 110 x 110 pixels but is stored at that size. Make sure you consider that, like most profile icons, your image will be surrounded by a circle.

Interesting reading:
What are the Instagram Posts and Story Dimensions?
2. Instagram bio Optimization
Some clients may visit your website or use a search engine to look up your hours, but they also anticipate finding that information on Instagram. So that people don't have to scroll or seek, put such information prominently in your bio. Get all the necessary information in there while maintaining clarity and readability. Ensure that your bio is explicit if, for instance, you have distinct hours for in-store pickup. It's a fantastic method for avoiding client confusion.
Were you taking a break or having to make an unforeseen closure? When you're back online, remove the post you shared to your story and the information you included in it from your bio.
3. Add Your Location
It is uncommon for it to make sense to open separate Instagram profiles for each location where the same business is run. Instead, think about creating notable story highlights for your companies that include features relevant to that location and a slide with the store's specific hours.
4. Provide All Important Information
Another dependable way to provide important information is by saving Instagram stories to collections of highlights under your bio. When operations have altered over the past year, several businesses employ helpful FAQs to help customers.
5. Share Client Reviews
Consider how your page appears to prospective new clients who check your version before opting to visit. An intelligent technique to establish credibility is to list any accomplishments or awards you have achieved in your bio. Another option is to create a story highlight that showcases pleased clients.
6. Be Consistent
One of the most important steps of optimizing your Instagram account for business is being consistent. You should try your best to keep your audience well updated and post consistently for getting your Instagram page optimized faster. You can also utilize the help of social media management and scheduling tools like SocialBu, which offer incredible features to help you stay consistent. Like SocialBu offers quick and easy Instagram posts and story scheduling. So your audience would never be left hanging for updates from you. Hence it will help you easily optimize your Instagram account for business.

Interesting reading:
What is The Best Time to Post on Instagram?
7. Show Value of Your Products
Instagram is the ideal place to post images and videos that highlight the value of your products because it is essentially a visual social media platform. Keeps your audience aware of the various uses of its product by posting images and videos, including instructional and lighthearted "how-to" videos. This is a crucial Instagram content marketing tactic that works in every sector!
8. Plan Audience-centric Content
Nowadays, social proof is quite essential. Consumers are more likely to trust other customers than they are unfamiliar with brands. Therefore, you are far more likely to win over your target audience's trust if you can collect images and videos of satisfied consumers utilizing your product or service. Whether it's a product-based industry like fashion, a location-based sector like coffee shops, or a service-based industry like airlines, brands from all over the world use this content marketing strategy!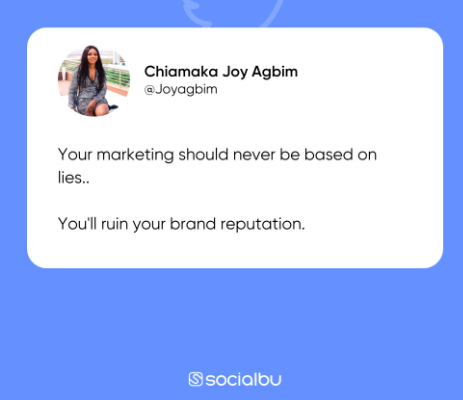 9. Creative and unique posts
As Instagram is entirely visual, having a distinctive aesthetic identity is crucial. Establish common themes for your pillars so you can switch them out. Sometimes the content will be crystal clear. For example, a restaurant may upload pictures of its food, just as a clothing business may display its items. If you provide services, consider sharing client success stories or going behind the scenes to show the employees who keep your business running smoothly.
Look for inspiration from different brands or different influencers. You can also read our blog on influencer marketing for a better understanding. Create a unified visual style once your themes have been chosen. This involves selecting a colour scheme and general look your followers will recognize when they see it in their Instagram feeds. Simply having excellent images is all you need to use Instagram to promote your brand. However, you don't have to be a skilled photographer and don't need many tools. Since you can publish directly from your phone, your mobile phone is your best buddy for Instagram photography.

Interesting reading:
Create Engaging Instagram Stories for your Businesses
10. Write Compelling Captions
Even though Instagram is primarily a visual medium, you shouldn't ignore your captions. You can share the narrative that gives a photo meaning by using captions. Good writing may foster a sense of community and trust. Or it might just be amusing. For example, this Reformation caption is witty and seasonal and references the company's environmental commitment.
Create a distinct brand voice so you can maintain consistency. For example, are Emojis used in your captions? Is there a style manual that your company adheres to? Which hashtags do you employ? A solid set of rules will keep your captions distinctive and consistent with your brand. Doing this will help you immensely to optimize your Instagram account for business.
11. Create Engaging Instagram Stories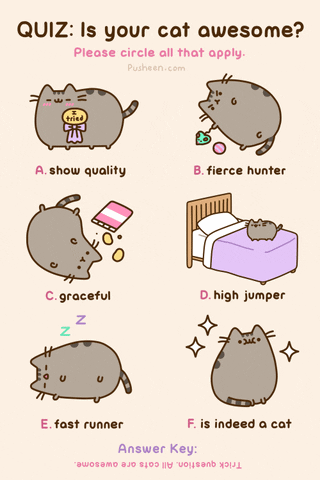 Every day, more than 500 million people view Instagram Stories. To put things in perspective, Twitter sees 192 million daily users on average. Even when it comes to brand content, people are attracted to the informal, vanishing character of the medium. According to a 2018 Facebook survey, 58% of respondents were interested in a business or product after seeing it in a Story.
This structure makes for a fantastic storytelling platform, as should be expected. Create genuine brand narratives with a beginning, middle, and end. Utilize Stories stickers to engage your audience and offer valuable content to encourage regular viewing of your Stories.
Don't forget that you can put links in your Instagram stories, and that gives your Instagram account a chance to grow faster and reach a wide audience easily. This is why it is an essential step to Optimize Instagram account for business.

Interesting reading:
11 Fun Instagram Story Games Ideas For Your Followers
12. Engage With Your Audience
Respond to reviews and mentions of your company on Instagram to encourage customers to interact with your brand. You may be tempted to use bots to automate your engagement. Stop doing it. It doesn't work out too well once we give it a try. Instead, spend some time thinking about how you want to respond when your brand is mentioned or tagged. A positive community can be managed by the individual in this job if social media rules, troll regulations, and mental health resources are available to support them.
13. Run Instagram Ad Campaigns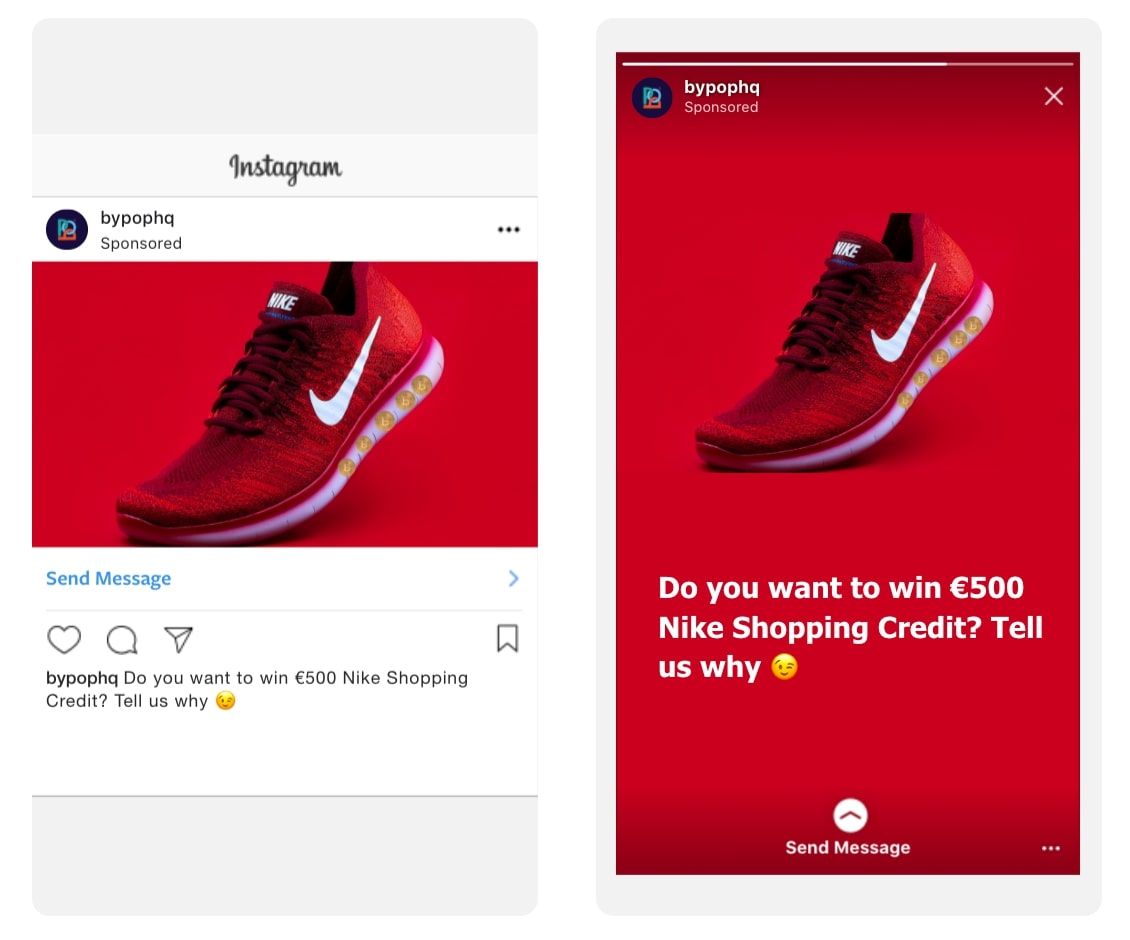 To Optimize your Instagram account for business, you can use Instagram campaigns to further your objectives. Campaigns frequently feature advertisements, although they don't simply concern monetized material. In both your organic and paid postings, they intensely concentrate on a particular goal for a predetermined amount of time.
A possible Instagram promotion would be to
Boost the overall visibility of your Instagram account.
You can use shoppable Instagram posts to advertise a sale.
Promote interaction with an Instagram contest.
With a branded hashtag, collect user-generated material.
Try new Tactics or Tools.
Overcome A/B testing. Social media has always encouraged experimentation and on-the-fly learning. To test the impact of new formats on the platform, keep an open mind and use Instagram optimization tools. For instance, To evaluate your progress and be consistent with your posts, you use SocialBu's analytics and scheduling features.
14. Try Instagram Ads
There are two ways you can implement this Instagram content marketing strategy. First, you can advertise a post using Facebook's ad creation tool or your Instagram business profile. You can specify your target market, the campaign's duration, and your financial constraints. Rest assured that your rivals are already carrying out this strategy, so you must also. This is why a great fit is Instagram advertising.
Final Verdict
More than 80% of Instagram users follow businesses that have optimized accounts. And if you want to reach a vast audience and grow your business online, then then you should optimize Instagram account for business. With the help of the tips and techniques mentioned above, you'll be able to do exactly that in a hassle-free and efficient way. All the tips mentioned in our blog above have proven that they are worth implementing. So, try them out and see how rapidly your business's online visibility grows!