Our focus is to discuss how you can create engaging Instagram stories for businesses. But first, let's take a brief look at what Instagram stories are and how they are suitable for your business?
Instagram stories are either images or 30-sec short video clips that you can add to your Instagram profile. They appear on the top of the user's Instagram feed.
While viewing a story, most people do not skip them. It is because stories appear one by one without manually swiping them. So if you can create an engaging Instagram story, you can easily attract an audience.
Stories are different from an Instagram post as they disappear after 24-hours unless you add them to your Instagram highlights. Instagram stories have a casual appeal to them as they contain laid-back or BTS content compared to carefully curated high-quality Instagram posts.
Instagram stories are more popular than ever. 500 million users of Instagram visit stories daily.  75% of users take action after viewing videos on the platform. It implies that if you are still not using Instagram stories, you should start using them.
Instagram stories can be best for your business as they claim to be the best source of video marketing. Stories take minutes to make and boost brand recognition, and their non-permanent nature helps brands try various marketing strategies for free. They are powerful in engaging audiences and building trust. These are also great at creating brand identity and connecting followers.
7 Ways to Create Engaging Instagram Stories for your Businesses
This blog aims to discuss the seven most effective ways to create engaging Instagram stories for your businesses.
1. Create Polls & Quizzes 
If you want to guide your users on the answer front, you can add polls or quizzes to your stories instead of asking open-ended questions. 
Using polls and quizzes on Instagram stories is a great way to create a sense of interaction and involvement in your followers. You can use these polls as customer surveys, customer feedback, or market research, or get to know your audience and have fun. For example, you can set a poll asking the preference of your audience between tea and coffee. 
The possibilities of polls and quizzes are endless. You can choose to create a more specific and most relevant to your community, brand, and nature of the business. The question sticker is a fantastic feature. It has allowed the brands to let their audience ask them questions and ask questions themselves. 
This helps in building a brand community and engaging audiences. It allows you to show your customers that you value their opinions. The responses to questions place the brand position as human, reliable, and kind making this an excellent way to create engaging stories for businesses. It, in turn, creates loyal customers. 
2. Ask Questions in Instagram Stories
Customer insights and views can help a business meet the demands of the people and gain maximum profits. Asking questions to the audience is viable for this purpose. You can hold a Q/A session in your Instagram stories by adding a sticker. Your audience can answer it directly on the story without having to go to the direct messaging option.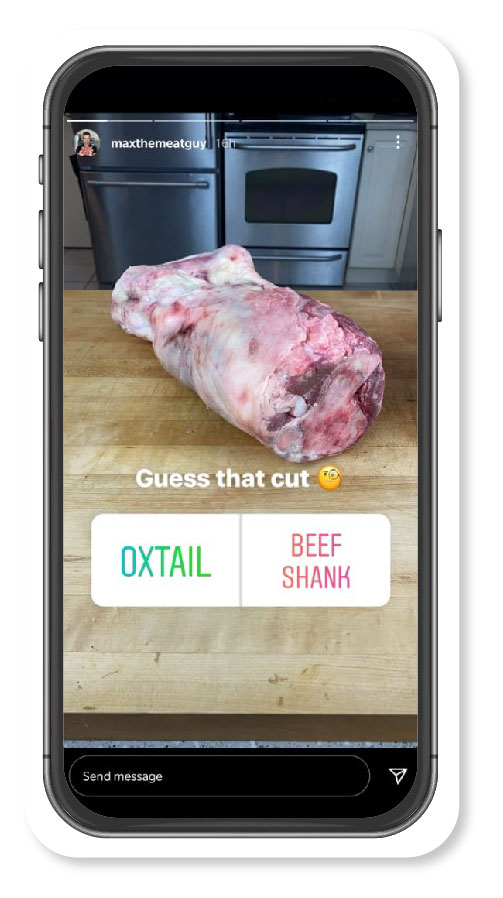 The answers to the Q/A asked on Instagram stories are counted as engagement, and it is much fun to know how people answer the same question differently. The replies to your question appear in your notification or on top of the viewer's name on your story. You can also share the responses in another story while keeping the identity of the person anonymous.
When followers find common and unique answers to the same question, they will feel connected. It will also create the feeling of a community around your brand.
3. Share BTS of Your Business 
Everybody loves to peek behind the curtains. How do you make your product? What does your office area look like? How does your staff look when at work? How do you induce your creativeness? All these and more are usually the best curiosity drivers and a great tactic to create engaging Instagram stories for businesses.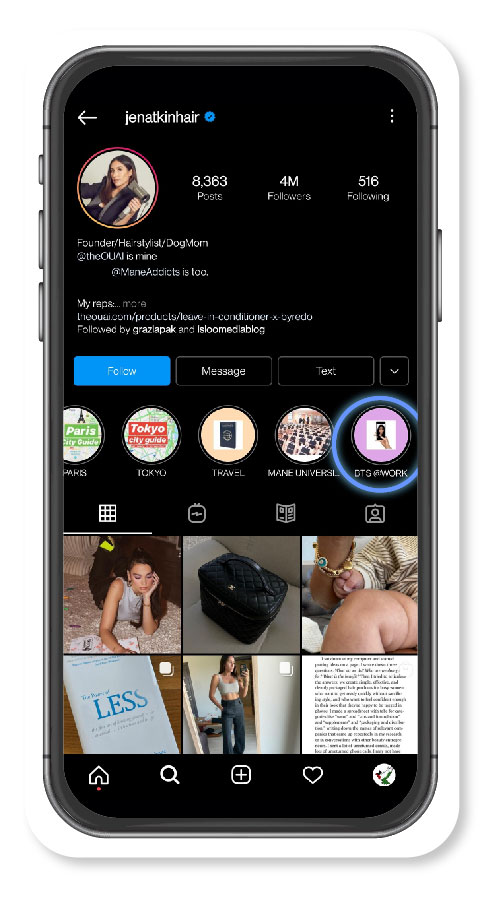 Use the social aspect of social media and put stories behind the scenes about your product or service. Suppose you sell customized candles and ship them to various areas. A video showing your parcel packing and ensuring product safety can drive a lot of engagement and views. 
4. Start a Countdown for Your Upcoming Product 
A good countdown can always create positive energy, anticipation, and excitement. It is yet another way to create engaging Instagram stories for businesses. Use the countdown sticker for the upcoming product launch. Or a meeting, a special day such as Black Friday, New Year's Eve, give away, or your business anniversary, upcoming sales, announcements, etc.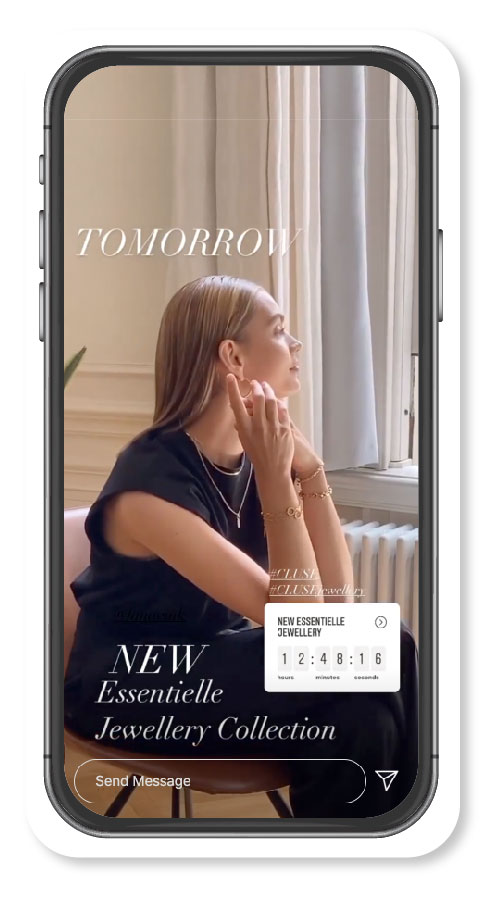 Source: https://www.omniconvert.com/blog/how-to-use-instagram-stories-ecommerce/
The users can set reminders for the deadlines of the countdowns, and brands receive this data. It means your countdown sticker can provide you the most accessible information about the actual number of engaged audiences.
5. Collaborate with Other Businesses 
Collaboration on social media has become a norm. You can collaborate with other businesses or influencers that match your niche on Instagram stories as well. It is an excellent way of gaining new followers along with account engagement. 
In collaboration, you swap your stories with another brand or influencer and let them take over your stories for an hour or two or even for a whole day. It will introduce a new brand to your audience, and their audience will get a chance to know about your brand. 
It works best with the video stories. As with videos, people find it easy to gain the trust of the new audience you will be introduced to. You can create a video and send it to your collaborator, and they can post it. This collaboration is simple yet highly effective.
6. Share UGC In Your Stories 
Many people do product reviews, product unwrapping, and similar videos and post them on their videos. If the product is yours, they'll indeed mention you on these story videos. You will get the notification and can see the video in your direct message as well.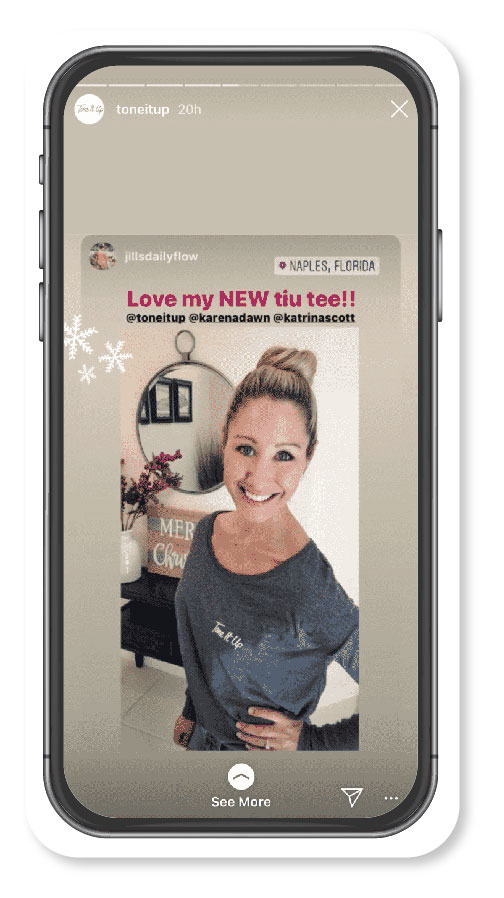 Source: https://meetedgar.com/blog/20-instagram-story-ideas/
You can share those videos on your own Instagram story as well. It takes only a few seconds as the video has already been made for you. It helps you gain public trust, a sense of appreciation, and social proof for your brand. 
7. Add Links
in Your Stories t
o Create Engaging Instagram Stories for Businesses 
Instagram allows you to add links to your stories. But this feature is currently available only for accounts having 10k or more followers. If you belong to this group of businesses, you can surely add links to your Instagram stories.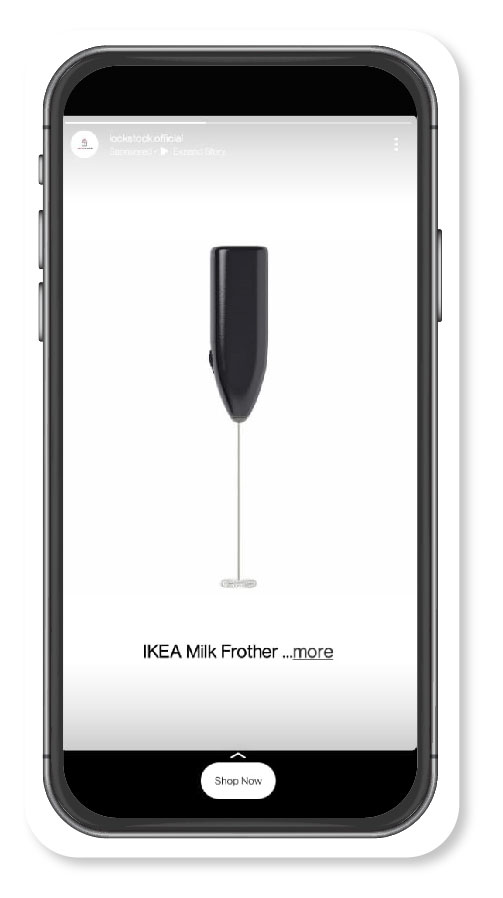 Instagram keeps the users on their app by not allowing a functional link anywhere except your profile bio. Therefore, having an option to add a link in stories is a bonus to have. The link will redirect the user to another browser within the app. It means that when you close the link, you will pick up exactly from where you left. 
You can make the most of this feature by adding a clear call to action in your stories such as shop now, start the free trial, book now, e.t.c. So people would know where they are headed when they swipe up. 
Plan and Schedule Instagram Stories & Create Engaging Stories for Your Businesses
The creative sphere of your mind is not active all the time. So when you find your creative ideas flowing, create all the content you intend to post on your stories in the future. Moreover, the time at which you post is critical to gain the desired engagement and audience interactions. Posting at the optimum time for your niche is essential when your audience is most active and influential. It increases the chances for your story to be viewed by more and more followers.
How can you know the best time to post on Instagram? We have researched and evaluated all for you here, "What is The Best Time to Post on Instagram?"
Doing all this can be a challenging task, especially if the optimum time for your niche is past the office timings. To make it all easy for you, several tools allow you to plan and schedule the stories. So you can maintain a flow in your posting styles, time, and content. 
If you post engaging, interactive, personalized, and creative content regularly, it can help you boost engagement and may create anticipation in your followers about what is coming next? And what you have got more to offer. Scheduled stories and gain maximum benefit from this extravagant feature. 
How Can You Schedule Stories with
SocialBu
?
Scheduling stories with SocialBu is quite simple and comes with a lot of benefits as well. To schedule a story with SocialBu, you have to follow the following steps.
Login to SocialBu.

Go to the "Schedule" and then the "Schedule Stories" part. 

Select your Instagram account on which you want to schedule the stories.

Add the image or video you want to post as the story. (Note that the video should be of resolution 480p or above) 

Select the time and date.

Click "Schedule," and you are done.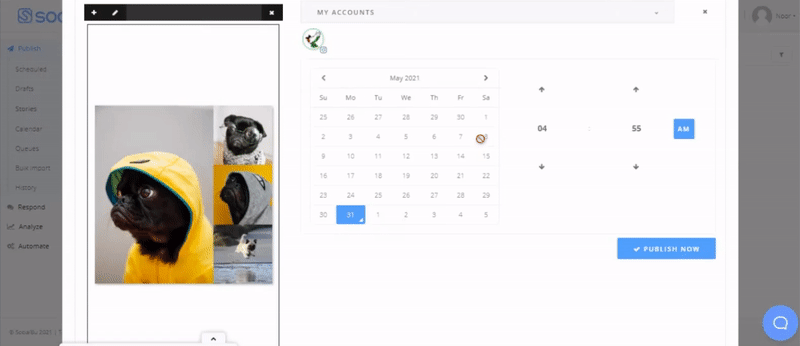 While scheduling stories with SocialBu, you can add stickers, swipe-up links, emoticons, and location tags as well. Also, if you are scheduling a post with SocialBu, it gives you an option below to post it as a story. 
Further, you can check this blog, "How to Schedule Instagram Stories for Free with SocialBu."
Final Words 
The advanced features on social media platforms such as Instagram are revolutionizing the marketing world. Features like Instagram stories, reels, and IGTV have enabled small businesses to compete with the marketing strategies of high-budget companies. If used wisely, this minor feature like Instagram stories has a lot to offer.
A simple option of adding stickers can be utilized flawlessly to ask questions, post polls, and gain much engagement to your account. This is why creating engaging stories for your businesses holds so much importance. Using stories to validate your brand's social impact can help you win a solid brand reputation, trust, and brand value. All these, in return, let you gain a loyal and strong customer base. 
Posting meaningful, creative, and engaging content regularly on your stories can do wonders for your business. It can make your business account stand out on the platform as compared to your competitors. It will not be an exaggeration to say Instagram stories are accessible, creative, and free sources to practice various interactive marketing strategies.