Instagram has been offering "filters" since 2011. Initially, the options in the feature were limited with choices of applying borders or increasing the resolution of the picture. With every update, the Instagram team has been continuously trying to make this feature better. Now, the users can choose from whooping 25 various filter options along with effects. 
In 2017, Instagram first introduced augmented reality filters. It gained immense appreciation and praise from its users. However, the feature of augmented reality filters gained popularity in 2019. It was when the parent firm of Instagram which is Facebook, introduced the Spark AR studio. It is a platform that allows its users to produce customized AR filters. They can use these filters in Instagram stories, Facebook stories, messenger, and portals.
How Instagram Helps to Increase Engagement of Your Business 
In modern business practices, it is a norm to do advertisement and marketing through social media platforms. However, when it comes to user engagement, Instagram is an unrivaled leader. 
The stats stated above are a few among many. These metrics present Instagram as a productive platform for a person or a business because it gives them a taste of what Instagram can do to increase engagement on your profile. 
A business person or a simple person should consider Instagram as a gold mine for them. Then, as marketers, they should add their expertise and knowledge to this gold mine. It will then allow them to use the hidden potentials of the platform fully. 
To engage more with your followers and target audience, Instagram offers various features. For example, you can use Instagram reels, Instagram feed, Instagram Stories, and IGTV to create quality content. Also, you can use these features productively to enhance engagement on your profile. So, to beautify the visuals of your posts, Instagram offers "Filters". Filters can be both simple and customizable augmented reality filters.
Read our other blog, "How to Schedule Instagram Posts & Stories for Free: A Step-by-Step Guide."
Reasons Why You Should Use Instagram Filters
Here are the reasons why you should use Instagram filters;
1. Using Instagram Filters Drives Organic Traffic to Your Account
One of the many reasons to use Instagram filters is their ability to multiply the engagement response. In addition, it can produce organic traffic without even paying for ads or per-click payments.
Your brand can create its sticker and then let it do the heavy job of attracting engagement. Then your followers can find the filter from your brand's account and share it.
On the other hand, the non-followers can find the filter along with the other filter options available. To access the filter, the user needs to either visit the profile or follow the brand's account. It ultimately brings the traffic, thus increasing the account's engagement.
When one follower uses the filter, it becomes visible to their followers, and the chain continues. It means a single augmented reality filter handles the core factors to increase engagement on your posts and account. For example, the broad visibility, recognition, and positioning of your brand on this highly competitive social media platform.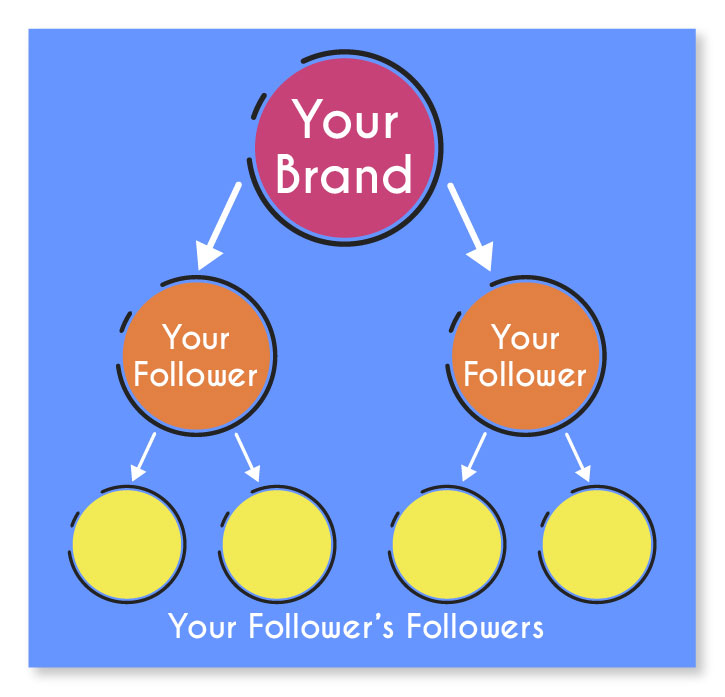 One of the brands to jump into using the augmented filters was kylie cosmetics. The kylie filters are fun to use as they allow the users to try various shades of lipstick from the brand's wide range. These filters can also be quite promotional and exceptionally helpful when the user is looking to buy the product.
2. Instagram Filters Can Be Productive Even if They Are Not Viral 
Sharing filters on Instagram is free. Their production cost is minimal, so any payoff or return is a profit. When you make a filter, it is available for all your followers to share and use. Even if only one of your followers shares your filter with their friends or followers, it means you have increased your reach. You may end up gaining a new follower or a customer. 
The Instagram AR filters are the reason behind the popularity of nano or micro-level influencers among their targeted niche. 
Indeed, Instagram filters will not expose you to the 1 billion Instagram users. But they will surely increase your reach due to its continued chain of sharing. Hence, your customized AR does not require to be viral to show its engaging abilities. 
3. Instagram Filters Make Your Content Engaging 
Instagram AR filters are available for free. The competitiveness in this feature needs you to be innovative with your content more than ever before. Unique, engaging, and creative content will suit well with this feature only. The majority of the brands have used filters to their maximum potential. Therefore, increasing their reach and engagement rate. 
Some prominent names with innovative and engaging filters are
Disney Minnie and mickey AR filter

Kylie cosmetics lip filters

Adidas retro AR filter

NBA dunk cam 
All these filters are interesting, fun, and lowkey promotional.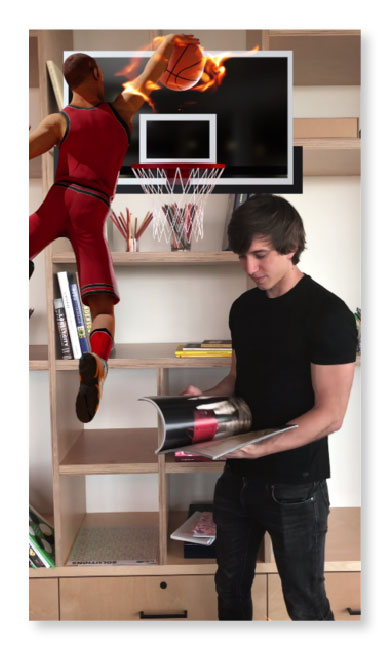 Source: InstaBF
"NBA dunk cam" Instagram story filter is a little bit more on the fun side and not on the promotional one. Nonetheless, it is perfect for engaging their basketball enthusiast followers. 
4. Instagram Filters Can Expand Your Sales Funnel
The successful AR filters can increase your reach dramatically without spending much money on them. People using your filters are indirectly promoting your product or service, acting as ambassadors. 
A properly created and utilized filter can attract more people to visit your profile. Therefore, providing you with the chance to introduce your product to a wide audience. This audience can be converted to buyers, thus crafting a sales funnel for your business.
Take a look at the indulgence of the following luxury brand filters. 
Prada (your Prada mood filter) 

Versace

GUCCI

Victoria Beckham

Stella McCartney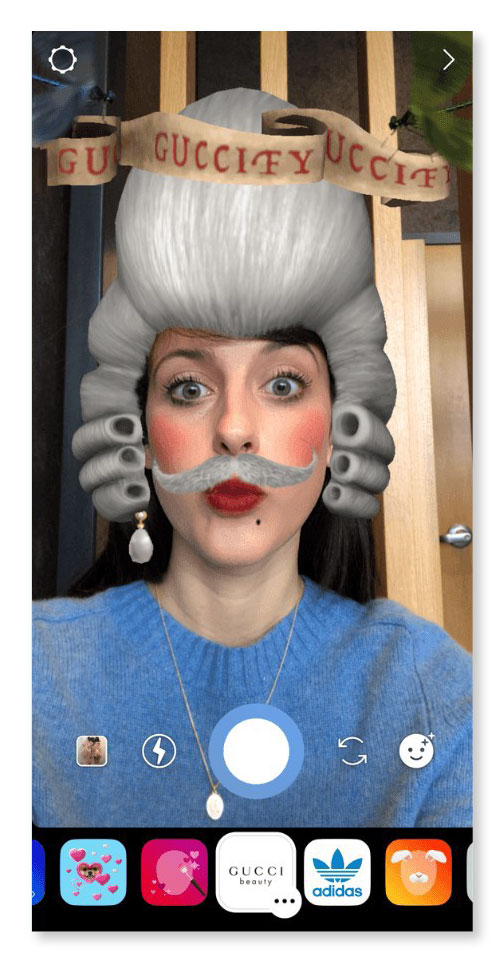 Source: Later 
It explains how a filter can be responsible for increasing the reach of your brand. Also, how easily they can widen the span of your reached audience. Thus, positively impacting the business sales. 
5. Custom Instagram Filters Can Make a Brand Undeniably Successful 
When a brand uses a filter rightly, then the success it can bring is undeniable. In some cases, if most people know about a certain brand, it is only because of the AR filters. 
Even if you don't buy Versace, you surely know their logo theme of Greek mythological figures. All thanks to their customized filter. It makes you appear like the Greek goddess along with monochrome sides giving it a complete aesthetic look. After trying the filter, you surely have searched the brand, and at least one item is on your Wishlist now.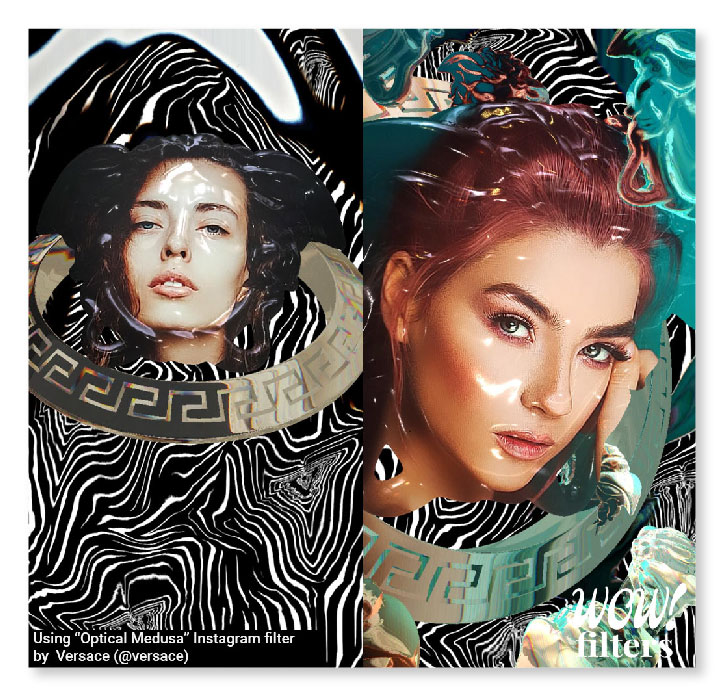 These filters allow brands to go global easily as 88% of Instagram users are from outside the US. Hence, Instagram filters have allowed numerous brands to become international. They are also reaching all the major markets where their product is in demand.
How to Create Instagram Filters to Increase Engagement on Instagram?
The use of AR technology for creating customized filters is all creative, fun, and novel. But even if you have decided to make the "wow factor", don't forget to produce brand awareness using this fun feature. To ensure this consider the following factors.
What Is the Goal?
Be clear on the purpose of creating an AR filter. The reason may be brand awareness, increasing engagement, conversions, or profile growth. The clear set goal will guide you and your creative team about the nature and type of the filter you need to create.
Analyze Your Audience 
Before setting any marketing strategy, knowing the audience is important. Therefore, before creating your AR filter, you must know whom you are targeting. Are they Instagram followers or users? How would you reach them? It can be done through ad campaigns or just by creating and sharing a chain with your followers.
What Should Be the Tone of Your Filter?
Be careful about the vibe you want to create from your filter. It can be in line with the already set image of the brand. Or it can be a new concept (test-driving). Make sure to keep in mind the feeling people will get when using your customized AR filter. You can identify which tone to use based on these points also;
Anticipate the Call to Action
Consider what your filter user will be able to achieve through it? What is the angle of the filter? Will it work from the user's perspective or the selfie camera? Consider checking the already available filters to know what people usually like. Decide whether you want the filter targeted to a specific event or occasion. Or will it be an evergreen representation of your brand?
Decide the Promotion Strategy
Decide about the promotional strategy of your filter on the platform. Your own stories or highlights can do it. If you are not budget constrained, you can promote it through ad campaigns. You can also reach influencers as they are a great source of attraction and effectiveness.
Essential Rules for Using Instagram Filters
Using Instagram filters to convert followers into customers needs hard work. Because this is not the platform that you can leave unattended and expect your account to grow magically. So, to fully utilize the ability to market your brand using these filters, keep in mind the following points.
1. Always Be Consistent
Your feed represents your brand. Seldom changes in feed layout or pattern can cause people to get mixed messages about the brand. It can disturb the process of clear brand awareness. So, be consistent in posting in a similar pattern and use the same filter almost every time 60% of the brands use the same filter every time.
2. Do Not Use Excessive Filters on Your Photos
Over filtering can leave a negative impact on your follower's minds. As highly edited photographs are exclusive to reality. It can cause a lack of trust as everyone wants to see the product or results of using the product as close to reality as possible. So, avoid over-filtering and keep it simple yet elegant and fun.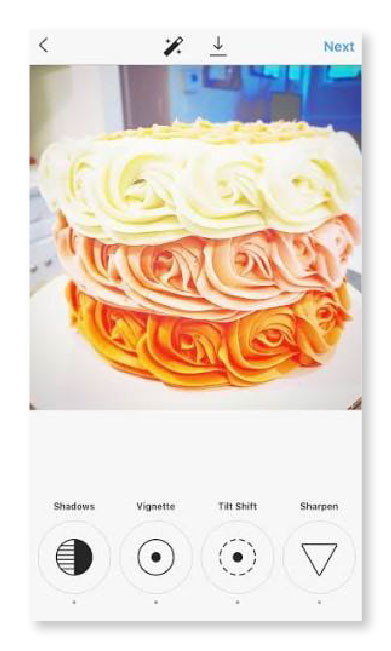 Source: wordstream.com
3. Use Filters that Represents Your Brand Precisely
Make sure your choice of filters remains in line with your brand. It is not only linked to your feed layout, but these filters will represent your brand also. So make them look what you want to be perceived.
For example, a fun and funky teen clothing brand cannot have filters giving the old sad and low spirit vibes. So make sure to keep your Instagram filters related to your brand. This Kylie lipstick filter from Kylie Cosmetics is the perfect example of this.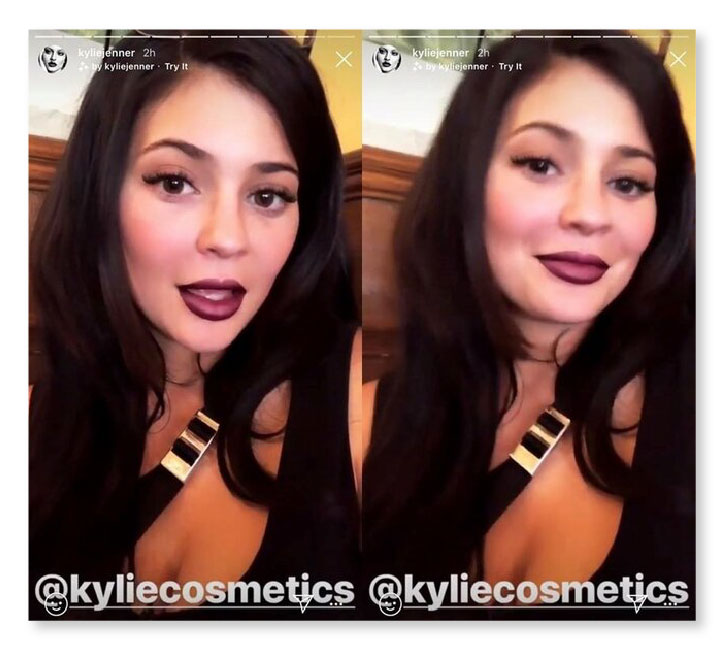 Source: InstaBF blog
It is the marketing strategy, and these filters will make a perception about you gaming your followers. And if these are not in line with your brand, it will make people confused about your presence outside Instagram. This lack of trust can make you lose potential customers.
Conclusion 
When the AR filters are available for free, anyone can use them, thus increasing the competition. Whenever a competition is high on any platform, it becomes "survival of the fittest." In this case, you need to be fit enough to last and use this free and fun marketing source. 
Here, "fit" refers to having memorable, unique, fun, relevant, and updated content. Many brands have used try-on filters, for example, kylie cosmetics, off-white sunglasses, and Versace. To outclass all of these, Prada comes up with their filter of how you will look, that is, "what's your Prada mood." 
No matter how much competition this filter feature has, it is always the uniqueness and innovation that make them successful.
In conclusion, the augmented reality filters are available for everyone to market their brand on Instagram. However, it will only give the desired results to those who will use them correctly and innovatively. Once done correctly, it will do wonders for brand image, engagement, and conversions.