Instagram is a powerful photo-sharing app utilized for recreational purposes and for staying in touch with dear ones. It is an excellent social media platform for business as well. You can easily promote your brand to a vast audience of 1 billion monthly users, even to people living in far-off places.
Also, Instagram is a feature-rich tool that enables users to like or comment on posts, send private messages in their inbox, share and save posts, etc, which makes it a great platform to advertise your business and engage the targeted market.
Now, many users have multiple accounts, like one for their friends and family, and the other for their business, and managing multiple accounts can be a hassle if not done in an organized manner. We will discuss how you can easily set up and manage multiple Instagram accounts in this article, so keep on reading.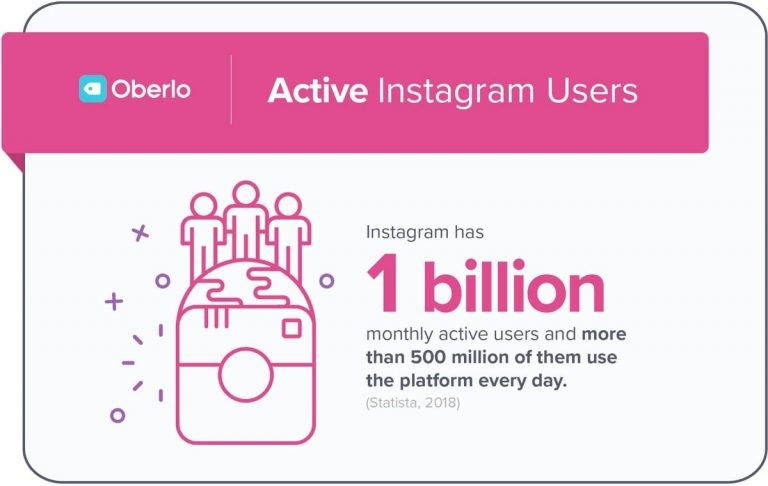 Why You Should Create and Manage Multiple Instagram Accounts
Because Instagram is a multi-purpose social media platform and it is globally used for recreational and business purposes. It is a powerful platform to reach the target market and sell products or services to a vast audience. Here is why you should create and manage multiple Instagram accounts;
1. Keeping Personal and Professional Life Separate
It's mandatory because your customers will probably not be interested to see what you do in your personal life or on weekends. Like, which restaurant you're at, for example. And sharing business-related posts on a personal account may annoy your friends or family.
So, it would be best if you create separate Instagram accounts for businesses and families. Keeping the customers engaged and enjoying themselves with their loved ones is requisite to be successful in their professional and personal life.
2. Promoting Business & Reaching Target Market
It's easy to reach your target market and promote the products or services through ads or promoted posts if you have a business account on Instagram. The business account features are a bit different from the personal account as it shows the analytical data and much more that help advertise to the right people.
3. Pitching Certain Interests to A Specific Audience
Keeping the followers engaged and turning the lead into a customer requires catering to their interests. Therefore, it's not wise to create a single Instagram account for different interests as it cannot help keep the followers satisfied.
So it is a good idea to create separate accounts for each interest and post the content to captivate the specific target audience. Through multiple different accounts, it is easy to engage and manage a particular target market.
You Can Create Another Instagram Account While Logged In, Know-How?
Yes, it's possible. Instagram is an exceptional platform that allows creating more than one account and using them for multiple purposes. Here are the steps to follow for creating a new Instagram account while logged in:
Open your 

Instagram

 account.

Proceed to your profile.

Go to the menu at the top right.

Press the settings option.

Go to the Add Account option from the bottom.

Go to the Sign-up option.

Select Sign Up With Phone or Email.

Enter the required information, and avoid using already used details.

Confirm your email address to start using your Instagram account.

Enter the verification code if you used the Phone number.

Add your image, name & password.

Enter a specific username & that's all.
It's an easy process, and you can create and add up to 5 Instagram accounts. So it is effortless to operate a separate account for a whole different purpose.
How to Add & Switch Between Multiple Instagram Accounts
Why log out from one account and then log in to the other when you can switch between the two easily, right? Here are some easy steps that you can follow to add & switch between your existing accounts;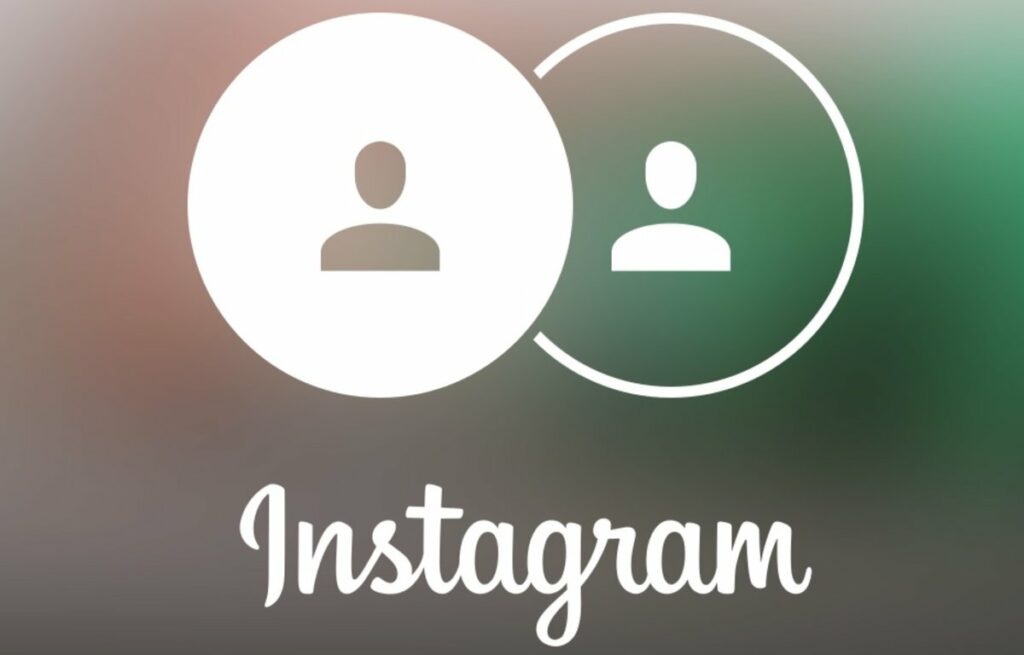 Go to your profile.

Press your account name on the top.

Press the 'Add account' from the pop-up.

Add the account with the necessary details, and it's done.
Now, you will see the added Instagram account in the option every time you follow these steps. If you want to switch the account, follow these few simple steps:
Go to your profile.

Press your username at the top.

Choose the account you'd like to switch to from the pop-up.
This is how you can easily add another Instagram account and then switch between them easily.
Android, iPhone, or Desktop? You Can Manage Multiple Instagram Accounts on All of Them!
You can manage multiple Instagram accounts on iPhone, Android, and Desktop. We have discussed below, how you can do that easily.
How to Manage Multiple Instagram Accounts on a Desktop?
It is easy to manage multiple Instagram accounts on the desktop for Google Chrome users. Just a few steps, and there will be no need to login in and log out every time you want to switch between your IG accounts.
You can see your image in the top corner of Chrome.

Press the image, and you will get more options from the settings.

Two options will appear: 'guest' and 'add.'

Choose 'Add,' then give it a name. It can be personal or business.

Choose the icon to represent it.

A new window will open, and log in to Instagram.

Save the password.
Now you have added the 'person' in Chrome, you can access one account on the main page and the other by clicking on 'person.'
How to Manage Multiple Instagram Accounts on iPhone & Android?
You will require version 7.15 for iOS and Android to do this. Here are the steps to follow for managing multiple Instagram accounts:
Go to your profile.

Proceed to settings.

Press "Add account," & you can add up to 5 accounts.

Enter username and password.

Just press login.
The account is added, and you can switch easily by following these steps:
Go to your Instagram profile.

Tap on the username at the top.

You will see added accounts. Select the desired one.
The process to manage multiple Instagram accounts on iPhone and Android is identical to the one mentioned above.
Step-by-Step Approach to Manage Multiple Instagram Profiles
Here is the step-by-step process of managing multiple Instagram accounts effortlessly;
1. Know Your Purpose
If you want more than one Instagram account, then each must be used for a different purpose. You can use the other account for a different company as well. There must be a unique goal for each account to achieve. 
You can have separate accounts for the same brand with different purposes. For example, you can set up an account for creating brand awareness, the other one for generating sales, and the third one for engaging audiences by allowing them to share their stories.
To achieve this seamlessly, you should consider hiring an e-commerce marketing manager who will help you boost your online presence and engage your target audience.
2. Curate Captivating Content
Managing multiple Instagram accounts requires each of them to be handled for a different purpose. As each Instagram account has a diverse target audience, the content strategy must be unique.
In addition, creating a content strategy that gets the maximum results requires keeping an eye on the target market's age group, gender, and online activity. All these factors assist in creating a rewarding strategy and engaging posts. The best way to do that is to use keywords and hashtags.
Use the Keywords and Hashtags
Analyzing the keywords and hashtags also helps to explore and learn the trends. Getting the latest trends and what's going on in your specific niche serves well in creating captivating posts.
You can use SocialBu to create a feed and keep track of all the hashtags and keywords related to your niche. To set up the monitoring feature of SocialBu, you have to:
Log in to your SocialBu account.

Go to the "Respond" tab.

Set up a feed, and add the keywords or hashtags to an existing feed if you already have one.

Select the account on which you want to apply the settings.
Your feed will show the posts with selected keywords and hashtags like this.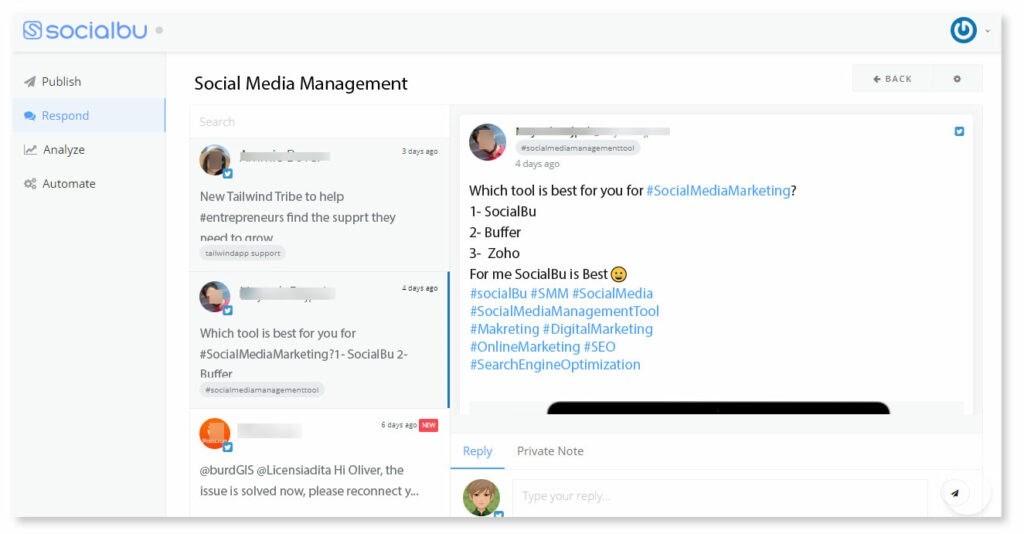 3. Utilize Social Media Management Tools
Managing multiple Instagram accounts manually can be hectic. However, social media management tools work well, as they allow you to manage multiple accounts from a single interface. They save a lot of your time and hassle.
Here we are going to discuss an exceptional feature-rich social media management tool, SocialBu. You can use SocialBu to manage multiple Instagram accounts easily from a single interface. The following explained features of SocialBu would surely help you to manage your multiple Instagram profiles effortlessly.
A. Scheduling Posts According to Content Strategy
It's mandatory to show exciting posts to the followers to make them take action. From the business point of view, it can be a follower converted to a lead. The tool enables you to schedule the posts and gives the knowledge of the best time to post for maximum results. Here is how you can schedule posts from this social media management tool:
Log in to your SocialBu account.

Proceed to the "Schedule" tab on the upper left side of the tool.

Select the Instagram business account for which you need to schedule posts.

Add posts and schedule them for the desired date and time.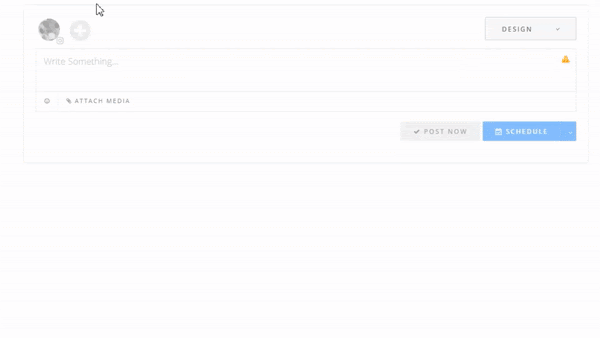 B. Automation and RSS Feed to Keep Instagram Feed Updated
It's trouble-free to control and automate posting on Instagram accounts through the SocialBu automation feature. Setting the conditions and actions is requisite. The tool will handle the process itself. Let's see how to set up an RSS feed using the automation feature:
To

set up an 

RSS feed

, log in to your SocialBu account.

Proceed to the "Automation" tab.

Click on "create a new automation" and then add preferences.

Add the blog link if setting up automation for the website's blog is required.

Choose the account for automated posts.

Set up the preferred actions and conditions.

Click "save," and it is done.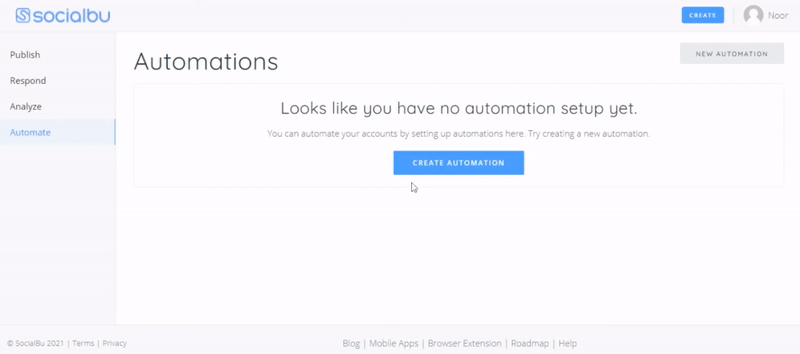 C. Intelligent Replies for Boosting Engagement
It is necessary that your followers are actively engaging in your business posts and are satisfied as well. So, it's best to set up automated replies to your IG business account's comments and messages. Here are the steps to set the intelligent replies;
Log in to your SocialBu account.

Go to the "Automation" tab and create an automation.

Choose the option "when a message is received" or "someone leaves a comment."

Select the account on which you want this feature.

Choose the actions and set up the preferred conditions.

An automated reply will be sent when someone messages, comments, or posts a review.
How to Schedule Instagram Stories & Manage Multiple Instagram Accounts from One Place?
Manually posting multiple IG accounts is a very time-consuming task. In addition, most business people find it hard to keep their followers engaged by sharing valuable information on their Instagram story to promote their products/services, consistently.
SocialBu is the perfect solution to schedule IG stories on personal and business accounts from one place. Let's see how you can schedule Instagram stories with SocialBu:
Log in to your SocialBu account.

Go to the Schedule tab.

Proceed to the "Stories" option.

You can add images, stickers, emojis, and swipe-up links.

Create a story and select the account on which you want to schedule.

Select a suitable date and time.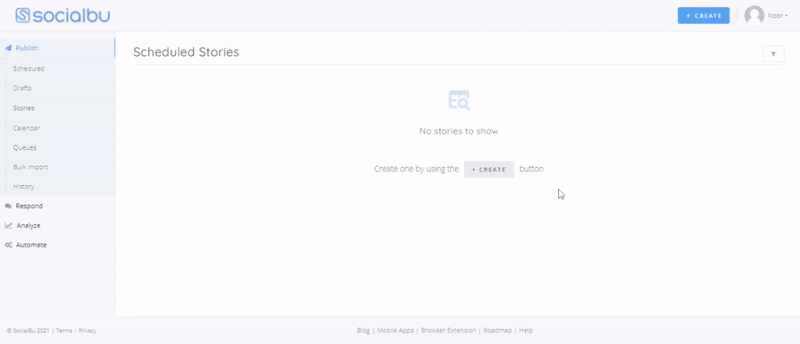 This is how easy it is to publish or schedule your Instagram stories with SocialBu. It can save a lot of time and effort, and a business person can undoubtedly cash on doing something more substantial.
Warning:
Don't Create Multiple Instagram Accounts on One Email, Here's Why.
Don't go for the option of creating more than one Instagram account from one email. It can land you in some serious trouble. Always use a different email if you want to create another Instagram account. The phone number associated with each account for recovery must also be separate.
The reason is that users may face the issue of a locked second account if they forget the password, so it is best to associate different email and phone numbers with registering each account.
Note: Login of One Account Makes All Linked Instagram Accounts Accessible
If you have an Instagram account logged in, but you also have your other accounts added, you can easily switch between them. It makes all the added accounts accessible. No matter which of your account is logged in, you can easily switch to the other one with just a tap.
It is not recommended to add your personal Instagram account to your business accounts if you have hired social media managers to manage your business accounts. You certainly wouldn't want to risk the privacy of your account in this case.
Want to Remove An Instagram Account? Yes, You Can & Here's How?
As the Instagram account is not difficult to link, it is also effortless to unlink or remove it. Here are the steps to unlink/remove the account;
Go to your Instagram profile.

Click the hamburger icon from the upper right corner.

Go to settings.

Scroll right to the bottom & click on log out.
You will get the option to choose an Instagram account. First, select the account you want to log out of. Then, here is another technique for removing an Instagram account:
Log out of all your accounts.

Go to manage the account on the home page of the Instagram app.

You will see the (x) sign next to the account name. Press it to remove the selected account.
Important FAQs About Managing Multiple Instagram Accounts
Here are some of the most important frequently asked questions that you should know about;
1. How Do Push Notifications Work with Multiple Instagram Accounts?
Push notifications are received by IG users who have multiple accounts, and they have turned on the notifications. Other factors determining the push notifications from the IG account depend on when you last checked your account and the number of devices on which the account is logged in. In addition, you can turn on the notifications for the actions such as liking or commenting on the posts.
2. How to Manage More than 5 Instagram Accounts?
You can continue adding IG accounts to switch between them, and the limit is 5. Unfortunately, IG doesn't allow to the addition of more than five accounts.
Conclusion
This blog gives detailed information on why and how to set up and manage multiple Instagram accounts. Instagram is a photo-sharing platform that makes it fun and exciting to connect and enjoy with friends or family.
Instagram can take your business from zero to million followers if you use the right strategies. Also, when you can have multiple accounts for specific interests and engage the target audience with particular requirements, why not utilize it, right? You can enjoy sharing your personal moments with friends and family on one account and promote your brand on the other.
To make managing multiple accounts easier, you can use SocialBu. It helps you leverage the power of this image-sharing platform and share your experiences, achievements, products, and services with the world!