Instagram's green screen is one of the many features this platform continuously adds to keep its users engaged. Using this feature for business marketing and e-commerce can be a smart move.
In addition to being an entertainment prop, businesses can leverage this feature for product marketing. Furthermore, content creators can use it to explore a wide range of ideas to keep their followers engaged.
Let's explore some other ways it can benefit your business.
What is the Green Screen on Instagram?
The green screen effect on Instagram is a filter that allows you to add virtual backgrounds to your reels. A solid green color background is used to add layered effects to your video. That's how a green screen effect works.
You can be at your home, but you can create and add a virtual background with a green screen effect to be anywhere you want to be.
Benefits of Using the Green Screen Effect
We have listed some of Instagram's green screen benefits that businesses can leverage to add a professional touch to their posts.
1. Choose Your Branding as Background
Every company has its own unique logo. So the best way to shoot an introductory video is to choose the company logo as the background.
The green screen effect can become handy when you are not at your company's location. Or when you are conducting or attending an online meeting or an interview.
You can use the green screen to choose your company's logo as a background.
It adds value and a professional touch to your appearance.
2. An Affordable Solution
Who would want to save the production cost, the cost of the costume, and traveling to the required destination for a mere video? And all that to build a strong Instagram presence.
Instagram's green screen effect can solve all these problems quickly and affordably.
You can save your time, effort, money, and energy too.
It is strongly recommended for small startups with a limited budget for their marketing strategies.
3. Creative Background
In this competitive world, building a solid online presence is no joke. So always consider developing your content strategies and avoid using old and dull concepts.
People want to see something different, extra, and new every time. Good thing that you can use the green screen effect to create compelling and exciting reels.
It can provide many possibilities to create exciting content with the most creative backgrounds.
4. Demonstrate Your Product
Demonstrate your product using Instagram's green screen. You can use your product as a background filter.
Then you can create green-screen Instagram reels, green-screen Instagram stories, or green-screen Instagram live by explaining the features and uses of the product.
5. Use Any Location You Want To
You don't need to travel to the required destinations for an Instagram reel. Instead, just use the green screen effect to add any background to your video.
It can be any landscape background, space background, ocean, air, or anything you want.
6. Create Commentary Video
Creating a commentary Instagram reel or story is another excellent idea for using the green effect.
But, again, there are different ways you can do it. The possibilities are endless.
You can reply to some particular comments by putting them in your background, like answering a question or explaining the use of your product.
You can use any hot topic as the background and talk about it.
7. Share Your Brand Story
Last but not least. You can create and share your unique brand story using Instagram's green screen effect.
Use the step-by-step progress as the background filter and explain the process yourself. It is a great interactive way to educate your consumers about the brand and its history.
You can use Instagram filters to increase engagement as well.
How To Use the Instagram Green Screen Effect?
To use Instagram's green screen effect, follow the steps below.
Open your Instagram and click on the + (create story) button in the top left corner.
Then choose reels from the options and tap on the effects icon.
Instagram effects will open. Now click on the search bar and type Green screen effect.
The green screen filter will show up.
Open the filter. Then choose "add media" and select any photo or video you want to use as a background.
Then record your reel.
After you are done creating the reel. Save it.
How to Schedule the Instagram Reels with SocialBu
Now you know what a green screen effect is, how to use it, and its benefits. After creating a reel with a green screen effect, let's schedule it.
With SocialBu, you can schedule your reel effortlessly. Just follow the steps.
Login to your SocialBu account, tap "Create," and select New Post.
A tab will open. Choose the Instagram account.
Click on attach media and upload your video. It should be optimized to post as a reel.
Then add any caption you want to. You can also use the AI feature to generate the caption for you.
Add the hashtags manually or use the hashtag feature by SocialBu.
After creating the post, click on "Show Options."
Add any first comment or location here if you want to, and check the "Post as Reel" box.
Then either publish it directly or schedule it for the desired date and time.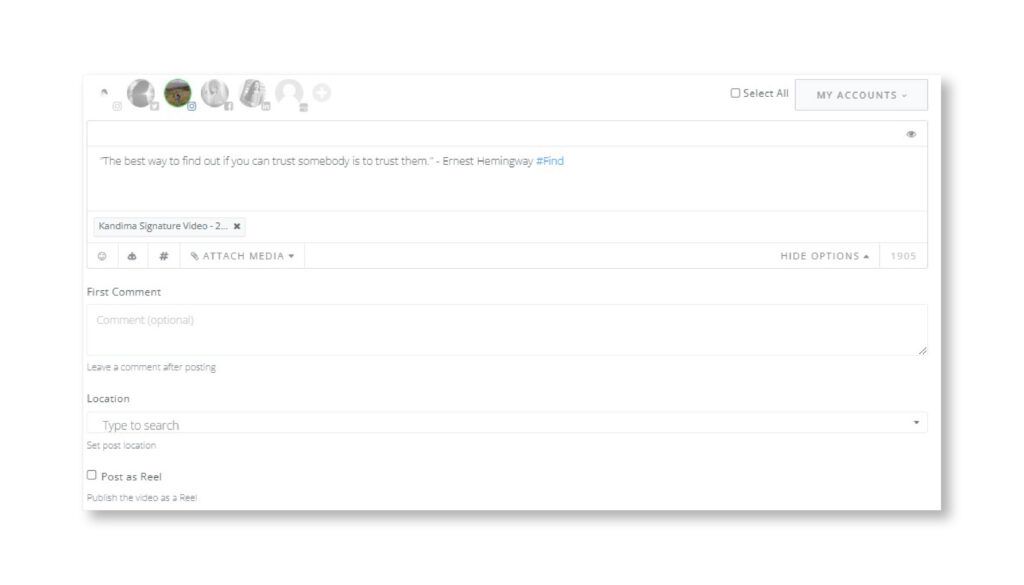 Final Words
It makes creating and sharing great content easy. Instagram's green screen filter is no exception. It can be a lot of fun to use the green screen effect and create interactive Instagram reels. As a result, you save a lot of energy and money. Let us know your thoughts.
To know more about the Instagram reels read our blog here.
FAQs
How to get a green screen filter on Instagram?
You can get a green screen filter on Instagram by following the steps below.
Open the 'Create Story' on Instagram and choose reels.
Then select 'effects' and search "green screen effect."
The filter will appear.
Click on it and use it.
Where is the green screen effect on Instagram?
If you search for the effects when creating an Instagram reel, you can find the green screen effect on Instagram.
What does green screen Instagram mean?
The green screen on Instagram means a filter with a solid green background used to add layered effects to your videos.
Why is my green screen Instagram not working?
You can try the following methods if your green screen effect is not working.
Update the Instagram app if needed.
Restart the Instagram app.
Check your internet connection. The slow connection might delay the loading of the filter.
Clear the app cache from the mobile settings.
Reinstall the app.