Why is there any need for Buffer alternatives? In the social media era, advertising through billboards or TV commercials is outdated.  So, everyone wants to reach a wider audience using social media platforms. Advertising through social media is much easier and cheaper.
Reaching more vast audiences without any automation tools, do you think it's easy in rigorous competition? The answer is no. Therefore, it would be best to have the proper tools and strategies to survive on social media platforms.
A tool such as a buffer helps social media marketers to schedule posts, analyze data and engage organic communities. Marketers are investing tonnes of dollars in such types of tools. As the report says, in 2018, 5.5 billion U.S dollars investment was placed on digital advertising in France.
However, if Buffer isn't the tool you are looking for, you can choose Buffer alternatives. Here we are going to enlist some of the best alternatives.
Let's get started.
What is Buffer?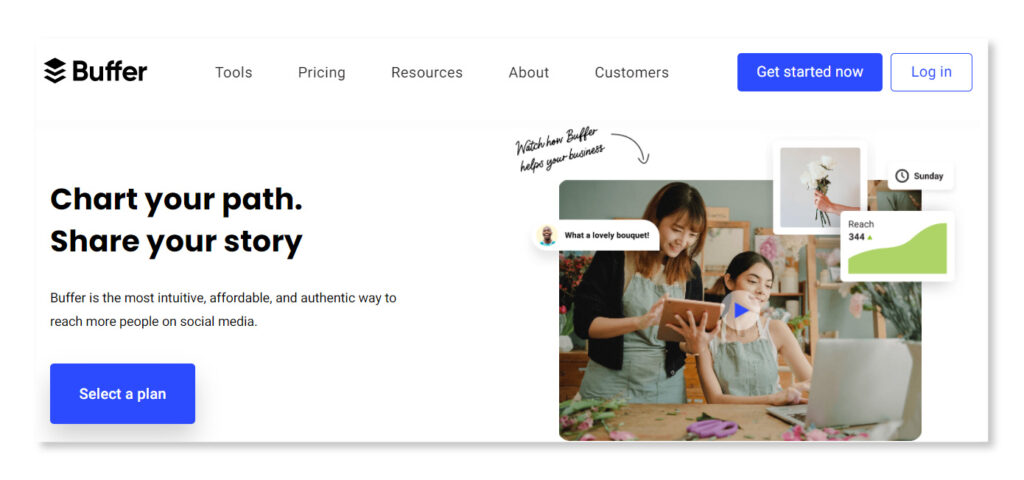 Buffer is the most used tool for social media management. It helps to reach wider audiences in the most intuitive, affordable, and authentic ways. It is compatible with Facebook, LinkedIn, and Pinterest that help in numerous aspects. Buffer offers numerous benefits like:
You can analyze your social media performance.
Buffers allow you to plan and build social media posts. You can focus on other things.
It helps you to engage with organic customers with the help of labels and hotkeys.
You can track growth, followers, and reach.
Buffer's integration with chrome extension and WordPress makes it useful for beginners. But as the same time, as a novice, this automation tool is quite overpriced for you. Therefore, majority of the startups look for Buffer alternatives.
Price Plans
Buffer offers various packages, free and paid. But the free plan allows you to connect with only three social channels with limited features.
Free
Basic publishing tools
Landing page builders
Eight social accounts
Buff.ly link shortener
Pro Plan: $15/ month
Planning and publishing tools
Analytics tools
Engagement tools
Landing page builder
Small Business Plan: $99/month
Manage 25 social accounts
Five additional team members
Two thousand scheduled posts per social account
Browser extension
Medium Business Plan: $199/month
50 social accounts
Ten team members
Browser extension
Large Business Plan: $399/month
150 social accounts
25 additional members
Browser extension
Why Should You Consider Buffer Alternatives?
You can't say any tool is perfect for everything. Every tool has a few drawbacks and advantages. Buffer also has some pros and cons. Let's explore why you should consider Buffer alternatives.
The major drawback of Buffer is that it needs to have supplements of another tool to fulfill requirements. It means Buffer isn't a complete tool in itself.
A buffer is an excellent tool for small teams like two or three people or freelancers. But if you have a large team, it cannot help you achieve your goals.
The price ranges are high compared to its alternatives for "team pack." Many buffer competitors offer team collaboration tools at affordable prices.
Buffer offers simple and fundamental features for Instagram and Pinterest.
We have gathered a list of Hootsuite alternatives as well. Check this blog "9 Best Hootsuite Alternatives free for 2021 (Updated)" for Hootsuite alternatives.
13 Buffer Alternatives for Social Media Management 2022
Are you looking for a better and cheaper competitor for Buffer? Let's dive in.
Wouldn't it be good that you to get your hands on some of the best social media management tools and their features?

Interesting reading:
20+ Top Social Media Management Tools and Services
1. SocialBu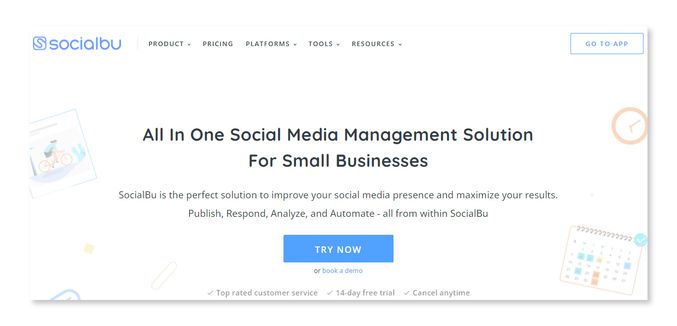 One of the best alternatives to Buffer can be SocialBu. It is the easiest and most effective social media management and automation tool.
SocialBu helps you to improve your social media presence and maximize your access to the organic audience.
The prominent features that SocialBu offers are:
If you manage more than one social media account at once, it'll become easy with the help of SocialBu. It allows you to schedule and public the content of all your accounts in one place.
SocialBu is compatible with Facebook, Twitter, Instagram, LinkedIn, and Google My Business.
With the "Analyze" feature, you can analyze your data in detail and tell you how you can improve it.
Monitor your Social media accounts and listen to what your audience wants to say about you or your content.
SocialBu has introduced a new AI Generate feature. It can automatically generate tweets, LinkedIn posts, Instagram captions, and short posts for you.
It also offers a "social calendar" so you know what you have already planned and what you need to plan more.
You can even "Automate" your blog post updates on your social media platforms, replies and messages for your audience, and much more.
Price Plans
SocialBu offers four types of packages that include:
Starter: $8/month
Four accounts
One team
No cell phone support
Standard: $19/month
12 accounts
Two teams
No cell phone support
Super: $59/month
30 accounts
Six teams
Supports cell phones
Supreme: $199/month
150 accounts
25 teams
Supports cell phones
2. Hootsuite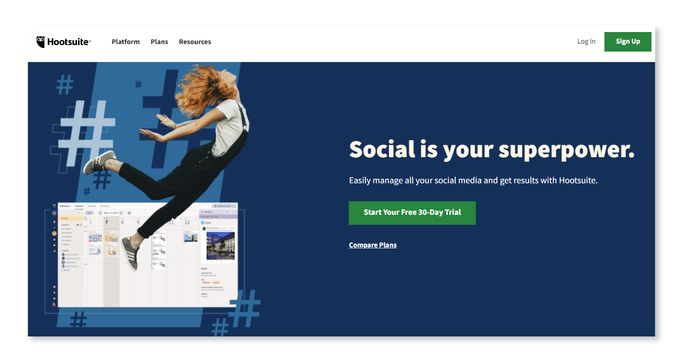 Hootsuite is a famous social media management tool that helps you to enhance your social media management. It allows you to correct, create and review your content. It also enables you to understand your customers' demands and visit multiple platforms at a time.
Some prominent features of Hootsuite are:
You can save time by automatically scheduling your social media posts.
Allows you to monitor and manage incoming messages.
Enhances your SM following in the right way.
The built-in analytics feature allows you to check the performance of all your social media accounts.
Price Plans
Professional: $49/month
Team: $129/ month
Business: $739/month
3. Loomly
A powerful SM publishing tool that provides you with great ideas to optimize your content. Loomly also works as a marketing tool based on the latest marketing strategies and social media practices.
It also helps you work more efficiently by giving access to brand assets stored in a library.
Some features of Loomly are:
It makes it easy for you to manage all social media accounts, posts, and advertisements as a single platform.
You can receive notifications when someone comments on your content.
Loomly gives you a step-by-step guide to creating ads and posts.
It provides the latest ideas according to trending topics, scheduled events, and social media practices.
Price Plans
Basic: $35/month
Standard: $79/month
Advance: $172/month
Fourteen users
Thirty-five accounts
Premium: $359/month
Thirty users
Fifty accounts
4. Sprout Social
A single platform to attract customers, check social data and understand your audience. Brands use it for publishing, listening, and analytics purposes.
It is a key to developing deeper connections with clients. Sprout Social enables us to check social media trends to make content engaging.
Some key features of Sprout social are:
Compatible with Facebook, Instagram, and LinkedIn.
It has a smart inbox that acts as an inbox for all social media platforms.
Provides image editing.
It helps you understand the best post time by built-in viral post technology.
Price Plans
Standard: $89/month
Professional: $149/month
Advanced: $249/month
Have you been looking for a
Sprout Social alternative
that will replace your old favorite tool? If so, we have the perfect comparison here.
5. Sendible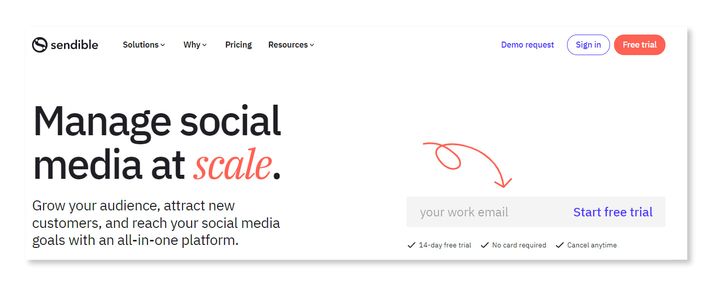 Sendible provides you with everything that you need for customer reach, post boosting, and reporting. It is one of the best advertising tools to promote your brand. And it does the job with logical storytelling and overwhelming information on social media.
Some prominent features of sensible are:
It is integrated with many SM platforms such as YouTube, Twitter, Facebook, Instagram, WordPress, BlogPost, etc.
Sendible offers a content calendar, social listening, and priority inbox.
Saves your time by using the built-in publishing feature.
Creates campaign ideas as drafts on your schedule to apply on specific dates.
Price Plans
Creator: $29/month
Traction: $89/month
Scale: $199/month
Expansion: $399/month
6. SocialPilot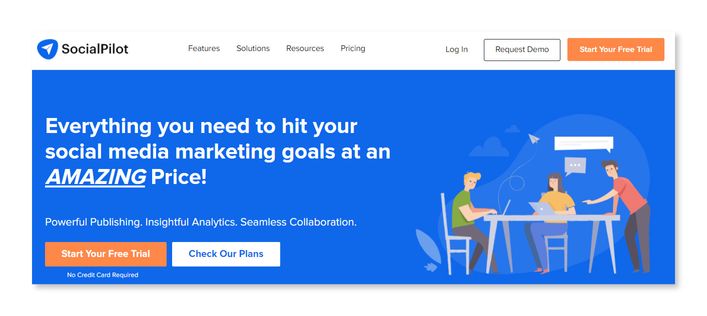 SocialPilot is a slick competitor for Buffer and other automation tools. It is a comprehensive tool for social media marketers, businesses, professionals, and teams.
This tool will help you at each step, from publishing posts on profiles to analyzing posts' performance.
The most prominent features are:
Publishing
Collaboration
Social inbox
Team management
Analytics
White label solutions
RSS Feeds Automation
Price Plans
Agency: $150/month
Studio: $100/month
Small team: $50/month
Professional: $30/month
7. Later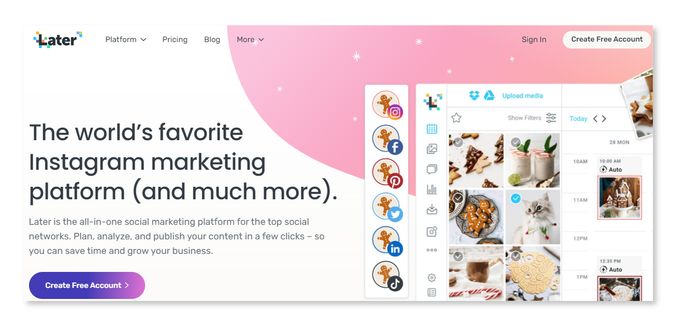 Later is a social media management tool that helps you grow your business quickly. It is all in one social media marketing platform that allows you to plan, analyze, and publish your content in a few clicks. In this way, you can save time and focus on your business.
The most stand-out features of Later are:
Scheduling Pinterest, Tiktok, and LinkedIn
Manage Instagram analytics, stories, and hashtags
Create user-generated content
Linkin.Bio
Price Plans
Free
Basic: $8/month
Starter: $15/ month
Growth: $25/month
Advanced: $40/ month
8. Tailwind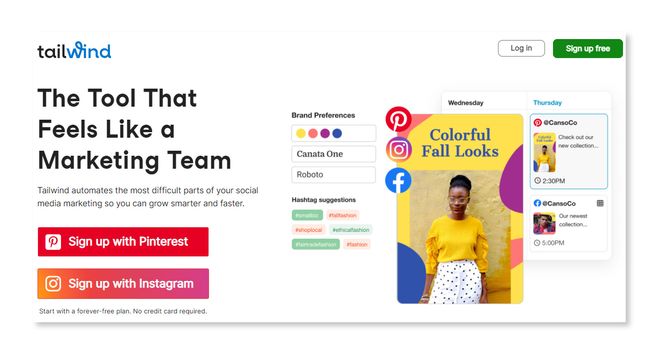 Tailwind is a complete marketing tool. Especially for Pinterest, marketing, e-commerce, and businesses of each size. It helps you schedule posts at accurate times, and create beautiful pins within no time.
The most prominent features of Tailwind are:
It helps you to schedule smarter. It has billions of data points that help users post content at the right time, making it easier to reach out to the ideal audience.
With the help of Tailwind tribes, you can schedule directly from the tribe allowing you to grow invisibility.
Tailwind tells your data analytics which helps you to know about your performance.
Discover key trends in the brands and industry.
Price Plans
Free
Pro: $19.99/month
Advanced: $39.99/month
Max: $79.99/month
9. CoSchedule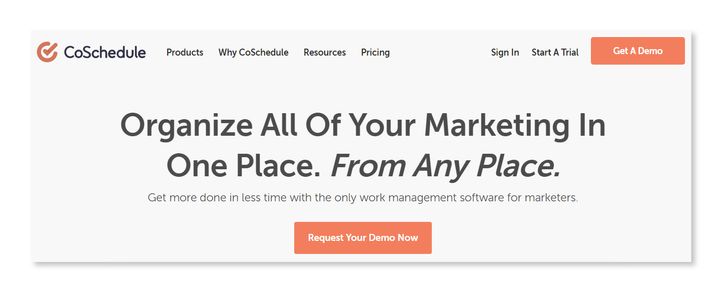 CoSchedule allows you to organize all of your marketing from any place in one place. It has been one of the fastest-growing marketing platforms for three years in a row. It has almost 30,000 marketers in 100+ countries.
The most dominant features are:
It has a marketing calendar that helps you see everything together in one place. It allows you to share your progress with higher-ups and show what your marketing is doing.
A marketing source allows you to manage marketing requests and eliminate content bottlenecks. Also, it maximizes resources to increase output.
With the help of Headline Studio, you can write catchy headlines that boost traffic.
You can develop new marketing skills with fluff-free training.
Price Plans
Free
Pro: $39/month
Marketing Suite: You have to contact sales support for pricing.
10. Stacker
Stacker is the best tool for publishing and replying on social media. It supports four channels: Facebook, Twitter, LinkedIn, and Pinterest.
The stand-out features are:
Posting and scheduling
Content suggestions with RSS feed
Insights and reports
Team collaboration
URL shortener
Price Plans
Free
4 (1 of each type) social accounts
Six stack limit
Seven days of reporting
Amazing: $10/month
12 social accounts
One user
120 stack limit
30 days of reporting
Team: $50/month
25 social accounts
Five users
No stack limit
180 days of reporting
Studio: $100/month
50 social accounts
Ten users
No stack limit
180 days of reporting
11. Oktopost
Oktopost is a social media management tool designed explicitly for B2B marketers. With the help of Oktopost, B2B marketers can achieve their marketing goals.
Oktopost offers the following features:
Plan, approve and schedule a large volume of social content.
Track valuable business.
You can create an engaging customer experience.
Grow your business's reach.
Price Plan
You have to contact Oktopost for price information.
12. HubSpot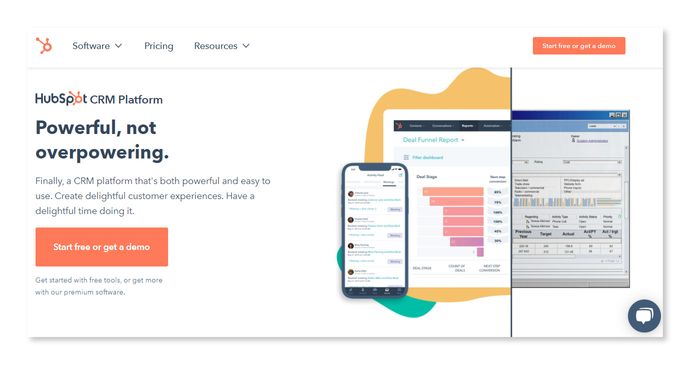 With the help of Marketing Hub, you can use all your marketing data and tools under one powerful platform. It allows you to attract the right audience and convert visitors to your customers.
The standout features are:
Attracts customers through social media, blogging, and ads.
Convert audience into customers through landing pages.
Email, ABM, and marketing automation.
All powered by the customer data in your CRM to enable personalization at scale.
Price Plan
Free
Starter: $50/month
Professional: $890/month
Enterprise: $3,200/month
13. Zoho Social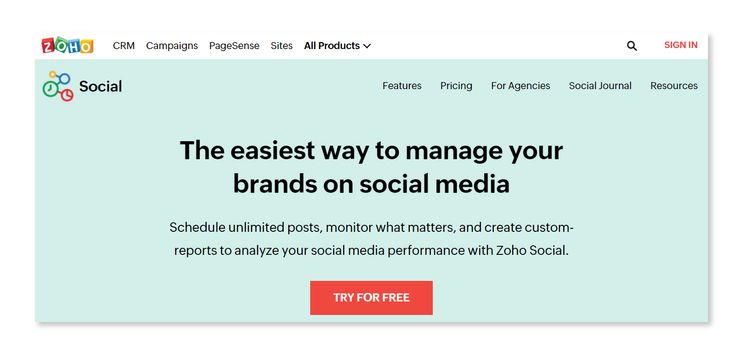 Zoho Social is the best alternative to Buffer for marketing agencies. It helps you schedule unlimited posts, analyze your social media performance and monitor what matters to you.
The most prominent features are:
Schedule and reschedule posts, and manage your content from a single screen.
Post your content when your audience is most active with the help of SmartQ.
RSS (content creation tool) helps you build a posting pipeline quickly.
You can monitor everything.
Price Plans
For Business
Standard: $15/month
Professional: $40/month
Premium: $65/month
For Agencies
Agency: $320/month
Agency plus: $460/month
Conclusion
Buffer is the most popular automation tool. But sometimes, customers encounter problems like overpricing, lack of supplement tools, etc.
Now, of course, you can choose any Buffer alternative. Furthermore, we have tried to enlist all the best alternatives available in the market. And we would like to mention that SocialBu exceeds all the tools. It offers competitive market features at a meagre price with excellent customer support.