With the increasing popularity of social media and the growing number of social media platforms, it can become tough to manage it all, especially if you regularly use social media platforms. It can be a challenging task to stay consistent and always post exciting and engaging content. Other than that, social media success comes from interacting with others and actively engaging with your followers. All these are time-consuming tasks and can get very frustrating.
However, do you know that you can save a lot of the time and hassle you spend on social media management? The answer to this question lies in the tools and services that we will discuss in detail in this article.
Having a good social media management tool is essential now. Social media management tools help you stay consistent by letting you schedule your future posts. This way, you'll have a lot of content planned and will be saved from a big headache.
This article will tell you all about the top social media management tools and services, so keep on reading! Let's start by discussing what social media management actually is.
What is Social Media Management?
Social media management is the process of managing your social media profiles. It involves creating, analyzing, and scheduling content that you want to post. Managing social media also includes engaging and interacting with your followers. You can use tools, services, and social media managers to oversee your social media management.
Social media management goes beyond just posting updates to your social media profiles.
It also includes engaging with your audience and looking for new opportunities to increase your reach and visibility. It is a way to find your target audience and perfectly engage with them.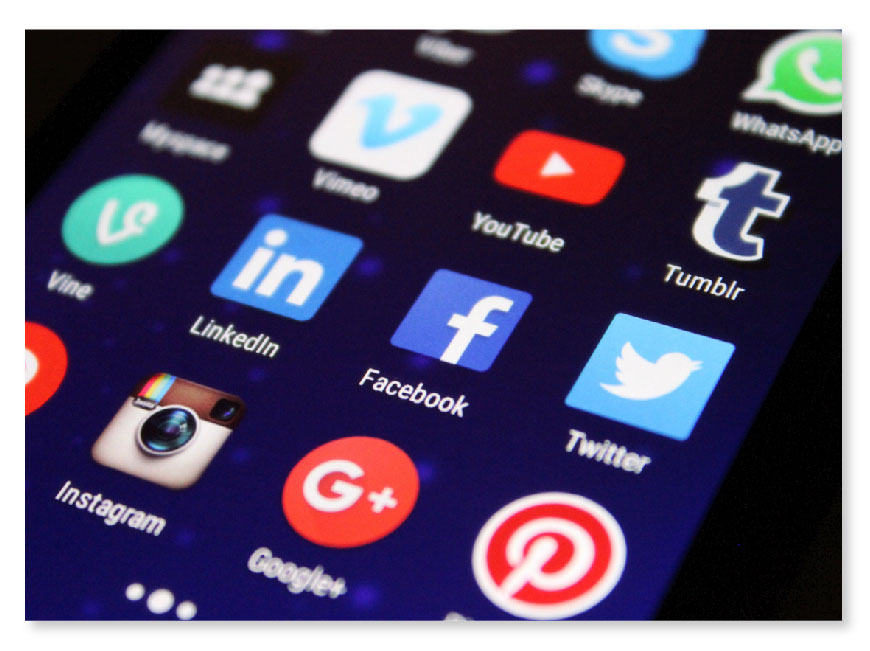 Why is Social Media Management Important?
Social media management is vital for several reasons. Firstly, it creates brand awareness and increases a brand's loyal customers, so it is essential for businesses. But it is essential for influencers, agencies, startups, etc. It saves a lot of time and hassle by letting you schedule your future content.
It also gives you a visual of how your feed will look like after the uploads. Another significant benefit of social media management is that it helps you be consistent on all your social platforms. This way, you are able to increase your followers and keep them as well because they will be engaged with you daily.
What your followers like the most. They will get to interact with you, and this is how you make loyal followers. Being consistent will also increase your profile's visibility, which will, in return, get you even more followers. You can also keep track of what views the audience has on your work. This way, you can shape your social media strategy accordingly.
By using the analytics offered by social media management tools, you'll be able to understand what type of content works best for you and when your followers are the most active. By posting that content on the relevant observed timings, you'll be able to get the most initial engagement. Hence, increasing your social media presence.
20+ Top Social Media Management Tools + Services
Here are 20+ top social media management tools and services;
SocialBu is one of the best tools for social media management, focusing on reducing the time users spend on social media activities. It allows users to schedule and publish content across all their social networks in one place regardless of the number of social media profiles managed. All the messages from the users' social media accounts are available in the app and can be replied to. Users can also comment and create posts for all their networks, eliminating the need to switch between multiple apps.
This tool also offers advanced features and is very easy to use. It is a perfect solution to improve your social media presence and maximize your results as well. This tool is at the top of our list because of the advanced features it offers.
Features
Post scheduling
Analytics
Bulk scheduling
Multiple account management
Social calendar
Post approvals
Post preview
Advanced analytics
Social Inbox
Hashtag suggestions
Post insights
Location tagging
Dynamic automation
Customer support
Custom queues
Starting Price
SocialBu pricing starts at $8.00 per user per month. There is a free version available as well.
G2 Ratings: 4.4/5
Supported Platforms
Instagram
Facebook
Twitter
LinkedIn
Google My Business
Pros
It's a one-stop solution where you may access a wide range of features on one platform
Less frequent barriers as compared to other social media scheduling tools.
Easy to use and can manage multiple accounts at once
The dynamic automation feature of SocialBu is a unique feature that is very helpful and is not offered by any other tool. With this feature, you can easily automate tedious tasks.
Easy to integrate other social media channels.
It has certain unique features, such as Twitter threads and Instagram stories scheduling ( directly ), post rescheduling, and many more.
Cons
Unable to post the varying text of two platforms at once.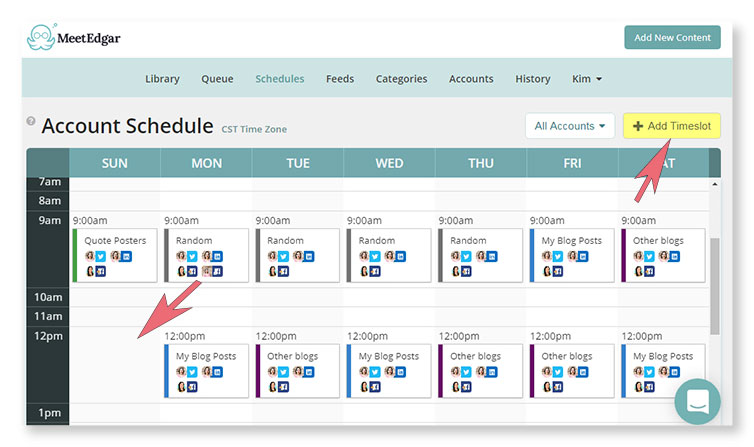 MeetEdgar is another amazing social media tool. It helps you a lot in staying consistent on your social media platforms. What this tool does is, instead of using one-time updates, this tool automatically reshares certain posts over time, eliminating the need for long lists of posts. In addition, MeetEdgar boasts direct video uploads and an unlimited library of updates and enables users to choose which posts are and aren't reposted over time. With MeetEdgar, you can keep your social media active and organized no matter how busy life gets.
This tool is loaded with time-saving and efficient features that will help you manage your social media accounts easily. This tool also tracks your social media history and performance data and lets you know what type of content works best for you. This way, you will be able to understand what your top-performing posts are. With link tracking, A/B testing, and more, this tool gives you all the valuable information you need to see what your audience responds to best. It is an overall great tool.
Features
Social media scheduling
Analytics
Weekly automation
Customized content categories
Suggested social posts
Customer support
Category-based scheduling
Starting Price: $19/month
G2 Rating: 4.5/5
Supported Platforms
Facebook
Twitter
Pinterest
Instagram
LinkedIn
Pros
It's easy to manage multiple accounts at once.
It's very user-friendly and it's easy to get a hang of it.
Organized library.
Never run out of stuff to post
Craft content like a boss
Watch your strategy take shape
Cons
Limited reporting.
No social inbox.
Unable to use multiple photos for a single Facebook post.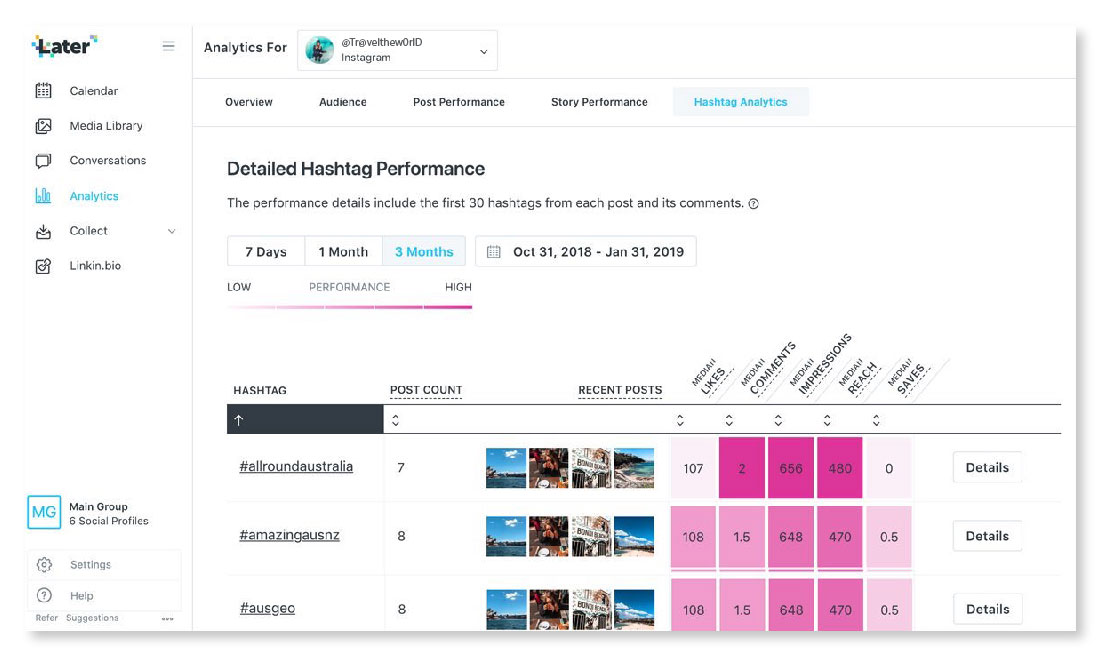 With Later, scheduling social media posts is very easy. You can use the drag and drop feature and your week's worth of posts are ready to be published. It means you can select any photo or video you like and drag it to the required date on the calendar. The photo/video will be scheduled.
You can schedule carousels also. You can use the hashtag suggestions feature to find suitable hashtags for your posts. Also, you can save these hashtags. These can be posted or scheduled as the first comment to your posts. Later supports the team working by allowing you to create teams and sharing your ideas among them. All this makes Later one of the best social media management tools.
Later helps streamline your social media strategy so you can set yourself up for more sales and success. Their features focus on visual scheduling, media management, marketing, and analytics.
Features
Social media scheduling
Content calendar
Report Customizability
Social Sets Included
Additional Social Sets
Visual Instagram Planner
Unlimited Media
Linkedin. bio
Instagram Analytics
Instagram Stories Scheduling
Hashtag Suggestions
Paid campaign tracking
Starting Price: $15/month. A free plan is available.
G2 Rating: 4.7/5
Supported Platforms
Instagram
Facebook
LinkedIn
Pinterest
Twitter
TikTok
Pros
Easy to use
Analytics options available
Instagram story scheduling in advance.
Tools functionality develop relevant content.
Multiple users in one account.
Both free and paid plans are offered.
Cons
More focused on Facebook and Twitter
Placeholder images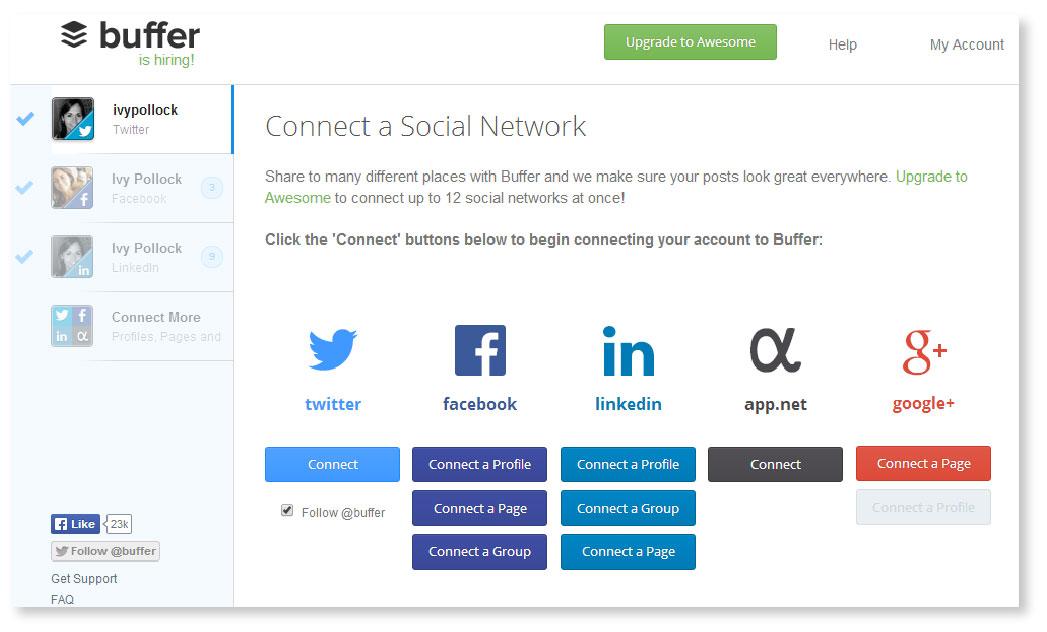 Buffer is the all-you-need social media management tool. It is one of the most known social media management tools in the industry. It is a tool that has helped many businesses to reach a valid market.
Buffer offers many social media management services like publishing, analytics, and engagement. The customers who have used Buffer love it for its quick and intuitive results. Other than that, you can get great assistance from publishing, engaging, team collaboration, and analytics during social media campaigns.
Features
RSS feeds connectivity.
Informative social analytics.
Multiple posts and tweets.
Social profile sharing.
Analytics and insights.
Profile management.
Multi-media format sharing.
Agency/business planning.
2-step account login
Customized scheduling
iOS and Android support
Team collaboration (via administrator rights)
Starting Price: $6/month (per social channel)
G2 rating: 8.1/10
Supported Platforms
Instagram
Facebook
Twitter
LinkedIn
Pros
Easily organize content for social media.
Easy posting without being online.
Share content on multiple social media sites with one click.
Affordable price.
Analyze post-performance.
Cons
Limited when tagging users.
Reconnects accounts often.
Posting videos is problematic.
Low-performance UX.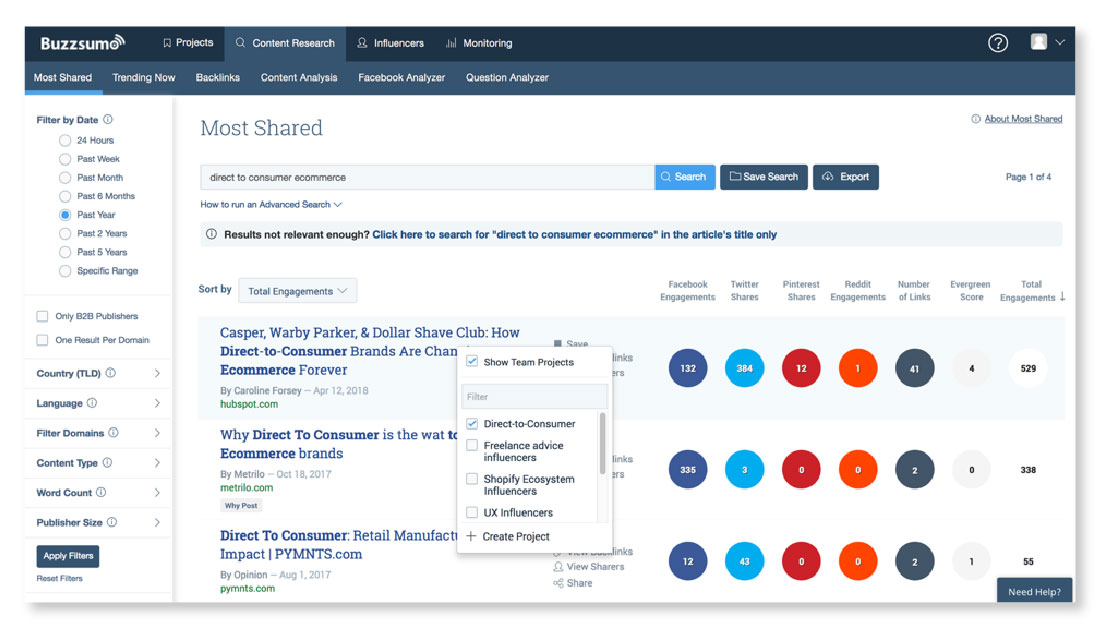 With Buzzsumo, you can easily find the content that works the best for you on social media. You can use the content insights offered by this awesome tool to generate ideas, design high-performing content, monitor your performance, and identify influencers.
With this tool, you can easily find new keywords, trending stories, customer questions, and content success, all while monitoring what's most important to your brand.
This tool is trusted by millions of marketers who rely on it to reveal the truth about what content works for them and what doesn't. So, you know that it is a reliable tool.
Features
Comments and trends tracking
Influencer identification
Research and analytics feature
Content analysis
Find Twitter Influencers
Set Up Real-Time Monitoring
Starting Price: $99/month
G2 Rating: 4.5/5
Supported Platforms
Facebook
Twitter
Pinterest
Reddit
Instagram
Youtube
Pros
Monitors for client PR placements and notifies via email and Slack alerts
Helps us research potential journalists writing about the relevant topics
Displays trending web and social content clearly
Find influencers and build relationships.
BuzzSumo helps build backlinks.
Excellent search.
Cons
Customer support is not satisfactory.
Lots of notifications.
Pricey.
Robust SEO tools.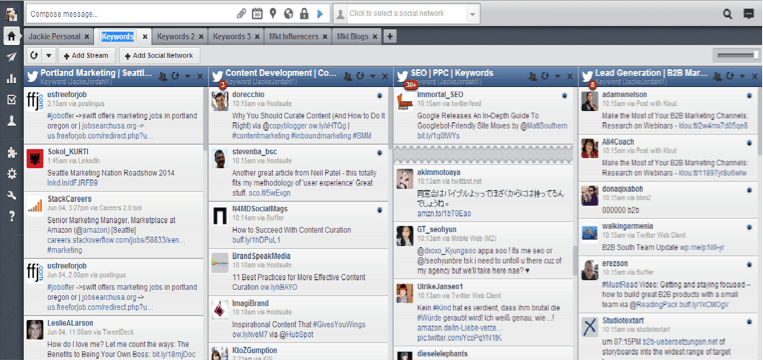 Hootsuite is a one-stop solution to all your social media management needs, constituting one reason for making it popular among businesses. It is estimated that about 18 million people use it. You can grow your followers quickly by producing quality content that delights your audience and reaches more people.
This tool enables a person to run ads, create content and schedule it on different social media channels. Hootsuite's ability to monitor multiple accounts makes bulk social media postings and scheduling possible. You can save a lot of your time by scheduling posts across all your social networks in just a few clicks.
It has a clear interface, convenient support, and an effective array of analytics features.
Features
Scheduling
Content curation
Automatic scheduling,
Social media monitoring,
Performance reporting,
Basic task management
Analytics
Monitoring
Team management
Starting Price: $18,000 for 5 users with approximately $1,800 per additional user.
G2 Rating: 4.1/5
Supported Platforms
Instagram
Facebook
Twitter
LinkedIn
Pinterest
Pros
The point-and-click interface creates immediate posts.
Publishing posts to multiple networks at once.
Easy and quick to create and launch campaigns.
Monitoring post-performance and trends.
Cons
Custom URL shorteners are a little pricey
Sometimes there are no Facebook reviews
Users are often not able to use the same post to set up multiple tweets.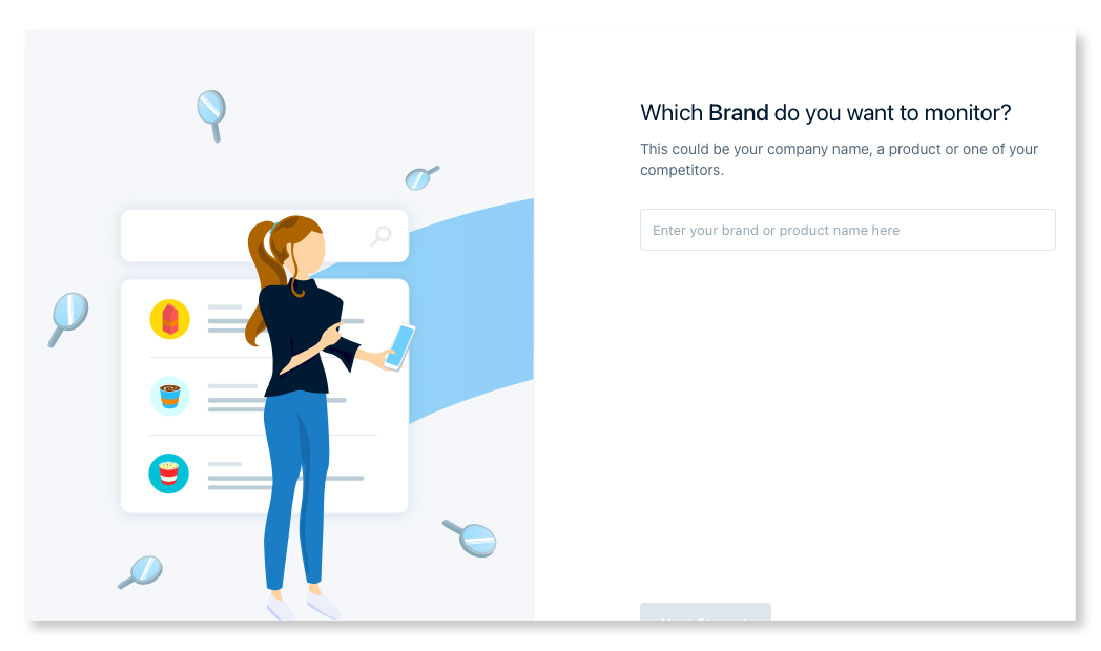 Mention is a simple and valuable social media tracking and monitoring tool. This tool enables brands and agencies to monitor the web, listen to their audience, and manage social media. You can quickly locate important conversations. It lets you see who's making references to you or your company, or any topic, for that matter. It finds user-generated content from across different social networks, enabling you to search and analyze it all in one place. You can also uncover trends with the help of this tool.
Features
Post scheduling
Automatic tagging
Tags and smart folders
Scheduled reports
Social media monitoring
Social media listening
Insights
Keyword monitoring
Shared dashboard
Starting Price: $29/ month. A free plan is also available.
G2 Rating: 4.3/5
Supported Platforms
Instagram
Facebook
Twitter
LinkedIn
Pinterest
Pros
Easy to use dashboard.
Filters and Boolean Search optional.
Mention has a simple interface and is very easy to navigate.
Tracks brand mentions across the web.
Cons
Prices are not always affordable.
Poor third-party integration.
No Facebook monitoring.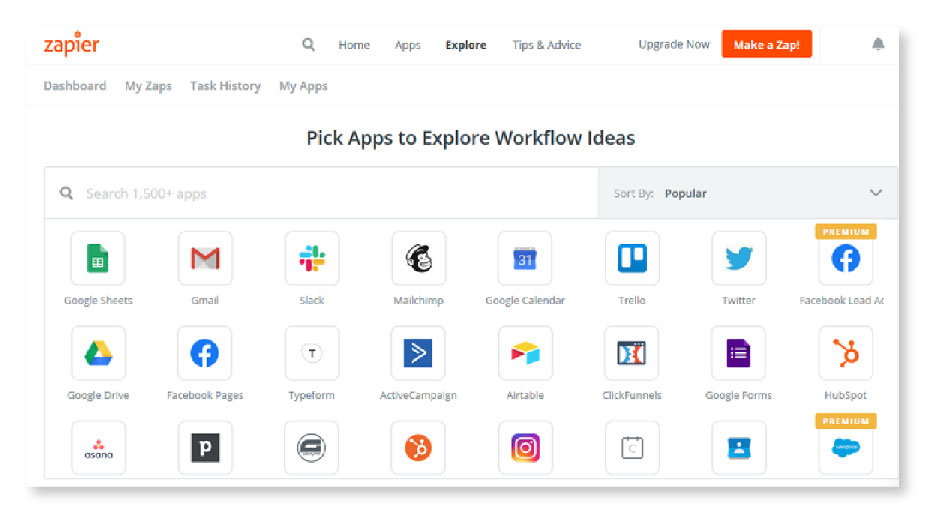 Zapier is an easy automation tool. It moves information between your web apps automatically, so you can focus on your most important work and save a lot of your time and hassle. This tool helps you automate repetitive tasks between two or more apps and no code is necessary. With the help of this tool, you can connect social media apps that you use every day. By connecting the apps you use every day, to automate your work, you can be more productive.
Features
Application management
Database support
Email management
Social media integration
Start Workflows from Any App
Finish Routine Tasks Automatically
Simple, Fill-In-The-Blank Setup
Starting Price: $29.99/ month
G2 Rating: 4.5/5
Supported Apps (For Integration)
Facebook
Slack
Quickbooks
Google sheets
Google Docs, etc.
Pros
Easy to set up
Automation rules are easy to create and deploy.
It is very reliable.
Works with a majority of big apps like Gmail, etc.
Connect software.
Comprehensive list of modern available apps
Cons
More competitive pricing.
No visual display of the zaps.
Integration with basic Gmail accounts has been downgraded.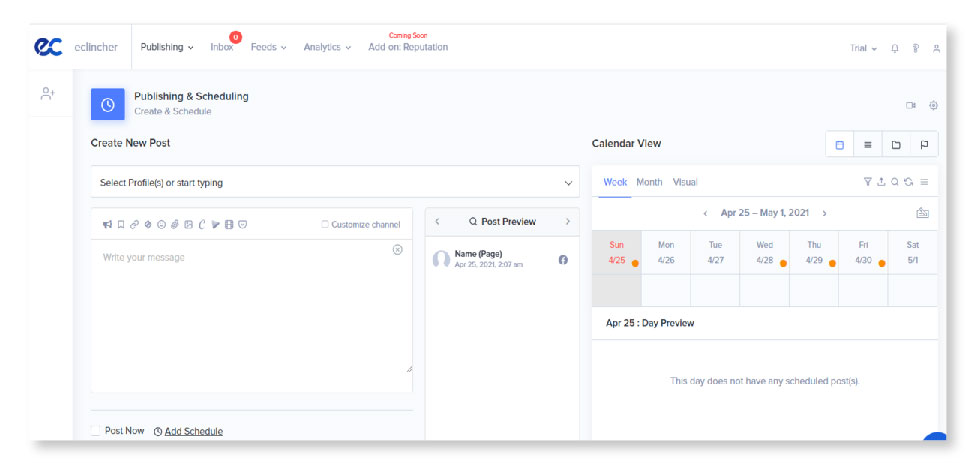 Eclincher is one of the best social media management tools. It comes with a lot of amazing features including auto-posting, advanced publishing, recycled content, content curation, and analytics reporting to name a few. You can effortlessly schedule your posts on multiple social platforms, profiles, and pages with this tool. It offers a visual calendar as well which helps you plan, create, and schedule your content with ease.
After scheduling your content, you can publish it with smart queues. This will save your time and boost your social media engagement. You can also bulk upload and schedule media files from an excel file or a CSV. You can also monitor what's happening on social media, using keywords and hashtags with this tool.
From posts to results, eclincher's user-friendly platform helps businesses grow their audiences and manage their brand reputation on multiple social networks.
Features
Social media scheduling
Social media monitoring
Analytics
Campaign management
Activity tracking
Automated publishing
Brand tracking
Competitor monitoring
Visual calendar
Smart queues
RSS feeds
Bulk uploads
Link shortener and tracking
Image libraries
Starting Price: $59/month
G2 Rating: 4.7/5
Supported Platforms
Instagram
Facebook
Twitter
LinkedIn
Pinterest
YouTube
TikTok
Pros
Calculate social media ROI with metrics that matter
Make company decisions faster with the real-time performance of all your social efforts.
Monitor your brand reputation with ease
Increases productivity
Unified social inbox
Bulk uploading and scheduling
Drag and drop option.
Cons
It needs improvement in its dashboard.
Customer support should be more responsive and professional.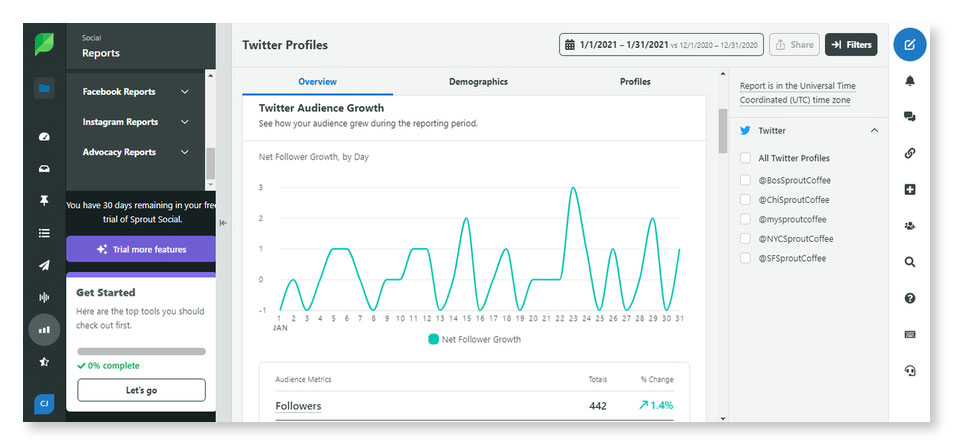 Sprout Social is a social media management system with functionality for multiple-person teams and a focus on engagement, publishing, and analytics. It is a powerful, all-in-one social media management tool. This tool is a simple yet efficient tool. It saves your time and makes managing social media accounts easy. You can overcome publishing obstacles and automate time-consuming tasks easily with Sprout.
Other than that, you can design your publishing strategy and maintain oversight from a central hub. Also, you can easily organize posts across profiles, networks, and campaigns utilizing its visualized calendar to support long-term strategy. With the social inbox offered by Sprout, you can unify your social accounts into a single stream to view incoming messages, foster conversations, and respond to your followers quickly.
Features
Monitoring
Social media scheduling
Analytics
Social inbox
Conversation history
Collision detection
Ad comment moderation
Keyword and hashtag monitoring
Message tagging
Helpdesk integration
Team reports
Engagement reports
Starting Price: $89/ month
G2 Rating: 4.3/5
Supported Platforms
Instagram
Facebook
Twitter
LinkedIn
Pinterest
YouTube
Pros
Reporting is easy to manage and interpret.
Content scheduling is intuitive and efficient.
Customer service is prompt and thorough.
Great stats/metrics reporting.
The landscape system is a plus.
Perfect statistical system.
Cons
Small bugs in the post-scheduling interface can be frustrating.
Automatic weekly mini-reports are not very useful.
The dashboard is a bit clunky and could be further refined.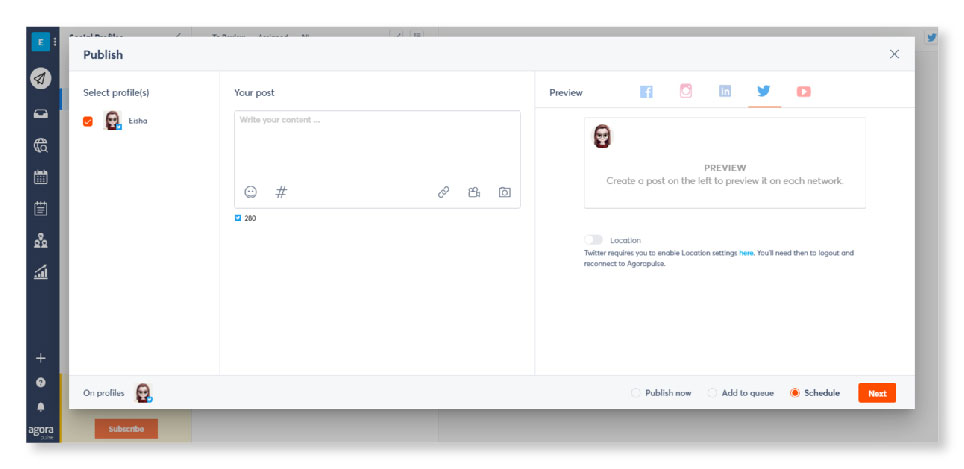 AgoraPulse is a leading social media management platform that enables agencies, businesses, and marketers to manage all their social media messages, schedule & publish content, identify key influencers, monitor social channels, and get stunning reports, all in one easy to use dashboard. It is a social media management tool designed to help you stay organized and manage your social media effortlessly.
This tool is used by 31,000+ social media managers daily, which proves that it is indeed one of the best tools available. It is especially great for agencies as 3,000+ agencies use it daily. It is loaded with powerful features and is very easy to use as well. You can stop disrupting your day every time you need to publish content with the social media scheduling feature of agora pulse.
Features
Scheduling
Social inbox
Analytics
Unified calendar
Bulk scheduling
Social media monitoring
Shared calendars
Listening searches
Facebook ROI calculator
Team reports
Customer report
Facebook competitor reports
Starting Price: $99/month
G2 Rating: 4.5/5
Supported Platforms
Instagram
Facebook
Twitter
LinkedIn
YouTube
Pros
Easy-to-use and visually appealing web interface.
Assigning posts for approval is easy.
Excellent for centralized monitoring and messaging.
Quick to duplicate and edit any posts.
Full reporting and can also be customized.
Cons
User limitations–the shared calendar would be greater without limitation
Sendible is a social media marketing platform that allows individuals, agencies, and small businesses to engage with their audience across multiple channels at any time. Sendible's powerful analytics allows users to track and monitor the success of their social media marketing efforts and ROI. With Sendible, you can effortlessly collaborate with your clients and teams to plan, measure, and most successful content on every social media platform. This tool is trusted by more than 20,000 agencies, brand managers, and marketers. You can get dynamic insights from your social data with this tool. You can also generate in-depth reports for Facebook, Twitter, Instagram, LinkedIn, and more.
Features
Instagram post and story scheduling
Bulk scheduling
Social media monitoring
Advanced analytics
Location tagging
Automate messages and replies
Vibrant automation
Customer support
Custom queues
Social Inbox
Direct posting
Quick reports
Hashtag suggestions
Post insights
Starting Price: $29/ month
G2 Rating: 4.5/5
Supported Platforms
Instagram
Facebook
Twitter
LinkedIn
Google My Business
Pinterest
Pros
Schedule and queue social media posts across multiple platforms.
Real-time interactions with the audience.
Identifying brand influencers and monitoring mentions is easy.
Campaign performance insights are very helpful.
Cons
Not being able to pick the thumbnail on the video.
Lack of tagging features.
Constant reconnecting of profiles.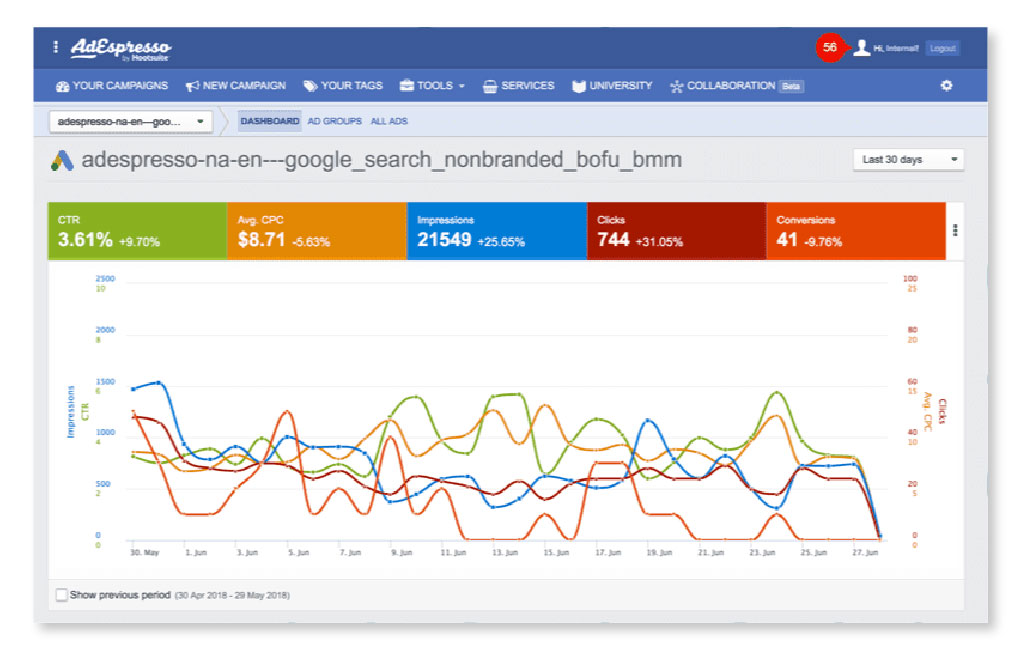 AdEspresso is the easiest and intuitive Facebook Ads Management and Optimization Tool. Using AdEspresso customers can easily split test every aspect of their Facebook Ads Campaigns, discovering which creatives and demographic targets deliver the best result.
Features
Onboard management
Campaign approval
Automated promotion of Facebook posts
Automatic optimization
Tag-based aggregated reporting
Customized performance triggers
Manage
Analyze
Collaborate
Learn
Starting Price: $49/month
G2 Rating: 3.3/5
Supported Platforms
Facebook
Instagram
Google My Business
Pros
Create a campaign on multiple channels.
Quick Tracking and Management.
Building professional PDF reports is easy.
Easy synchronization.
Cons
It may take some time for newbies to understand the services offered by the platform.
Some customers are not completely satisfied with AdEspresso's customer service.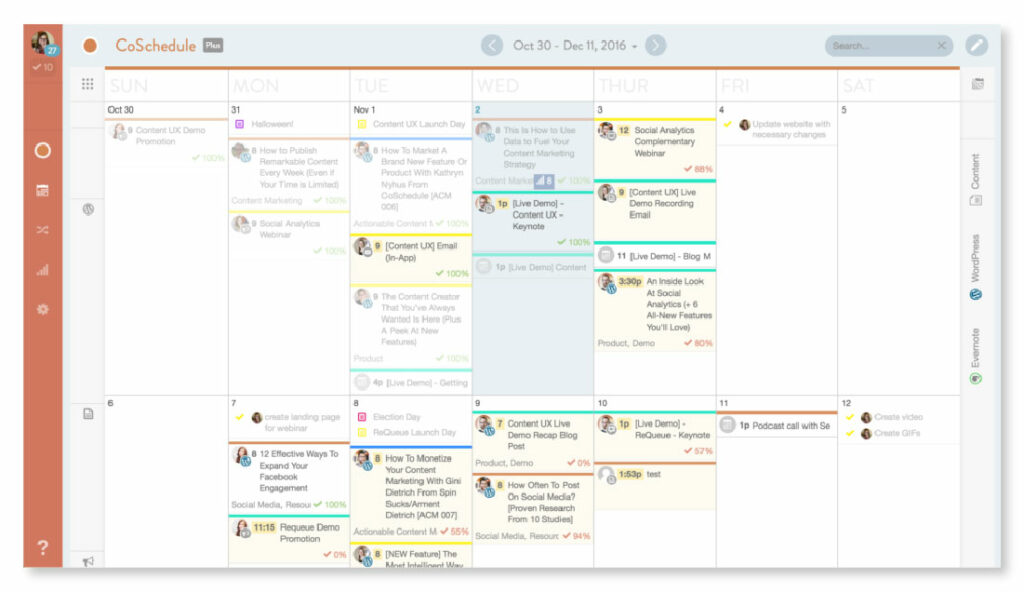 CoSchedule is a great tool to organize your social media marketing in one place. This tool emphasizes efficiency for marketing teams and individuals alike. Integrating with company blogs via WordPress allows brands to publish and push content to social media simultaneously.
Additionally, CoSchedule provides a comprehensive "Top Content Report," which documents social shares and engagement. It is a fantastic feature for content creators looking to figure out which pieces resonate most with readers.
As a family of agile marketing products, CoSchedule serves more than 45,000+ marketers worldwide, helping you stay focused, deliver projects on time, and keep your entire marketing team happy. As one of the top leading software providers on the Inc. 5000 list and a company featured in "Gartner's Magic Quadrant for Content Marketing Platforms", CoSchedule is the fastest-growing solution for mid-market and enterprise companies seeking a unified marketing platform.
Unlike other social media scheduling tools, CoSchedule primarily focuses on content versus solely social performance. Features such as the "ReQueue" bucket allow teams to recycle and schedule their best messages automatically. It results in more fresh content in your brand's feed faster.
Features
Marketing calendar
Analytics
Scheduling
Social campaign reports
Profile reports
Automation
Campaign planning and management
Bulk uploading
ReQueue
Real-time marketing calendar
Social network reports
Starting Price: $29/month
G2 Rating: 4.4/5
Supported Platforms
Instagram
Facebook
Twitter
LinkedIn
Pros
Automation of team workflows
Team progress tracking
Provides an easy-to-look-at view of your content calendar.
Allows you to schedule content across multiple platforms within one location.
Cons
Underrated intuitiveness.
Low promotion of scheduled posts.
SocialPilot is an amazing social media scheduling and marketing tool for social media professionals, digital marketing agencies, social media power users, bloggers, and any individuals who want to increase their social media presence effectively. The interface is easy to navigate, albeit not as slick or intuitive as its high-end rivals. Tools such as the content curator are also very useful for time-restricted teams that need to find new content to post every day. This tool is really helpful, especially for professionals and businesses. The account set-up process is straightforward and easy to use as well.
Overall, it is a cost-effective, comprehensive social media scheduler and manager.
Features
Social media scheduling
Social media calendar
Bulk scheduling
Content curation
RSS feeds automation
Browser extension
Client management
Team management
Social inbox
Analytics
Starting Price: $30/month
G2 Rating: 4.5/5
Supported Platforms
Instagram
Facebook
Twitter
LinkedIn
Google My Business
Pinterest
VK.com
TikTok
Tumblr
Pros
Save time by Scheduling your posts on 9 social media platforms
Acts as a single interface for all the social networks.
Provides in-depth social media analytics.
Provides powerful collaboration features to teams.
Creation, curation, scheduling, and publishing posts are easy.
You can manage your clients' accounts without asking them for credentials
Cons
Instagram analytics are lacking.
The free plan is not complete.
The interface is kind of outdated.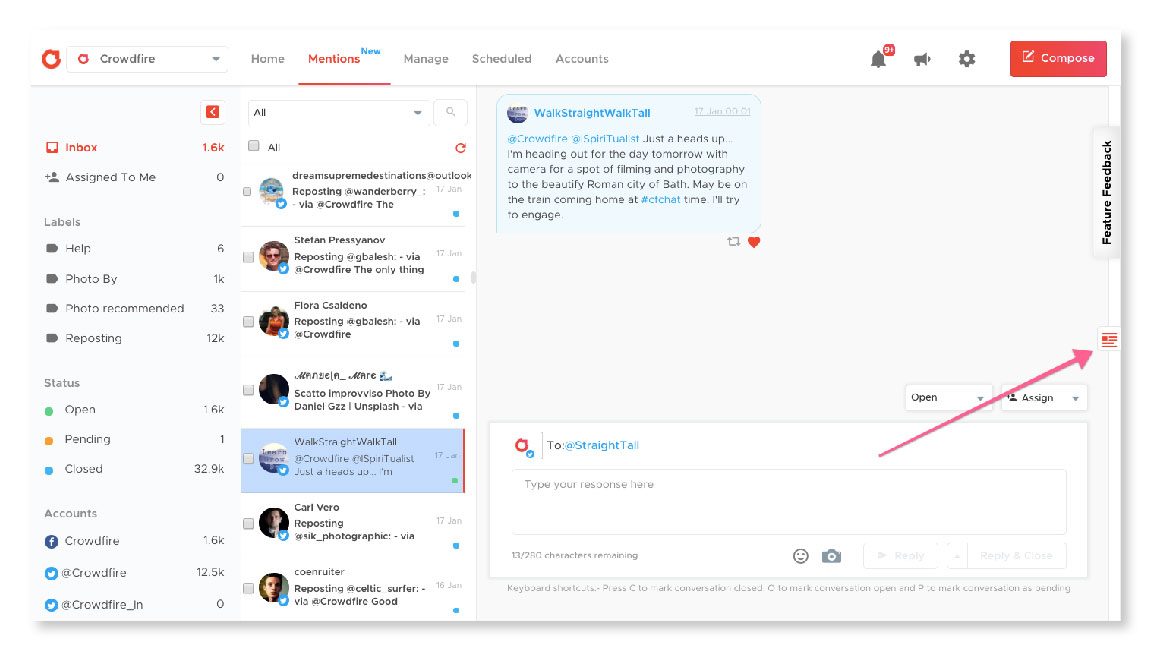 Crowdfire is a powerful social media management tool used by businesses and individuals all over the world to drive social media engagement and growth. It is a fabulous tool that helps you schedule and discovers content for social media. You can also manage all your social accounts easily from one place. Keep an eye out for updates from your website, blog, or online shops, and design quick, beautiful posts for every update to easily share on all your social profiles. Crowdfire strongly focuses on its core social management function, with a powerful emphasis on scheduling content across your social channels at the most suitable times. Overall, it is an easy-to-use yet powerful tool.
Features
Pre-scheduling of Instagram posts
Bulk schedule posts
Chrome extension to share articles
Discover relevant content
Publish content from your website or blog
Tailored posts for every social network
Image curation
Custom RSS feed
Advanced analytics
Competitor analysis
Analytics overview
Post analytics
Hashtag recommendations
Mention tracking
Automatic + custom best times to post
Email support
Starting Price: $9.99/month
G2 Rating: 4.2/5
Supported Platforms
Facebook
Instagram
YouTube
Twitter
Pinterest
LinkedIn
WordPress
Etsy
Shopify
Medium
500px
Vimeo, etc.
Pros
Easy to use.
Detailed stats are very helpful
Wide-set of tools are provided for content marketing.
Accessible for all types of users
Guaranteed growth of social media accounts.
Cons
Weak article finding.
Not able to effectively help you in growing your blog.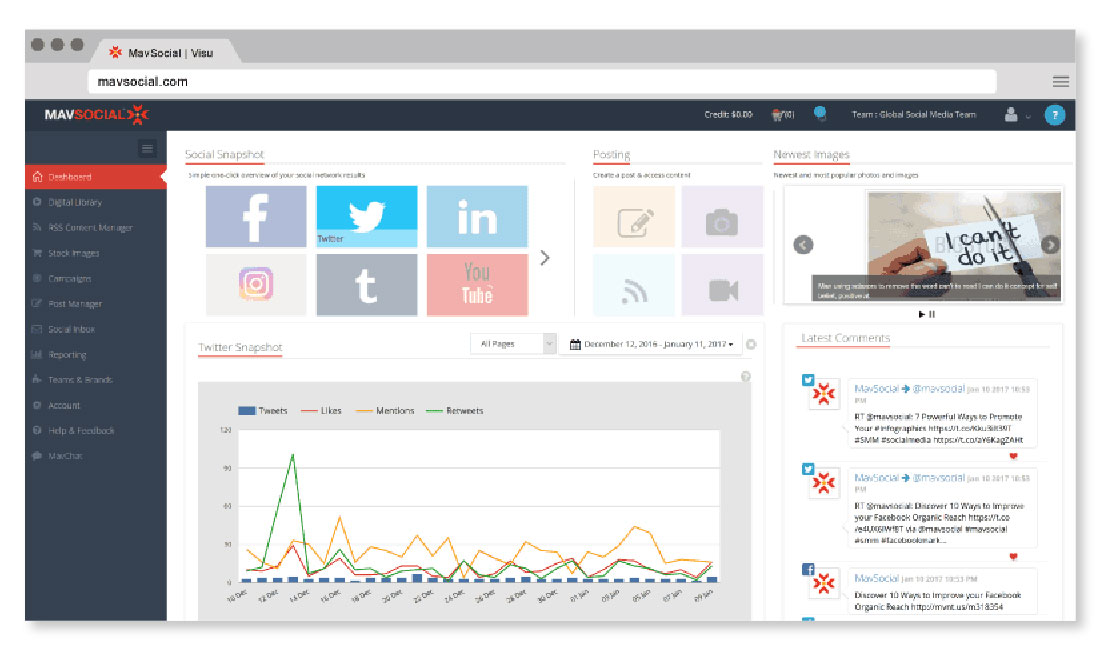 MavSocial is a fully integrated social media management & advertising solution for brands and agencies. MavSocial offers marketers a unified solution at a price point that brands and agencies can afford. It is an award-winning, fully integrated social media management and advertising tool for franchises, SMB, agencies, and enterprises.
Features
Unlimited post scheduling
Visual calendar
Automation
Bulk uploading
Campaign planner
Digital asset library
Social inbox
Integrated image editor
RSS feeds
Social listening
Starting Price: $19/month
G2 Rating: 4.7/5
Supported Platforms
Facebook
Instagram
YouTube
Twitter
Pinterest
LinkedIn
Google My Business
Tumblr
Pros
Save time and keep everything consistent by streamlining your publishing in one place.
Schedule and publish with ease
Make global time zones work for you
Create strategic campaigns
Automate your evergreen content
Organize content with a visual calendar
Campaign Separation.
Provides Insightful Analytics.
Cons
User experience is not 100% intuitive.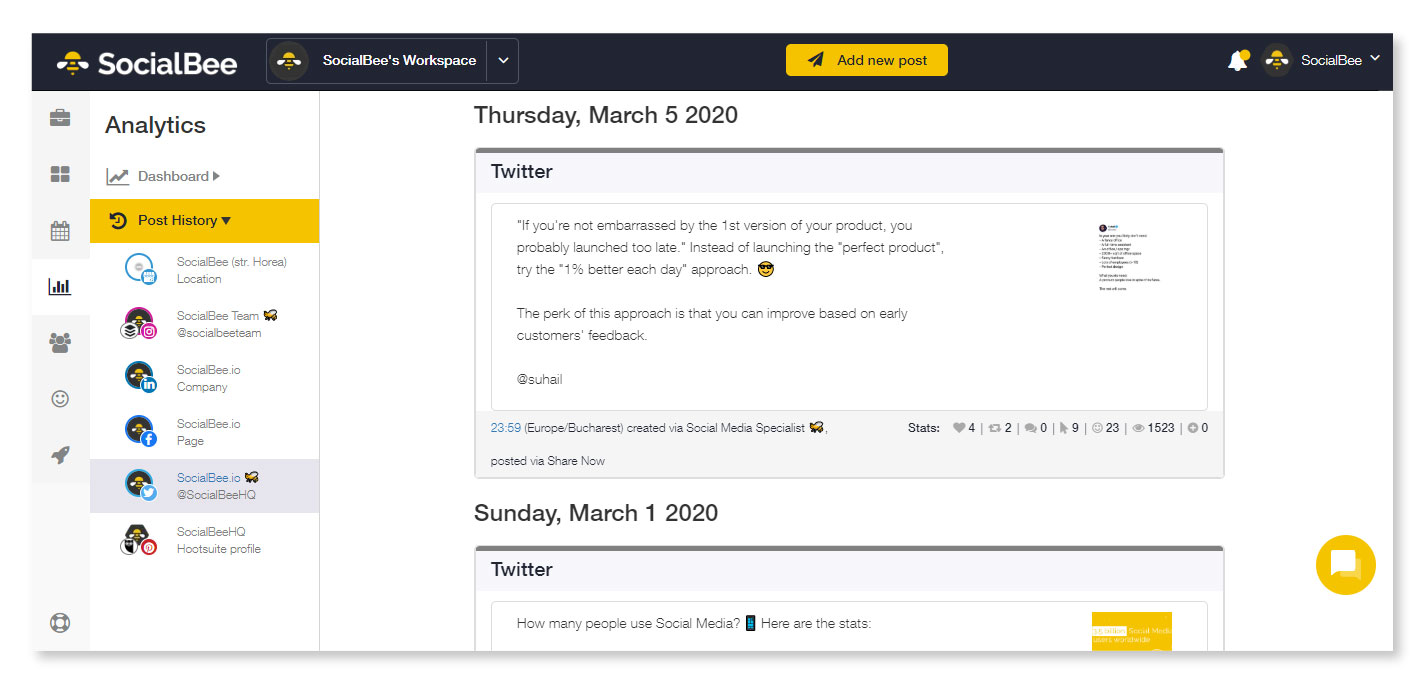 SocialBee is also another great tool for social media management. With this tool you can easily automate your social media posting, so you can focus on what truly matters. You can save a lot of time and hassle by organizing your content according to categories with the help of this tool. You are also able to repost your top liked posts to drive more engagement to your high-performing content and to save even more time. While preparing a posting schedule, you can start from SocialBee's templates and then customize your calendar as you want. Overall, this is a very reliable and easy-to-use tool.
Features
Content categories
Category based scheduling​
Pause categories.
Re-Queue posts
Customization for each profile.
Post variations
Bulk editor​
Starting Price: 19$/month
G2 Rating: 3.9/5
Supported Platforms
Facebook
Instagram
Twitter
Pinterest
LinkedIn
Google My Business
Pros
It helps to automatically publish content on social sites at a scheduled time.
The content can be organized across different categories to locate them easily at a later time.
It also offers Twitter management features to find new potential followers and detect unfollowers easily.
Cons
Doesn't have a built-in Pinterest integration.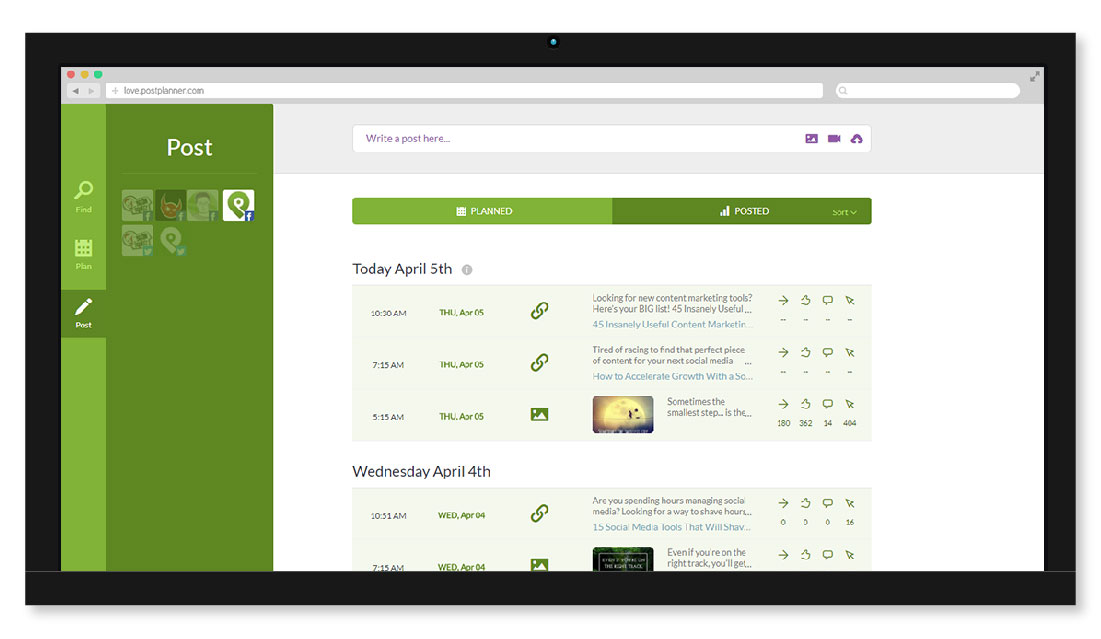 Post Planner is a trusted social media scheduler. Any social media tool can help you schedule posts. But this tool is built for engagement! Post Planner makes it easy to find, plan, and post content that is scientifically proven to increase your social media engagement. Post Planner is like having a team of social media experts on demand. The best thing about this amazing tool is that it is very affordable.
Features
Posting calendar
Social media scheduling
Discover top-performing content
Content curation
Post recycling
Analytics
Social tagging & mentions
Viral articles & images
Starting Price: $5/month
G2 Rating: 3.7/5
Supported Platforms
Facebook
Instagram
Twitter
Pinterest
LinkedIn
Pros
Post Planner offers some incredible advice, training, and study guides on their blog.
It is easy to legally curate content for my social media channels.
Excellent support response.
Cons
Product usefulness is low.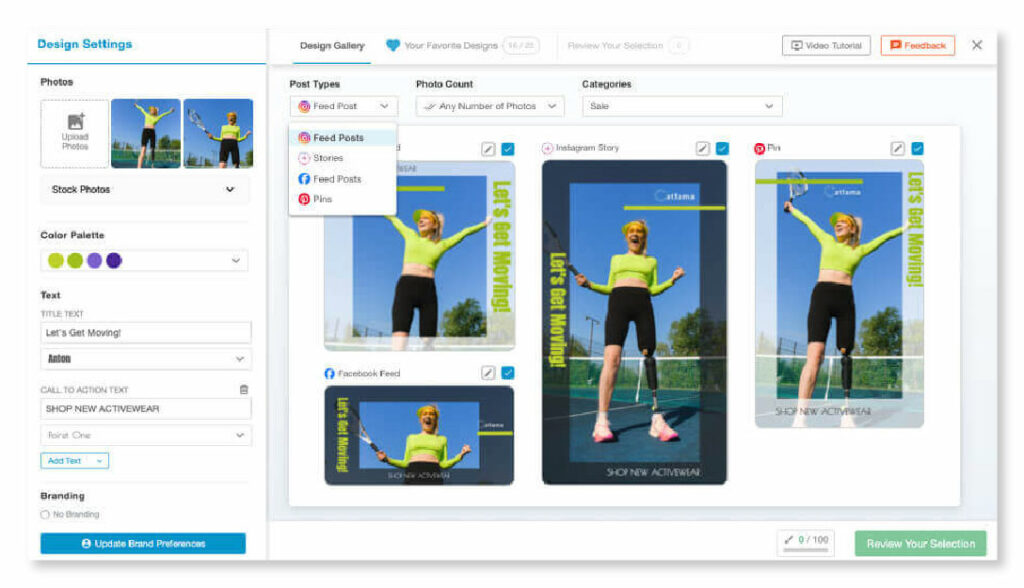 Tailwind is one of the best-rated social media management tools for Pinterest and Instagram marketing and advertising campaigns. This is the tool that will act as your marketing team.
This tool helps you to plan your social media posts, analyze discussions, and measure results. It also gives suggestions for enhancing your Pinterest and Instagram marketing strategies.
Its extraordinary features include a scope of highlights particular to these visual social media platforms. You can adeptly utilize Tailwind for Pinterest Content Advancement and Instagram UGC Content Management.
Features
Automated publishing
Customized visual planning
Personalized Smart Schedule
Content Management
Monitoring and listening
Hashtag finder
Starting Price: $9.99/month
G2 Rating: 4.4/5
Supported Platforms
Pros
Scheduling Pins on more than one Board across a time frame.
Scheduling Instagram posts at recommended times.
Using Smart Bio for links from Instagram directly to our website.
Cons
There are not enough options for filtering previously posted pins.
The app could use some improvement. It is very cumbersome to add pins to your Tailwind queue.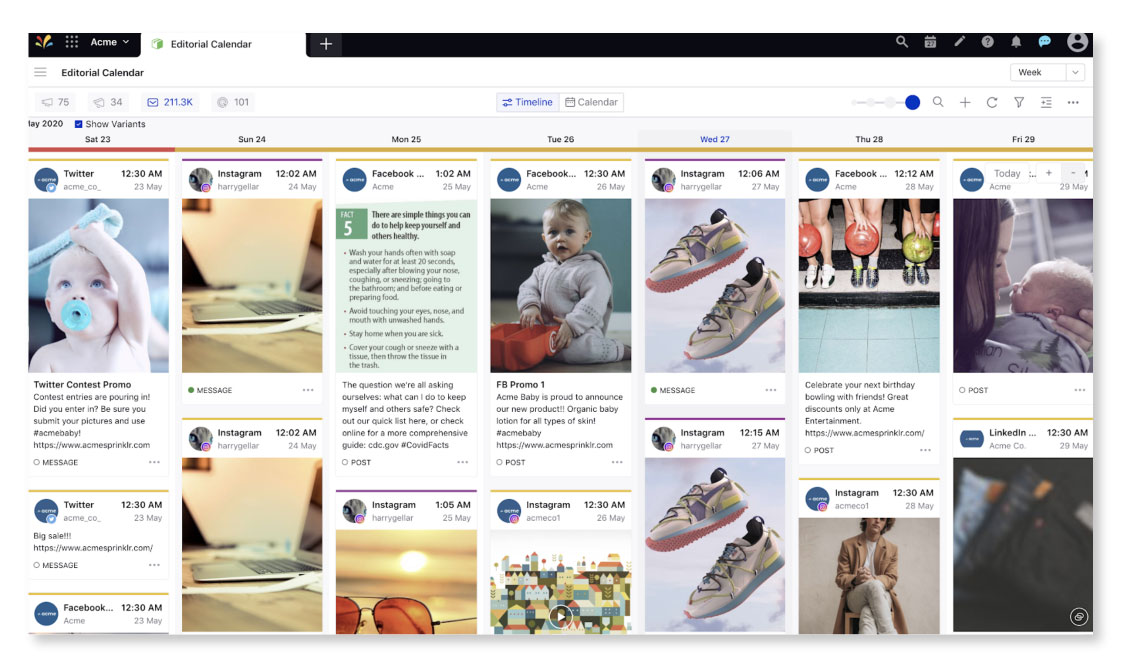 Sprinklr is an American software company based in New York City that develops a SaaS customer experience management platform. The company's software, also called Sprinklr, combines different applications for social media marketing, social advertising, content management, collaboration, employee advocacy, customer care, social media research, and social media monitoring. Sprinklr is the only Unified-CXM platform purpose-built for enterprises, empowering the world's biggest companies to be Humanscale across 35+ messaging, live chat, email, and voice channels, it enables you to leverage the industry's most sophisticated AI engine to bring care, research, sales & engagement, and marketing & advertising together like never before.
Features
Social listening
Social publishing
Analytics
Content management
Campaign management
Modern Research and care
Marketing & advertising
Modern sales & engagement
Starting Price: $29/month.
G2 Rating: 4.0/5
Supported Platforms
Pinterest
Instagram
Twitter
Facebook
Snapchat
LinkedIn
Google+
YouTube
Foursquare
Flickr
Slideshare
Tumblr
WordPress
Zendesk, Livechat
Survey Monkey
Clarabridge
Sina Weibo
Tencent Weibo
Renren
VK.
Pros
The ease and ability to schedule or draft social media posts for certain business channels is quite amazing.
The management team and customer service are outstanding. As they build their product, you can genuinely tell they want to succeed.
Cons
For someone who has limited knowledge of social queries and Boolean logic, it can be hard to get used to the setup to create queries and keywords.
It is difficult to understand all the possibilities that it has, and at the same time, it does not seem to have some management options that would be fundamental.
If you have an agency and you want to manage your social media, read our blog; 10 Best Social Media Management Tools for Agencies
Final Words
We have mentioned all the top social media management tools and services in our article. You can now choose the ones that suit the best according to your social media needs and your budget. All of these tools are reliable and are highly trusted by thousands of people around the globe. So this proves that they are definitely worth it.
By investing in the right social media management tools and services, you can expand your social reach and increase your followers effortlessly. If you have a business, you can rapidly grow the visibility of your brand as well as generate more sales.
We have also mentioned above, the importance of social media management and how it can help you rapidly grow online.
Now, selecting the one from the above-mentioned tools is up to you and your requirements.