Platforms like Facebook, Twitter, and LinkedIn help you attract new customers, connect with them, and engage with them. Handling all the tasks necessary for social media management with an iPhone can be challenging. Using social media management apps for iPhone can streamline these tasks and save you a lot of time.
It's important to choose an app that suits your needs and budget. Here are seven of the best.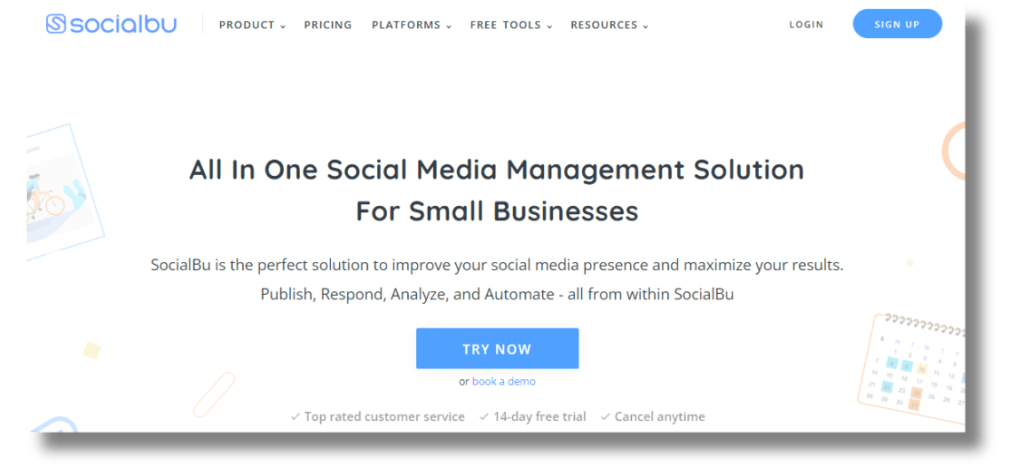 A comprehensive tool designed to simplify your online presence, SocialBu stands out in the fast-paced world of social media. With robust features that cater to all your social media needs, SocialBu makes managing multiple platforms a breeze. 
This platform empowers you to make data-driven decisions while saving time with intuitive scheduling, automated responses, and insightful analytics. Using its social listening capabilities, you can also stay on top of the interests and needs of your audience. 
Starting at an affordable price of $15.8 per month and a 14-day free trial, SocialBu offers exceptional value for its feature-rich services. This is what makes it one of the best social media management apps for iPhone users looking for efficiency and effectiveness.
Buffer has a range of tools that support content creation, post-scheduling, and analytics. It is an intuitive platform that will help you to work more efficiently and collaborate with your team. Scheduling your posts is very simple for all your social media accounts.
Using Buffer will help to increase your engagement and results. You will have access to audience demographics, data storage, and analytics reports.
Buffer has a plan that stays free forever and allows you to connect to three social media channels and schedule 10 posts for each one. Paid plans have a 14-day free trial, starting at $6 per channel per month for the Essential plan. The pricing per channel can help to keep your costs low if you have a small business.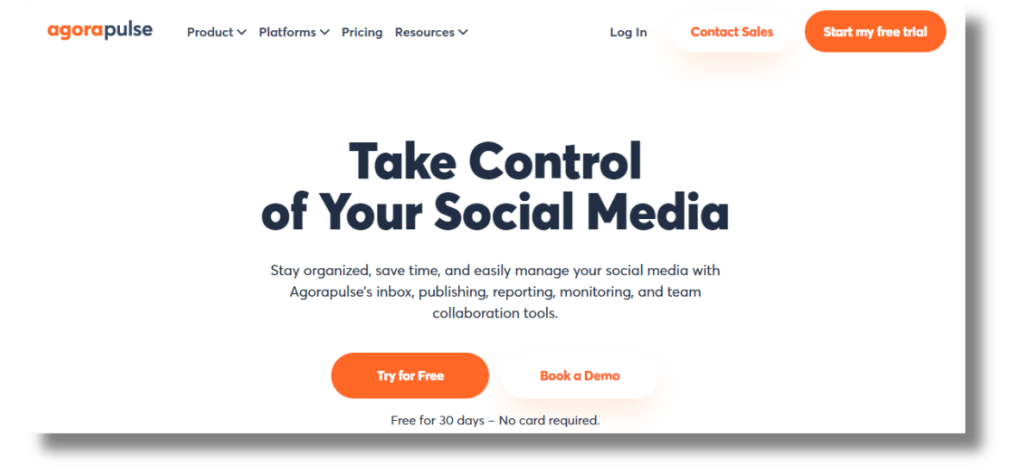 Agorapulse is another comprehensive platform with tools that allow you to stay organized and save time. You can use publishing, monitoring, reporting, and collaboration tools. Optimize your posts for each social network, collaborate with your team to schedule posts, and organize them with a publishing calendar.
The platform also has several unique features, such as social listening, allowing you to analyze your competitors. It also offers integrations with other apps like Canva.
A free account gives you access to 3 social profiles for one user. You can schedule 10 posts and get access to a basic social inbox and reporting. Try out a 30-day trial for a paid plan. The paid plans start at $49 per month and give you all the features you need to get started.
This social media management tool is suitable for agencies with a number of clients. Social media for SMBs is a powerful way to gain clients, get insights about them, interact with existing ones, and more. With this app, you can create a month's worth of content in a week and spend the rest of the month engaging with clients and optimizing your business.
You can centralize and manage social media accounts, so you don't need to keep switching between accounts. Sendible integrates with YouTube search, royalty-free image search, and Canva.
The cost of Sendible decreases as you add more profiles and users. There's a 14-day free trial; the paid plans start at $29 monthly. It's affordable and easy to use.

Sprout Social contains various tools on one platform that allow for scheduling, monitoring, and reporting. What distinguishes it is its customer relationship management (CRM) features. It monitors customer profiles and locations.
You can build strong relationships with customers when you have comprehensive profiles. You also have access to suggestions by AI Assist.
Paid plans have a 30-day free trial. The standard plan is $249 monthly, including five social profiles and an all-in-one inbox. Sprout Social may be one of the pricier plans, but it offers great scheduling and powerful analytics.

Using Ripl's all-in-one app, you can create, schedule, and post to your social media accounts in minutes. It's designed with small businesses in mind. There are ready-made templates you can customize.
Upload your photos or videos, add your logo and branding, and Ripl will do the rest. You can brand consistently across all your posts and get free access to stock images, music, etc.
Posting Instagram Reels can help you reach new customers who use the Explore page to find Reels. Branded ads can also increase your reach. There is a 7-day free trial, and plans start at an affordable $8.33 per month.

Hootsuite is one of the most comprehensive platforms where you can perform various social media tasks. You can schedule content and select times your audience will most likely engage.
Review your content schedule using an interactive planner. You can also run ads, monitor inboxes, measure metrics, and more.
Connect with over 35 networks, monitor multiple keywords, and schedule bulk posts. It has a well-laid-out media dashboard that you can customize. Another benefit that's particularly useful is the integration with over 250 apps, including Adobe, Spotify, and Canva.
There's a 30-day free trial, and plans start at $99 per month. The more expensive plans offer great monitoring, integrations, and robust analytics.
Conclusion
The best way to manage your social media accounts is to choose what's most appropriate for your business. Using free plans and going for free trials is the best way to determine if an app fulfills your particular requirements before deciding on a paid version.