How has Instagram become the best photo & video sharing platform? And what is the best video length to post on Instagram? Let's start from the start.
Instagram was launched in 2010 initially as a photo-sharing app. Encouraging its users to exhibit their aesthetic sense and arts visually. However, in 2013 an upgrade in the social media platform enabled its users to upload videos. This feature further enhanced the marketing potential of Instagram.
It is evaluated that about 86% of businesses use Instagram videos for the effectiveness of their digital marketing strategy. Moreover, according to eMarketer, the use of videos has increased the engagement of top marketing accounts from 46% to 53% in 2020.
Practically audience engagement increases when interest increases. Videos are provenly more effective in increasing the audience's interest as compared to snap stills. So, a clever marketer in modern times surely gives videos priority when shaping its Instagram posting strategies.
Instagram is the fast-digital world platform, restricting the lengths of the videos to keep its pacey environment intact. Maybe the reason is to maintain a distinct pattern among its competitors. Creating content that fits the allowed video length while delivering the complete message is the real trick. To do this, having proper knowledge about the platform and allowed video lengths is critical. 
Length of Instagram Videos 
An ardent Instagram user who loves to post videos now and then either for themselves or their business must know the importance of the optimum length of the video being posted in various versions, including feed, reels, IGTV, and the live video recording as well. These optimized videos are by far the most efficient tool in the contemporary marketing arena. 
1. Instagram Feed Video Length
When it comes to videos uploaded on the feed, Instagram has set the upper limit to 60 seconds. At the same time, the lower limit is 3 seconds. However, the optimum length to make the most out of the Instagram feed video would be 15 seconds.
2. Instagram Stories Video Length
Videos on stories can be of 15 seconds maximum. However, stories continue to play one after another. So, users can add various clips of 15 seconds, increasing the total length of the story's video. It means, for example, that you can post a 60 seconds video to the stories section by making 4, fifteen-second-long stories.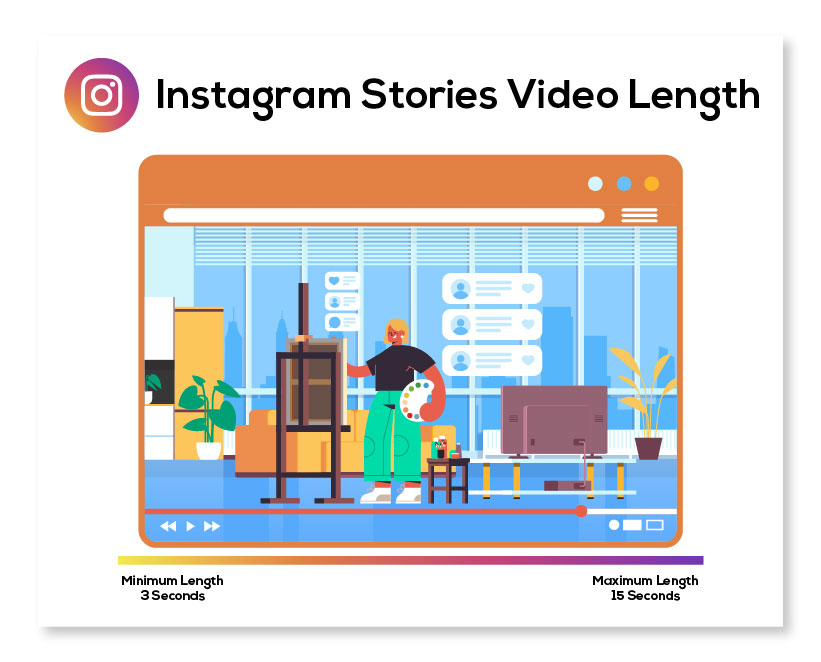 3. Instagram IGTV Video Length
The allowed length for IGTV videos is set at a generous length of 60 minutes by Instagram. Thus, enabling users to upload whole podcasts, detailed recipes, or complete art videos. However, the appreciated length ranges from 15 seconds to 10 minutes. This time frame allows the creative freedom to create engaging, innovative, and complete content. At the same time, the viewer will not lose interest and are most likely to watch the full video.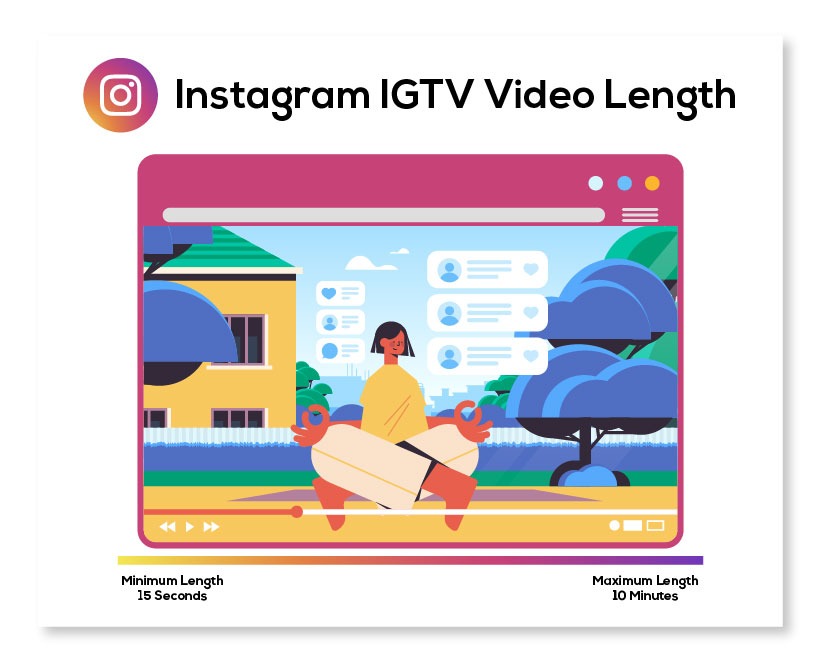 Tip: You can easily create captions for your Instagram videos/IGTV's with this awesome free video caption generator. It is a super easy online tool that will help you get a creative and unique caption for your videos in just a few minutes.
4. Instagram Live Video Length
Like Facebook, Instagram's live video length is also set to 60 minutes. This option allows the creator, Instagrammer, or business representative to engage with their audience. You can go live on Instagram and have a live conversation with the live influx of comments or messages.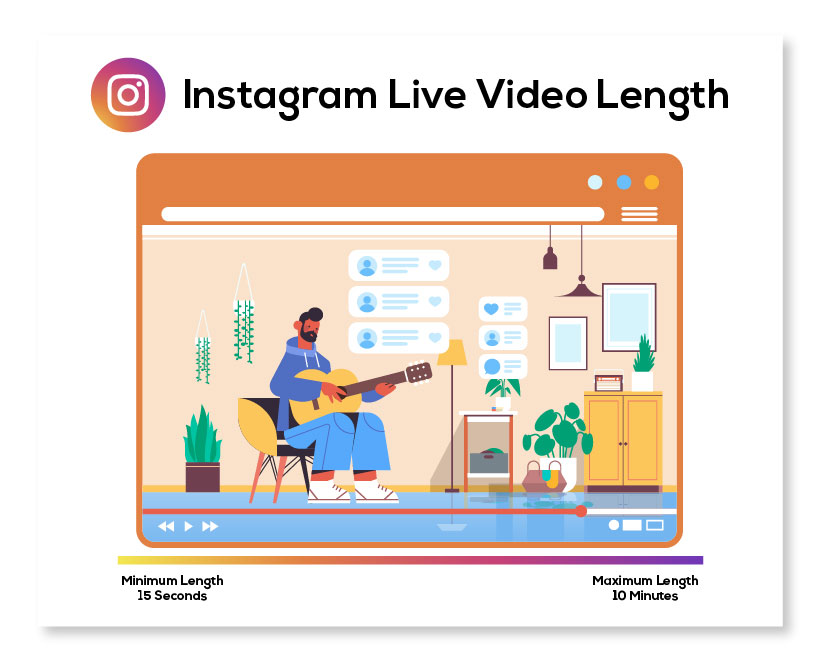 How to Upload Videos to Instagram?
Instagram being a user-friendly platform, allows its users to upload videos in just a few steps. 
1. How to Upload Instagram Feed Video
To upload a video on the feed, open Instagram and click on the icon with the plus sign. It is located in the middle of the lower panel of the Instagram feed window.

That will take you to your gallery.

Select videos from the options available.

Then select the video you want to post.

 Add filters if you want to.

Click on the option next.

Write an interactive and unique caption for your video.

 Click upload, and the video will be posted. 
Schedule Your Instagram Feed Videos with SocialBu
Uploading videos is great. What's more, is that you can schedule your videos with SocialBu. Doing this can save you a lot of time and extra effort.
You can upload or schedule a video with SocialBu by following simple steps. But first, you have to optimize your video to the optimal length. After doing that, follow the following steps.
Open the SocialBu app.

From the "Publish" section, choose "Scheduled".

It will open a tab of all your scheduled videos and posts. If you haven't any, then click the "create" button.

Select the required account.

Attach the video file and either publish it directly or schedule it to the time and date you want.

SocialBu also gives you a unique option. You can share the particular video in your story when it is supposed to be published on your account.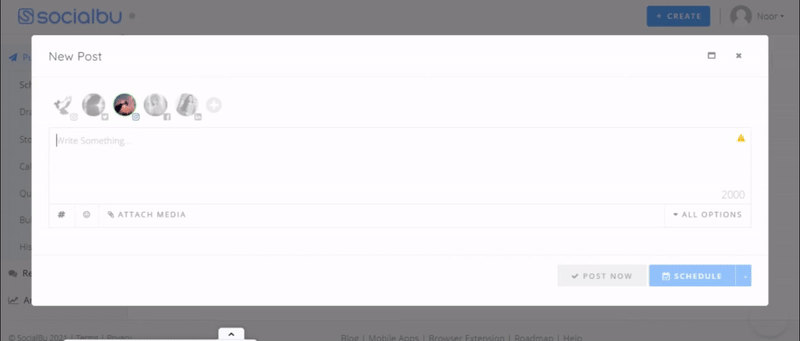 2. How to Upload Instagram Story Video
You can post a pre-recorded video to Instagram stories and can make the one on the spot too.
Pre-recorded video:
To upload a pre-recorded video in an Instagram story, open the Instagram app. Then click the camera icon on the upper left corner of the screen.

It will open the Instagram stories. Here swipe upwards.

It will take you to the gallery. For convenience, you can select the videos folder from the available options.

Next, select the video you want to post.

 To add some customization, you can add gifs, stickers, or even write text on the video window.

Once satisfied, click on the post option. By doing this, you will successfully post a pre-recorded video from your camera roll to an Instagram story.
Posting Story with a New Video:
You can upload a story by capturing a video snippet right at the moment. To do this, open your Instagram app.

Click the camera icon on the upper left corner of the screen.

Here you can record the video by pressing the recording button.

The maximum length for a story video is 15 seconds. Instagram offers many video-like options to make interesting stories. Some of these are boomerang, superzoom, focus, rewind, etc.

After making a video, click next. If you want, you can add gifs, stickers, or filters to the video.

Finally, click the post button and let your audience view what you are up to. 
Schedule Your Instagram Stories with SocialBu
Like scheduling your Instagram feed videos, you can also schedule Instagram stories with SocialBu. Do not worry about creating and posting individual stories and posting them manually. Just record and edit a story video for Instagram and schedule it with SocialBu.
After opening the SocialBu app, open the "Scheduled" tab.

Then open the "Stories" section. If you already have scheduled stories, they will appear there.

If you do not have any, then click the "create" button.

Select the required account.

Add the media file. You can edit it also with emoticons, stickers, swipe-up links, or location tags.

Once done, either publish it directly or schedule it to the date and time that you want. 
3. How to Upload Instagram IGTV Video
IGTV is a feature that allows Instagram users to post longer videos on the platform. It was introduced in 2019 and has gained immense popularity among Instagram content creators and marketers since then. It allows the users to post detailed content delivering a clear and complete message to their audiences. To upload a video on IGTV, follow the steps stated below.
Go to the home window of the Instagram app.

Click on the plus sign icon on the left top corner of the screen.

Choose IGTV from the available options.

Go to select options.

Select the video you want to upload from your gallery. And tap next.

Select the option of long video from share as options.

Tap the continue button.

Now add a cover photo for your IGTV video. You can take it from one of the video frames or upload a fresh photo from the gallery.

Complete the requirements by adding a title and description to your video. It is necessary and helps in the searchability and visibility of your video on the platform.

If you wish to cross-promote your IGTV video, you can post a snippet to the news feed and share the preview to the Facebook pages.

After completing all the required actions, click post. Your IGTV videos will be available for the audiences to enjoy.
4. How to Go Live on Instagram
Another exceptionally interactive feature for individuals, businesses, and influencers to use on Instagram is Instagram live. This activity allows businesses or individuals to develop a more intimate relationship with their audiences. Here is a step-wise guide about how to go live on Instagram.
Go to the home window of the Instagram app.

Click on the plus sign icon on the left top corner of the screen.

Choose the live option from the available list.

Tap the title button and type in the desired title for your life.

Then tap the broadcast button at the bottom of your screen.

Now you are live on your Instagram account.

The number of viewers appears on the top of the screen with a small eye symbol next to it. And the comments appear at the bottom of the screen.

You can pin a comment by tapping on the comment and selecting the pin option. It will allow your viewers to see the comment easily.

Once done, press the end button to end the live broadcast.

You can download your live session by pressing the downloading arrow and saving it to your gallery or sharing it as IGTV.
Why is Scheduling Videos for Instagram Important?
Video marketing now makes a significant share in the digital marketing world. As a result, videos are given priority when devising new marketing strategies to thrive in this modern competitive world. For example, by scheduling videos for Instagram business accounts, individuals can experience an increase in engagement rates.
To enhance the engagement rate, the aesthetics of the profile are core. Scheduling also enables the users to post regular, simultaneous, and themed posts. By doing so, users and businesses can create interactive and visually appealing profiles.
Social media platforms with high engagement rates can make a colossal impact on business profitability. With this belief, almost  86%  of businesses now use video marketing to market their products.
Wyzowl's statistics of video marketing for 2021 show that video marketing is beneficial in all aspects, from ROI to consumer engagement to the video platforms themselves. A few reasons to schedule and use videos in marketing on Instagram, according to Wyzowl statistics, are
Marketers experience an increase in leads and clickthrough by 53%

63% of marketers experience increased engagement rates (likes, shares, comments, and saves).

Businesses experience a 42% increase in brand awareness/ PR.

84% of people agree that they bought a product after watching the brand's video.

83% of marketers agreed that videos had increased the visitor's stay time on their page. 
Conclusion
Instagram is one of the most used social media platforms. And it continues to provide its users with more and more options to capitalize the platform to its full potential. One of them is the option of including video to their various features. Like feed posting, Instagram reels, Instagram stories, IGTV, and even live broadcasting.
The difference in allowed video length for all these features is a restriction to maintain the uniqueness of the features. The set video length develops creativity in content creators to fit their videos within the allowed limit.
Posting content on Instagram is not some rocket science one needs to understand. However, there are certain requirements to upload the videos in Instagram Stories, IGTV, and feed to make them uniquely effective. By following simple stated steps, one can post videos with optimum length to engage and attract the audience.
Boomerangs focused or rewind videos, and the addition of meaningful covers and descriptions to IGTV videos can be used to make them more appealing.
A person's efforts in adding videos to Instagram, from creating content to posting them, surely pay them back. It does so that businesses and influencers get increasing engagement, leads, and stay time significantly.
In the end, we can say that the time, effort, innovation, and creativity that you invest in creating videos on Instagram are all worth it.