Instagram's introduction of the Reels feature has transformed the platform from a photo-sharing app to a dynamic video hub. Today, IG Reels have become a popular tool, allowing users and creators to unleash their creativity and share engaging, snappy videos on the platform.
However, it's crucial to understand the limitations of IG Reels length to grab the audience's attention and get more engagement quickly.
This comprehensive blog post will explain everything about Instagram Reel limits and how to optimize your content for maximum impact. Let's explore the ideal Instagram Reel dimensions, aspect ratios, resolution, and the best lengths for different purposes.
What are Instagram Reels?
Before diving into the specifics of Instagram Reel length, let's briefly understand what these are. Instagram Reels are short, entertaining, and fun vertical videos that start at 15 seconds and can last up to 90 seconds.
These Reels also come with various in-app editing options like IG filters and effects. You can add music, your own audio, or original trending audio from other users' reels.
You can arrange multiple videos or photo clips to make reels and put them on stickers, texts, and green screens to make them more entertaining.
IG Reels provide a platform for Instagram users to showcase their creativity, share valuable content, and engage with their audience in a fun and interactive way.
Where do Instagram Reels Appear?
After uploading on the platform, IG Reels appear in two different places on Instagram. The first one is the 'Reel tab/icon' at the bottom of the platform's home page. It is a full-flagged scrollable section dedicated to Reels where users can easily view Reels, offering a TikTok-like experience.
The second dedicated place is the 'User's Feed,' which displays every Instagram user's reels. You can also find trending Reels on the 'Explore page.'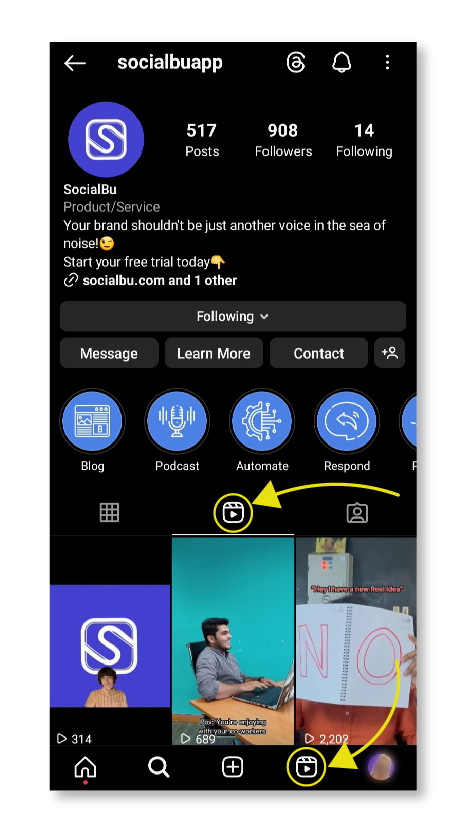 What are IG Reels Limits?
While it may seem you have a free hand to create Reels of your desired length, let us break it. This is not the case. Instagram Reels come with specific length limits that users must adhere to when creating their videos. And this IG Reels limit algorithm has changed over the past few years.
When Instagram first debuted the Reels feature in 2020, the IG Reel length was 15 seconds. However, Instagram later increased the Instagram Reels limit to 30 seconds and 60 seconds long in 2021. And, as of 2023, the maximum length for an Instagram Reel is 90 seconds.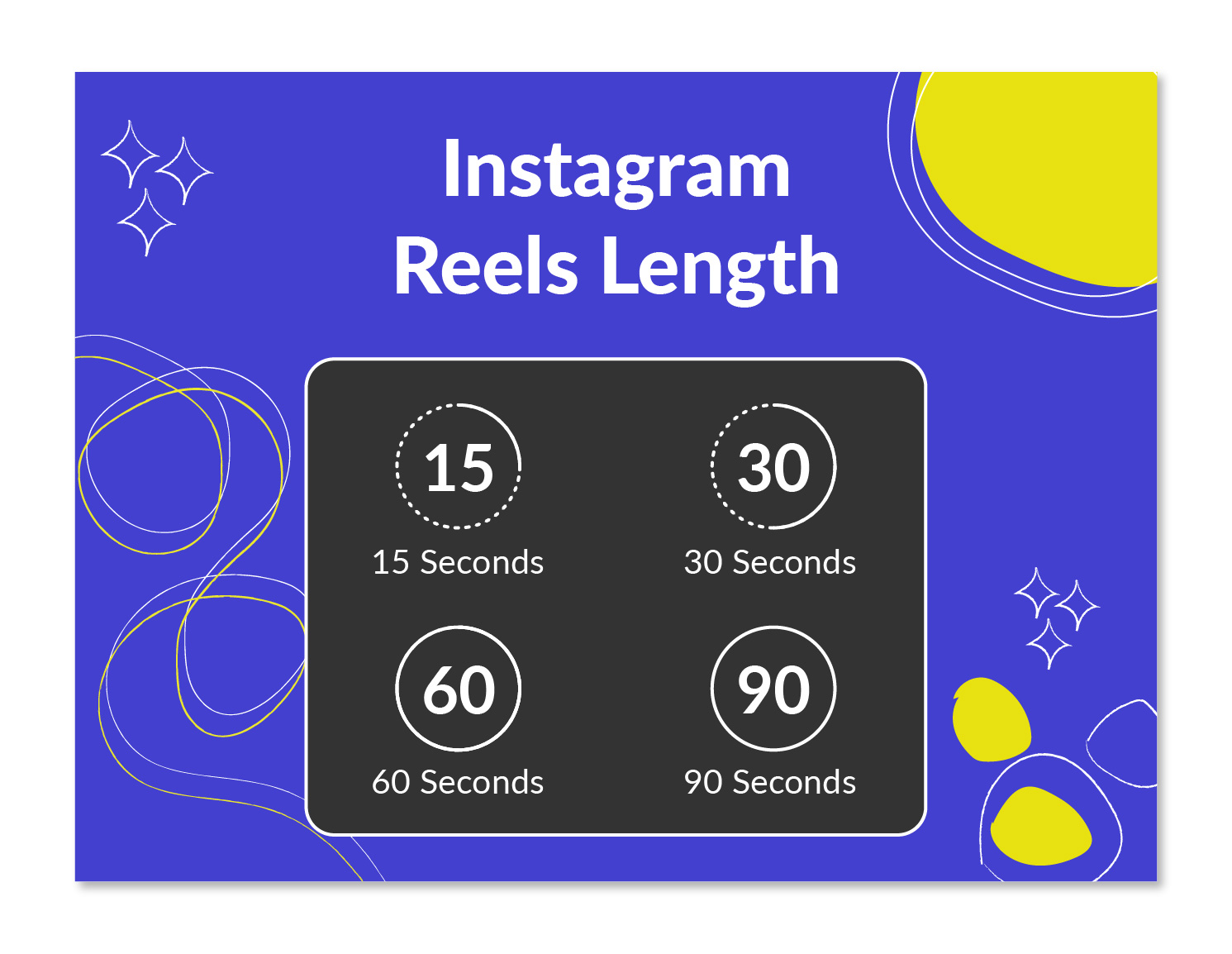 However, while these IG Reels limits may seem restricted, they are essential in keeping the audience hooked. This restriction encourages users to craft concise and captivating content, making it easier for viewers to consume and engage.
What is IG Reels Length?
If you create Reels through the Instagram App camera, the maximum IG reel length is 90 seconds. But the duration can exceed 15 minutes if you make it outside the platform and then upload it. Regardless, the shorter the Reel, the more engaging it will be.
Despite this, it does not imply that any Reels you create must be 90 seconds long. In the next section, we'll explore how you can set up the specific length of your Reels and optimize them for different purposes.
Why Does Instagram Reel Length Matter?
As a content creator or marketer, IG Reels can prove the best way to get more eyeballs on your content and generate engagement. You can use this feature to collaborate with famous brands, tell your audience about your product, and show some behind-the-curtain scenes to build trust. However, finding the perfect length for your Reels is essential for all these purposes.
Furthermore, the Instagram algorithm also fosters Reels of favourable length and expands its exposure to get more views. As per the stats, IG Reels bring in 33.8% of the total reach and 35.4% of likes on your account.
Hence, Instagram Reel length is crucial in determining the success and engagement of your content on the platform. Here are some key reasons why Instagram Reels' length matters:
Capturing Attention
In the fast-paced world of social media, readily grabbing users' attention is paramount. The length of your Reels can affect how long viewers stay engaged with your content. Shorter Reels will likely retain attention and keep viewers hooked until the end.
Viewers' Attention Span
Users scrolling through their Instagram feeds often look for bite-sized and captivating content. Adhering to the IG Reels limits of 15, 30, 60, and 90 seconds ensures your Reels align with the platform's users' behavior. It also captures users' attention for a long time.
Algorithm and Discoverability
Instagram's algorithm considers the time users spend on your Reels and the engagement they generate. If your Reels are concise and hold the audience's attention, they are more likely to be favored by the algorithm and shown to a broader audience. This boosts their discoverability.
Sharing Potential
Reels with shorter durations are more shareable, as viewers can easily forward them to friends and followers. According to Meta's report, the daily re-share rate of IG Reels is 1 billion times. This increases the likelihood of your content reaching a wider audience through sharing and re-sharing.
Platform Relevance
Instagram Reels is part of the platform's strategy to compete with short-form video platforms like TikTok. You align with Instagram's vision by optimizing your content for the Reels format (9:16 aspect ratio). As a result, your chances of increasing your reach and gaining more visibility within the platform improve.
Audience Retention
Concise and engaging Reels increase the likelihood of viewers watching until the end. IG algorithm uses higher audience retention metrics to indicate that your content resonates with your audience. Thus, it further boosts the Reels' visibility and introduces them to new users.
Set Up the Specific Length of Your Reels
When creating an Instagram Reel in the IG reel tab, the default time limit is 15 seconds. But, Instagram allows users to choose a custom length, making it ideal for delivering concise and impactful messages.
Depending on your requirements, you can adjust IG Reels length limits to 30, 60, and 90 seconds. The procedure of how to set up the specific length of your Reels is simple.
All you've to do is;
1. Open the Instagram App and go straight to the 'Reels Icon' at the bottom of the platform.
2. Tap on the 'Camera Icon' at the top of the Reels section. Now you're in the 'Instagram camera.'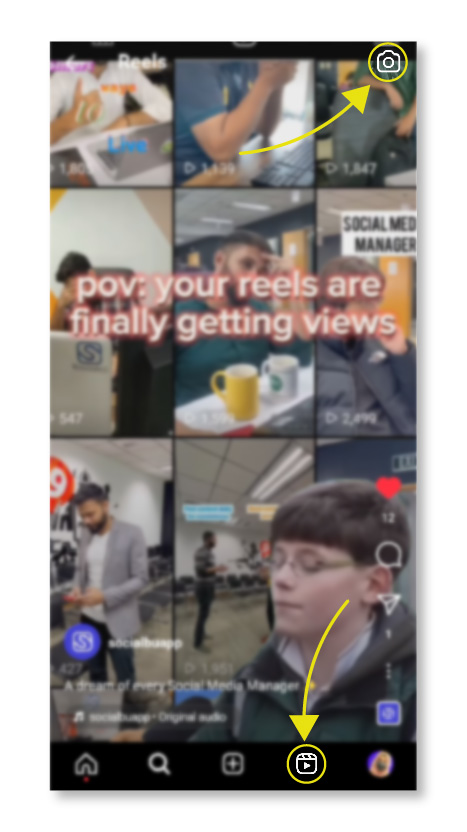 3. Tap the default time icon of 15 seconds on the left side.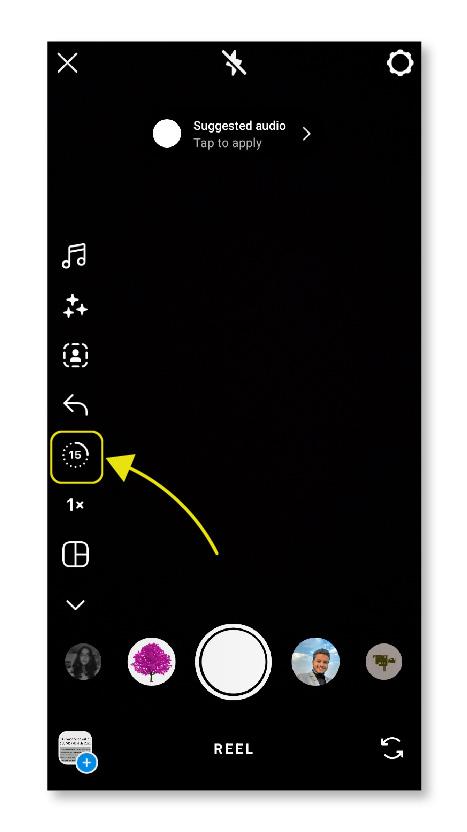 4. You'll see the platform's different IG Reel length limits, such as 30 seconds, 60 seconds, or 90 seconds.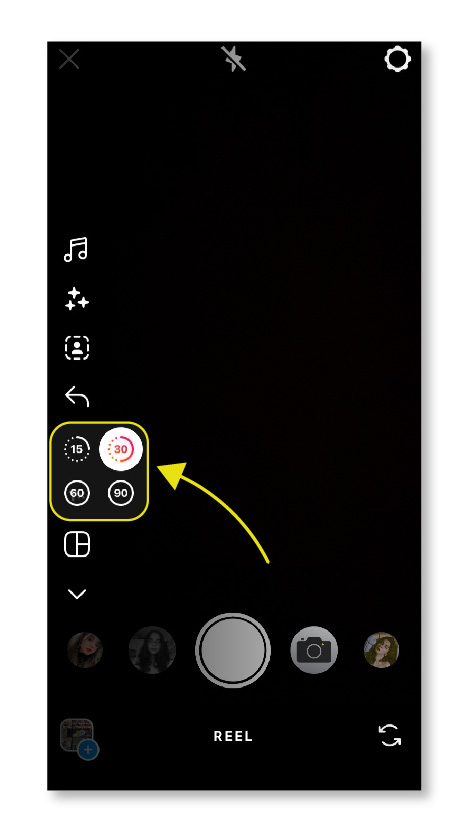 5. Select your desired Instagram Reel length and record your Reel.
6. And it's done. Now, edit it the way you want.
You can also use IG Reels templates and Reels Remix options to create your reels quickly. These options allow you to use the format and audio of previously trending reels for your reels.
Schedule Your Instagram Reels with SocialBu
After creating your Reels, it's time to publish it. You can upload it manually or with the help of a platform like SocialBu. This tool allows you to schedule your Reels in advance for the future and let them auto-published at a specific time. It saves your time and is convenient, too.
So, why keep your Reels in the drafts and wait for the perfect time to post? Try SociaBu to schedule your IG Reels seamlessly and maintain a consistent content strategy.
What is the Best IG Reels Length? [For Different Purposes]
Different goals require varying Instagram Reel lengths so setting a purpose or plan for your IG Reels is always recommended. Don't just make them for the mere sake of making them. They can be a great way to bring in more engagement and conversions.
Identify your target audience's preferences, needs, and what they want to see more.
Determine the purpose of your content, too, as the best IG Reels length depends on the type of content you want to post.
The more relatable the content is, the more your audience will engage, resulting in higher engagement.
Let's say you're making a Reel to highlight the benefits of your product. In that case, you'll need to keep the Reel duration a little longer than the ones where you're just giving your audience a sneak peek of the product.
Pro Tip: If you're starting your IG page, keep your Reels short, as they keep the audience hooked by leaving them wanting more.
Now, let's explore the ideal Reel duration for specific purposes:
IG Reels Length Limit for More Views
If you aim to increase views and reach a broader audience, keep your Reels short, snappy, and captivating. In most cases, Reels around 3 to 10 seconds perform well regarding views and discoverability.
But the secret is to grab your audience's attention and compel them to rewatch within a few seconds.
Ideal Length for Engagement
The best IG reel length is around 2 to 10 seconds for better engagement and audience attention. However, powerfully utilize the first span of the Reels with an exciting hook and keep the content sweet.
Ideal Length for Shares
Shorter Reels are more likely to be shared, increasing your content's visibility. To encourage users to share and spread your Reels across the platform, aim for 15 to 18 seconds in length. Also, don't forget to add a CTA at the end of the Reel, such as 'Share with your friends/siblings/batter-half.'
Recommended Length for Comments
Go for creative and conversational Reels between 7 to 18 seconds to generate meaningful comments. This duration allows you to provide valuable information and prompt engagement.
Duration for Conversions
For Reels designed to drive conversions, such as product launches or promotions, aim for a length of 60 seconds or 90 seconds. If you're a marketer wanting to sell your products or services, keep your Instagram Reels Ads between 30 to 60 seconds.
Include a clear call to action to guide your audience toward the desired action.
Length for Building Connections
To connect with your audience on a deeper level, create Reels that narrate a story and are up to 60 to 90 seconds long.
Authentic and relatable content with an element of storytelling resonates the most with users and builds loyal followers/audiences. Show the core story and purpose of your brand persona, product, or services.
Another point is to keep them crisp and sweet, and Voila, the engagement, and views they will bring in will surprise you!
How to Find the Best Instagram Reels Length for Your Specific Audience
There is no one-size-fits-all method to finding the best Instagram Reels length for your target audience. But don't worry!
Here, we've mentioned some proven methods that worked magically for our clients, and now you can try, too, to find the perfect length for your IG Reels.
Here are some strategies to discover the most effective length:
Look for Your Competitors
Analyze what types of Instagram Reels your competitors create and how well they perform. This can provide insights into what resonates with your shared audience.
Just go to their IG profiles and tap on the Reels icon. Here, you'll find all the Reels with the views they've gotten. Now analyze what kinds of Reels and content are performing the best and get ideas for your own.
Experiment with Different Reels Length
Try creating Reels of various lengths and regularly monitor their performance metrics. This data can help you identify which duration yields the best results.
Moreover, you can also analyze the performance of your previously published Reels to understand which length generated the highest engagement. This can guide your future content creation.
Get IG Reels Insights with SocialBu
You can get valuable insights into your Reels' content with SocialBu's analytics feature. These insights help you identify patterns and plan your content strategically.
Experiment with Various Types of Content
Different types of content may perform better at different lengths. Experiment with behind-the-scenes clips, tutorials, or funny skits to find what resonates with your audience.
Follow Trending Trends/Music for Reels
Stay up-to-date with the latest trends and music that align with your brand and audience. Leveraging popular trends can boost your Reel's visibility and engagement.
Tips for Effective Instagram Reels
Specific best practices can help make your Instagram Reels more effective regardless of length.
Some of them are given below:
1. Grab Attention Quickly: Start the Reel with a hook and capture your audience's attention in the first few seconds to keep them engaged throughout the Reel.
2. Use Captions and Text Overlay: Incorporate engaging IG captions and on-screen text to convey your message effectively, especially when the sound is off.
3. Add Music: Choose catchy and on-trend music from the Meta music library that complements your content and enhances the viewer's experience.
4. Optimize Thumbnail: Create an eye-catching thumbnail to encourage viewers to click and watch your Reel.
5. Keep them short: Using the maximum IG Reels length of 90 seconds is only sometimes necessary. You can create engaging Reels in shorter durations as well. Decide the length limits as per the content and audience requirements.
Wrap-Up
In sum, understanding the importance of Instagram Reel length and how it impacts your content's performance is essential for successful engagement and growth on the platform.
Now, after knowing the Instagram Reels' size, it's time to leverage Instagram's most loved feature. Start by creating short, sweet, and engaging Reels, then experiment with other Reels' lengths.
Keep testing with different lengths, and remember to analyze performance metrics. That way, you can tailor your IG Reels' size to meet your specific goals and connect with your audience more effectively.
Want to boost your Instagram Reels strategy? Try SocialBu, a powerful management, analytics, and scheduling tool to optimize your content and elevate your social media presence.
FAQs
What's the perfect Instagram Reels size in 2023?
As of 2023, Instagram has a fixed Reels aspect ratio and size. The ideal and best Instagram Reel dimensions are 1080 pixels wide by 1920 pixels vertical, commonly called the 9:16 ratio.
Can I make money with Instagram Reels?
Instagram provides various means to monetize via brand partnerships, sponsored content, and promoting your products or services. Moreover, you can also monetize your Reels and earn money via 'Instagram Reels' Play Bonus program.' This program is invite-only, and creators with 100k views on their reels in the previous 30 days are eligible for it. You can earn anywhere from $100 to $10,000 from your Reels. .
Can IG Reels length be longer than 60 seconds?
Yes, an IG Reel length can be longer than 60 seconds. You have the flexibility to choose from various durations. These durations range from 15 to 30 seconds, 60 seconds, and even 90 seconds.
What is the maximum duration of Instagram Reels in 2023?
The maximum time of an Instagram Reel is 90 seconds in 2023. But Instagram also allows you to post in-feed videos of up to 15 and 60 minutes for your creative endeavors. As per the algorithm, any video shorter than 15 minutes will automatically be shared as a reel on the feed, providing more exposure. Longer videos may better suit posts or in-feed videos on the platform.