Are you searching for new ways to improve your Instagram reel game? Well, look no further because this article will discuss the most astonishing filter in reels, Instagram's green screen filter.
As you know, the green screen plays an essential role in the media world. In movies, it's how actors are suddenly teleported to the moon or some other planet or film a driving scene without actually driving a real car.
You can make your reels much more natural and aesthetically pleasing by adding a background of your choice with the help of the green screen filter.
Let's take a look at all the details of this amazing feature in our article.
What is a Green Screen?
A green screen is a sole-colored background that helps you include different effects in the background of the video of your choice. It can be a famous place in any country, a video, an animated scene, or anything you want. So the choices are unlimited. All these are great Instagram green screen benefits.
Where is the Green Screen Effect on Instagram?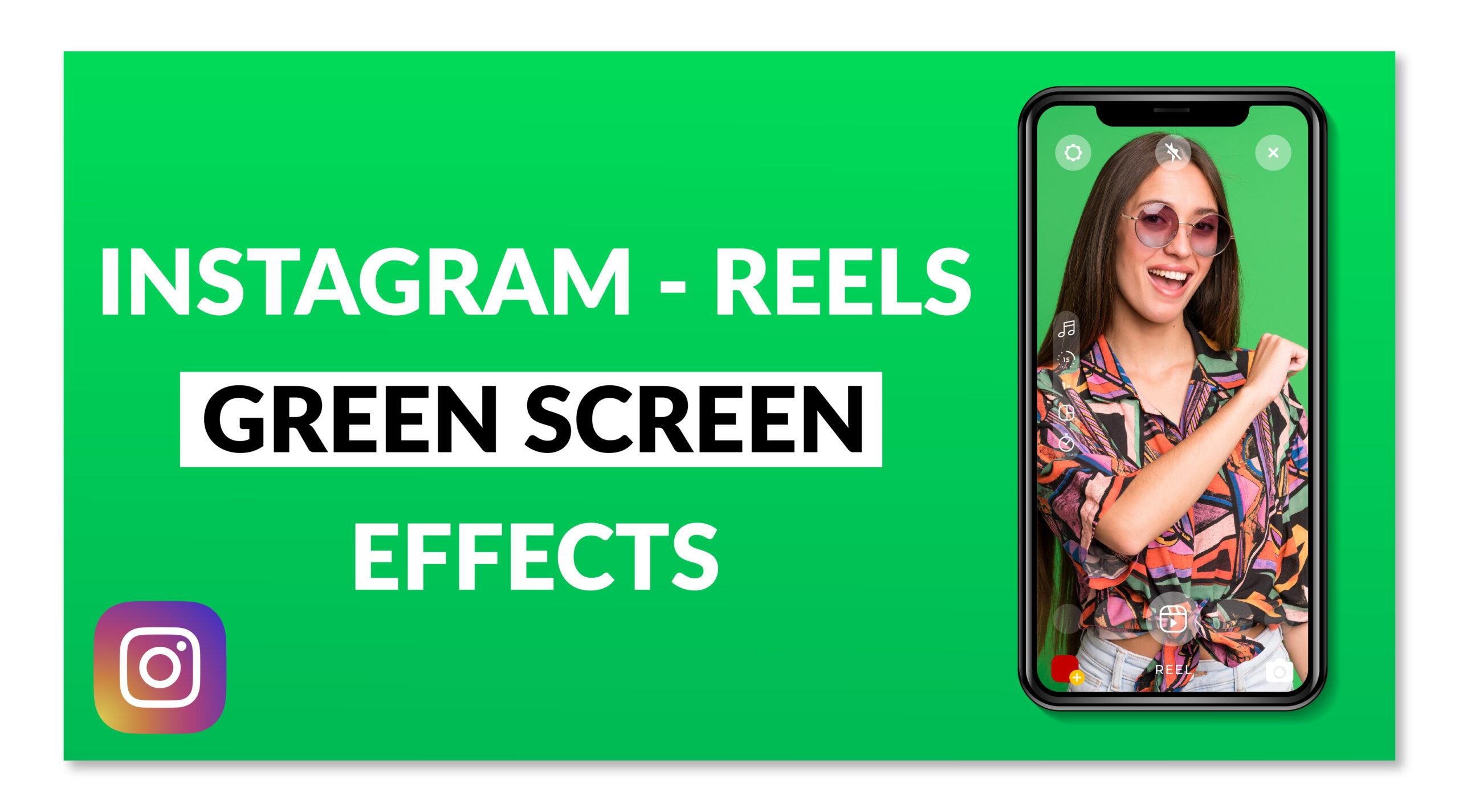 Tap on "Reel" from the main menu. Then tap on the magnifying glass icon and look for the "green screen" effect on Instagram. Next, choose a greenscreen effect and tap on the bookmark icon; to save that green screen effect to your Reels effects menu area. Lastly, tap on the green screen icon to possess the effect and return to the" 'creating your Reels page."
Is The Green Filter Available for Instagram Reels?
Absolutely!
The green screen filter on Instagram Reels permits you to include virtual background effects in your videos and images. For example, you could be resting on your terrace, but it can give an effect as if you are on vacation chilling near the beach or somewhere else.
It lets you import your media pictures and videos as your background. The green screen filter allows you to superimpose yourself into a practical background.
When using reels, tap on "effects," then tap on the green screen icon. With the camera front-faced, you'll see yourself with a green-colored screen in the background. Lastly, tap "add media" to change the green screen with an impressive background.
How to Use the Green Screen in Your Instagram Reels?
Green scream has been the most entertaining thing that makes your Reel super fun and creative. It's often used in movies (supernatural) to add fantasy effects and stuff.
Prepare to showcase yourself in a place where you are not physically present.
Create a video, and select any background. You can extend the length of your background image, zoom in or out, move things around according to your liking, preview your Reel and post it.
Now let's talk about each step in detail to use the green screen on your Instagram reels.
Step 1: Open Instagram and Tap on the "+" Icon
After opening the Instagram app, tap the "+" icon. Select "Reel" from the menu.
Step 2: Tap on the Sparkle "Effects" Icon
Tap the magnifying glass (search bar) icon and search for Instagram's "green screen" filter.
Choose any green screen effect, then tap the bookmark icon to save it to your Reels effects menu.
You must tap the green screen icon to get that effect on your Reel and return to the reels page.
Step 3: Add Media
To add media, tap on the add media option. Choose the video or photo that you want to set as your background. Then tap on the camera swap option and choose how you want to record your footage, i.e., using the back or front camera.
Step 4: Record your Reel
The next step is to record a reel. Film your reviews, explanations, commentaries, and more. Also, you don't have to record your entire Reel using one specific background. If you want to switch backgrounds, you can effortlessly switch your current green screen background to something else.
Step 5: Finish it up
You can upload your reel to Instagram after you are done recording it. Now that it already looks super impressive, why not add some fun and exciting stickers, and make it even more entertaining to watch?
You can use GIFs and take your creativity to a whole new level. When done decorating it, upload your green screen reel.
How to Schedule Your Green Screen Reels with SocialBu
When you upload your Reel, you can schedule it for the best time to post and increase your online visibility, improving your engagement rate in the process.
SocialBu is a brilliant social media management and scheduling tool that lets you schedule your Reels in advance at a time and date of your choice.
It boosts your consistency on the platform boosting your Instagram engagement rate. Make your profile even more visible to your target audience, leading up to more followers.
How to Schedule Instagram Reels through SocialBu?
To effortlessly schedule Instagram reels through SocialBu, you need to follow these few easy steps;
1. Create an Account and Subscribe
Start by making an account on SocialBu and subscribe to a plan. The pricing plans are super affordable and offer fantastic features. This tool let you get started with social media scheduling and management tools right away.
2. Verify Your Account
Make sure all the details on your account are correct and verify your account.
3. Add Your Instagram Account
Add your Instagram account to SocialBu. On the top left corner, you will see the publish icon, click it. Then choose the account for which you want to schedule the reels.
4. Add the Media File of your Reel
Add the media files and write the caption. You can add comments and schedule the Reel to the target time and date. That's all.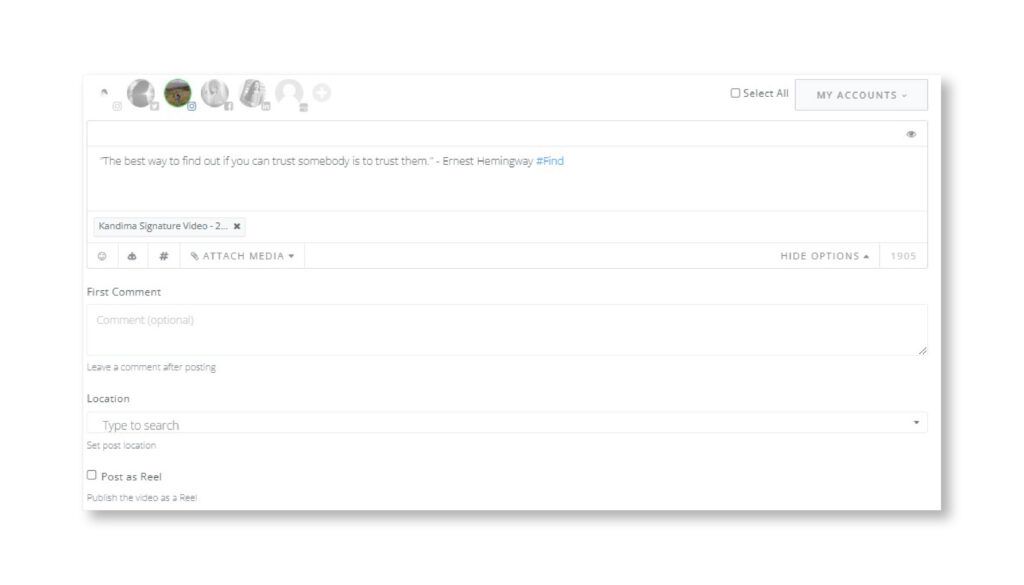 Scheduling your reels with SocialBu is super simple, isn't it?
Final Verdict
Instagram Reels are the most used and viewed form of content on social media. They entertain and engage your audience in the quickest and most fun way. You must create reels regularly to catch up with trends.
In addition, Instagram's green screen effect is an outstanding feature to enhance your reels. The ideas are unlimited to get creative and make the most of this excellent feature.
FAQ's
Q. Can you go live with the green screen filter on Instagram?
A green screen enables you to make virtual backgrounds or add unique effects to your live stream. Using chroma keying, you can classify the screen's color, making your background "vanish." In the end, you can use the stories option on Instagram and tap "live."
Q. Why is my green screen filter on Instagram not working?
Restart your Instagram App. Restarting the Instagram app is another method to restore the green screen filter when it needs to be fixed. For Android users, go to Settings > apps > force stop. For iOS users, dig up from the bottom of the screen and pause in the center of the screen.
Also, you can always free up your storage, restart your device, clear your cache, update the Instagram app, delete Instagram then install it again. It is usually one of these causes.
Q. Can private Instagram accounts use the green screen filter in Instagram reels?
Yes, Instagram's green screen filter is made for everyone and is absolutely free of cost. Anyone with an Instagram account is allowed to use this effect. It doesn't matter whether you have a private or public account. Regardless, you can use the "green screen" filter and make some quality content.
The only essential thing to remember is that only your approved followers can see your Reel; if you have a private account. No one will be allowed to film a reel using your original audio. Remember, the reels you share on your private account will appear in the Reels section on your Instagram profile.