Instagram stories are a globally popular marketing platform that is a favorite of many brands and marketers. With over 500 million daily viewers, Instagram stories are a blessing for marketing. To completely reap the benefits of this global platform, you can use the help of Instagram story scheduling apps. And we are going to help you find the right tool by sharing 9+ best Instagram story scheduling apps for free in 2022.
These apps will not only save your time and hassle but will help you stay consistent and constantly interact with your followers. This will boost your online engagement and will ultimately increase your brand's visibility as well as sales.
In this article, we are going to discuss everything you need to know about these amazing tools. So, keep on reading to find out and without further ado, let's dive right in!
Why Are Instagram Stories Essential For Your Business?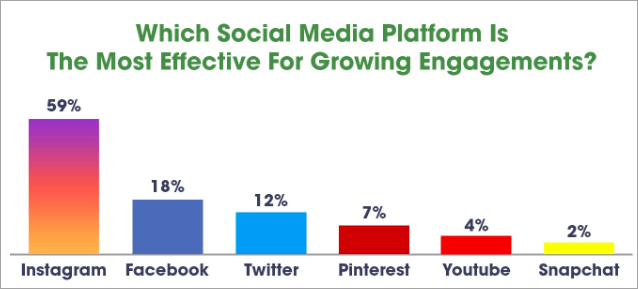 Nowadays, due to the massive popularity of Instagram and its global audience, it may be the best platform for your business to grow its audience. The fact that this social media giant is very easy to use is also a huge benefit.
As a business, it is essential to find your targeted audience. Doing this is ever so easy on Instagram, which is why many businesses prefer it these days.
This way, you can easily create products that meet the needs of your audience's interests. The "Ask Anything" section on Instagram Stories is a great tool to use for this. It will allow them to ask questions and get answers about your brand or business from you directly.
Instagram has enabled a new way of marketing for small businesses. You may also utilize this feature if you want customers who have already found your account.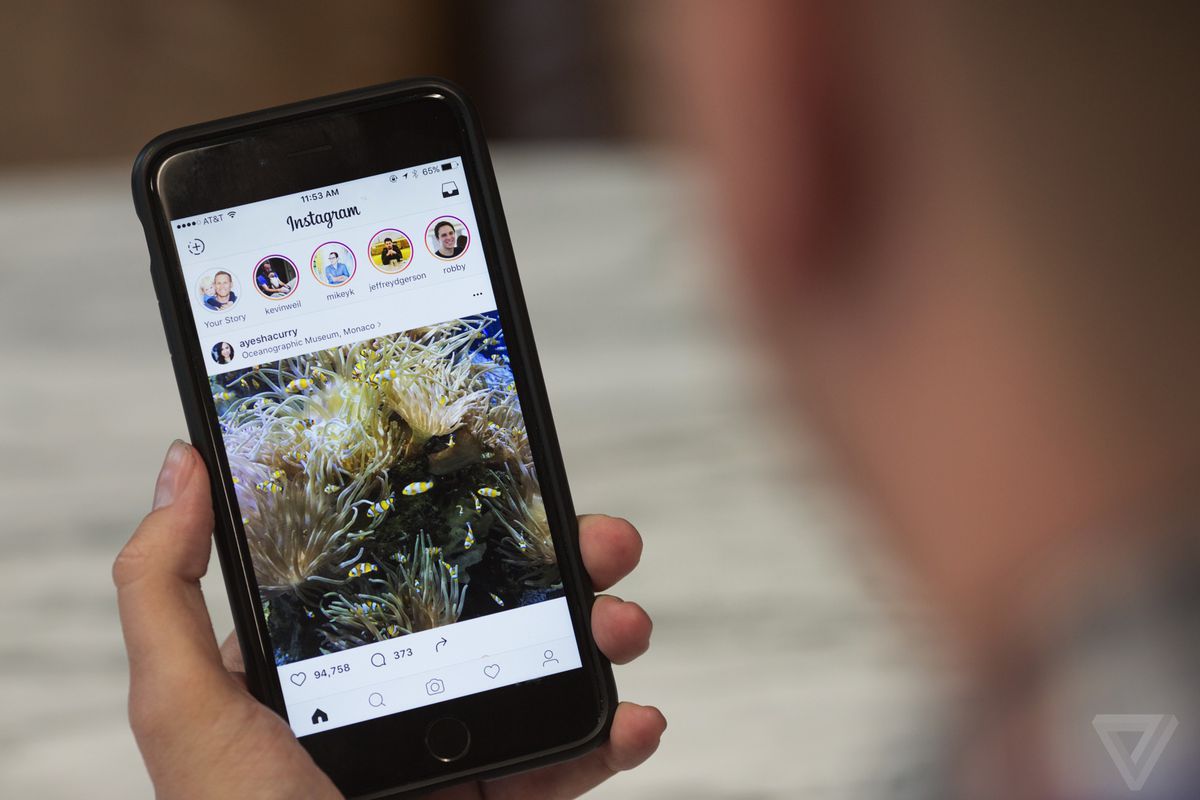 Why Do You Need Instagram Story Scheduling Apps?
Instagram Story Scheduling apps are an integral part of any business's online marketing success. To utilize the complete benefits of Instagram stories, you can use the help of social media scheduling tools. Some awesome features of these tools are;
They save a lot of your time and hassle.
They make everything more accessible, from your publishing to selecting the captions.
You can easily be consistent with posting.
The analytics provided by social media apps are very useful. They help you understand what type of content your followers like and at what time they are the most active.
You can avoid grammatical mistakes and autocorrect errors.
You can see what your story sequence will look like after you post them.
Instagram Scheduling apps also help you in finding better captions for your stories and posts.
Benefits Of Scheduling Instagram Stories
People with busy schedules often struggle to keep up with social media, but the Instagram story scheduling apps make this an effortless task. There are many benefits of Instagram stories scheduling apps that will clarify why you need to schedule your Instagram Stories. Some of them are;
It saves a lot of your time and hassle.
You can be constant with posting on social media without going through all that last-minute hassle.
It saves you from making typos and autocorrects errors.

Planning your stories will help you increase your business's visibility, awareness, and followers.

Engaging with your followers with the help of social media scheduling tools is very easy. Most of the great scheduling tools offer a social inbox. With the help of this feature, you can easily engage with your followers from a single dashboard.

Interesting reading:
4 Ways to Add Multiple Photos to An Instagram Story
What are Instagram Story Scheduling Apps (Tools)?
Instagram Story Scheduling Apps are a new way to plan your Instagram Stories. So you don't have to go through the hassle of typing up captions and time-stamping them all in order. With these advanced tools, you can be consistent and reap the complete benefits of the Instagram stories feature.
The way these apps (tools) work is that you can set a time and date, along with the media files and captions that you want to post as your Instagram story and schedule it. Then the app (tool) will automatically publish it accordingly. It will also notify you at the time of publishing. You can also bulk schedule your Instagram stories. This way, you can easily stay consistent on Instagram while focussing on other important business tasks as well.
Now we are going to discuss everything about the best Instagram story scheduling apps, so keep on reading.
9+ Best Instagram Story Scheduling Apps For Free 2022
Here is our list of 9+ best Instagram story scheduling apps for 2022;
1. SocialBu
SocialBu is one of the best tools for social media management, focusing on reducing the time users spend on social media activities. This tool offers a free plan as well as paid plans.
It allows users to schedule and publish content across all their social networks in one place regardless of the number of social media profiles managed. You can easily schedule Instagram stories with SocialBu.
This tool also offers advanced features and is very easy to use. It is a perfect solution to improve your social media presence and maximize your results as well. This tool is at the top of our list because of the advanced features it offers.
This incredible tool is at the top of our list because it has all these useful functions that are unmatched by other tools on the market today.
Features
Post scheduling
Instagram Stories Scheduling(Direct)
Bulk scheduling
Multiple account management
Social Calendar
Post approvals
Custom queues
Post preview
Advanced analytics
Social Inbox
Hashtag suggestions
Location tagging
Dynamic Automation
24/7 Customer support
Starting Price: SocialBu pricing starts at $8.00 per user per month. There is a free version available as well.
G2 Ratings: 4.4/5
Supported Platforms
Instagram
Facebook
Twitter
LinkedIn
Google My Business
Pros
Allows you to manage multiple accounts while accessing a wide range of features on one platform.
Unlike other platforms, Socialbu has fewer frequent barriers and is easier to use.
The dynamic automation feature makes it unique among all its competitors
With just one click, tedious tasks are automated for your convenience.
Cons
It is impossible to post the varying text of two different platforms at once.
2. SmarterQueue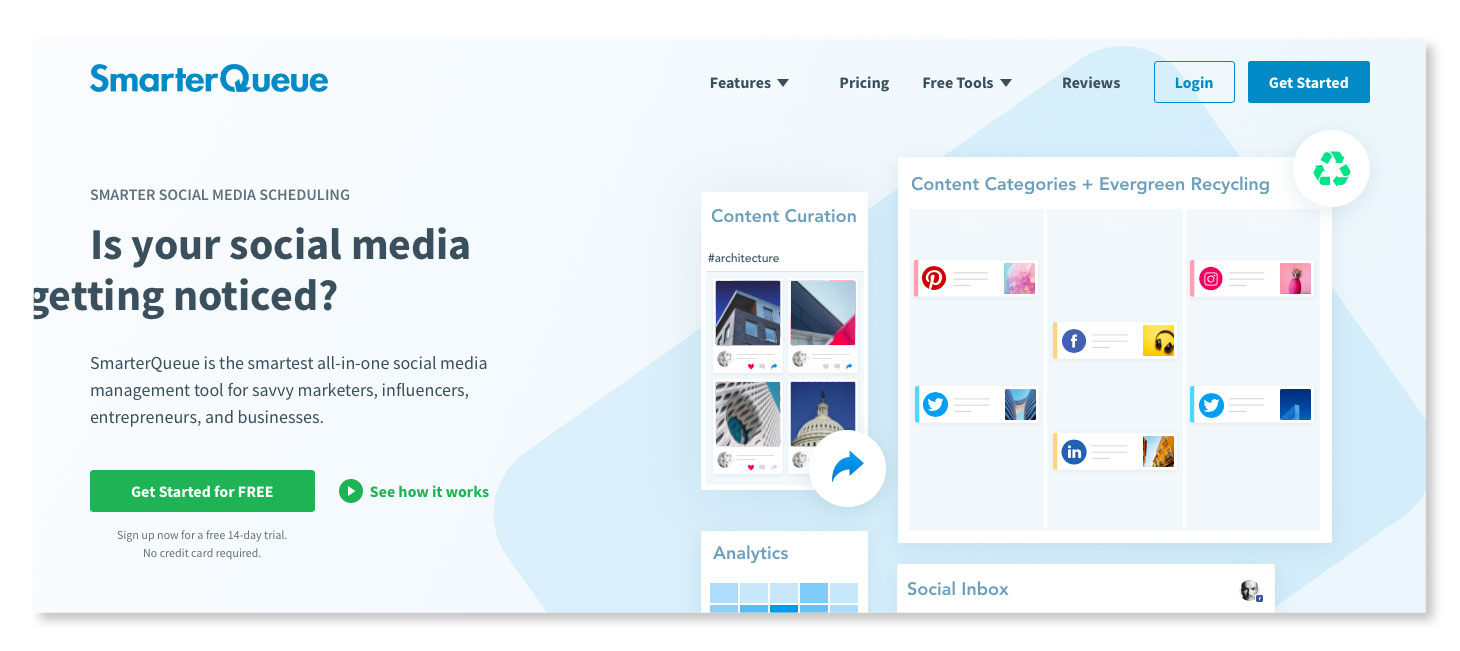 SmarterQueue is an essential social media scheduling tool that helps entrepreneurs, content creators, and marketers to grow their businesses with its awesome technology and advanced features. You can effortlessly schedule your Instagram stories with Smarterqueue. It also lets you bulk upload media files, which is a plus point of this tool. You can import content from CSV as well as RSS. This will help your stories look great and get higher engagement as well.
This tool also provides scheduling posts, visual calendars, content variations, advanced analytics, content assistance, etc.
It is best for personal brands, social media marketers, and for agencies.
Features
Scheduling
Social media monitoring
Analytics
Social inbox
Customized categories
Customer support
Content curation
Visual calendar
Competitor analysis
Recycling
Starting Price: $19.99/month. A free trial is also available.
G2 Rating: 4.7/5
Supported Platforms
Facebook
Instagram
Twitter
Pinterest
LinkedIn
Pros
This tool allows you to manage your content and engage with customers in a much easier way.
You can monitor competitors' social media accounts.
It can save your precious time by managing everything from one place.
It's the best tool for those who want to stay active on social media channels without sacrificing quality or quantity.
It is easy to use.
Cons
Can't use multiple photos on a single post
3. Planoly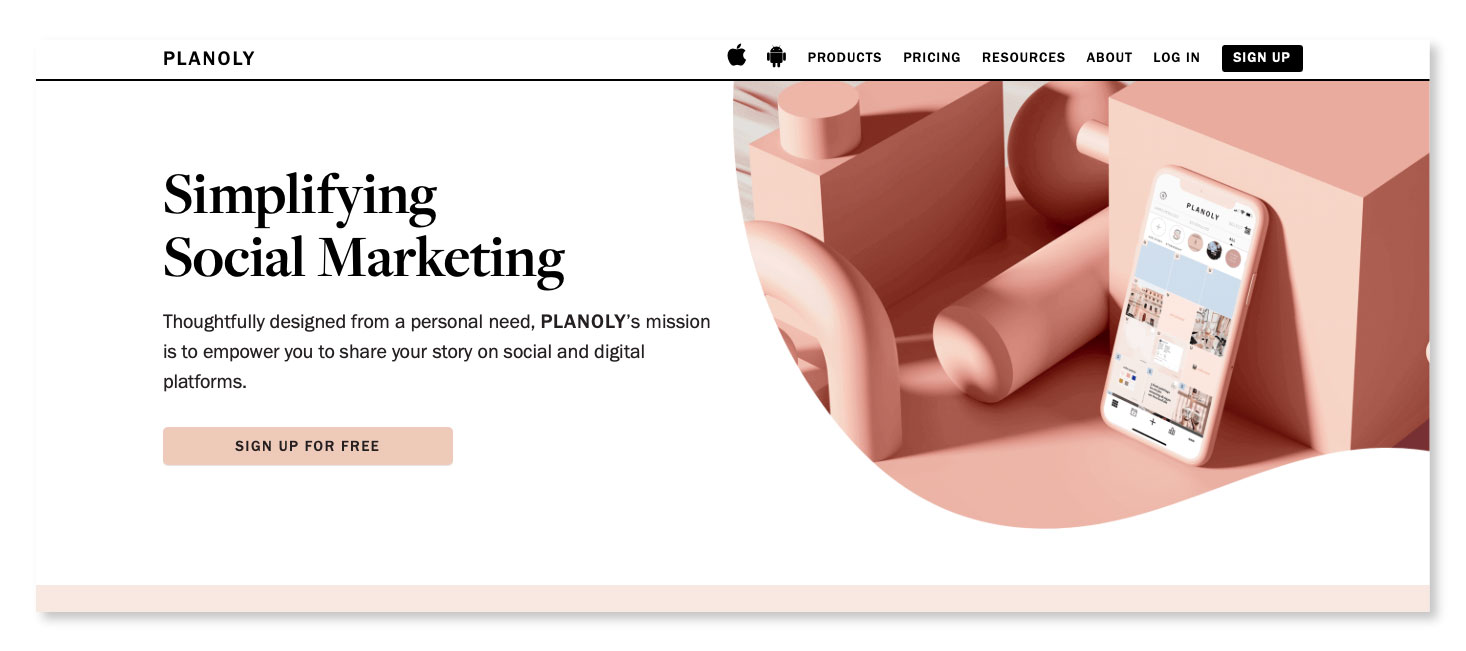 With Planoly, you can easily schedule your social media posts. It distributes your media files into "Scheduled", "Unscheduled", and "Drafts". This way, you can organize your posts in different folders. It is an official Instagram and Pinterest partner, so you don't have to worry about your account getting banned or shadowbanned. You can schedule up to 30 media files in a month with the free version of Planoly.
Features
Post and story scheduling
Advanced analytics
Hashtag library
Comment inbox option
Drag-and-drop editor
Customize content
Customer support
Quick schedule
Image filters
Auto-post 1st comment
Starting Price: It has a free version and provides just two profiles, the one is on Instagram, and the second one is on Pinterest. It allows you to upload 30 files per profile, and you can invite one member from your team to manage the account.
In simple words, just one user is allowed. It also has paid versions which are starting from $7 to $23
G2 Rating: 4.3 / 5
Supported Platforms
Facebook
Instagram
Twitter
Pinterest
Google+
Pros
You can create hashtags groups, so you can use them easily when needed.
Allows you to reply to the comments from a single place.
You can create and customize your social content.
With more than 100 templates to choose from, there's something for every occasion.
You'll never have an excuse not to post again with the favorite feature that allows easy access through a drop-down menu of all previously saved layouts.
If mobile is your thing – don't worry because it has a responsive design. So no matter what device or screen size you're on, it will be just as good-looking as when viewing desktop or laptop screens.
Cons
Quite difficult to use for beginners.
Limited auto-posting.
4. Later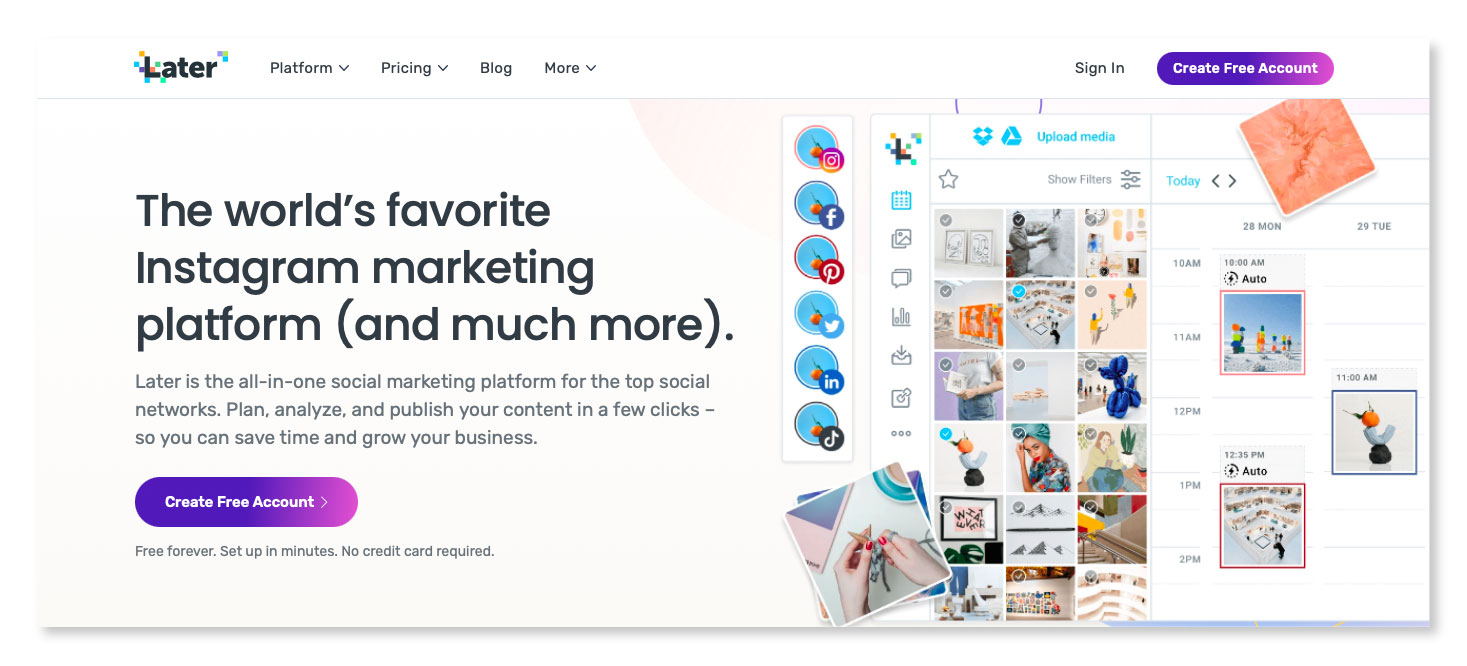 Later is an all-in-one social media scheduling tool. It helps the users to publish, plan and analyze their content in just a few clicks, and through this fantastic tool, you can save your time and grow your business's online visibility. This tool is free to use, however, there are paid plans available as well.
With Later, scheduling Instagram stories are very easy. You can use the drag and drop feature, and your week's worth of stories are ready to be published. It means you can select any photo or video you like and drag it to the required date on the calendar. The photo/video will be scheduled.
You can schedule carousels also. You can use the hashtag suggestions feature to find suitable hashtags for your posts. Also, you can save these hashtags. These can be posted or scheduled as the first comment to your posts. Later supports the team working by allowing you to create teams and sharing your ideas among them. All this makes Later one of the best social media management tools.
Features
Social media scheduling
Content calendar
Report Customizability
Social Sets Included
Additional Social Sets
Visual Instagram Planner
Unlimited Media
Linkedin. bio
Instagram Analytics
Instagram Stories Scheduling
Hashtag Suggestions
Paid campaign tracking
Starting Price: A free version of Later permits you to publish 30 posts per your social media profile, and it allows one user to invite and manage the account. Later has a few premium plans as well, starting from $15 to $40 per month.
G2 Rating: 4.7 / 5
Supported Platforms
Instagram
Facebook
LinkedIn
Pinterest
Twitter
TikTok
Pros
Tools functionality develops relevant content.
Multiple users in one account.
It provides you, with visual planners, so you don't have to scroll through your phone screens looking at different photos or videos.
The calendar feature also allows users to choose what days they want specific posts up because not everyone likes having content posted all over the place – some like spacing things out weekly/daily or monthly depending upon one's preference.
The Later Schedule tool additionally offers suggestions for hashtags if needed, while tagging services help keep track of those pesky friends.
Cons
Only links to Instagram, Twitter, Facebook, and Pinterest.
The free plan only offers 30 posts per month.
Placeholder images.
5. MeetEdgar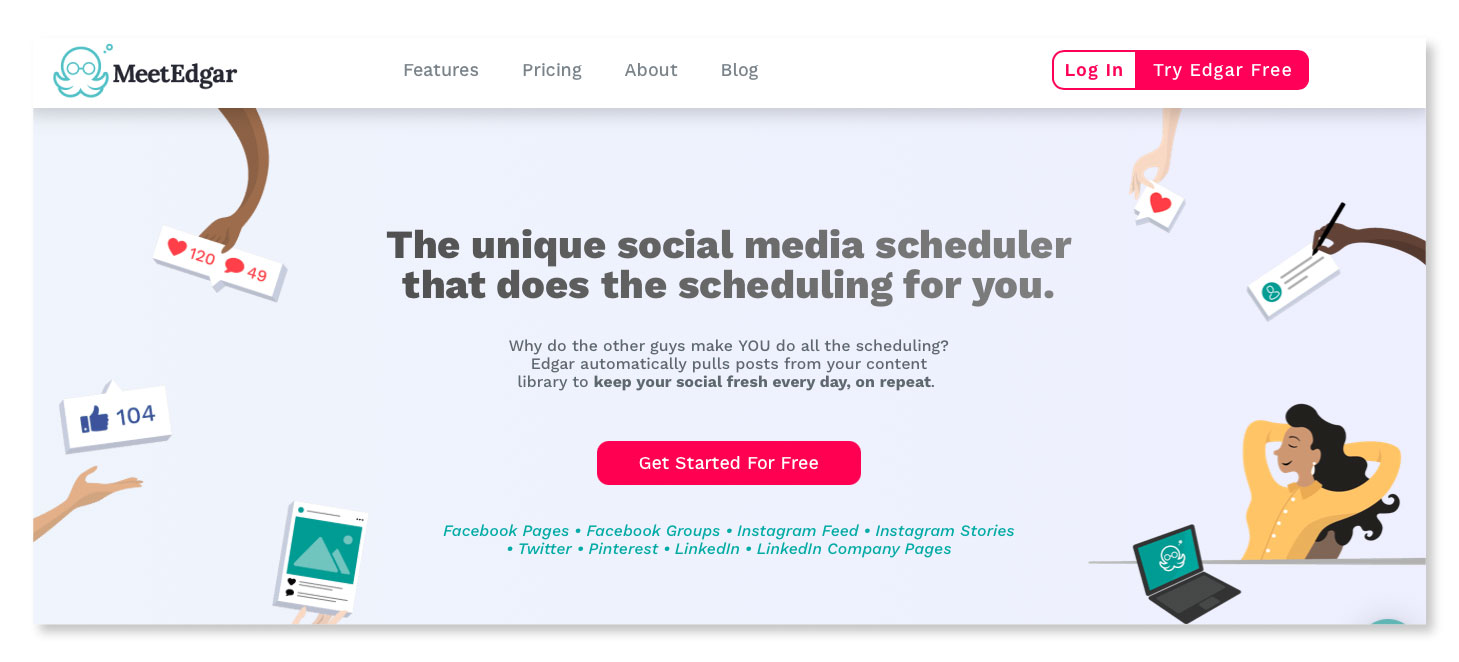 MeetEdgar is another amazing social media tool. It helps you a lot in staying consistent on your social media platforms. You can easily schedule your Instagram stories with this tool.
Other than that, a great feature of this tool is that instead of using one-time updates, this tool automatically reshares certain posts over time, eliminating the need for long lists of posts.
In addition, MeetEdgar boasts direct video uploads and an unlimited library of updates and enables users to choose which posts are and aren't reposted over time.
With MeetEdgar, you can keep your social media active and organized no matter how busy life gets.
Features
Social media scheduling
Customization category
Category-based scheduling
Posts suggestions
Analytics
Weekly automation
Customer support
Starting Price: 7-day free trial is available. The starting price of paid plans is $19/month.
G2 Rating: 4.5/5
Supported Platforms
Facebook
Twitter
Pinterest
Instagram
LinkedIn
Pros
Saves your time by refreshing and posting on autopilot.
It provides evergreen recycling, which makes it easy to use and allows the user to schedule posts according to their specific categories with ease.
The stats dashboard also enables users to know what's working best to quickly maintain high engagement rates across all platforms of Social Media.
Meet Edgar will automatically fill any gaps from lack of content or trending topics outgrowing traditional publishing tactics.
Cons
You always need to log on to each platform individually for any activity.
6. Hootsuite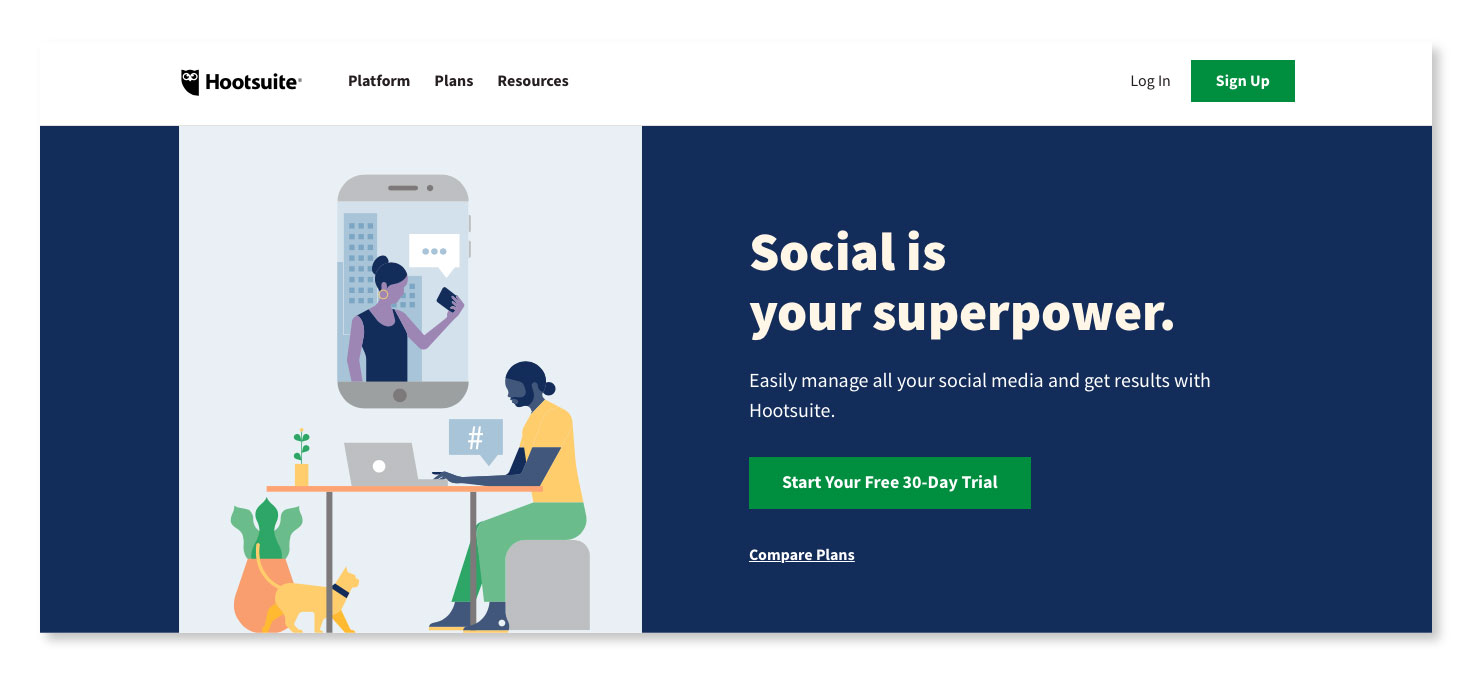 Hootsuite is one of the best scheduling tools for influencers and businesses. It allows the user to build his brand, strengthen connections with the customers, and drive great business results. Users can schedule their stories and posts with absolute ease.
This tool is a one-stop solution to all your social media management needs, constituting one reason for making it popular among businesses. It is estimated that about 18 million people use it. You can grow your followers quickly by producing quality content that delights your audience and reaches more people.
Hootsuite's bulk scheduling and posting functionality allow you to manage all of your social media interactions in one place. Schedule posts, and create content for campaigns or different platforms from the same integrated dashboard with Hootsuite Social Media Management.
Features
Scheduling
Content curation
Automatic scheduling,
Social media monitoring,
Performance reporting,
Basic task management
Analytics
Monitoring
Team management
Starting Price: Hootsuite provides a 30-day free trial. It also offers paid plans that start from $19 to $599 per month with some additional features.
G2 Rating: 4.1 / 5
Supported Platforms
Instagram
Facebook
Twitter
LinkedIn
Pinterest
Pros
Hootsuite is the one platform that saves your time and frustration by managing your social media accounts.
It is quick and straightforward to use with automation publishing features for Instagram scheduling tools so that posts are published in just one click.
You can do more in less time while still engaging a larger audience on all of your platforms simultaneously.
This powerful system also assists entrepreneurs in looking into what customers think about them and monitor trends, among other things such as engagement rates or follower counts.
It also gives users access to crucial data they need when running any successful business.
Cons
Custom URL shorteners are a little pricey.
Sometimes there are no Facebook reviews.
Users are often not able to use the same post to set up multiple tweets.
7. Combin Scheduler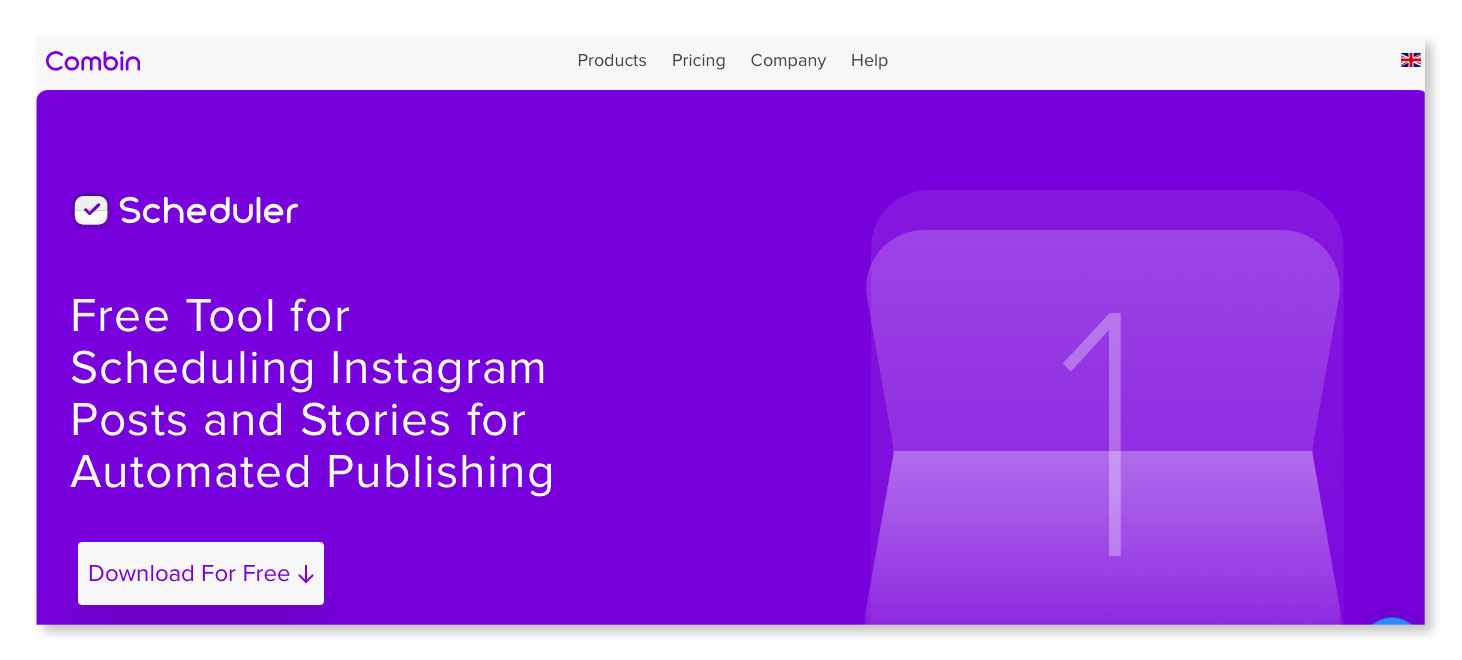 Combin Scheduler is a free marketing tool designed for convenient Instagram content planning. This tool enables you to post your content instantly or plan your posts to share in the future consistently. This tool supports Windows, Mac, and other platforms.
The users can schedule their stories and bars, and they can also create a beautiful Instagram feed. It is best for small to medium-sized businesses as well as influencers.
With this amazing tool, you can take your Instagram game to the next level. Get more followers with this new app that helps you grow your account organically, and do it all for less money.
Features
Automated posts publications
Scheduling
Pre-set the aspects
Location tagging
Hashtags mentioning
Bulk uploading
Regramming
Starting Price: You can download this tool for free. You can buy the personal version for $15 and the Business version for $30. There are premium versions also with lots of other features.
G2 Rating: 4.7 / 5
Supported Platforms
Facebook
Instagram
Twitter
Pinterest
Pros
Hashtag suggestions are very helpful.
Combining images into grids with different styles is also possible with this application, making scheduling as easy as it could be.
Cons
Can't access it via the web browser.
8. Loomly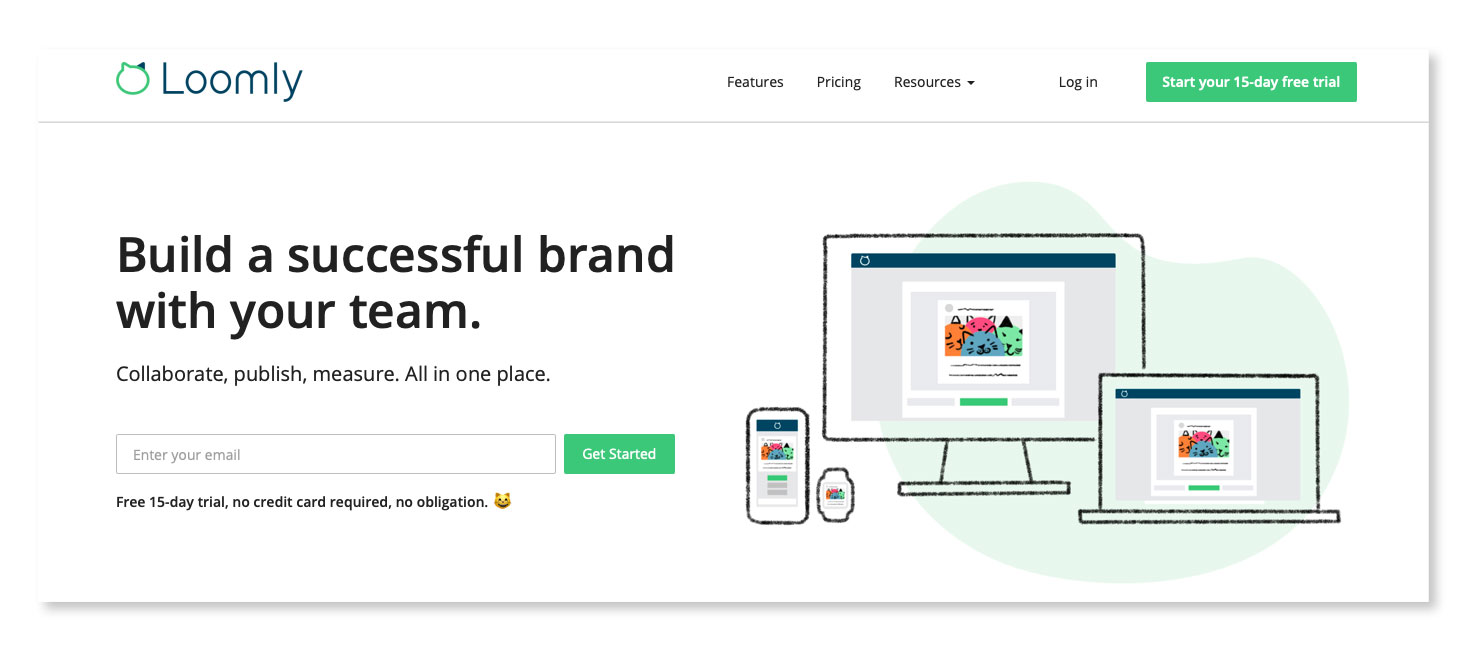 Loomly is also an excellent social media management tool for content creation and branding. It gives you post ideas based on the RSS feed, date-related events, trending topics, and social media best practices.
It is a brand success platform that allows users to polish their content through post-optimization suggestions. This tool is available as a web page and a general application for android and IOS users. It helps to measure the performance with advanced analytics.
You can easily manage all social media calendars from the central dashboard in Loomly and get notified when team members update or comment upon content.
Features
Campaign Management
Data Import/Export
Customization option
Content Scheduling
Multi-Channel Marketing
Reporting
Third-Party Integrations
Starting Price: 15 days free trial, and the premium plans start from $25 to $249 per year with different advanced features. Monthly plans are also available, which are starting from $34 to $332 per month.
G2 Rating: 4.5 / 5
Supported Platforms
Facebook
Instagram
LinkedIn
Slack
Twitter
Zapier
Pros
Manage all social media accounts in one place.
Loomly also lets its users post automatically without any need for manual input, but this tool can create an outstanding ad campaign with ease if that isn't enough.
Users of Loomly will have access to optimization suggestions from a built-in algorithm that analyzes posts in real-time.
The best feature is their custom calendar planning function, where users can explore different events happening around them or even plan by booking holidays, days off work, etc.
Cons
The analytics are pretty basic and limited.
9. Tailwind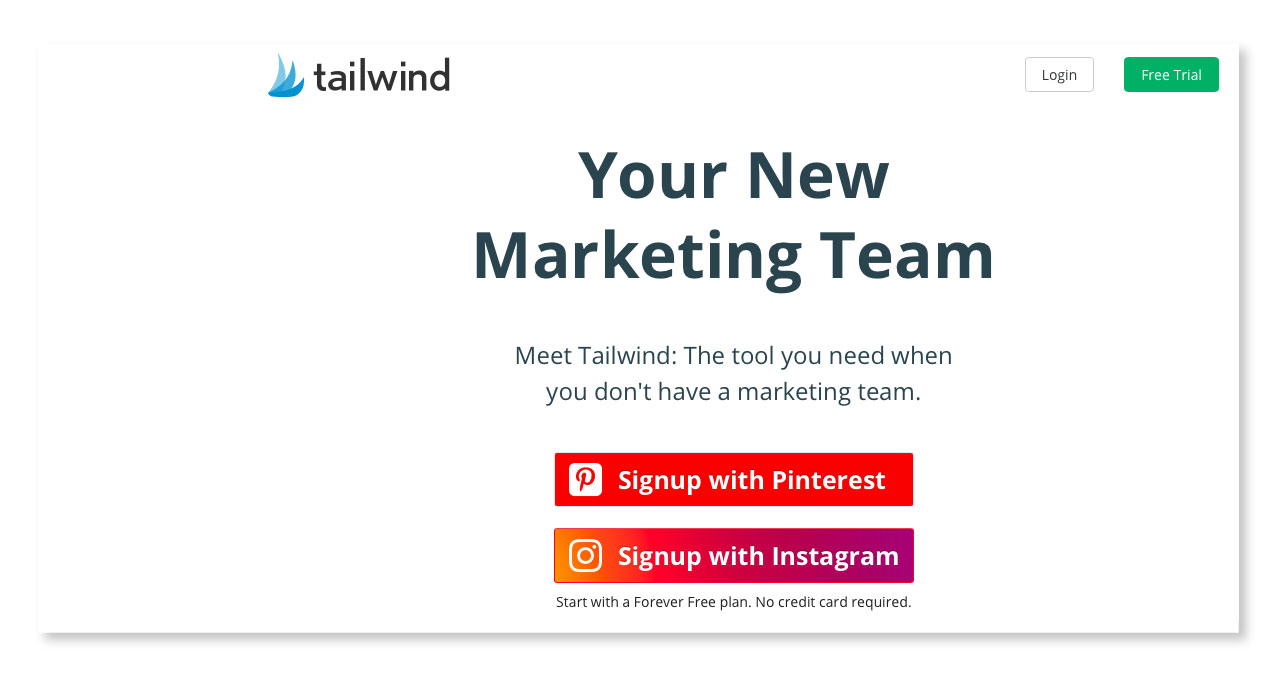 Tailwind is one of the best-rated social media management tools for Pinterest and Instagram marketing and advertising campaigns. This is the tool that will act as your marketing team.
It helps you to plan your social media posts, analyze discussions, and measure results. This tool also gives suggestions for enhancing your Pinterest and Instagram marketing strategies.
Users can discover content, schedule on the best times, measure results, and monitor the conversations.
Tailwind is a visual social media platform with extraordinary features. With Tailwind, there's no need for dedicated content management and promotion teams.
Features
Automated publishing
Customized visual planning
Personalized Smart Schedule
Content Management
Monitoring and listening
Hashtag finder
Starting Price: Free trial is available. Premium plans start from $9 to $39.
G2 Rating: 4.4 / 5
Supported Platforms
Pros
Scheduling Pins on more than one Board across a time frame.
Scheduling Instagram posts at recommended times.
Using Smart Bio for links from Instagram directly to our website.
Cons
There are not enough options for filtering previously posted pins.
The app could use some improvement. It is very cumbersome to add pins to your Tailwind queue.
10. Sked Social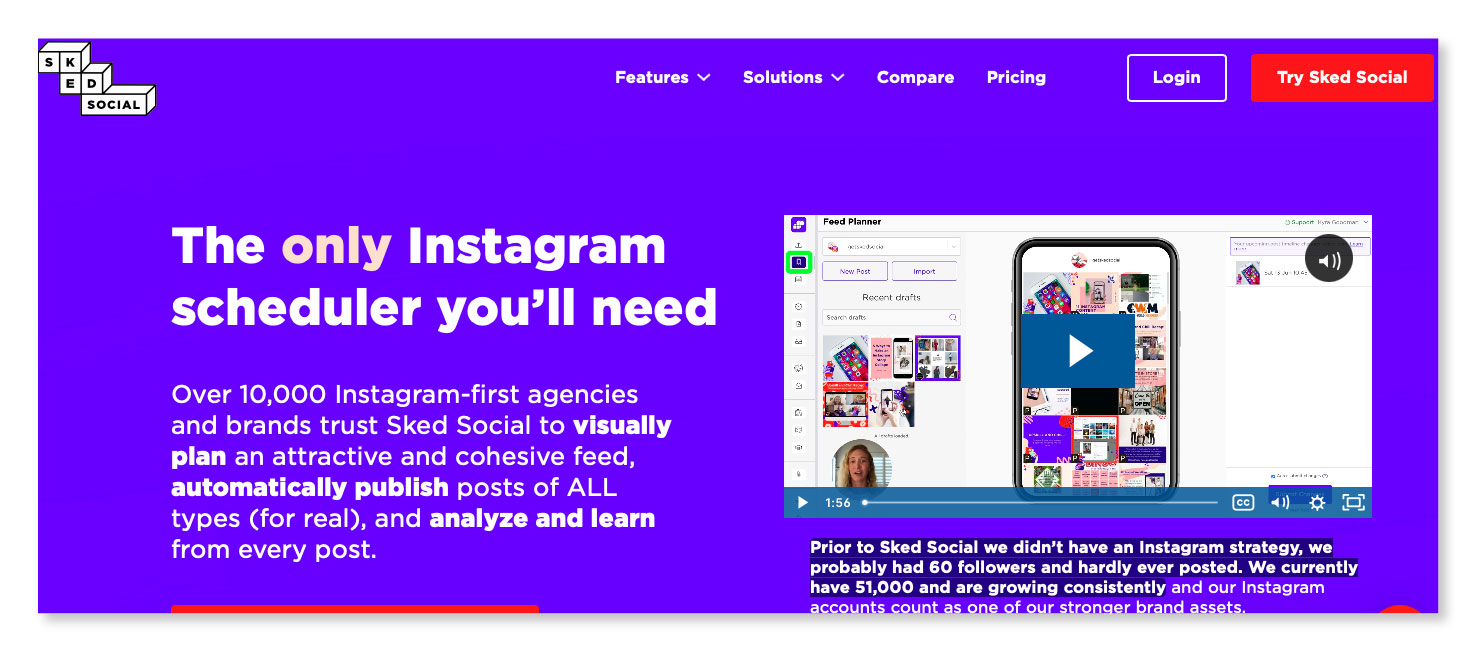 Sked Social is an all in all social media marketing platform for businesses, brands, and agencies. Instagram story scheduling cannot be any easier than Sked enables you to.
It helps users create, store, find, and use all of their social media marketing content online furthermore, it is the only platform that users need to develop, plan, and publish their Instagram, Facebook, Pinterest, and Twitter posts.
Features
Automated posts publication
Auto-Posting
Hashtags and tagging
Visually planner
Social media analytics
Starting Price: Sked social provides a seven days free trial. Some paid plans are available for Sked Social, starting from $25 to $135 with advanced features.
G2 Rating: 4.3 / 5
Supported Platforms
Facebook
Twitter
Pinterest
Reddit
Instagram
Youtube
Pros
Sked Social automatically posts the user's newest Instagram photos with tags, hashtags, and locations at optimal times for engagement.
It also offers analytics so you can measure your audience's response to each post on individual channels or as an aggregate feed.
And best of all: It does all this without having any effect on what days/times you're active.
Cons
Only 3 accounts are allowed in the free account.
11. Buffer

Buffer is the all-you-need social media management tool. It is one of the most known social media management tools in the industry. This tool has helped many businesses to reach a valid market. It is without a doubt one of the best Instagram story scheduling apps.
Buffer offers many social media management services like publishing, analytics, and engagement. The customers who have used Buffer love it for its quick and intuitive results. Other than that, you can get great assistance from publishing, engaging, team collaboration as well as analytics during social media campaigns.
It is a social media management platform that brands, businesses, and agencies trust because it provides meaningful engagement and results on social media.
It helps in engagement, publishing, and analytics. Buffer is not only a reliable tool, it is a team of real people.
With a simple interface and quick, intuitive results, Buffer is the perfect social media management and scheduling tool for your business.
Features
RSS feeds connectivity.
Informative social analytics.
Multiple posts and tweets.
Social profile sharing.
Analytics and insights.
Profile management.
Multi-media format sharing.
Agency/business planning.
2-step account login
Customized scheduling
iOS and Android support
Team collaboration (via administrator rights)
Starting Price: 14-day free trial is offered. The premium version starts from $6 per month. You can create your free account and use this tool with basic features.
G2 Rating: 4.1 / 5
Supported Platforms
Instagram
Facebook
Twitter
LinkedIn
Pros
With this application, you can measure your social media success in just a few clicks.
It helps to collaborate and plan campaigns by providing analytics about the content published on your page.
This tool also responds quickly when comments are made, so you'll be able to engage with your audience from anywhere at any time.
With its library of graphics and calendar features, there's no limit to being creative.
Cons
Limited taggings.
Quite difficult to post videos.
Conclusion
These Instagram story schedulers will not just save your time but will help you in staying consistent. At the same time, you can focus on other business tasks. Other than the Instagram story schedule, these tools are very helpful in managing all social media activities. They help your brand get more recognition and build a vast, global audience.
As far as scheduling Instagram stories
are concerned
, all the tools mentioned above are very useful
.
They will save you from the last-minute hassle, and your followers will not
be disappointed by
the lack of updates from you as well
.
All of these tools are reliable and are highly trusted by thousands of people around the globe. In addition to that, by investing in the right social media management tools and services, you can expand your social reach. And increase your followers effortlessly.
If you have a business, you can rapidly grow your brand's visibility and generate more sales. Now, you can keep our article as a guide and choose the tool that fits your requirements the best.