Having useful and advanced content creation tools is a must for content creators in today's immensely competitive social media world. So, Are you a content creator? If yes then these AI-powered content creation tools are what you need to make your content rank faster and higher., and attract your target audience with ease.
AI tools speed up your transition into full-on creation mode while cutting down on planning time. With the help of these tools, your marketing tasks are completed in half the time with half the effort.
The AI content creation solutions laid out in this article are popular for helping with creating engaging content aimed to reach your ideal audience. With just an idea, a title or an image you can create wonders.
It's not hard anymore to increase your traffic and save hours of work by generating unlimited content for your blog. Today, with the right amount of information, we will guide you to the most useful solution to propel your content into the stratosphere.
Keep reading to discover the best tools on the market for you or your marketing team.
Why use an AI-powered content creation tool?
One thing that every content creator will find relatable is that constant content creation is no easy task. It is a time taking thing and needs a lot of creativity constantly. And posting boring content is a big no-no for content creators.
So, this is where an AI-powered content creation tool can jump in to help. Al-powered content creation tools can do more than create content. They enhance your SEO and help you understand what type of content your followers are interested in.
Furthermore, Al-powered content creation tools can help you find precisely the key phrases people use to find your content and what type of content they look for on your site. These content creation tools offer insights into how successful your content is, and they help save your time and ensure that your skills are being used in more strategic content creation features. Overall, Al-powered content creation tools are essential for content creators.
Here are some of the top benefits of using an AI-powered content creation tool;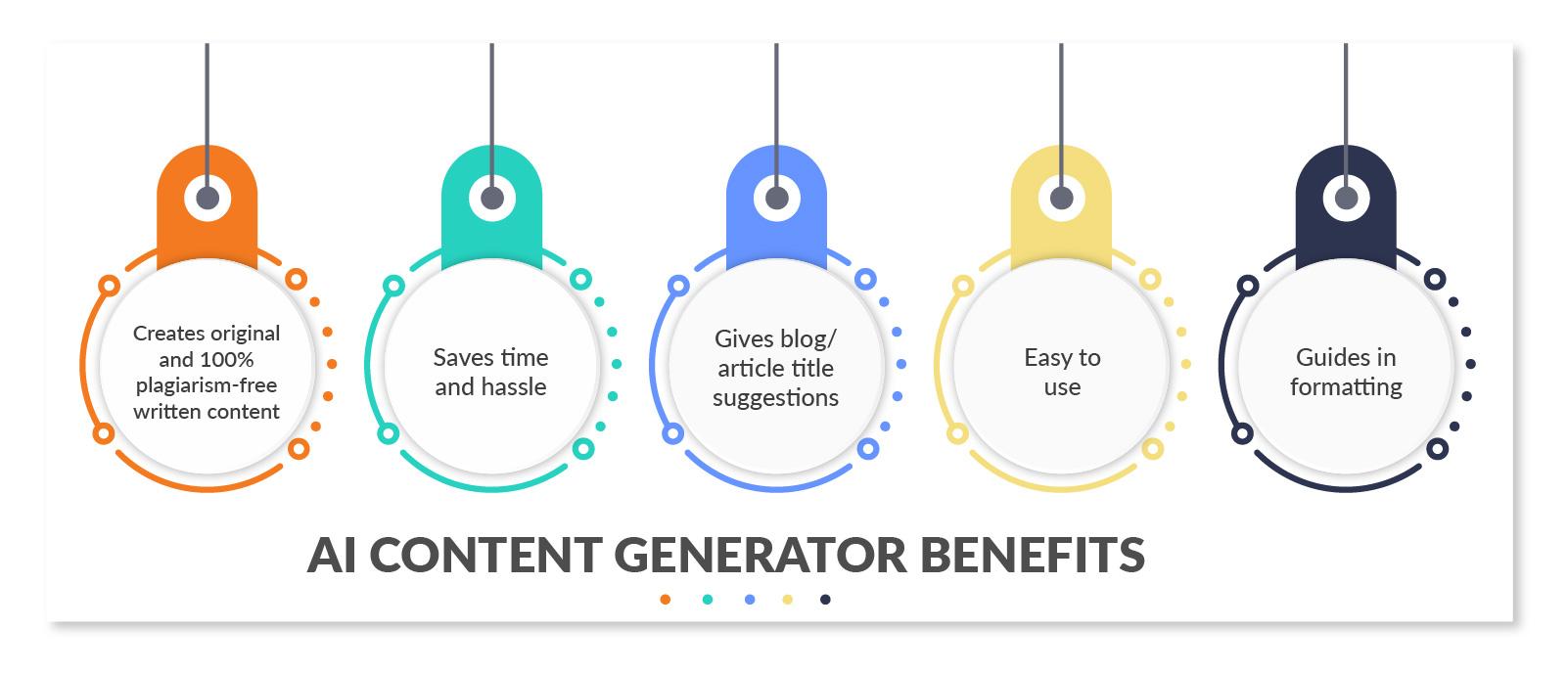 How to Choose The best AI-Powered content creation tools
When you are selecting the AI tool for content creation, here are a few common traits that a great tool has. So try to select the tool that has all these features;
Preloaded templates with ready-to-go designs
Good subscription rates (beware of compromising important features in free versions)
Keyboard shortcuts, saving precious time
Proofreading of tonality, styles, fonts, and overall layout
An automatic text replacement system
The use of multiple languages with the correct use of tone and substance
Grammatical proofreading to match the original idea
Recommendations on titles, headings, and general SEO guidelines
Top 10 best AI-powered Content Creation tools Ideal For Content Creators
Here are our top 10 recommended AI tools for effortless content creation – one thing that is a must-have for content creators;
1. SocialBu's AI Content Generator
SocialBu's AI content generator is a powerful and easy-to-use tool that helps you create unique written content for your social media quickly, in a hassle-free way.
Unlike other AI content-creation tools, SocialBu uses a proven formula backed up by AI content creation to completely optimize your content and make it seen by search engines as well as a vast audience.
It would take you a super short time to create unique, interesting, and plagiarism-free written social media posts (like Instagram captions, Tweets, short posts, etc).
How Does it Work?
You can utilize the help of SocialBu's AI content generator for all your social media profile's. Here is how the AI generator can help you in creating unique written content for the platform;
All you need to do is follow these few simple steps;
Step 1: Firstly, login to your SocialBu account. Then, from the main dashboard's left side, click on "Generate"
Step 2: Select your social media account and type in a keyword you want your post to be about. And let the AI content generator do the rest!
Step 3: Now, within a few minutes, your unique and totally new post caption, Tweet, reply will be ready to be posted, and that's all! Easy right?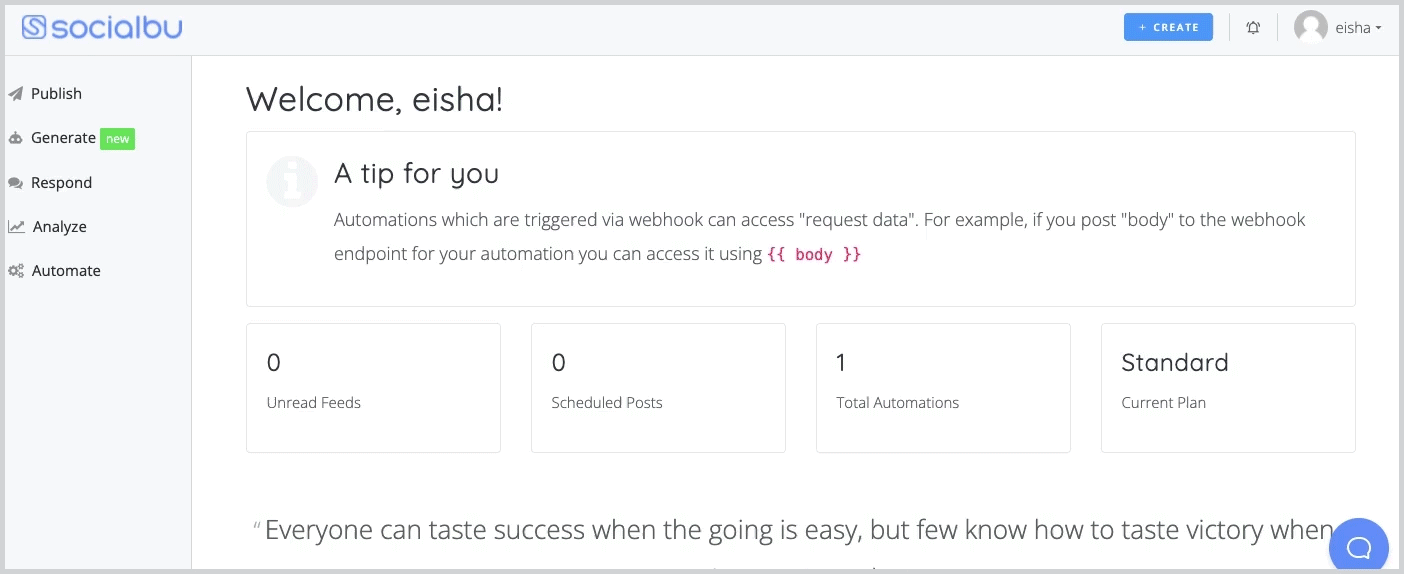 Overall, SocialBu's AI content generator will do all the complicated and tedious work for you. In addition, the cherry on top is that socialBu's AI content generator is budget-friendly yet advanced!
The best thing is that it's not just the AI content creation tool; it's a complete social media management package that you get with SocialBu.
To further enhance your social media content creation and publishing procedures, you can utilize the help of SocialBu's other incredibly useful features like;
Social Media Post Scheduling: You can easily schedule and bulk schedule your social media posts

with SocialBu. It is a super easy and hassle-free way of ensuring that your audience is well updated. Also, you won't have to worry about forgetting to publish your post manually each day.

Social Inbox: SocialBu offers an efficient unified inbox

that is time-saving and easy to use. You can easily view and reply to all important conversations from a single place.
Social media monitoring: The social media monitoring

feature helps you keep track of all social conversations, keywords, accounts, and hashtags that are relevant to your business.
Dynamic Automation: With SocialBu, you can automate

every social media scenario. Like, such as sending an automated reply, notifying an external service whenever a new post is published, etc.
And much more! With SocialBu, content creators get an entire super helpful feature set, and that too in a budget-friendly pricing plan!
To learn more about this smart tool, read our blog; How to Use SocialBu's AI Content Generator for Your Social Media
2. Jasper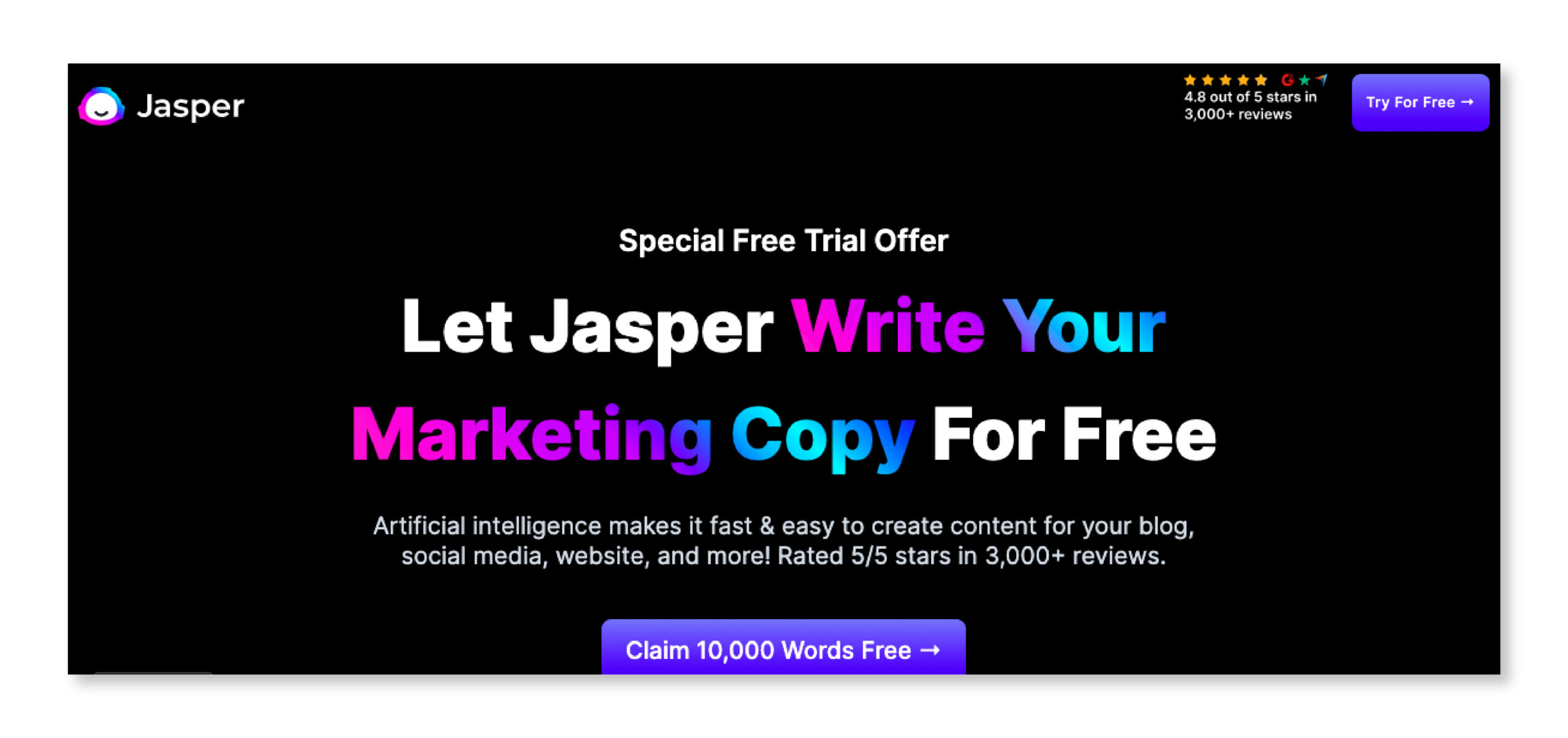 Jasper is an all-encompassing AI-powered content creation tool. It was formerly known as Jarvis and Conversion.ai and was renamed as Jasper in early 2022 (due to a copyright issue), but you can still find its information everywhere under its old name.
With Jasper, you can easily take your content creation to the next level by:
Creating copy that matches the search intent of your website visitors
Entering text in the editor with keyboard shortcuts
Redesigning unattractive content to one that really engages
Executing text variations to increase sales and improve ROAS
Its automatic writing tool takes care of up to 80% of the total content, ensuring that everything you deliver is free of plagiarism, unique, engaging, and interesting, which is something that every content creator aims for.
3. Rytr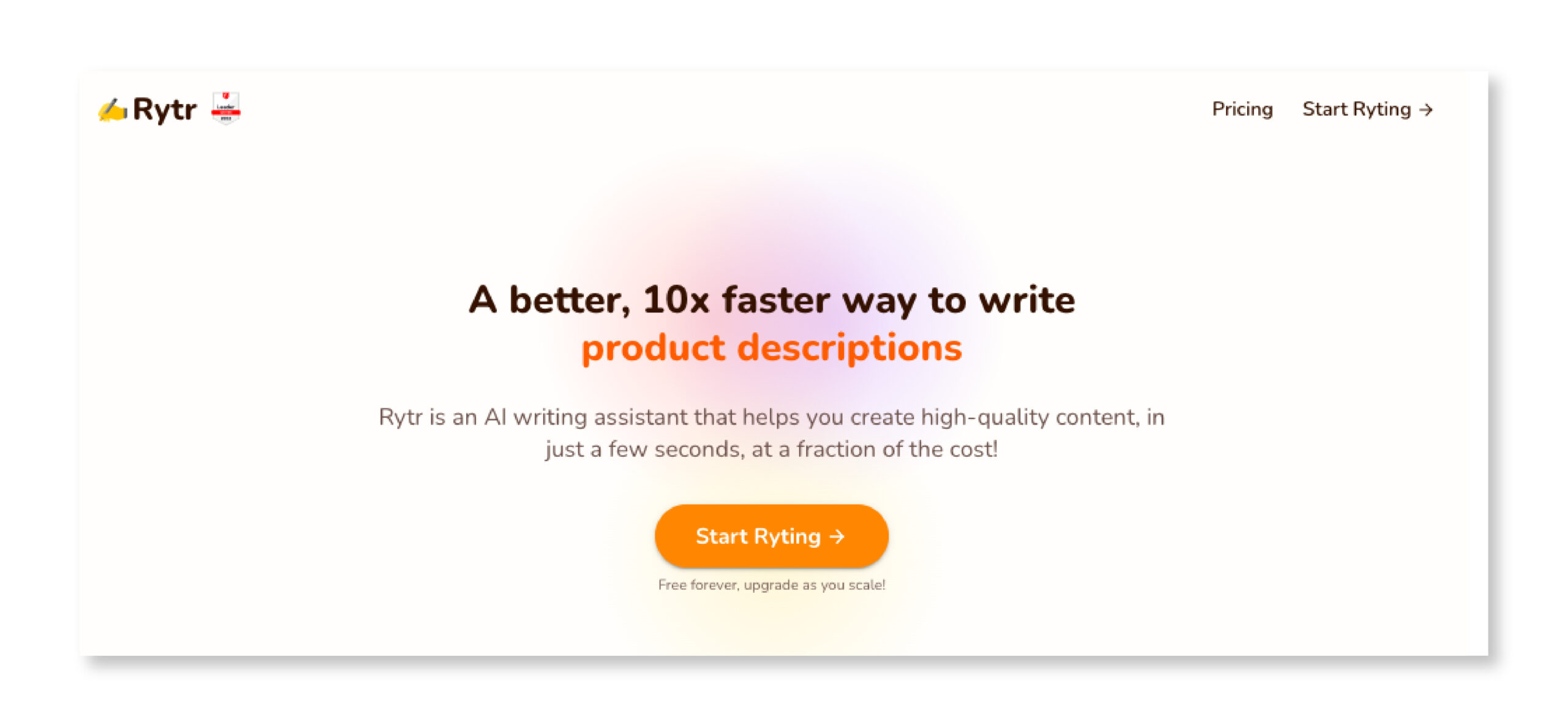 Rytr is also a smart content creation tool that every content creator will appreciate. Rytr's program combines two outstanding features:
The subscription price is very reasonable
Write content in multiple languages quite quickly
Rytr used to have a lifetime license, which made it very attractive for all users, but this agreement ended and is no longer available. It has different rates and plans, but you can benefit from free use of up to 5000 characters per month.
The cool interface makes it very easy to do multiple tasks at once. We're talking about the "window" type, so tap into full-screen mode for the best visual quality.
To start creating quality content:
Log in and choose the right plan
Write the first suggestions in the work form and press "Ryte" (write)
As you progress with the content, the "Ryte more" option will add sentences that resonate with the article tone and meaning
Combine several sections of the article while keeping the same main idea
Whether you use the free version or subscribe, Rytr is a great option if you want to create big loads of content from just a few words.
4. Copy.ai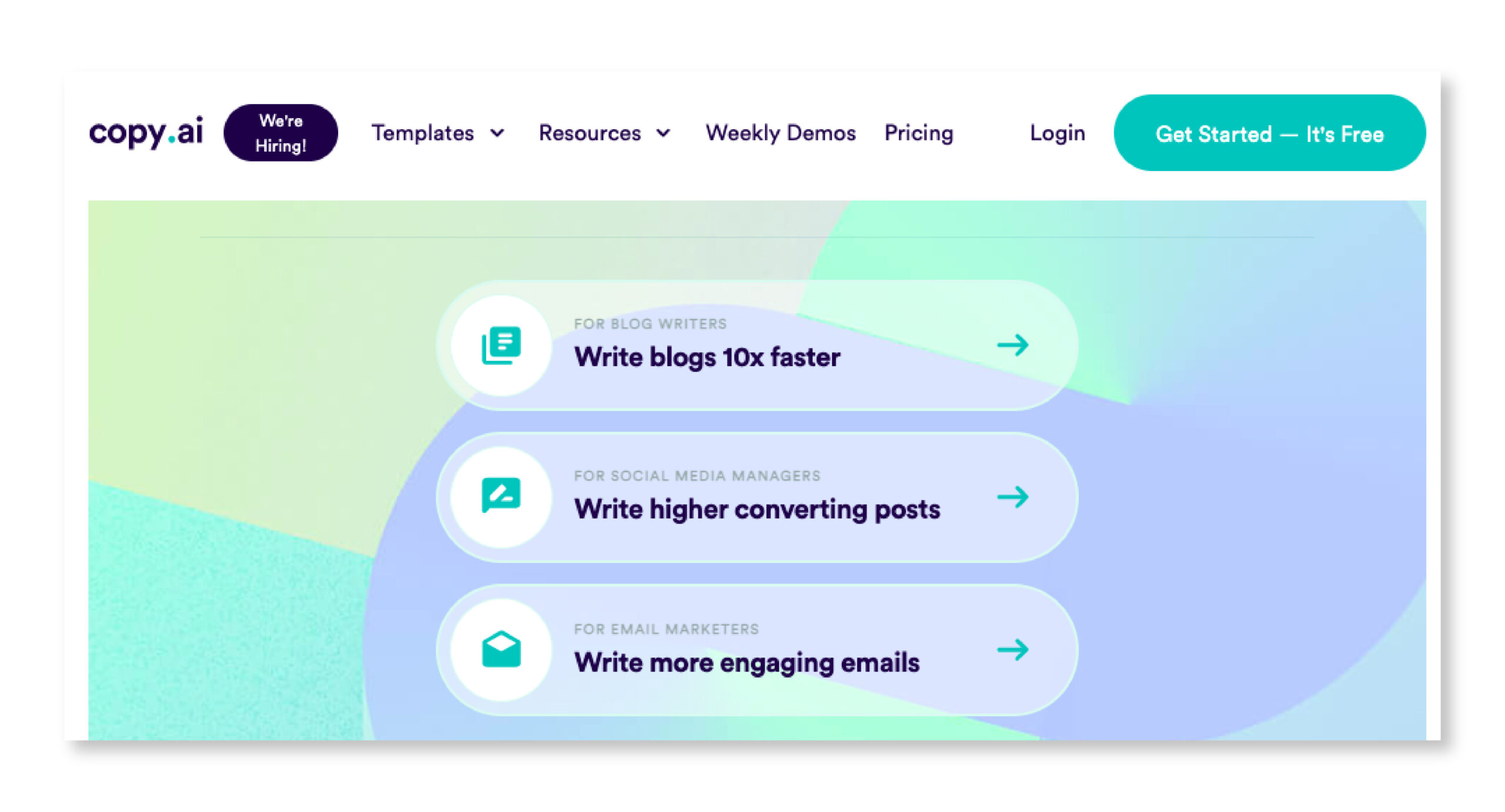 Copy.ai offers more than 90 types of preset content templates with eight different narrative styles. It has an interface that is fast enough to perform all the functions without getting bogged down.
You can do edits online and create different types of texts. Start with a preliminary title, tone and writing style, and a general theme; Copy.ai will do the rest for you. It provides results and suggestions that feel like manual editing.
It's very easy on the eyes and quite fast. It has the capacity to perform multiple tasks simultaneously
5. Copymatic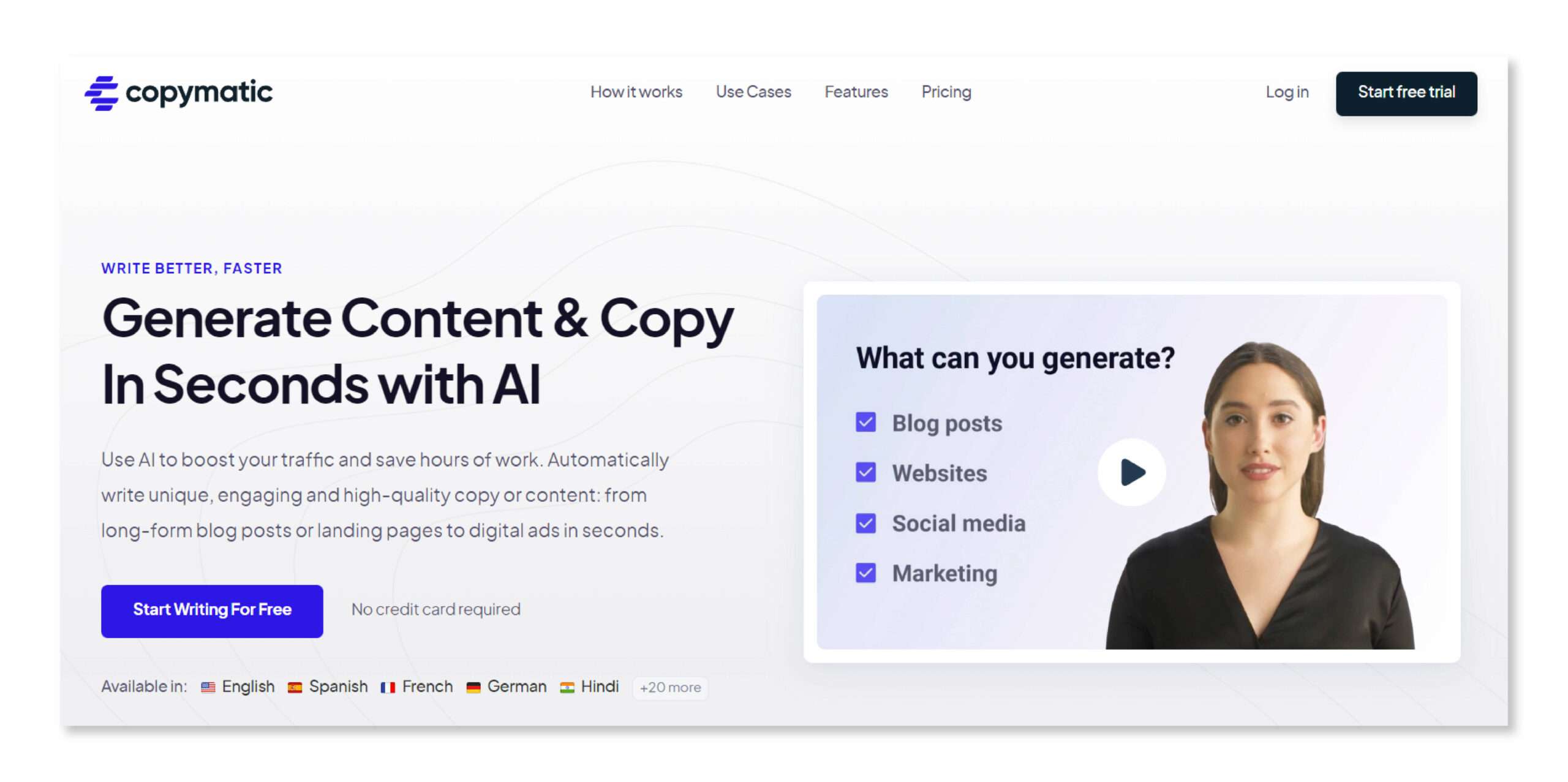 At number five on our recommendation list of the best AI-powered content creation tools, proudly sits the efficient Copymatic. Copymatic's most attractive feature is the "Blog Post Writer", in which you compose the title, headings, and text of an article in seconds.
There are more than 45 personalized templates available and also the possibility to design new ones, leaving them pre-saved. Also, it works in multiple languages with solid translations and customizations. This is why it is considered one of the best AI-powered content creation tools.
All you need to do is follow these three easy steps:
Choose a writing tool: from social media ads to blog posts and e-commerce copy
Fill in your wanted final piece and explain it as detail as you can, primarily the keyword you'll use
Generate the content
You can automatically write content from scratch that really captures attention, all SEO optimized and plagiarism-free.
6. Peppertype.ai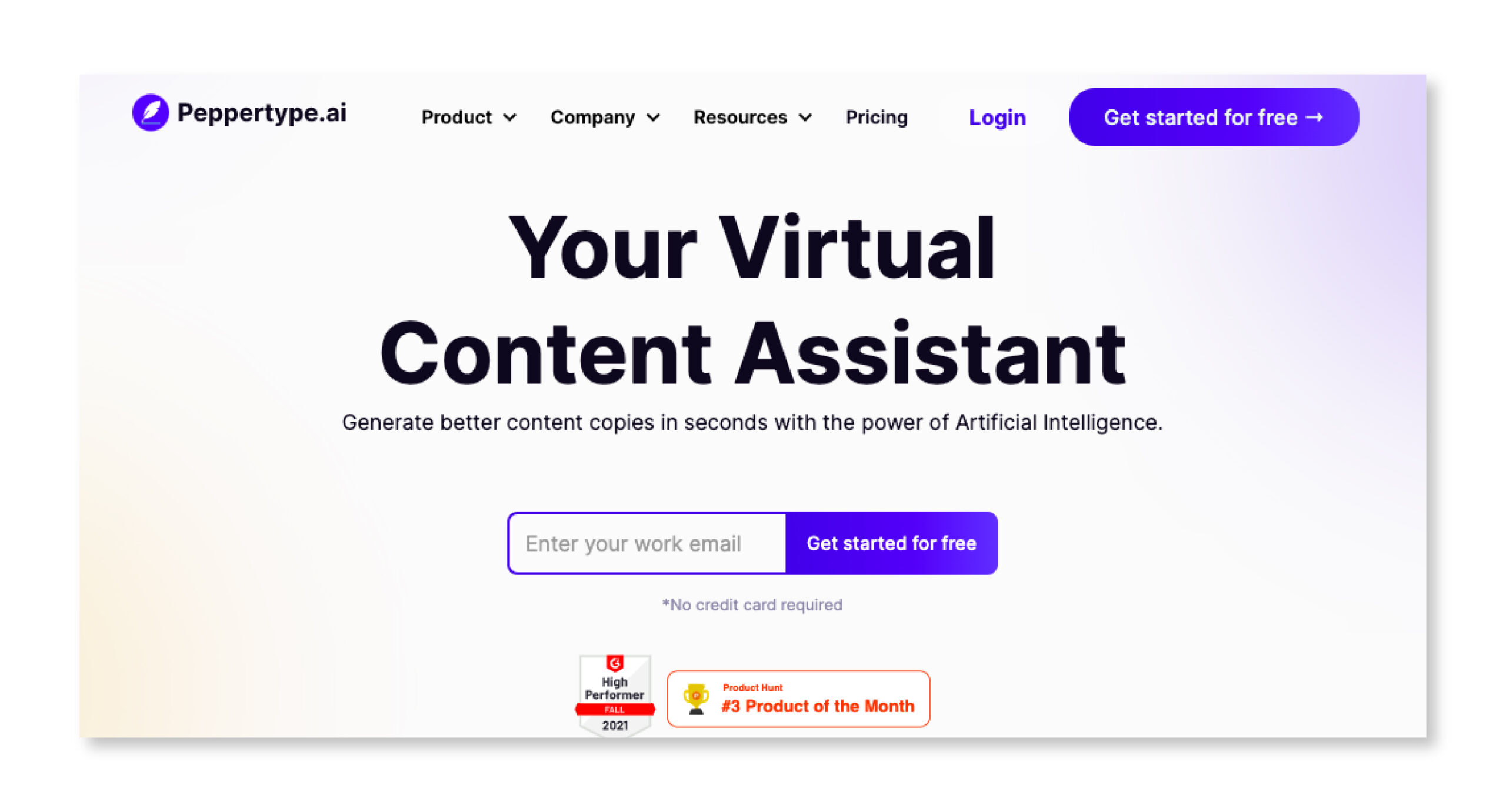 Peppertype is an incredible and easy-to-use AI-powered content creation tool that makes the work of content creators hassle-free and quick. Unlike other content design tools, it offers very different results. Its machine learning system helps you create automated content depending on:
Product descriptions
Facebook ad copy
Blog posts
Storytelling is usually neglected in other tools but Peppertype keeps it marching throughout the writing process, saying goodbye to writer's block and letting the creative spirit flow. It fulfills these elements to a great extent by combining everything with SEO analysis tools and services.
When you change the modality you are creating content for, the tone and style change as well. The interface is quite simple but it highlights all of its features.
7. Writesonic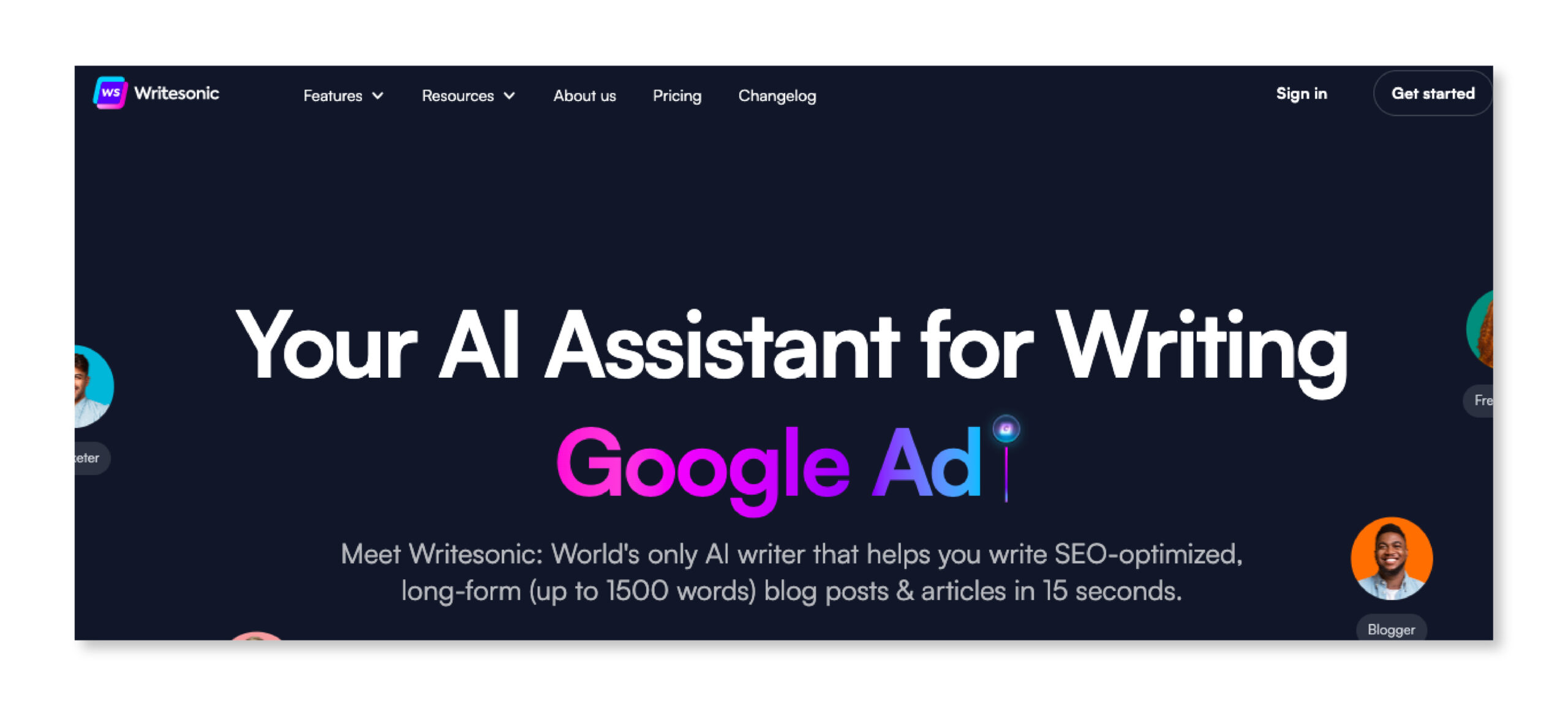 This tool offers an automatic text replacement system similar to Grammarly, which makes suggestions as you write. It offers unique and intelligent alternatives to the text you create, so you can be sure of originality and impact, and if you need to make serious changes.
The "AI Article Writer 2.0" template allows you to start an article at 0 and polish it on a scale of 100. You can use Sonic Editor (an improved version of Google Docs) for writing marketing emails, papers, presentations, reports, and ebooks. For marketers, it helps increase conversions, boosts CTR, and lowers cost per click.
Moreover, use AI-based writing tools to refine and polish your content to make it perfect: paraphraser, expander, and shortener. The program is very easy to use and has a very ingenious writing style.
8. Article Forge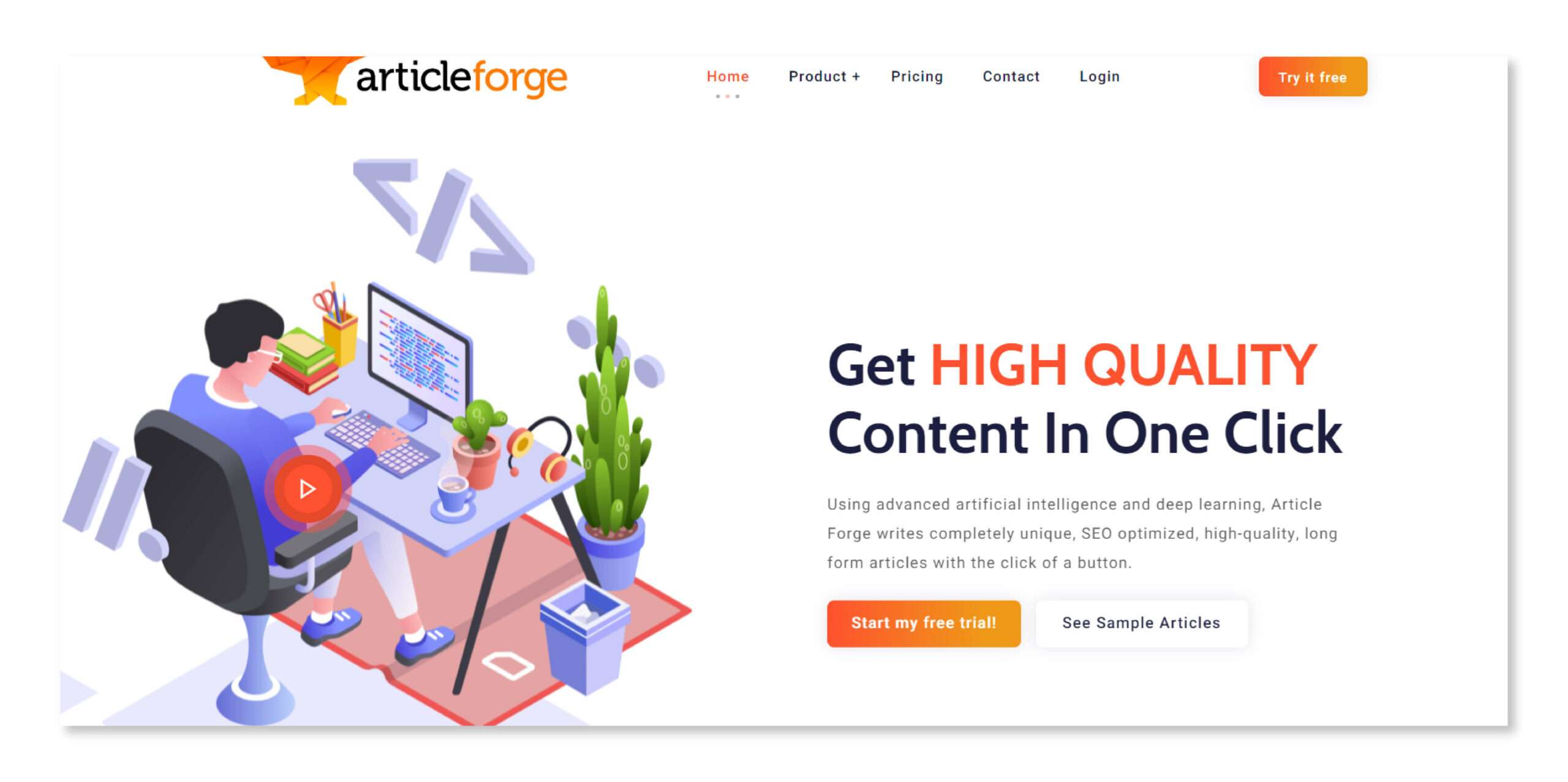 Article Forge is a great choice when budgets and time for delivery are tight. This awesome AI-powered content creation tool is cheaper than the other tools mentioned above, its interface is simpler but does not offer customized templates. However, create and design content from scratch with suggestions on reach, engagement, and accuracy.
It works by:
Entering your keyword and article length
Wait 60 seconds
Get the content generated
Its greatest feature is creating texts and images in large quantities in less time. This comes in handy when working on multiple articles simultaneously. The software keeps a history of creations and preferences. Reduce creative blocking while collecting a large number of templates.
9. Copysmith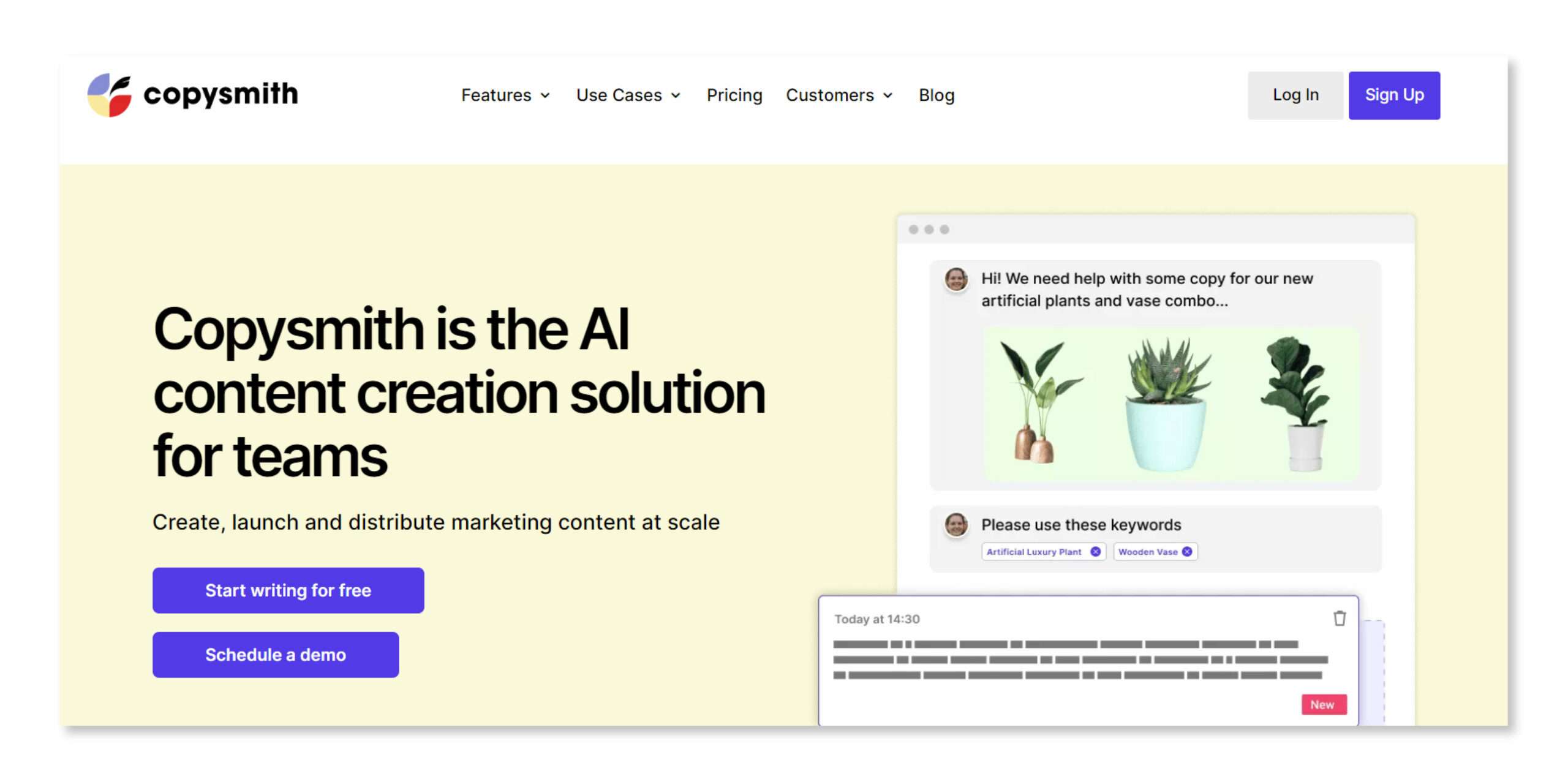 For lovers of the more rudimentary versions of AI, Copysmith offers the use of OpenAI's GPT-3 language, a groundbreaking system in creating content from scratch, especially for product descriptions. It is excellent for promoting your blog by boosting your website's ranking to the first position in search engine results.
It has many programs, plug-ins, and integrations within its interface. Among them:
Shopify
Google Docs
Chrome
Zapier
It's a great option if you work with e-commerce and marketing content on a large scale and still follow SEO guidelines.
10. Pitch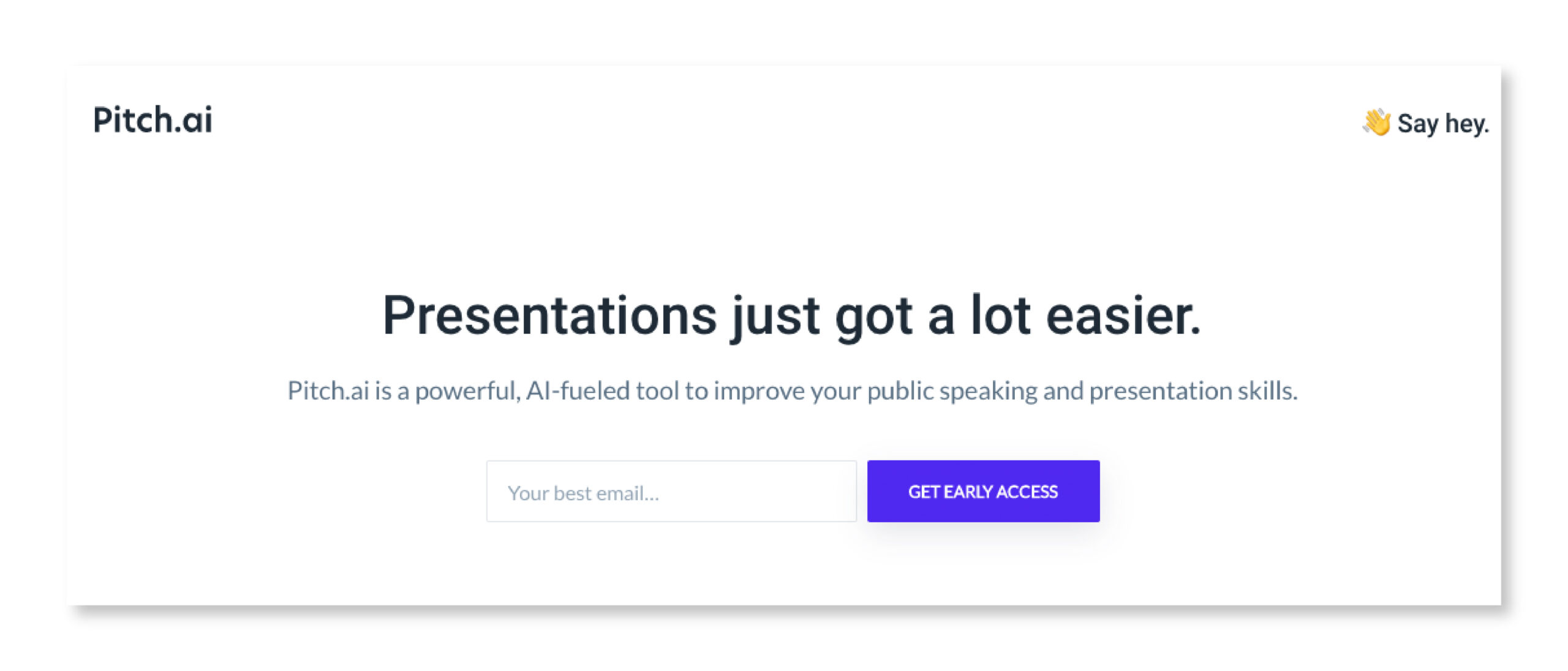 The next on our recommendation list of the best AI content creation tools is the industry leader, Pitch. With Pitch, you can easily select an option for your business proposal from the greatest diversity of presentations and templates on the AI content creation market. All Pitch templates include everything you need, like;
A solution and problem-oriented slide
A case study
General description of the company and services
A price quote
To simplify your workload, use one of Pitch's free proposal templates for a top-notch presentation. How? They're very easy to manage:
Start by clicking on the template you want to work with
Edit the content to turn it into your professional proposal
No need to tweak the design or focus too much on making the content look good
Double-check to make the right choice
It is the most versatile tool in the world of content creation and what you expect from a modern collaboration tool for presentations.
11. Nichesss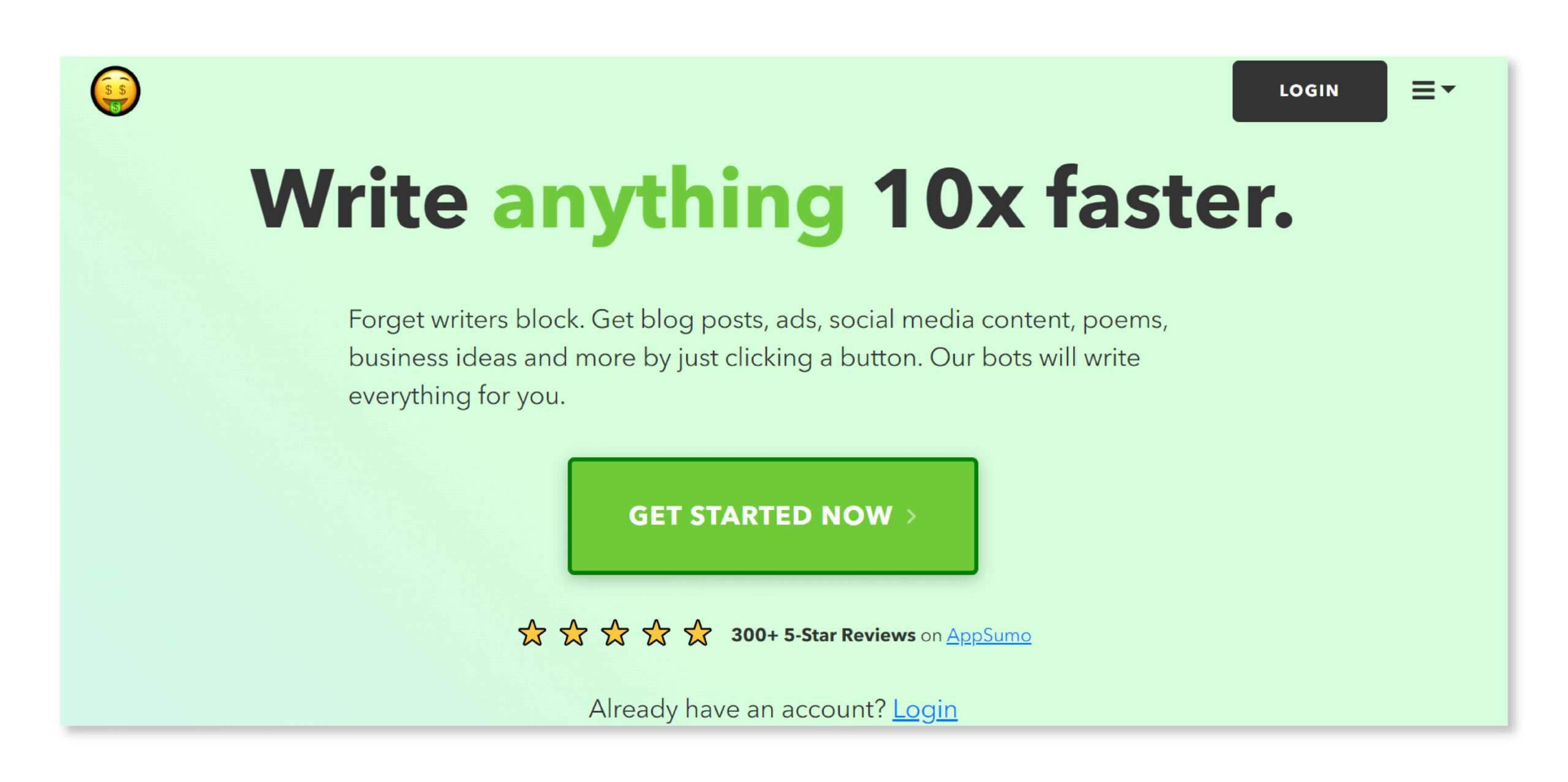 With Nichesss, create an article from scratch with more than 55 predefined templates. There is an option called Make a Tool that uses bots to create tools tailored to your needs. You can create everything from blog posts and Facebook posts to Google Ads formats, business ideas and even write poetry. Among its features:
Easy on the eye interface and esthetics
A unique subscription system once you sign up. It doesn't have different plans, unlike the others
It's a versatile and very easy-to-use program that you operate with just one click.
Final Verdict
Content creators who care about their audience and are passionate about their work know the importance of AI-powered content creation tools in today's digital and fast-moving era. Loads of content are shared on the internet each day, so to stand out from the competition, using an AI content generator might be your best move. With the smart tools mentioned above in our article, you can create unique and engaging content quickly, avoiding any sort of hassle.
You now have the best, most diverse, and most supportive tools to choose from. So, choose your preferred AI content creation tool and start creating winning content today! And if you want to go with a safe option, then what better tool than the one that is cost-effective yet advanced, just like SocialBu's efficient AI Content generator