Do you want to know the emoji keyboard shortcut for Mac and Windows? But first, let's discuss why and how emojis have become so important. Emojis have become an integral part of our communication as they can significantly impact the understanding of our communication. People share about 5 billion emojis every day on Facebook and Facebook messenger alone. 
If you use emojis correctly, they can affect your marketing strategies too. These have become an obvious part of our daily routine by enhancing our language and communication.
People share lots of emojis daily to communicate with each other. With the use of an emoji, they can make others understand their thoughts and emotions more effectively. You can say that emojis can be a visual representation of your text if you want to.
Let's discuss the role of emojis in business marketing first. Then we'll discuss how you can easily use the emoji keyboard shortcuts for Mac and Windows. Here is the short history of emoji usage over the years.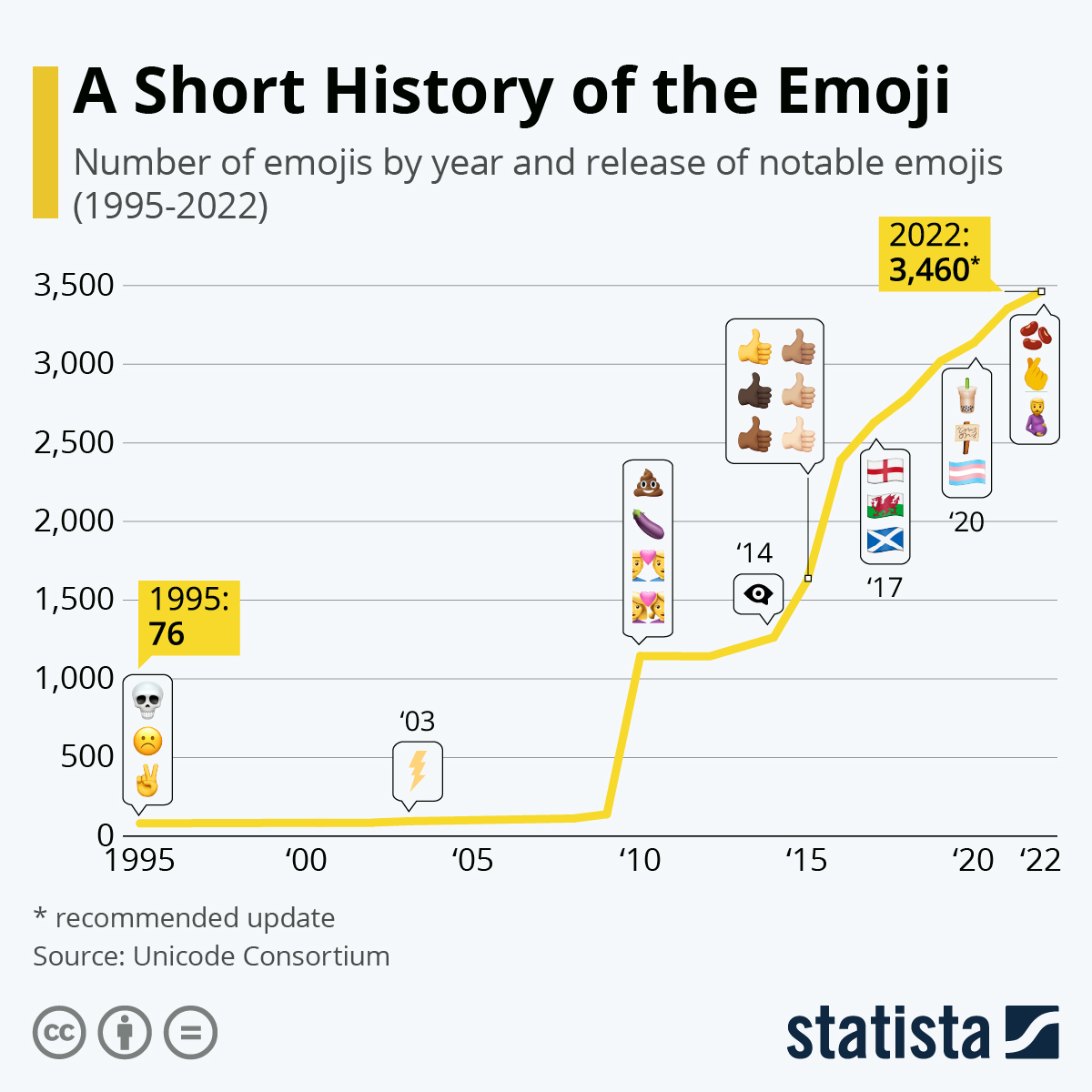 Role of Emoji in Business Marketing
If you follow brands, you may have noticed that they use lots of emojis in their branding and messaging. According to a study by WordStream, using an emoji can increase your engagement rate by at least 25% more than the posts or messages without emojis. For example, using emojis in your Facebook ads can increase its share by 33% and interactivity of your post by 57%.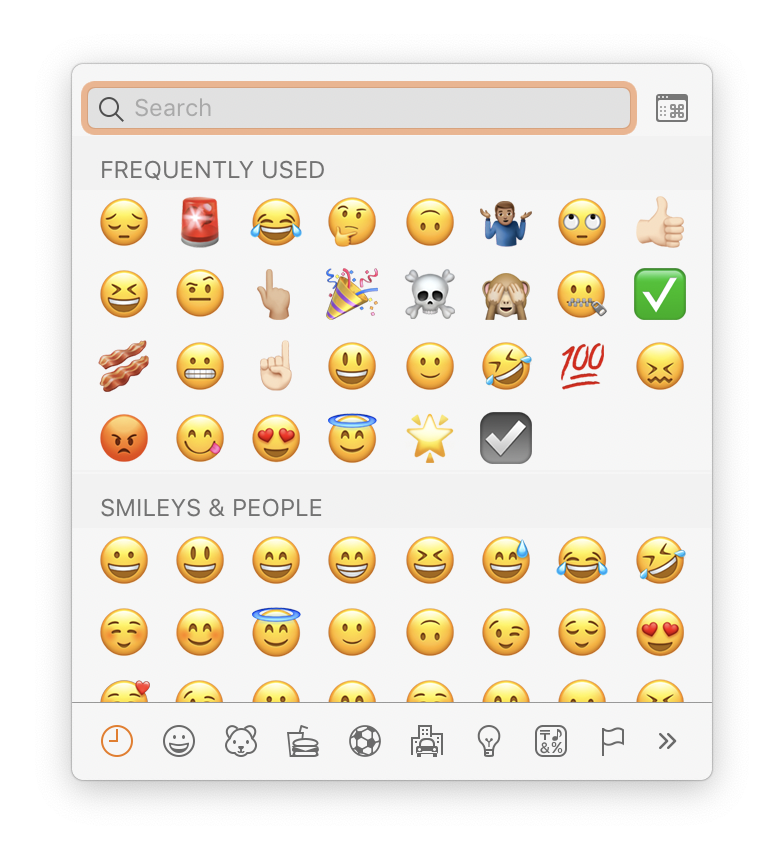 Beyond these statistics, emojis can help you make your brand relatable or add context to your messaging, and appeal to your audience's emotions on a deeper level.
1. Improve Your Brand
The advertisements and brand promotions mostly contain relevant emojis because it has been seen that using emojis in the text makes it more attractive and increases the click rate.
2. Increase Engagement with Your Audience
With the help of emojis, you may increase your audience's engagement because the use of emojis in the text makes it more attractive, readable, and understandable. In addition, it adds fun to the content, and this helps to attract the audience.
3. Add Context to Your Content
Emojis also help to add context to your content. The use of emojis in our content makes it lively and better than content containing no emojis.
When you use emojis in your content, you are setting a light atmosphere for your audience or consumers and conveying your message at the same time. Your audience would surely like a lighter and welcoming approach rather than a direct or stiff one. 

If you happen to have a limited word count, you can use emojis to convey the message without losing the authenticity of your content. The use of emoji makes the tone rather welcoming. 
How You Can Use Emojis Effectively for Marketing
1. Use Emojis On Your Social Media Profiles
Social media platforms and emojis accompany each other and go along with each other very well. Many people use emojis daily to communicate with their friends and family and to share posts with people. Emojis add life and spices to your content and allows you to attract more audience to your post. 
If you want to increase your brand's engagement, you might use the same adding emojis to your content. Add emojis to your posts intentionally with an engagement mindset to increase the interactivity of your post.
Using emojis helps to add extra context to your posts and to emphasize your message. Hence the usage of emojis adds life to your content and makes it more and more engaging. 
2. Use Emojis For Email Marketing
You can also use emojis for your email marketing to make it more attractive and engaging. But it would help if you do not replace your text with emojis because different browsers and platforms may display emojis very differently, so replacing them with text may not be very useful. 
But using them along with the text makes it more presentable and engaging. Email marketing can sometimes get boring and may not attract an audience. Still, if you use emojis in your emails, they will significantly impact the interaction of people with your message.
3. Use Emojis in Social Media Advertising
It has been seen that an ad containing an emoji received a 241% higher click-through rate than a non-emoji ad. Social media advertising is integral for business marketing. Adding great content related to your business and relevant emojis can help attract an audience and people towards your business. You can use the emojis on your computer, even if it is a mac or a windows machine, using the shortcuts available for the emoji keyboard. You may observe that posts and advertisements with emojis receive more views and engage more than advertisements with no emojis.
4. Use Emojis As A Response
Emojis can be a great way to respond to people on the internet. For example, you may be able to add a joy emoji if that made your life or made you happy rather than just liking and favoriting the post. You can also use a heart emoji if you love something or like it. Emojis may help to convey your emotions and feelings to people. You can quickly respond to any post or people around the internet using an emoji, otherwise using only text, you may not respond to the posts effectively. Still, the usage of emojis makes it very effective and more understandable.
5. Use Emojis To Represent Something Relating to Your Post
It does not matter what type of topic your post has. You can always use an emoji to enhance its interactivity and to increase engagement. For example, suppose you have a topic related to videos and images. In that case, you can use the video or image emoji, or if you have a topic related to vehicles, you may use emojis of different cars. Usage of emojis in the text and your content can prove very helpful in increasing your business and creating an attractive and engaging business marketing strategy.
6. Use Emojis To Summarize Your Post
Emojis are enhancing our language and helping to engage effectively. For example, after you have written your post, you can sum it up by using emojis related to that. For example, if you are writing a post on punctuality or the importance of time, you may summarize your posts using emojis such as a clock.
Sometimes summarizing the post can be very challenging. Instead of adding a summarized text, you may add relevant emojis to your text and messages so that they may become interactive and more engaging.
The Emoji Keyboard Shortcuts for Mac & Windows
Emoji keyboards are not only available on mobile devices, but they can be accessed on your windows and mac by using some shortcuts. These shortcuts help you easily access your text's emoji keyboard and emojis to increase its performance and interactivity. By using these shortcut keys, you may easily use emojis on your windows or mac machine.
Emoji Keyboard Shortcut for Mac
To access and add emojis using the emoji keyboard to your text on mac, you need to follow the following steps:
By using just three buttons, you can access the emoji keyboard on Mac.
Click on the text field.

Press command + control + space keys.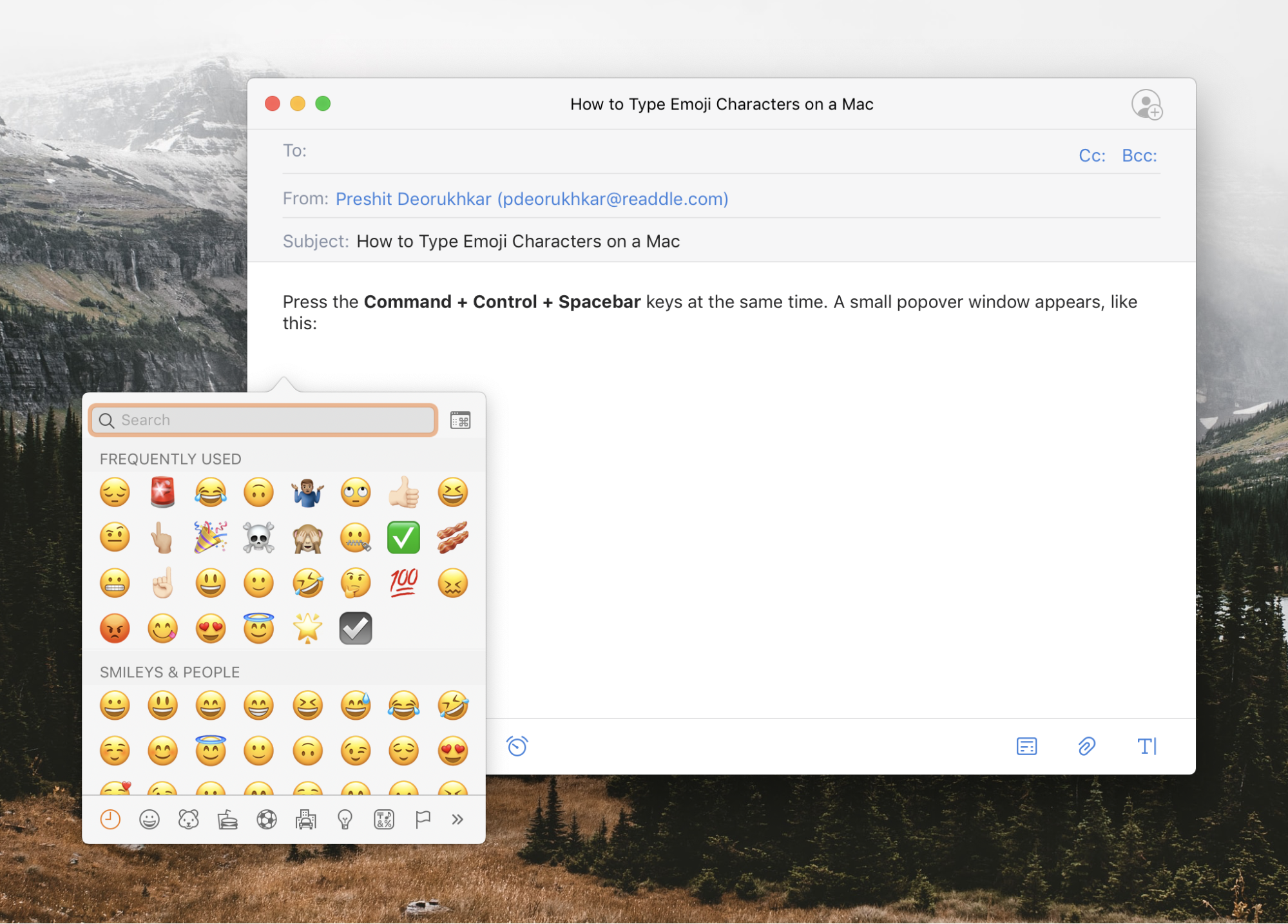 Choose the emoji from the list of emojis that appear and add it to your text. 

Also, now the emoji viewer window on Mac converts into Character Viewer when you open the emoji keyboard. If you want to close it, you will have to do it manually.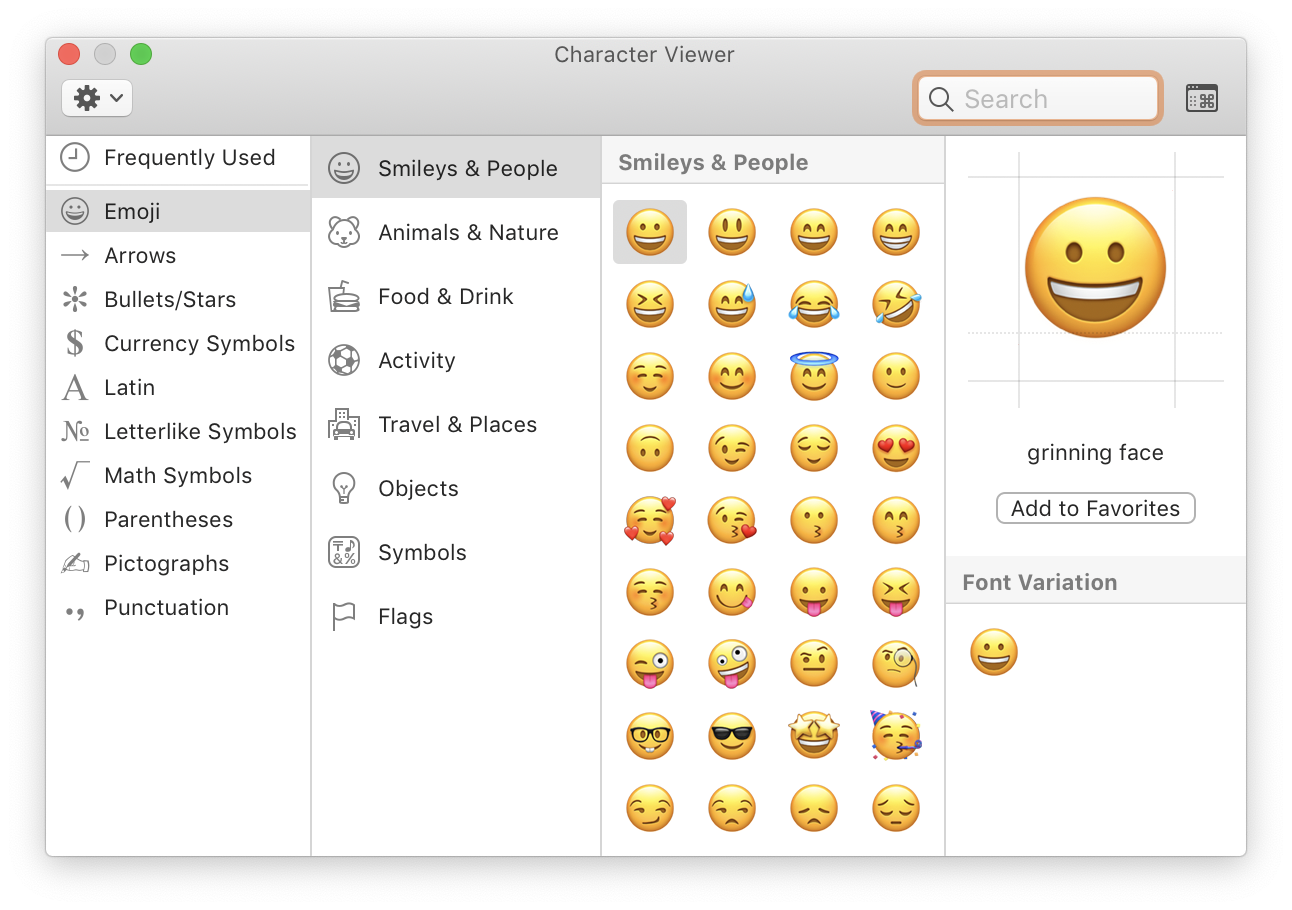 After adding emoji to your text, your text has now become more interactive and engaging. Unlike Windows, you have to use only two keys to access the emoji keyboard on Mac, and it has a wide range of emojis available. 
Emoji Keyboard Shortcut for Windows
To use an emoji keyboard on Windows, you need to follow the following steps:
First, press the Windows key and the period "."

The emoji keyboard will appear.

Once you have triggered the emoji keyboard, you can also search the emoji from the emoji database by typing the name of the required emoji in the search bar of the emoji keyboard.

Once you find the needed emoji, click on it to add to your text. 
So, you see, clicking just two buttons can open you a whole set of emojis to use in your text and make it much more interesting than it already is. These simple steps to emoji keyboard shortcuts can save a lot of time and prove to be so much productive for your content. 
Conclusion
Emojis are a great way of adding emotions to your online or off-face conversation. For example, you don't have to use words to vent your anger; instead, a red face emoji "😡" is enough to portray your emotions.
Suppose someone shared a meme with you, but you don't have the time to reply, and leaving on seen might seem rude. In this case, this emoji "😂" can be your savior. 
Emojis are something you will have to use no matter which operating system you are using. 
Sharing emojis when using Mac and Windows is no longer a problem with the mentioned above emoji keyboard shortcut. Furthermore, advancements in emojis now also let you send stickers, GIFs, and moving emoticons.
You can learn more here, how can you use different marketing strategies to grow your businesses. "Social Media Marketing Vs. Social Media Management".