The influencer fraternity has prevailed over time. With the rising popularity, huge incomes, and a luxurious lifestyle, being an influencer is now considered one of the top ways to earn big money. Brands are investing millions in influencer marketing to make their product more visible to the target audience. It has been declared one of the critical strategies. This is why many people want to know how to become famous Instagram influencers in 2021.
When it comes to being the best social platform for influencers, Instagram is undoubtedly number one. According to a survey, Instagram's monthly generated traffic is about 1 billion users. Nearly half a billion users access Instagram's story feature daily. By the year 2021, almost 75 percent of businesses will switch to Instagram marketing.
What Does It Mean To Be An Instagram Influencer?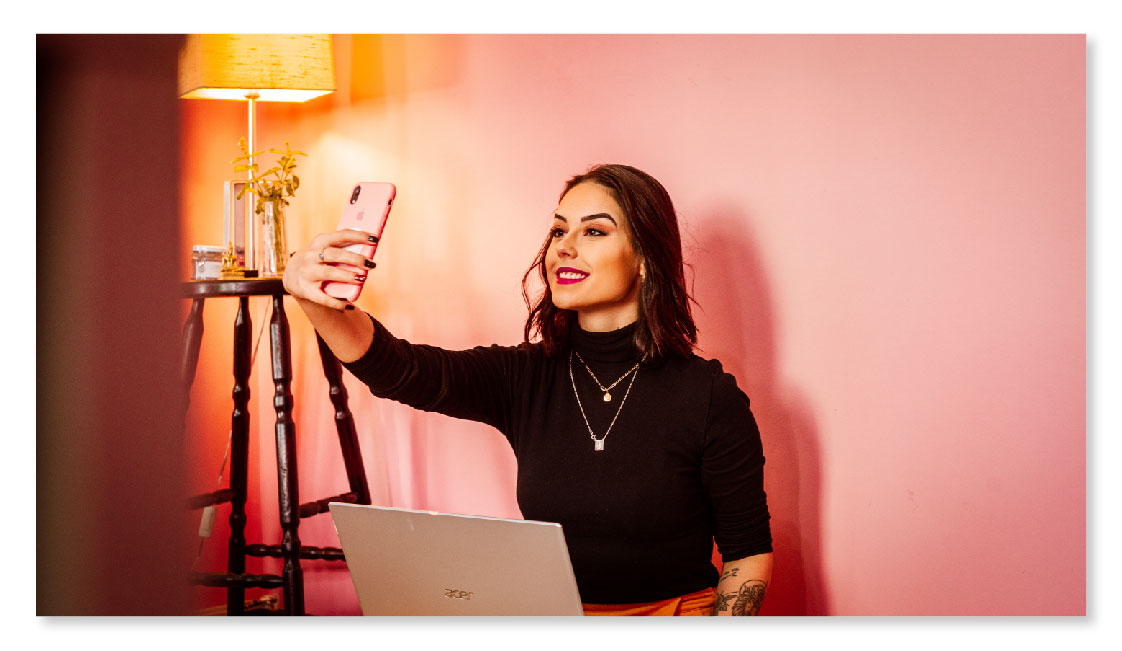 Source: Unsplash
Let's follow up with the word "Influencer." What does it mean to be an influencer? Is it a person who teaches you? No. But it's undoubtedly the person that you look up to or idolize. In other words, someone who inspires others is likely to be called an influencer. The fundamentals of Instagram Influencer are pretty similar. Instagram Influencers use their Instagram accounts to push, motivate, and inspire people with their excellent content.
But why is there a need to be an Instagram Influencer? Being an Instagram influencer could mean a full-time career and a lot of money. How? Let us shed light on this. Today, marketing and branding have gone up to such an extent that they need intermediary agents to endorse their brands. Consumers of today's era do not use the word of any brand just with a sales pitch.
Instead, they try to get a more detailed review from the person they follow on social platforms, mainly Instagram. And guess where an Instagram Influencer's part comes into play? You guessed it right, brands pay a lot of money to Instagram influencers who have a good and loyal following for endorsing their products. So, I guess being an Instagram influencer could also mean "Your dreams are gonna come true," At least if being popular and influencing others is a part of your dream and you want to become a famous Instagram influencer.
How Many Followers Do You Need To Be An Instagram Influencer?
It's never a question of numbers when it comes to inspiring people. To influence people is somewhat considered to be a gift. One should never worry about the number of followers. Instead, the only thing that should be remembered is that you inspire people with your content. However, to be a successful Instagram influencer, you need followers, which you can only achieve by prioritizing quality content. Once you hit that bar, the rise in the number of followers will incline, and you will eventually become a famous Instagram influencer.
Top Tips to Become a Successful Instagram Influencer in 2021
Here are some of our top tips that will help you become a successful Instagram influencer;
1. Decide a Niche.
Finding a niche for your Instagram is considered as setting a direction for yourself. It is essential and can prove to be fruitful. But, how should we opt for a niche? Well, it's simple. Finding a niche should not be a problem once you know what you want to do. It shouldn't be something that's trending.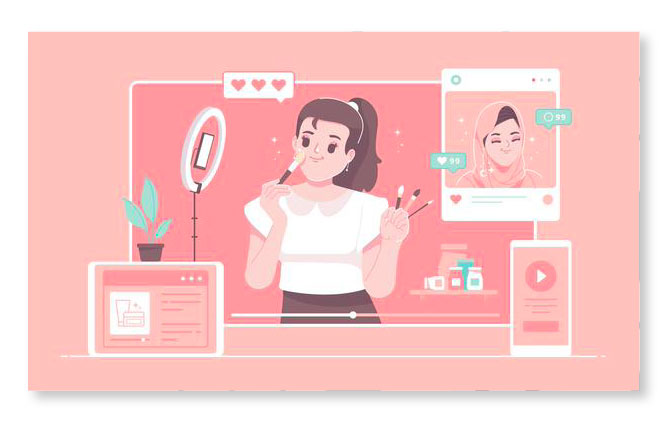 Source: freepik
Instead, it should be what you're passionate about and have hands-on knowledge. Although it's a good thing to try different approaches, finding the right niche for you lands you loyal fans and helps you gain the attention of relevant brands.
For example, Khaby Lame, one of the most followed Instagram influencers, reacts to random videos that display people making easy tasks look complicated. He simplifies the task and reacts to them with a funny hand gesture. Throughout his journey, he has stuck with the same theme and is now top trending worldwide.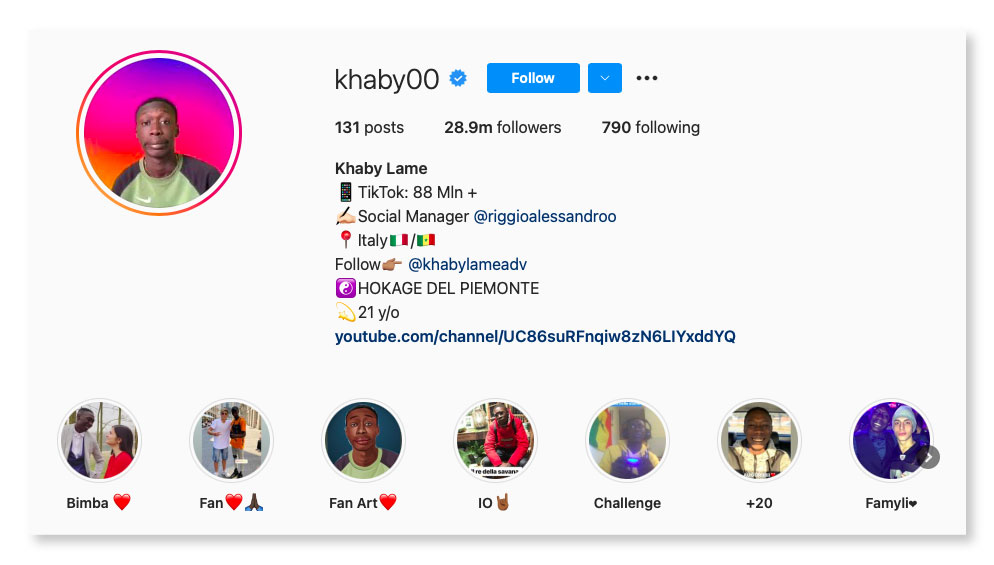 Source: @khaby00
2. Be Consistent
Consistency is key in everything. Posting content consistently is a good start if you are just a beginner. It lands you good traffic and keeps you engaged with your target audience. However, consistent posting requires a specific schedule. Always make sure that you are picking up a schedule that you can always keep up with. Keep it authentic. Picking up unrealistic schedules that are impossible to manage can make you lose your audience.
You can use social media management tools like SocialBu to schedule your future posts to be effortlessly consistent. With SocialBu, you can bulk schedule your media files as well.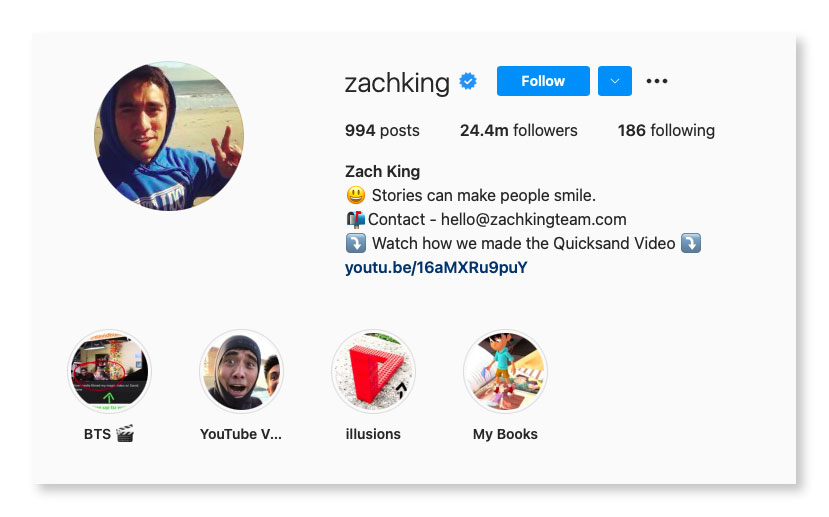 Source: @Zachking
Zach King is a famous filmmaker and illusionist. He is best known for his short skits portraying illusion. Ever since he made his account, he has been consistent with his style of posting.
3. Posts of a Successful Influencer Should be High-Quality.
High-quality posts are mandatory for an Instagram influencer. Posting high-quality content keeps your followers indulged in you. Those watching you for the first time can make sure that they don't miss out on any single post you make, which ultimately boosts your followers and makes your account's traffic skyrocketing. However, keeping your posts high quality is not something one can achieve overnight. It requires a lot of hard work and commitment.
Just like this picture posted by the very famous social media celebrity and a car lover @supercarblondie;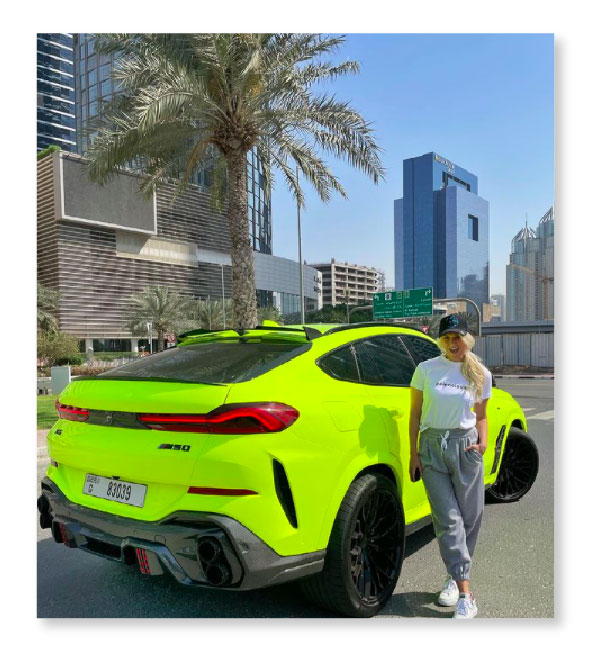 4. Engage With Your Followers.
Being an Instagram influencer is all about interaction. Engaging with followers is considered a good tactic as it is ideal for keeping the audience engaged with you and your content. An Instagram influencer should try different strategies to indulge with followers. Whether it be a "Ask me anything" story feature or asking followers to come up with handy captions, it will work for you. Liking and pinning comments, giving replies, and even interacting with some will turn out to be promising for your account.
5. Keep Up With the Trends.
Instagram trends are something that almost every individual follows. As an influencer, one must keep some popular Instagram trends in mind and design their content accordingly. Trends like "Gender Equality," "Black Lives Matter," "Life In Quarantine" were most popular in the last few years and are continuing to be so. Following trends helps you get a traffic boost in your account.
6. Be as Active as Possible to become a Successful Instagram Influencer.
Being active in your account is something that many influencers lack. Nobody can make posts every time, but you can use many tools for help. Live sessions with fans, the "Ask me anything" story feature, or even making quick stories frequently will make your audience visit your account day in and out. Checking out followers' tags and mentioning some will also keep the audience engaged.
You can use SocialBu's social inbox to quickly reply to all your inbox messages and comments from a single dashboard. You can also automate messages and replies with this amazing tool.
7. Show Appreciation to Your Followers.
Followers love their idols, they like your content, and some are even inspired by it. People who get influenced by Instagram influencers try to imitate them and come up with something good. They might tag you on posts. They might appreciate your efforts.
The part that you play here is showing appreciation towards your followers. It means the world to them. So, to make them feel special and appreciated, you should appreciate their efforts as well. You can reshare their work, reply to them, mention them in a post, etc. It is a great tactic to make fans loyal and more supportive.
8. Unique Content.
Keep your content distinctive. Your content should not be a copy, and it should never be an accurate display of others' work. One of the key elements of being a successful and competitive Instagram influencer is to make your content unique. Millions of Instagram influencers out there might share your niche or style; to outdo everyone else is probably your biggest challenge.
Having unique content is the fastest way to become a successful Instagram influencer in 2021.
9. Eye-catchy Posts.
While posting your content, always keep in mind that the first thing that catches their eye is what your post looks like. Is it appealing? Are the color palettes eye-catching? And God knows how many other things go through people's minds once they check your posts. Always make sure to design your posts in an attractive manner. Once it catches the audience's eyes, they don't take them off of it.
just like this picture posted by the very popular influencer @zoesugg;
10. Brand Collaborations.
Once you have established a stable audience, now is your time to earn something and make your Instagram influencing career-oriented. Try to collaborate with brands and initially keep your collaboration rates a bit lower. Once you have scored a few brands, your profile will automatically get a big following and financial boost.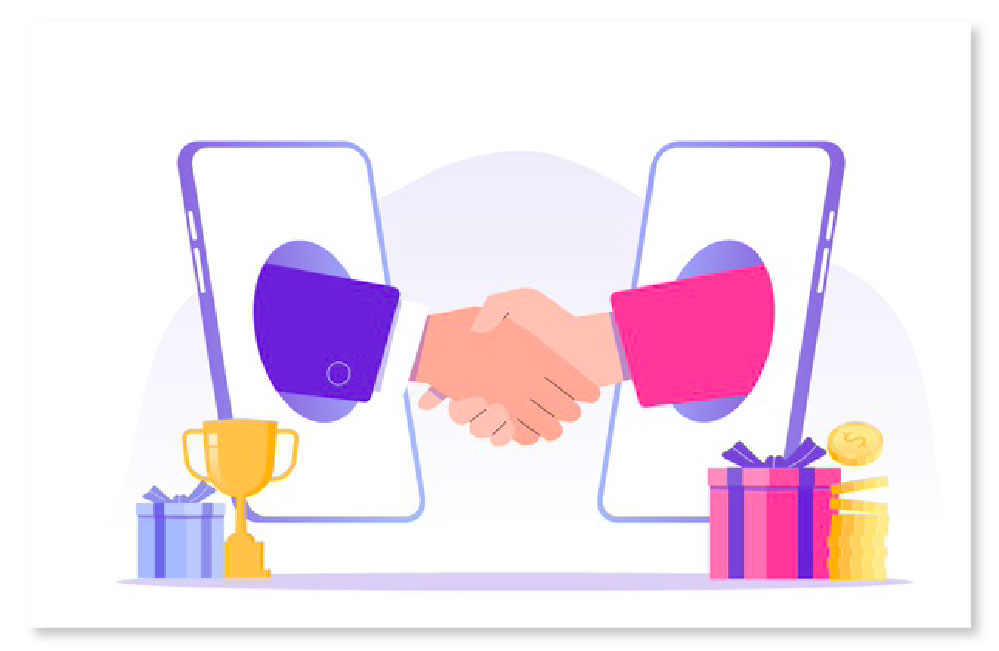 11. Network with Fellow Influencers.
Getting followers for your account is only the first step to becoming a successful Instagram influencer. Once you have followers, you have a stable audience. But what's next? Now is your time to learn more about how influencing works. The next step would be to work with other influencers. Widen the reach of your content by collaborations with other influencers, and add a unique flavor to your content that the audience of both sides would love to check out.
12. Clear bio is Essential to Becoming a Famous Instagram Influencer.
A bio is something that directs your audience towards your niche and portrays your overall concept. Your bio should tell three things, who you are, what you aspire to become, and what you do. Having an impressive bio impacts your overall account.

Source: @laurenconrad
13. Interesting Profile picture.
This one needs no description. It's crystal clear. We all know profile pictures always catch our eye first. You have to have a good-looking or attractive profile picture that connects with the target audience. Just like @pewdiwpie;
14. Make your feed Aesthetic.
With the prospect of a profile picture, your Instagram feed should be attractive as well. People with attractive-looking and well-managed feeds are more likely to get more followers. Having an aesthetic feed plays a massive role in the growth of your account as an influencer. Everything looking pretty and organized is what the audience wants to see on Instagram.
You can also use SocialBu to schedule and plan your future posts and see how they will look once they are uploaded.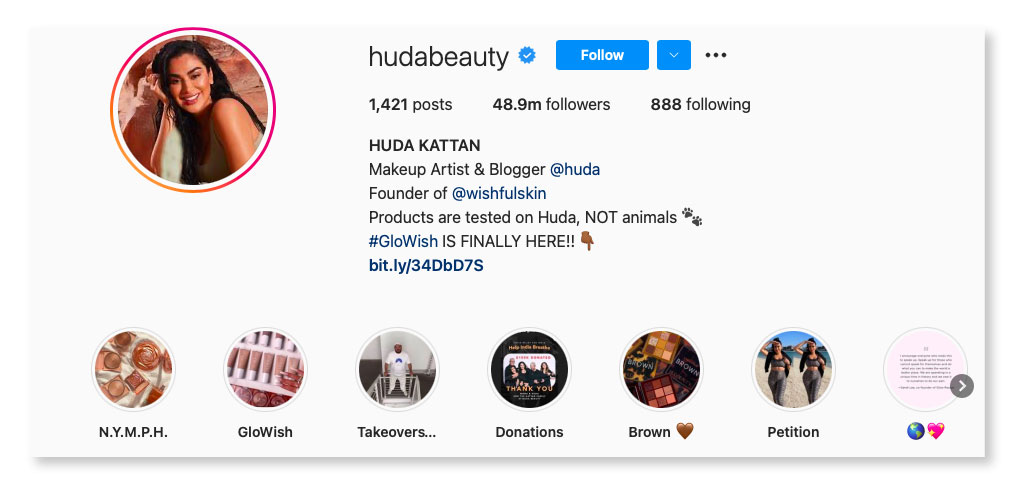 Source: @hudabeauty
15. Create a Content Strategy.
Posting with strategy is an essential element. Many renowned Instagram influencers claim that keeping up with the same theme throughout brings an artist in you. If you want your posts to be white-bordered, keep it that way for the whole feed. If the pics are edited with a specific color palette, you have to keep it up for every post you make. This shows consistency and hard work in your profile.
16. Use the Right Hashtags.
This strategy is something that is the most commonly used strategy by every Instagram influencer. But not everyone knows that there's a catch to it. If you ask a random influencer, they will tell you to go for the hashtags with the highest reach. However, that's not the case if you want your post to be more visible. Since there's an intense competition, chances are your posts would not make it to the audience. The right strategy would be to go for average reached hashtags to provide an optimal reach for your posts. The hashtag suggestions offered by SocialBu can immensely help you find the right hashtags.
Partner With SocialBu To Take Influencing to the Next Level In 2021
For growing a big audience, keep posting content daily, not just any content but informative and, most importantly, strictly dedicated to your niche. For doing this effortlessly, you need a unique social media management tool like SocialBu. SocialBu is a fantastic tool that manages your feed and helps you schedule your future posts. It saves a lot of your time and hassle.

1. Effortless Instagram Post and Story Scheduling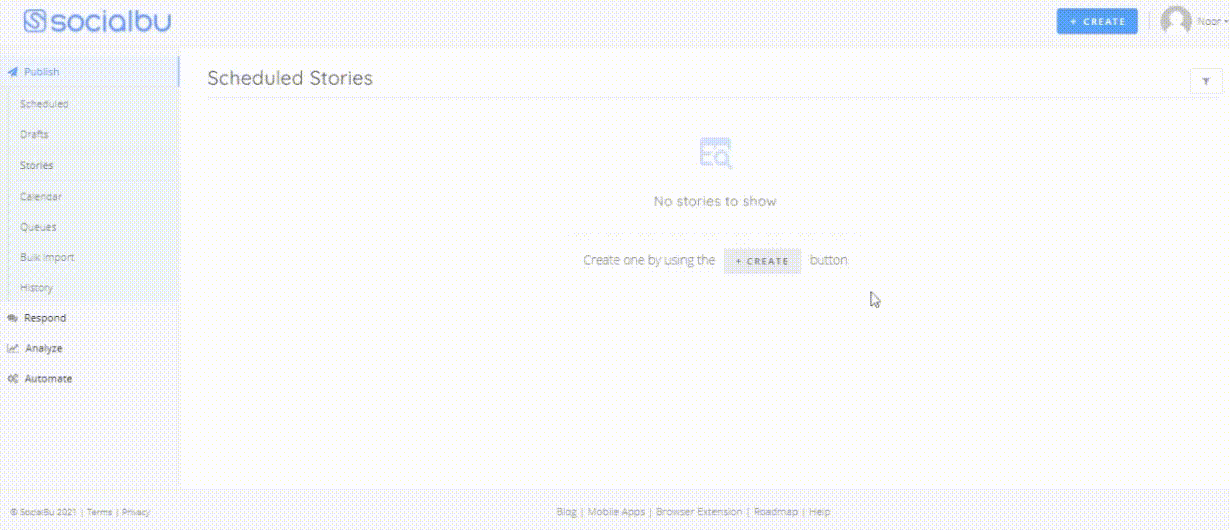 SocialBu allows users to schedule and publish content across all their social networks in one place regardless of the number of social media profiles managed. All the messages from the users' social media accounts are available in the app.
Users can also comment and create posts for all their networks, eliminating switching between multiple apps. And, being an influencer, this is very helpful.
To know more details about Instagram post scheduling, read our blog; Why and How to Schedule Instagram Posts.
2. Unique Social Inbox
SocialBu also offers an efficient unified inbox that is time-saving and easy to use. A social inbox connects all of your social media inboxes into a unified dashboard. This unified social inbox is essential for influencers. To be loved by many on social media and become a famous Instagram influencer, you should interact with your followers as much as you can.
Letting their comments or messages go unnoticed will make them uninterested in your work after a while. However, with the help of SocialBu's excellent Social inbox, you can effortlessly manage all your messages, reply to comments, and mentions, etc.
3. Advanced Post Insights
The most helpful thing about SocialBu is that it offers advanced post insights and lets you know where your followers are converting. You can easily calculate your Instagram engagement rates and know what your top-performing posts are. This is immensely helpful in becoming a famous Instagram influencer because you will post content your followers love to see.
4. Dynamic Automations
Other than that, with SocialBu, you can automate every social media scenario. Like, such an automated reply, notifying an external service whenever a new post is published, alerting a specific user if a comment or message has a specific keyword in it, etc. This automation feature will also help you a lot as it saves time and effort.
5. Affordable Pricing
Its pricing starts at $8.00 per user per month. There is a free version available as well. This tool is very affordable, which makes it great for influencers, especially beginners.
6. Social Media Monitoring
The social media monitoring feature helps you keep track of all social conversations, keywords, accounts, and hashtags relevant to your business. They are great for time-saving and increasing your efficiency. It is also beneficial for Instagram influencers' growth.
Finding relevant keywords and hashtags is very time-consuming, but SocialBu can handle it easily by monitoring the trends, relevant hashtags, brand mentions, etc. All this helps your agency to keep up with the trends and offer better services to your clients.
7. Be Consistent, Become a Famous Instagram Influencer
With this fantastic tool, you can easily be consistent and, as a result, grow your followers quickly and become a famous Instagram influencer.
Conclusion
This was our complete guide to help to know what it takes to become a successful Instagram influencer. It's all about the content that you share and the way you share it. How powerful and unique your content really is. If you are passionate about being an influencer and are not doing it just for fame and money, following this guide will surely help you succeed. And if it is really worth getting attention and success.
So, if you think you have all it takes to be an Instagram influencer, go out there and try your luck with the tips mentioned above. Prove the Instagram world what you have in your mind and shine out to be a successful Instagram influencer. To effortlessly post creative content and be consistent, SocialBu is there to help you actively manage your work.
Now, how successful you will be, depends on how hard you work and how closely you follow our guide. We wholeheartedly hope that you find success as an Instagram influencer very soon.