Hootsuite is one of the best social media platforms out there. But there is something that might hurt the sentiments of its free users. Hootsuite is ending its free version soon, on March 31, 2023. The free plan users must now upgrade their accounts to professional ones. In this article, let's briefly examine this problem and a better Hootsuite alternative.
The End of Hootsuite's Free Version
Hootsuite decided to change its plan offerings. They proposed it because it is due to some API changes, and the free account offered limited access to the features. With the end of the free account, Hootsuite is offering one month free trials for all its price plans.
How Has It Impacted the Users?
It is good that Hootsuite is now offering a month free trial on their paid plans. But it still does not solve the problem.
Before this decision, the free plan allowed users to manage three social media accounts with 30 post-scheduling. But now it is even reduced to 2 social media accounts with five post schedules per month.
People are clearly unhappy with this decision, as it seems the platform is forcing them to upgrade.
SocialBu: A Potential Hootsuite Alternative
As Hootsuite is ending its free version, it has become a hindrance for those who were free users. It is a sour topic because Hootsuite paid plans are very costly, and people usually cannot afford them for personal use. So they relied on the free plan.
However, there is never a problem without a solution. You can try the best Hootsuite alternative, SocialBu, instead. A user-friendly social media management and automation platform that offers the most competitive and cost-effective features.
Is SocialBu the Best Alternative?
The answer is YES. Users always look for something that offers the best services but wants it to be cost-effective as well. SocialBu is one of those tools that offers almost all the features every other SMM tool offers but at a much less price.
Why Users Should Consider Switching to SocialBu
The professional plan, in which a user can manage 10 accounts simultaneously with unlimited scheduling, costs $99/month.
Whereas the standard plan of SocialBu, which allows 12 social accounts and 2 teams as well, starts only at $19/month.
A huge difference in terms of price and close to no difference in its services.
Comparison of Hootsuite and SocialBu
Let's take a close look at the features both tools offer.
Hootsuite's Features
The following are the main features offered by Hootsuite.
Planning, creating, scheduling, and publishing the content.
Advertising the content by boosting the posts and managing them from different social media platforms in one place.
Engaging the customers by managing the messages and comments on your social media platforms through automation.
Monitoring activity on your social media accounts.
Analyzing the results of your posts and marketing strategies.
Access to 150+ integrations to create and manage your content.
Hootsuite is compatible with TikTok, Instagram, LinkedIn, YouTube, Facebook, and Twitter.
SocialBu's Features
Below is a brief explanation of SocialBu features.
Publishing
Allows you to create, schedule and publish posts, stories, and reels for your social media platforms individually and in bulk as well.
The social calendar shows you all the scheduled content and allows you to change the dates and times. You can easily plan your daily, weekly, or even monthly content with it.
With the post-recycling feature, you can schedule and publish your best content keeping it ever-green. Post preview allows you to preview your post as it would look after publishing.
Respond
The automated response to messages, comments, and reviews lets you stay connected with your audience.
Monitor
The monitoring feature lets you track hashtags and keywords based on your niche.
Automate
It allows you to post from an RSS feed, give automated replies, and even allow webhook integrations.
Analyze
You can get insights about your posts and followers based on each post's likes, comments, and shares.
You can even analyze here what are your top-performing posts.
Collaborate
You can work with and manage multiple teams here.
You can have a shared inbox for team conversation.
It allows you to handle and collaborate with multiple brands here from one place.
Generate
A dedicated AI to generate the following for you:
Twitter tweets
Instagram captions
LinkedIn posts
Short posts
Compatibility
SocialBu is compatible with Facebook, Instagram, LinkedIn, Twitter, Google My Business, and Mastodon.
Other Free Tools by SocialBu
Generate Posts with Al
Al Caption Generator
Prompt Generator
Text2Img
Al Blog Image Generator
Al Quote Image Generator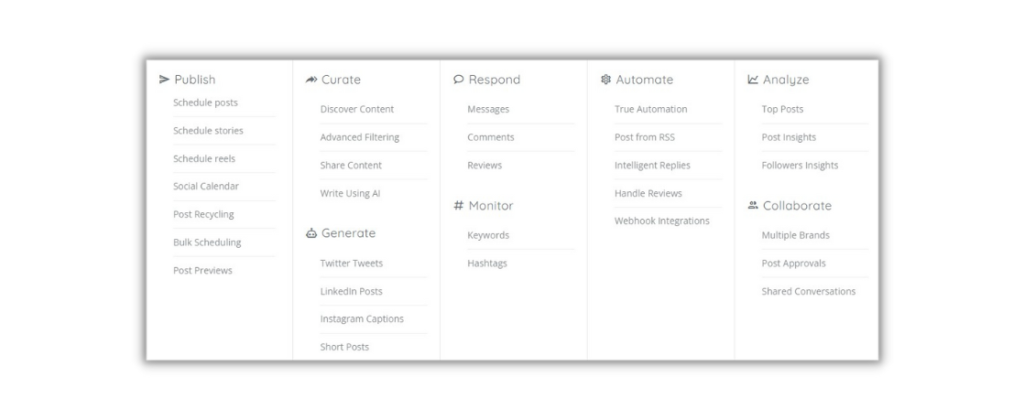 Similarities and Differences Between the Two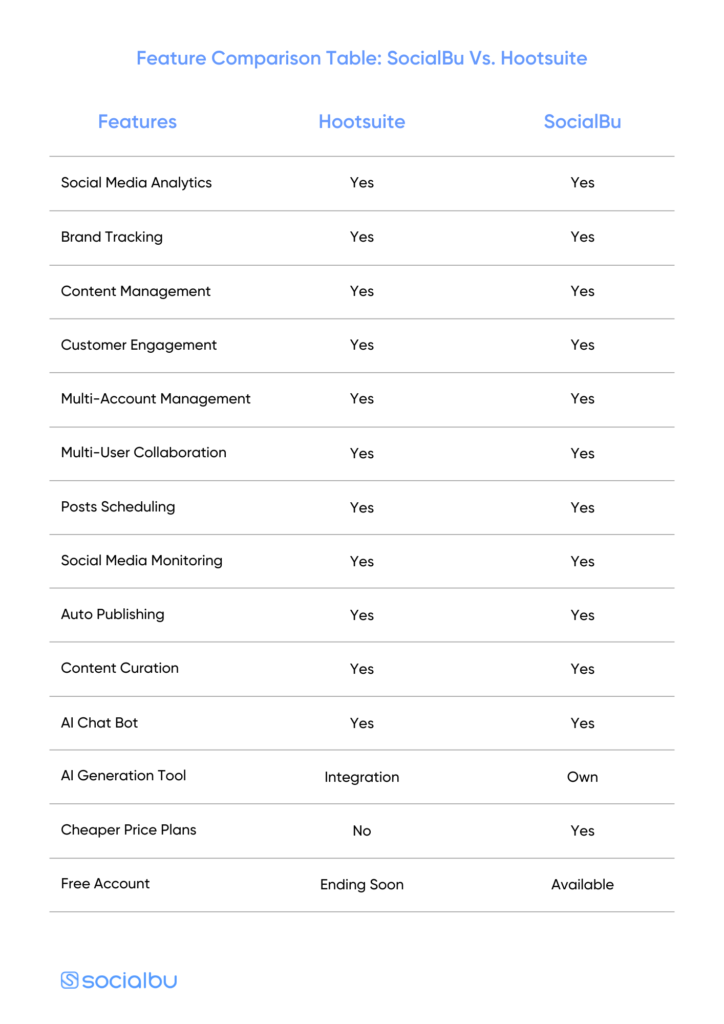 Benefits of Using SocialBu
After analyzing both tools, we can conclude that SocialBu can do everything out there to be called the best Hootsuite alternative.
With its extensive range of features, SocialBu is easily accessible and affordable for everyone. Be it a student, a small startup, or a big corporation, everyone can benefit from it.
Whereas if we look at Hootsuite, only the ones with a big marketing budget can afford this tool.
Reviews from satisfied SocialBu customers
Following are some reviews of our happy customers.
"SocialBu helps me stay on top of the social media game, creating compelling original content for my social media channels with its AI-powered features. I strongly recommend giving it a shot."
"Amazing experience! The product works very well without hiccups. Customer Service is very responsive and ready to help and answer any questions."
"I highly recommend Socialbu to anyone who wants to manage all their social feeds in one place effectively. It by far offers the most features for the money."
"It's been such an easy and smooth journey starting with SocialBu. Good pricing, an easy tool, and great support. A no-brainer."
How to Get Started with SocialBu
SocialBu has a free plan for everyone that allows you to handle 2 social accounts and schedule 40 monthly posts, and it does not need your credit card information either.
If you want to upgrade the plan, SocialBu offers three-price plans. Apart from these plans, you can also demand a custom plan if needed.
Standard- $19/month
12 social accounts
2 teams
No Phone Support
Super- $59/month
30 social accounts
6 teams
Phone Support
Supreme- $199/month
150 social accounts
25 teams
Phone Support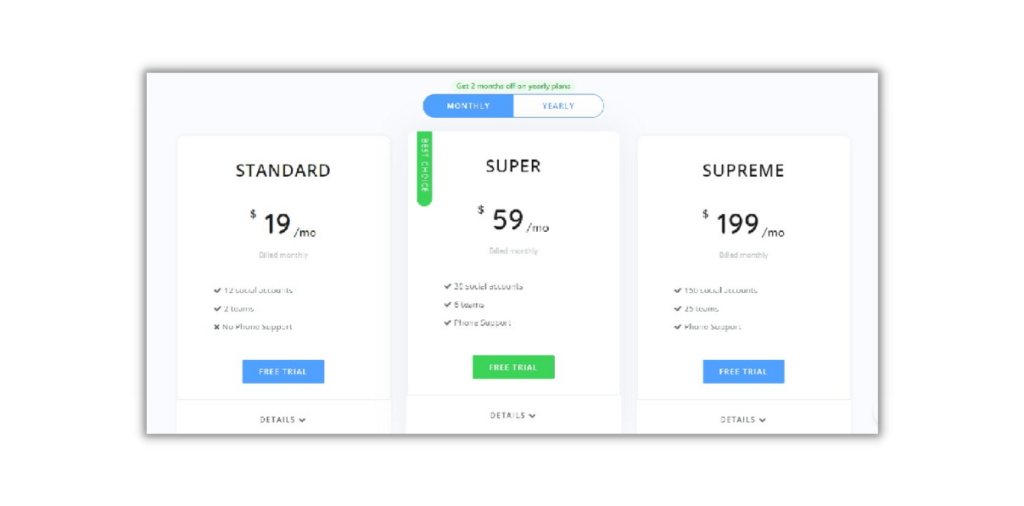 A Step-by-Step Guide to Sign-up For a Free Trial
Go to the SocialBu website.
Click on the "Try Now" button.
It will open an interface where you have to register yourself as a user.
Enter the details asked, or you can even join with your Google, Facebook, and Twitter accounts.
Make sure to check in all the requirements, and you are done.
You are now a free user and can manage 2 social media accounts here.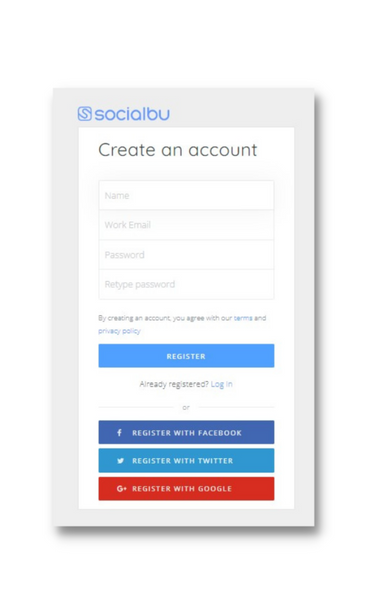 Use SocialBu to its Full Potential
SocialBu is a user-friendly platform. You can go to the SocialBu website and analyze the features it offers. Then you can check the pricing plans and choose the best suits your needs.
If you cannot understand anything, SocialBu has a section of Help Articles where you can get the answer to almost every question.
It even has a section of video tutorials where you can easily watch and understand the method to use this platform.
Still, you can always contact us if you need to share any ideas.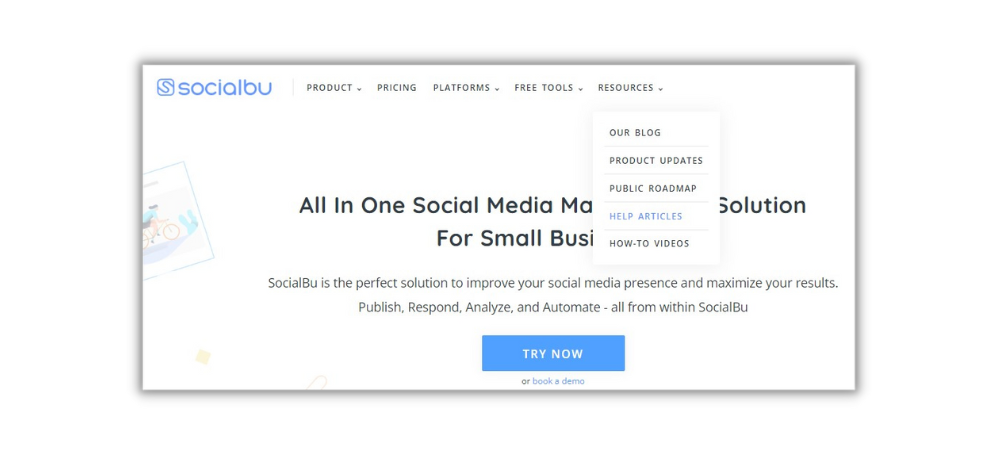 Conclusion
With all the features SocialBu has to offer in a much lower price range than Hootsuite and any other social media management tool, we can say that it is the best alternative.
SocialBu misses nothing that a social media manager or marketers may need. From planning the content to scheduling, previewing, and automating it, SocialBu can do all. The AI generation tool can remove the concept of writer's block.
We hope we have cleared everything up about the situation and given the best alternative, so give it a try and share your thoughts.