Reposting your Instagram stories is an excellent way to keep your followers engaged with your content and reach new audiences. This ultimate guide will walk you through the steps to repost your Instagram stories effectively, efficiently, and engagingly. With these tips and tricks, you can boost your social media presence and take your Instagram game to the next level.
Understanding Instagram Stories Reposting
Whenever someone posts an image or video on Instagram and has tagged you, you can repost that as a post or Instagram story.
But there are two conditions.
The posting account must be public.
You are tagged in the post.
Under these conditions, you can repost the content as your post or your Instagram story.
Why Is It Important to Repost Your Instagram Stories?
Reposting your Instagram stories is a great way to promote yourself on Instagram and with others.
How does it work? First, when someone tags you in their post, they make more people aware of your presence or business. Then you can repost content as your story or feed post.
It is essential because:
It will give them credit for their work.
It will show your recognition and appreciation toward others. Especially if you are an influencer or brand, people will be happy and impressed by you reposting your Instagram stories and giving them credit.
Reposting your Instagram stories increases your reach by exposing your content to more audiences.
It will ultimately boost your engagement and increase brand awareness.
A statistics study shows that 93% of people purchased the product after witnessing a positive customer review. So, when people review your product through Instagram, you should repost and acknowledge it. It will get you more traffic and sales.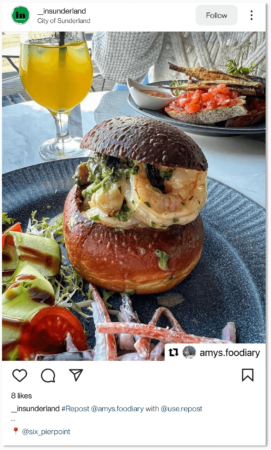 How to repost your Instagram Stories?
Well, Instagram sends you a notification whenever someone mentions you in their post. In addition, you get the option to "Repost" the content.
You can click on the option to share it with your feed. However, if you want to repost it as your Instagram story, click the arrow-like button under the post.
It will show you some options. For example, you can click on "Share as Story."
The post will open in your story tab, and you can edit it there and then post it.
Reposting Instagram Stories: Best Practices
Following are some of the best ways you can adopt for reposting your Instagram stories.
Identify the Types of Stories to Repost
Being famous has its perks because you are acknowledged by many, either on social media or in reality. As we discuss reposting your Instagram stories here, you will often see when users or followers will tag you.
Only some things they tag you in will be worth reposting. For example, people sometimes tag famous users or businesses in their posts to boost their reach and engagement.
Some people will create unique content revolving around you. It can be your services, your brand, or your product, or it can be your personality too. So you must acknowledge this type of content to repost as your Instagram stories.
Repost Stories that Represent Your Brand
Acknowledging user-generated content is one thing. Next is deciding which one to repost on your Instagram stories.
If you are a business, you should choose content that aligns well with your brand. It must be relative to your niche. It can be a video of a customer using your product or someone appreciating your services.
Reposting this UGC on your Instagram stories can boost your engagement and brand awareness on the social media platform.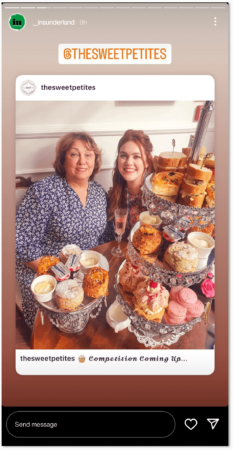 P.S.: You must always remember to give them credit.
Repost High-quality Content
One thing you must always strive for is the quality of content. Be it the one you are creating and posting or the one you are using for reposting your Instagram stories.
Posting or reposting high-quality content attracts the audience and increases engagement. People want to avoid reacting to stale content because they need something exciting and entertaining to react to.
Add Value to the Original Story
When you are reposting your Instagram story, you have the choice to edit the content and make it according to your preference. For example, if you are a business, add content like" See more for similar products" or "Explore more here" and add the link.
It will build interest in the viewers, who can further explore your products. This way, you are promoting UGC content and your business as well.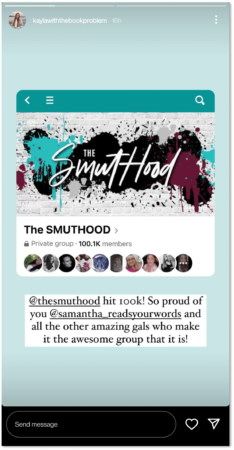 Engage With Your Audience Through Reposting
Your followers will love to interact with you. Reposting your Instagram stories is a great way to interact with your customers.
For example, you can repost the content in your stories and ask the audience if they would like more products like this. Or what do they like most about your products? Or what things would they like you to change?
It costs nothing to ask them but builds a connection between you and them. Your followers will understand that you value and acknowledge their opinion and will be more than happy to refer you to others.
Tools for Reposting Instagram Stories
After knowing the importance of reposting, here's how to do it seamlessly.
Manual Reposting
Manual Reposting means taking a screenshot or saving the content and then reposting it on your feed or Instagram stories by mentioning the original creator. Although there is nothing wrong with manually reposting something, it is much better to repost the content directly.
It will save you some minutes and extra effort to optimize or edit the content and then repost it. And the original creator gets the credit too.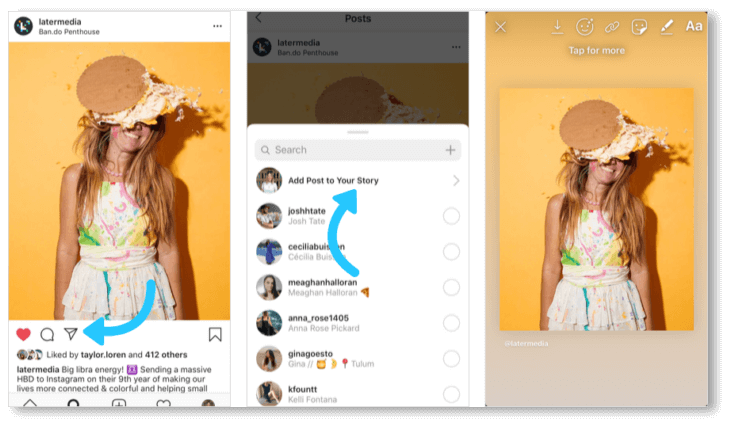 Image Source: adobe.com
Third-party Apps
You can save the content you intend to repost, edit, publish, or schedule through SocialBu. It is best when you have a lot of accounts to work on or a lot of content to handle. Then, you can plan the content using SocialBu and schedule your content with appropriate acknowledgment.
Instagram's Built-in "Repost" Feature
When the creator tags you in their post, Instagram will allow you to repost the content in the notifications. You can click on it and add things you want before reposting it. But remember to give credit to the creator.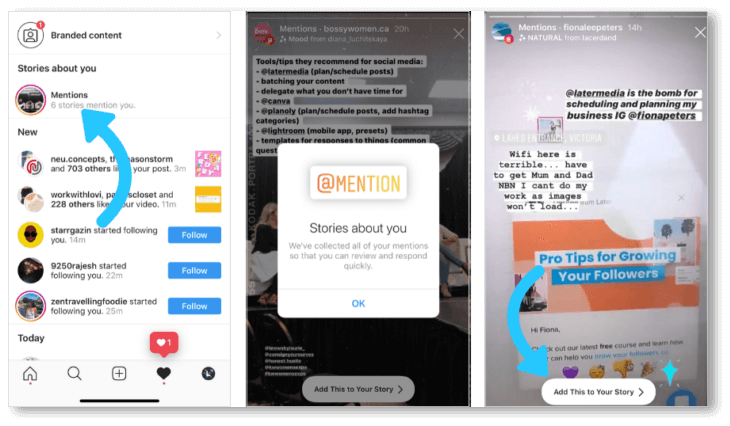 Image Source: adobe.com
Tips for Optimizing Instagram Story Reposts
Following are some tips for reposting your Instagram stories and making them more attractive.
Use Hashtags
When reposting something on your Instagram stories, you can add effective hashtags related to your services, business, or brand that will drive traffic toward you. Add only relative hashtags, and do not use more than five hashtags.
Add Captions
You can add captions to explain the product further or to thank the creator. It shows your interest in their efforts and acknowledgment of your services which is another excellent way to make people happy.
Include CTA
You can also add a proper CTA when reposting your Instagram stories, as mentioned above, like." Click here to see more" or "Find similar products here," or you can even offer some limited discounts like "Grab now and get 10% off." It is a great way to boost engagement on your Instagram stories.
Monitor the Performance of your Reposts
Ensure to track the performance of your reposts. Analyze the factors that may improve the results and see how you can improve. You can use Instagram Insights or analyze your performance using SocialBu.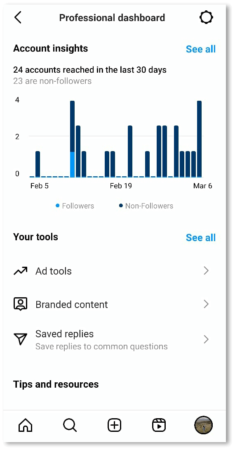 Conclusion
By following these practices and using the right tools, you can repost your Instagram stories effectively and efficiently. Remember these tips as you create your social media strategy, and watch as your Instagram game reaches new heights.