Hailed as the top platform for B2B and Professional Networking, LinkedIn offers a unique environment to differentiate and grow your business without paying the relatively high advertising costs of other social media platforms.
With over 260 Million Monthly Active Users, it'd be a smart move to prioritize LinkedIn for your Social Selling Campaign, and once your growth objectives are defined, this article will help you in achieving them.
LinkedIn Automation
As competition on all social media platforms becomes more intense each day, people are putting more manual effort into the traditional sales funnel and not realizing this isn't the optimal or scalable way forward.
Repeating mundane tasks such as liking, commenting, messaging, and profiling hundreds of potential leads requires a very high number of staff hours, but is there an easier way?
With automation tools built for LinkedIn, such efforts can be left to software that allows you to focus on the key strategies or personal conversations that genuinely require your human touch and focus.
Since LinkedIn is the land of professionals, the list of tools below takes on various aspects of marketing required for boosting your brand awareness and loyalty among this network, without any human effort.
Automation means you can connect with a wide range of customers, followers, brand ambassadors, and evangelists with customized messages and interactions (likes, comments, reacts) for enhancing their attachment to your company and not require any extra resources in doing so.
Here are the best LinkedIn Automation Tools that will help you do just that in 2020:
Launched by LinkedIn themselves to facilitate networking between buyers and sellers, you can apply the LinkedIn Sales Navigator to your Social Selling process and boost the efficiency of lead hunting.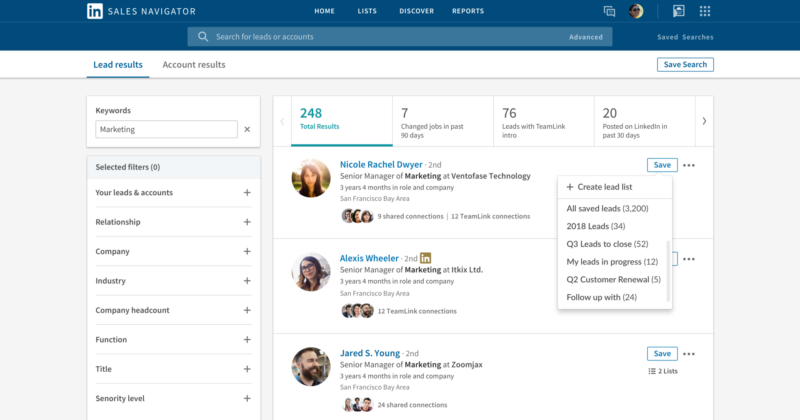 It also integrates with most of the tools on the list to provide an extra set of features, adding to its own:
An advanced search algorithm seeks out the prospects best aligned with your sales offerings and enables you to get notified of recent matches, saving all targets in customizable lists.
True to its name, the Sales Navigator also provides powerful insights for ensuring that your sales pipeline is optimized according to your target market.
Social Selling is also helped by relationship-building tools that help you gain customer intimacy and trust for the brand, making it easier to close sales.
TeamLink and CRM integrations enable Sales Navigator to identify the best methods to connect with prospects and seamlessly integrates them with the internal CRM System.
Optimized for LinkedIn Content Marketing, SocialBu hosts a variety of features that enable hassle-free posting, recycling of LinkedIn posts, managing your following in real-time and many more, that'll be sure to make your LinkedIn life easier.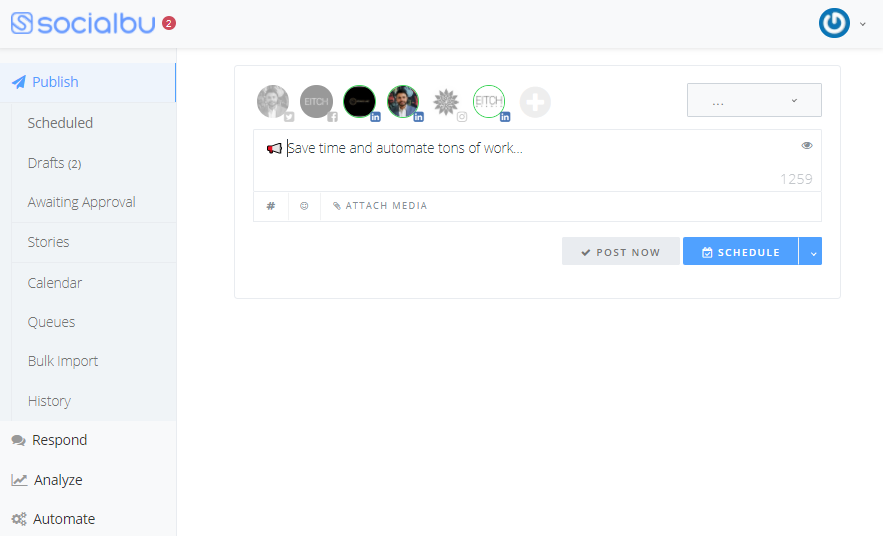 This suite of features ensures that your content is seamlessly published, and the audience is kept engaged with the content that they want to see:
Visually appealing and integrated Social Calendar presents your social media content across all major social media platforms and makes life easier by allowing the upload of content in one click.
Bulk Scheduling allows you to schedule hundreds of LinkedIn posts at once from CSV files and ensures your following remains engaged. Unique to SocialBu, you can even natively attach videos for that extra engagement boost!
Detailed Follower Analytics provides insights into the reception of content by the audience. This way, you'll know which type of posts your followers are loving best.
With Post recycling, you can automatically re-upload that evergreen content your followers adore to automatically spark new life into your timeline.
The Auto Posting from RSS Feeds feature can also be leveraged to keep feeding your audience with fresh posts automatically and boost brand visibility among your fans.
One of the most popular and powerful LinkedIn Automation Tools, Helper hosts a variety of features that integrate with Linkedin Sales Navigator, Recruiter, and more.

Extract thousands of contact details by sending personalized invites to 2nd and 3rd-level contacts so the Auto-Mailing system can then automatically reach out to them.
One unique feature offered by Helper is Endorsement Automation, which automatically generates endorsements for 1st level contacts and enhances the chances that they'll leave you one too, enhancing profile visibility and ranking.
Auto-Responder can send messages to profiles that have recently accepted you as a connection and follow up on engagement without your manual input.
The Powerful Lists manager enables your creation of multiple lead generation funnels, so contacts of unique campaigns don't intersect. At the same time, Auto-Visitor can also tell you which of them visited your profile and are deeper in the funnel.
Formerly known as Leonard, Alfred is popular among 30,000+ businesses for its sophisticated automation that claims never to feel 'bot-like' while maintaining high levels of network growth.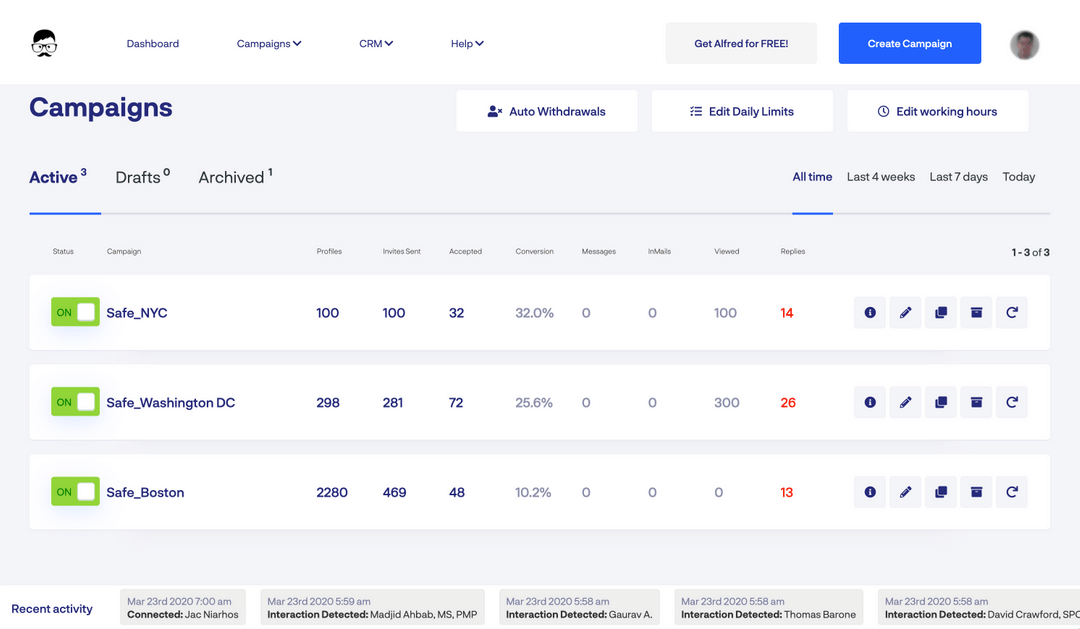 Source: Alfred
The Global Dashboard presents a summary of the detailed analytics run for your LinkedIn account posts and network, offering a drill-down feature to go deeper and focus on key metrics.
Precise Funnel Tracking shows you exactly which stage of the sequence each lead is on, and A/B testing for campaigns can help in optimizing the effectiveness of each piece of content in parallel-run campaigns.
The Auto-Visit feature is a subtle method to gain traction on LinkedIn as Alfred will access profiles of connections on random intervals. Because they get a notification, they will be tempted to view your profiles, depicting interest in a prospect.
CRM and Team Integrations allow Alfred to run seamlessly alongside your internal systems across various campaign teams. Additional features of Activity Logs, Predictive Throttling, and Central Billing ensure you don't go over budget while managing multiple active accounts.
A cloud-based LinkedIn automation tool, Zopto is common among sales development teams, and startups for their automation processes integrated into the lead generation process found within LinkedIn Sales Navigator.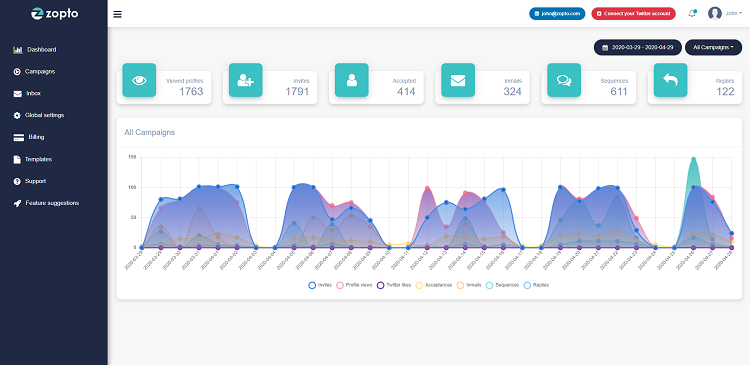 Source: Zopto
An allowance for unlimited campaigns and A/B testing means that your content can be thoroughly vetted to decide on the best content messaging and positioning.
Content & Audience Filters allow you to search for customers most receptive to your offerings and then customize which level of engagement you'd like to engage with them.
The Live dashboard graphically visualizes data from all your campaigns, showing an overview of detailed stats collected on 'Hot Leads' and other key campaign performance metrics.
For engagement, Zopto offers multiple features like Free InMail, Connection Invites, and Sequential Messaging that automate the relationship-building process with hundreds of customers in one go.
With over 50,000 users, Dux-Soup also aims to eliminate the leg-work generally involved in lead generation by automating the routine networking processes and boosting your profile's reach.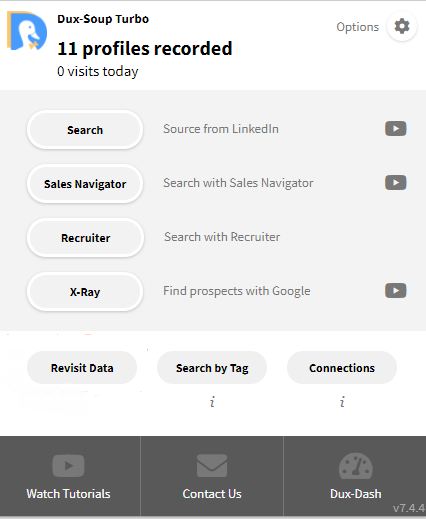 Source: Dux-Soup
Drip campaigns can be set up to establish steady engagement with customers, and these conversations can be automatically halted for prospects once they have responded to your messaging.
For LinkedIn profiles that have replied to automated campaigns, their data is downloaded and tagged for next follow-up actions, or profile lists can also be uploaded for sales campaigns that are micro-targeting users.
Customer profiles details can be easily downloaded with DS and fed to your CRM for streamlined lead management. Tags and notes can be used to notify team members of each lead's history and context.
LinkedIn's Fair use limits aren't breached because of the randomized intervals between automated interactions that take place within scheduled hours.
One of the most innovative LinkedIn automation tools right now, the Crystal Chrome Extension specializes in 'Personality AI,' claiming to be a game-changer for sales, recruitment, and marketing professionals on LinkedIn.
By scraping 'thousands of online public sources,' Crystal presents an overview of your prospect or customer's personality and offers multiple benefits:
The Chrome Extension blends seamlessly into the LinkedIn Browsing experience and displays a brief overview of any user's personality as a sidebar.
The Crystal Knows website will offer a detailed overview of users with an accuracy confidence score based on the quality of its sources. The Playbook section describes in detail how any LinkedIn user will prefer to be approached for general contact or sales pitches.
Personality filters will also enable you to customize campaign messaging according to different types of people and exclude user types that aren't prone to such types of products or pitches.
Targeting agencies and social media managers running multiple accounts, Expandi claims to generate '10x more leads' with an emphasis on being the world's safest social selling automation tool.
When it comes to LinkedIn's Fair Use policy, they fulfill this claim by providing dedicated IPs to all users and providing other unique features, such as: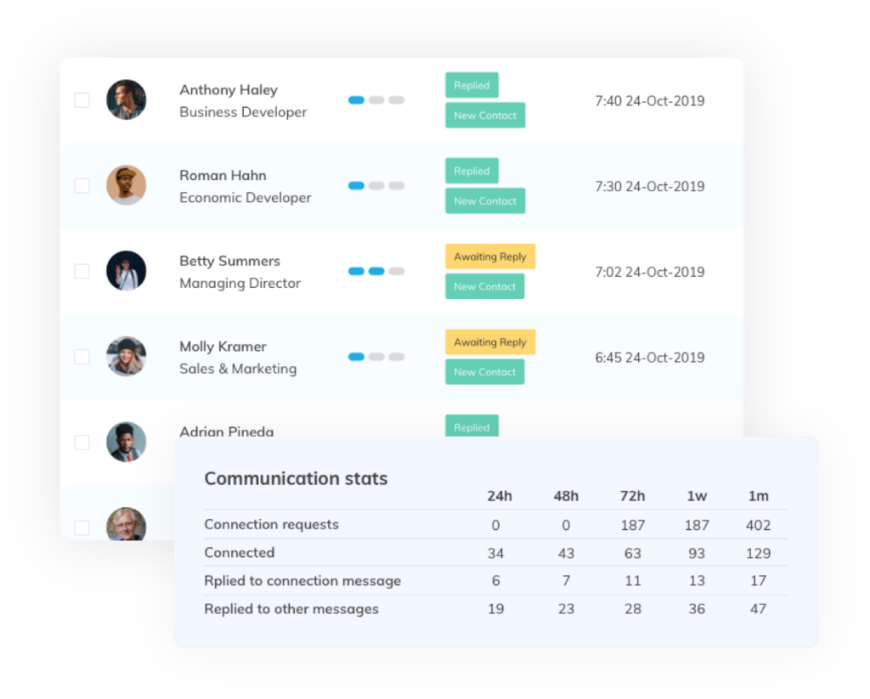 Source: Expandi.io
Smart Inbox displays all your conversations in one place, so you don't have to leave the app to review automated chats, flag important ones for team members, or reply with the full chat history available.
Campaigns can be scheduled to be executed later automatically and personalized according to each user with dynamic variables (name, company, job title) with just one click on the template editor.
Integrations with CRM synchronize your targeted user's profiles and interactions executed so that multiple accounts aren't targeting the same user in a waste of resources allocated for drip campaigns.
CSV files can be used to import customer data for campaigns or leads generated through Expandi can be exported and downloaded for further campaigns or other tools.
An all-in-one marketing software built for LinkedIn, Octopus relies on cutting-edge marketing automation and lead generation features for growing your network with minimum manual input.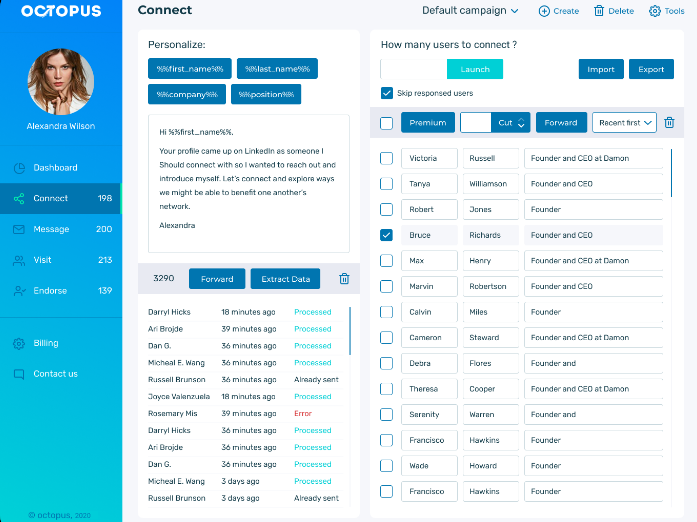 Source: Octopus
The Autopilot functions cover multiple aspects of LinkedIn growth hacking, such as personalized connection requests sent automatically to 2nd and 3rd level connections or customized messaging to 1st level connections while also endorsing or visiting their profiles to boost your profile's visibility.
The uncluttered and straightforward dashboard shows the outputs of your LinkedIn lead generation funnel and allows you to customize features, save prospects, and drill down into the detailed analytics gathered for your campaigns or profile ranking.
Campaigns can also be linked together to combine multiple automated actions while the Zapier Integration ensures data and actions are synced across all social media profiles.
Parting Note
You might've noticed similar features in multiple tools and become unsure about deciding on which is the best for your account so here's what we suggest:
Once you've defined your recurring campaign objectives and growth strategy, filter the tools that best match your account's needs, and begin the free trials offered by most of them.
When you've landed on one that fits your budget, interface preferences, and functionalities, purchase a subscription and let us know in the comments which you chose or if you're already using any LinkedIn Automation Tool.