Instagram introduced its awesome feature called "Nametags" in October, 2018. Since then it has become an essential part of many brand's marketing strategy. Instagram nametags are similar to the QR codes offered by Snapchat. By scanning this QR code, people can easily find and follow your account, which is why it is excellent for marketing. Instagram also offers nametag customization in various ways such as adding designs, colors, stickers, or AR-embellished selfies. In this article, we will tell you all about Instagram nametags and how you can use them for marketing. Now, without further ado, let's jump right in!
What are Instagram Nametags?
Nametags on Instagram are almost the same as Snapchat's QR codes and Facebook's messenger codes. They are designed to be scanned quickly. They are great for marketing purposes because your customers can easily find you on Instagram. You can also encourage your followers on other social platforms to follow you on Instagram by sharing your Instagram nametag.
How to Find & Customize Your Instagram Nametag?
The nametag of your Instagram profile is automatically made, and you can find it at the top right corner of your profile.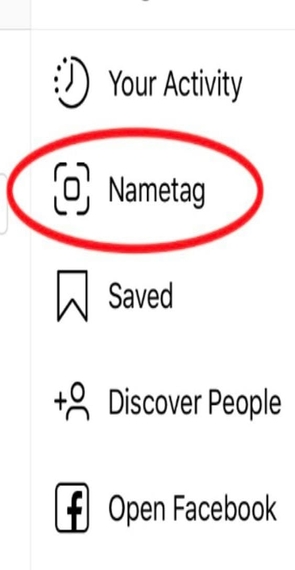 Click on "Nametag". Then tap on "Color", "Selfie", or "Emoji". To customize it choose the category you like, and then customize it by tapping on the screen. You can change colors, emojis, or choose any AR-embellished selfie. And, that's all!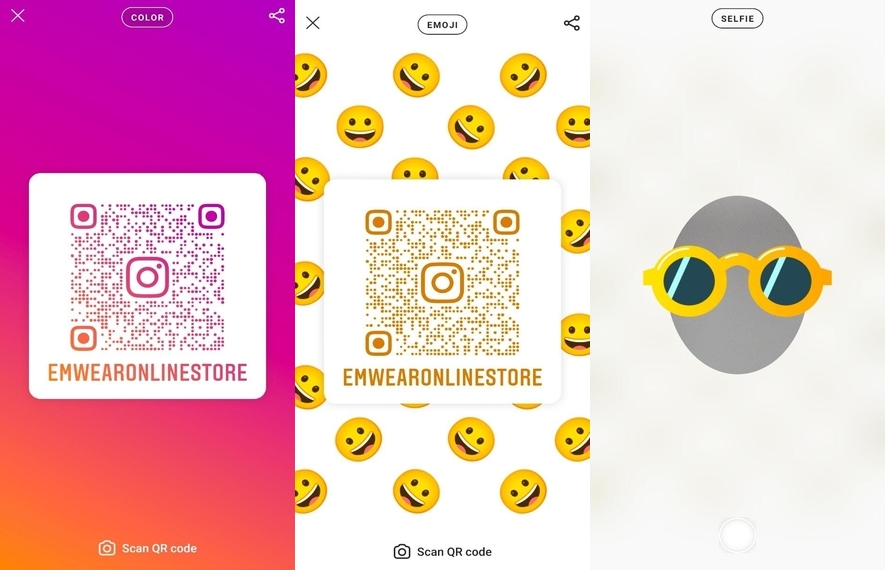 Importance of Instagram Nametags
If you've tried to grow your Instagram audience by telling your Instagram username to people, then you have most likely encountered situations where this becomes a complex process. The most prominent challenge is getting people to spell your username perfectly in the search bar on Instagram. If you have dots, underscores, abbreviations, or anything unusual in your username, the challenge is only intensified.
Name Tags are an effortless solution to this. They enable users to quickly scan your code without having to add or type any information. This way, the users can have immediate access to view your profile or follow you. Other than that, having your nametag on display highly encourages someone to follow you without you having to ask them to do so specifically. It is a less pressed interaction with your customers or audience.
How to Use Instagram Nametags for Marketing?
Being such an easy tool to use, you should take complete benefit of Instagram nametags. Here is how you can use this awesome feature for excellent marketing of your brand;
1. Printed Media
An excellent way to use your nametag for marketing is to add it on all your promotional printed media like brochures, manuals, advertisements, guides, stickers, posters, business cards, etc. This way, all your customers can easily visit your profile by scanning the nametag. And, if you have loyal customers, they will most likely want to follow you on Instagram. Nametags can help them do exactly that without any hassle.
A great tip is to display them at the counter of your store or restaurant. Display it at a place that people visiting your store will definitely look at, like the cash counter. Just like this;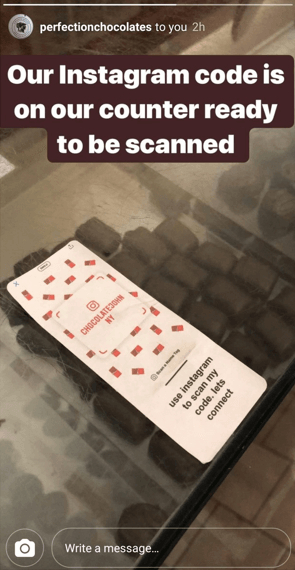 Source: @perfectionchocolates
2. Promote Nametags Online
You should use all your online platforms to promote your nametags. For example, you might have a bigger audience on your blog or your Facebook profile than your Instagram. So, you can promote your nametag on different social media platforms to benefit from the audiences you have on those other platforms. You can also promote your nametag by collaborating with influencers.
In addition to websites and social networks, your nametag can also be displayed in:
newsletters
email signature
on banners of various PPC campaigns
online PDF materials
PowerPoint presentations, etc.
3. Networking
Networking is essential when it comes to marketing. This is why marketers usually attend business conferences and networking events to promote their company. A great tip is to use your nametag as your phone's lock screen whenever you go to any networking events. So, whenever someone wants to connect with you, you can show them your nametag. Setting your nametag as your lock screen's wallpaper is a quick and handy way to let people scan it and follow you.
4. At Conferences/Corporate Events
A great way to use Instagram nametags for marketing is to display them at events like expos, conferences, and corporate events. The reason is, mostly you are at these events to promote your business. So, providing your Instagram nametag to the people present at that event will allow them to connect with you on Instagram quickly. This can increase the chances of having more followers and sales even after the event has ended.
5. Physical Locations
Signage in physical locations is a simple reminder for your visitors to maintain their experience and follow you online. An excellent marketing tip is to design your signage with your Instagram nametag to obtain more followers. Then, you have to motivate people to follow you as well. You can highlight Instagram exclusive content, a special discount, or run a competition to get people over to your Instagram account.
There are various ways you can use this feature to help increase your following. Rather than just noting that "we're on Instagram" or including the Instagram logo someplace in your store, try using the nametag instead because it is a quick and easy way for people to connect to your Instagram presence.
6. Cross-Promote on Other Social Platforms
If you have a big audience on your blog or other social channels, then you should add your nametag there in the form of a pop-up. You can also mention it in the header or footer of your website.
Viewers of your blog are already interested in your content, so they might want to follow you on Instagram as well. With the help of your nametag, all your viewers will be able to find your Instagram profile and follow you easily. This is a great marketing tactic that will help you increase your Instagram followers and promote your business on a bigger scale.
Just like @amyboylephoto did here;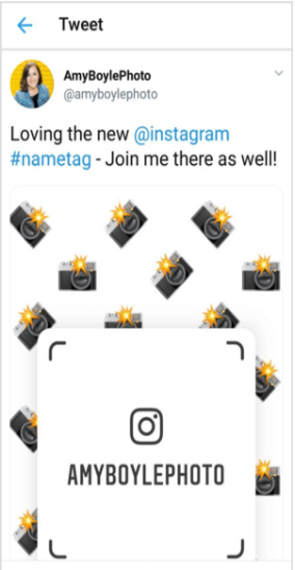 How to Encourage Users to Scan Your Nametag?
After you decide which way you will promote your nametag, the next step is to encourage users to scan it. Here are some tips for doing that;
Provide your users a simple guide about how they can scan your nametag easily.
Promote your nametag while conducting marketing activities like a giveaway or a contest.
Include the nametag as a way to enter a fun contest.
If your brand is offering deals or discounts, share your nametag with that offer.
These days, many brands are using nametags for their marketing purposes. So, make sure to show people what benefit they will get from using your nametag and following you.
Conclusion
One of the best ways to use Instagram nametags for marketing is through printed media. This idea works great if you have any physical presence of your brand like a store, office, or a restaurant. You can put it on brochures, manuals, advertisements, guides, stickers, posters, business cards, etc. You can promote your nametags on other social media platforms like Facebook or Twitter to bring in more traffic to your Instagram account.
Networking is essential when it comes to marketing. A great tip is to use your nametag as your phone's lock screen whenever you go to any networking events. So, whenever someone wants to connect with you, you can show them your nametag.
Overall, make sure that you use this amazing feature in the best way for the marketing of your brand. It will help in increasing your Instagram followers as well as your brand's recognition. And, the best thing is that Instagram nametags are hassle-free to use.