Learn how to Stitch on TikTok, where 1.7 billion active users unleash their creativity and collaborate with creators in real-time. Stitching on TikTok isn't just a feature; it's a gateway to boundless creativity. It allows you to select a snippet from someone else's video and infuse it with your magic.
Whether you want to share your perspective, craft remixes, or react to trending videos, stitching is your ticket to joining viral conversations.
If you aren't tech-savvy and want to explore TikTok's Stitching feature, stick around. This step-by-step tutorial will show you how to Stitch on TikTok and leverage this innovative feature to supercharge your TikTok marketing strategy.
What is Stitch on TikTok?
Stitch on TikTok is a fun and versatile feature that allows you to take a short snippet (up to 5 seconds) of someone else's video and incorporate it into your content. If you want to enable other TikTok users to Stitch your videos, be sure to activate the Stitch settings for each of your posts.
TikTok provides you with three options to choose from regarding who can use the Stitch feature with your videos. These options are:
Everyone
Mutual followers
Only me
Now that you've got a clear idea about TikTok stitching let's proceed to the main section: how to Stitch a video on TikTok in just a few minutes.
How to Stitch on TikTok
Here is a step-by-step tutorial on how to stitch a video on TikTok:
Step 1: Getting Started
To get started, ensure your TikTok app is updated. Then, open the app and head to your home screen. Browse through the videos until you find one you want to stitch with.
You can directly go to your favorite creator's account and search for his videos to stitch with.
Step 2: Sharing and Selecting "Stitch"
Tap the share/send arrow on the right side of the video.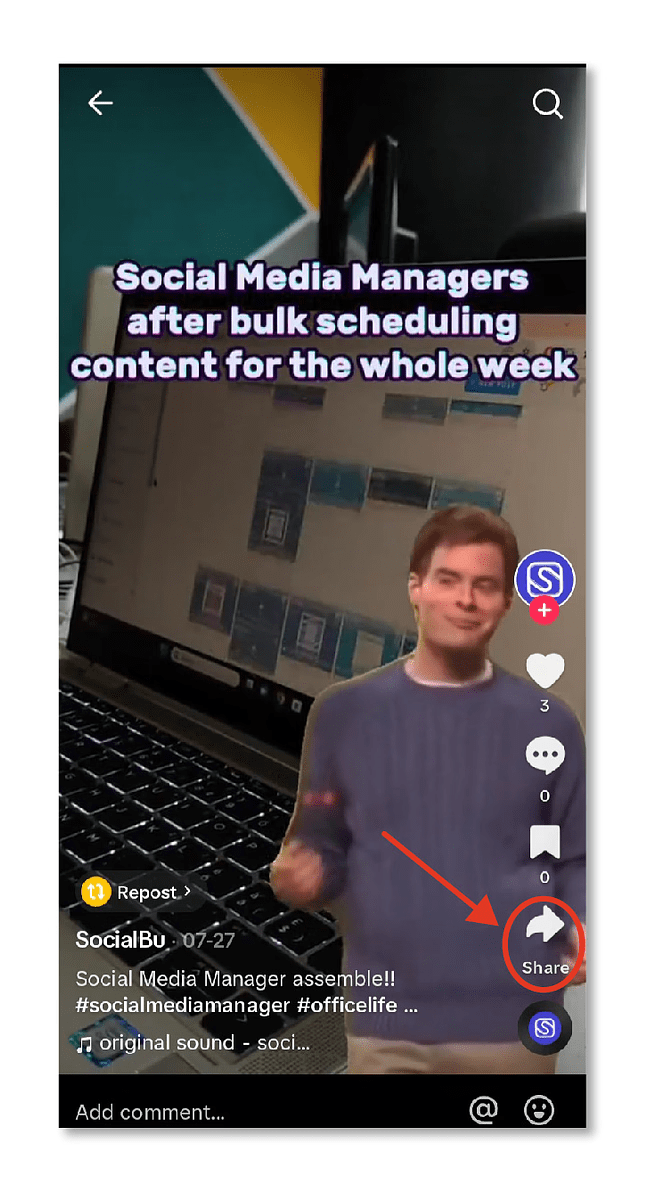 A menu will appear; select the "Stitch" option.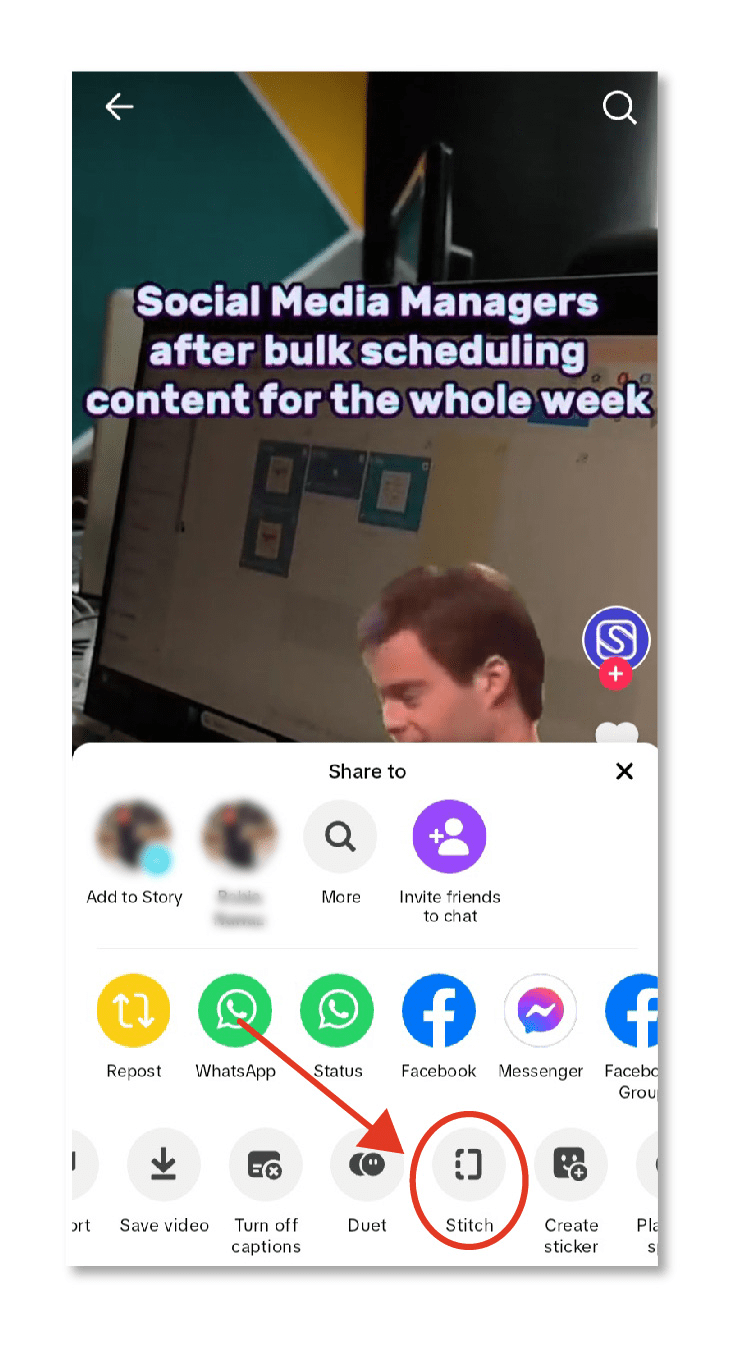 Step 3: Navigate the Stitching Interface
You're now in the stitching interface, where the magic happens! Select your favorite video part and click 'Next' at the top right.
Remember, you can only select up to 5 seconds from the original video.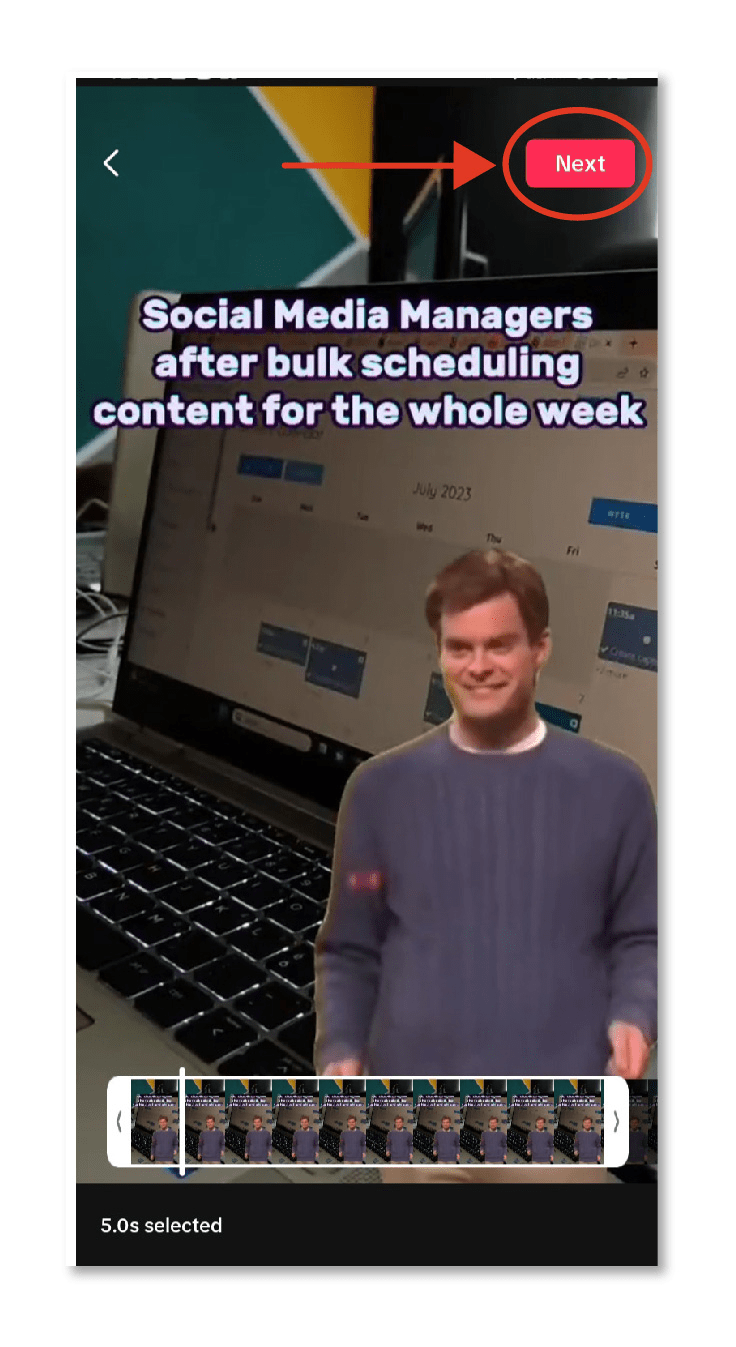 Step 4: Create a Stitch Video
Press and hold the record button to capture your reaction or response to the original video. Your video's duration must be longer than 3 seconds, as this is your chance to add your unique perspective or creativity.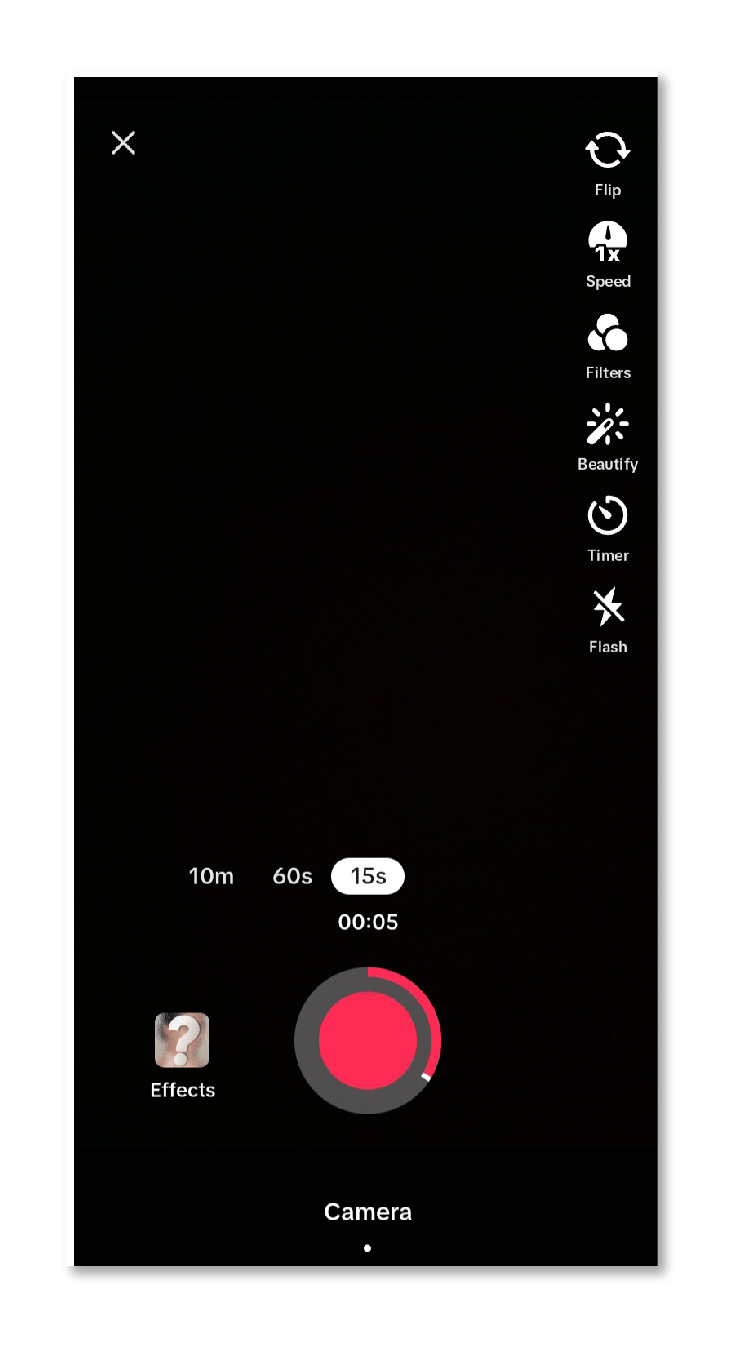 Click on the red check mark after recording your video.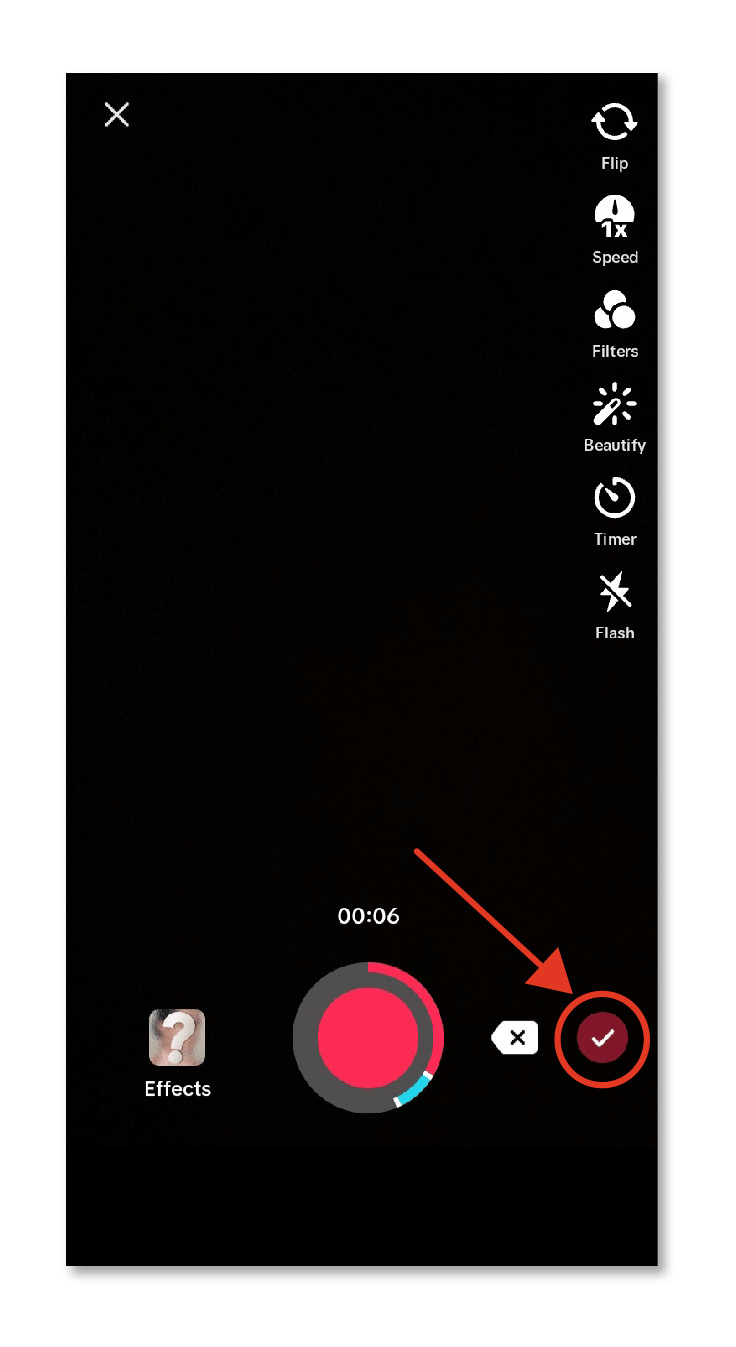 Step 5: Edit and Add Creative Elements
Explore the various editing options on the right side. Add captions, stickers, and other elements to make your stitched video pop.
Step 6: Preview and Publish
Tap 'Next' and take a moment to preview your stitched video, adjust your settings, and add a caption. Now hit that "Post" button, and your Stitch video is ready to create hype on TikTok.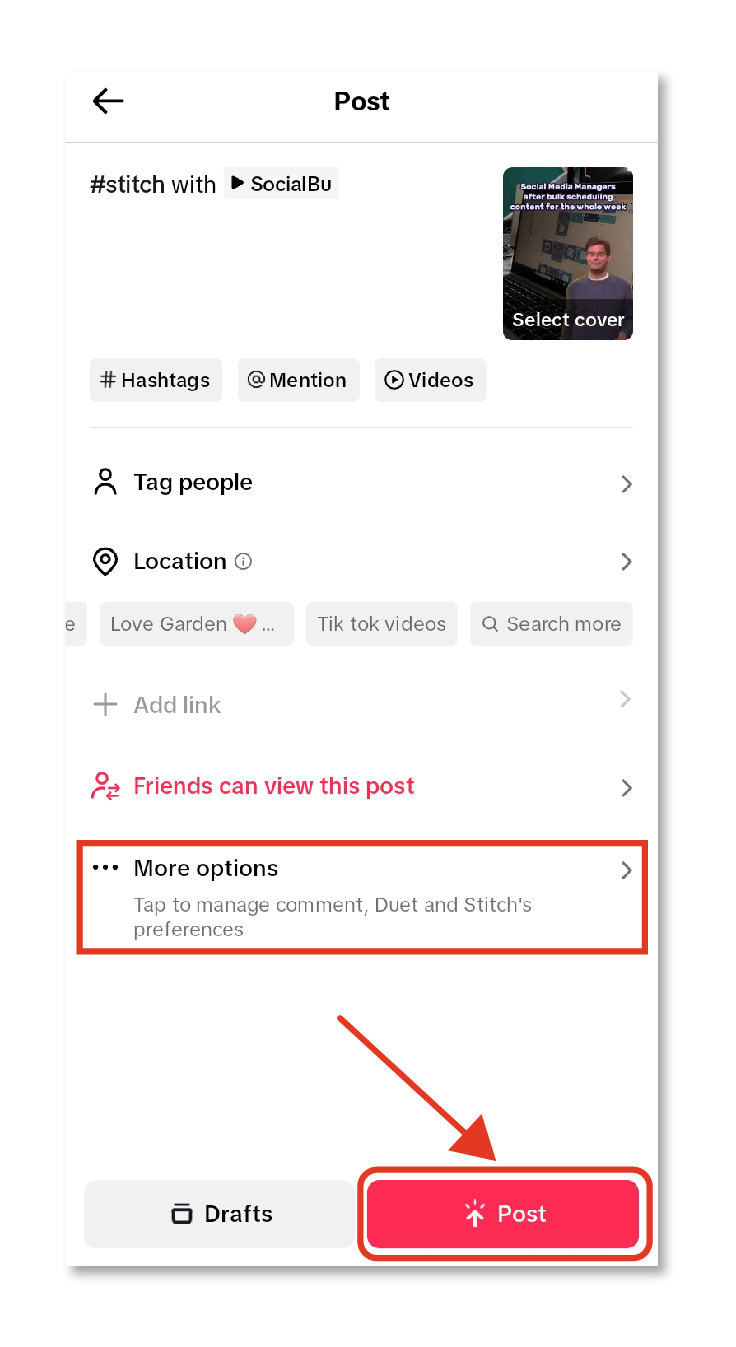 How to Manage Your Stitch Privacy Settings
Managing your Stitch privacy settings on TikTok is crucial to controlling who can stitch your content. You can turn the Stitch feature on or off as a user.
Here's a detailed, step-by-step process to help you do that:
1. To access your profile, open the TikTok app and tap the "Profile" icon at the bottom right corner.
2. Look for the three horizontal lines or dots (ellipsis) on your profile page in the top right corner. Tap on them to access the settings menu.
3. Within the settings menu, you'll find an option labeled "Settings and Privacy." Tap on it to proceed.
4. Now, click on Privacy.
5. Scroll down within the Privacy section until you find the option related to who can interact with your content.
6. Choose Stitch; you'll find the option "Who can Stitch with your videos/content."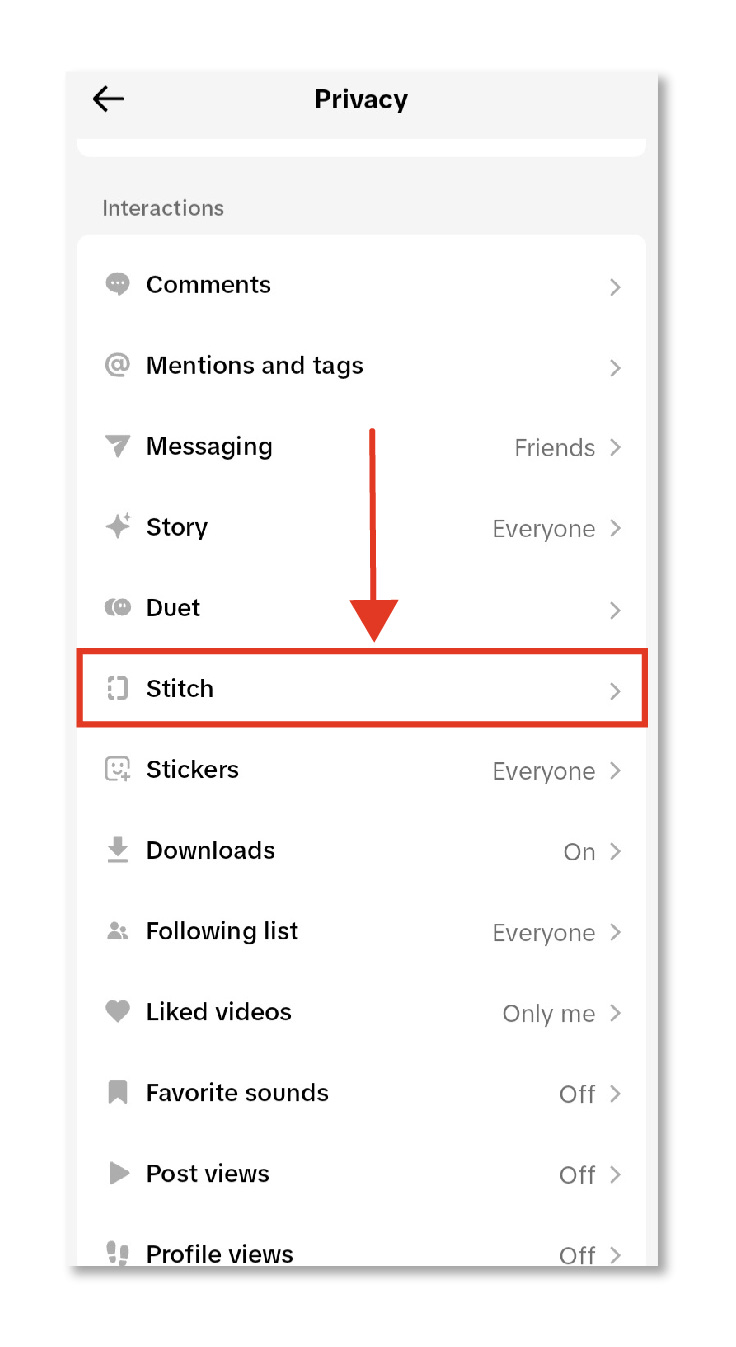 7. Here, you'll have three options to choose from.
Everyone: This allows anyone on TikTok to Stitch your content.
Friends: Only users you've accepted as friends on TikTok can Stitch your content.
Off: This turns off the Stitch feature entirely for your videos and sets it to 'Only Me.'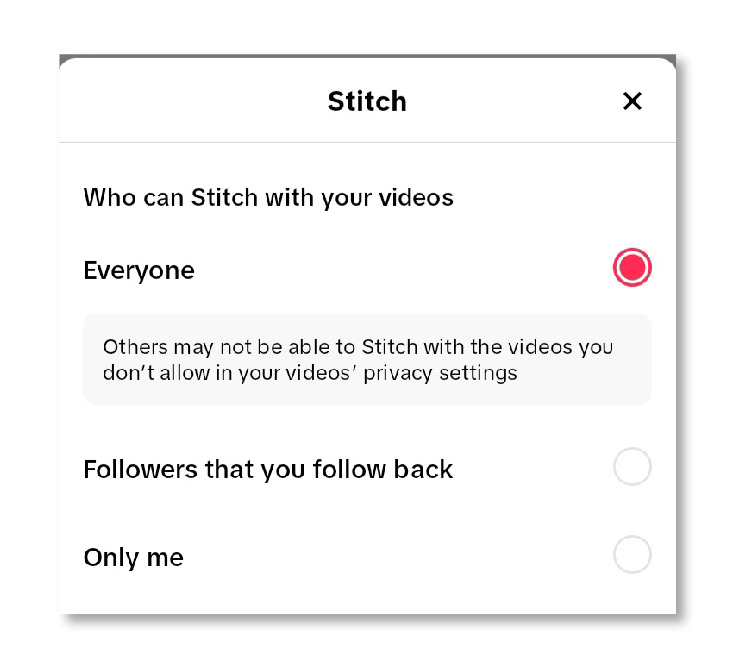 Choose your preferred option, and it's done.
You can turn the Stitch feature ON and OFF for the individual posts, too, just before publishing it.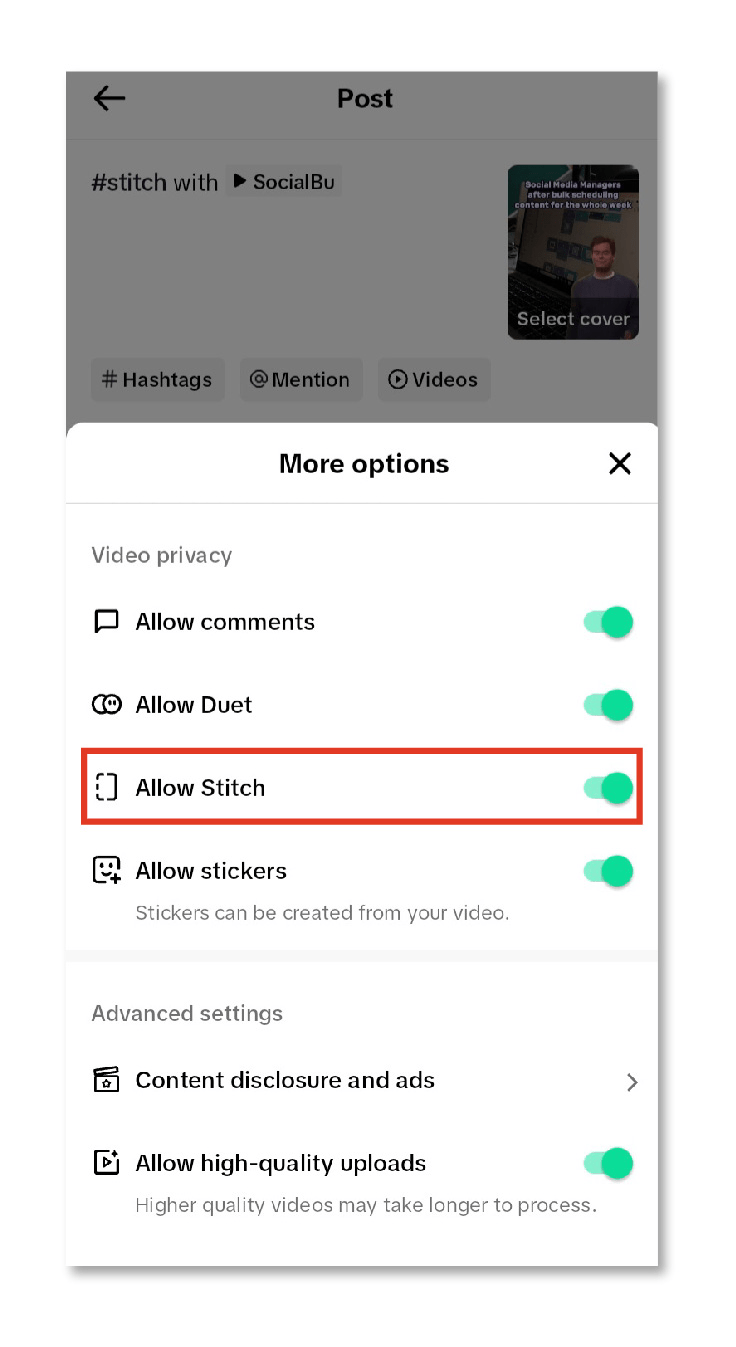 You have successfully managed your Stitch privacy settings on TikTok. The setting you choose will determine who can interact with your content through the Stitch feature.
Top Ideas to Make Terrific TikTok Stitch
Discover how to seamlessly integrate the Stitching feature into your content strategy.
Introduce your Brand's Product
Use TikTok Stitch to showcase your products in action. TikTok users are highly engaged with product review videos, making it a prime opportunity to gain widespread recognition for your offerings.
Introduce your product creatively within a context that resonates with TikTok's user base, and watch the magic happen. As users begin to explore and experiment with your products, they're likely to create their own Stitching videos. This will amplify your reach, making your product go viral.
Jump on Viral Trends
TikTok's virality and visibility of its content make it a top-rated app and it's one of the best social media platforms to find viral trends. Whether it's makeup and dance challenges, viral audios, or sharing personal experiences, TikTok is a hub of trending content.
Stitch gives you a fun way to participate in these trends and adds your unique twist or spin to them, along with relevant hashtags. Identify trends that are relevant to your brand and audience. It can help your business ride the wave of trending content and increase visibility and engagement.
One such kind of viral trend is #GreenScreenScan, which invites users to make videos in front of the green screen and show their talent. You can follow this trend to flaunt your creativity or product demo.
Respond to your Audience's Feedback
Engage with your audience by stitching their comments, questions, or suggestions into your videos. This personalizes your content and shows that you value their input, enhancing your connection with viewers. The more you develop a deeper relationship with your audience, the more they'll trust your brand, resulting in conversions.
Collaborate with Influencers
The TikTok Stitch feature has also sprinkled its charm on the influencer marketing industry, making collaboration more engaging and interactive. You can now collaborate with TikTok influencers in your niche in a fun way and significantly expand your reach.
Stitch with their videos to create a collaborative one that promotes your brand or product. It will help you tap into their established audience and boost brand awareness.
Narrate a Story
Use TikTok Stitch to tell a compelling story about your brand's journey, values, or mission. Use user-generated content to create an engaging story that resonates with your target audience. This storytelling technique can capture your audience and keep them engaged as they follow the narrative arc.
React to Behind-the-Scenes Clips
Though the ideas are endless, the key to successful TikTok Stitch videos is to be authentic, creative, and engaging. Have fun, and use this feature to show your creativity.
Remember to maintain a consistent style, pay attention to your audio, and leverage popular hashtags to increase the discoverability of your TikTok stitches. By incorporating these ideas, you can create terrific stitches that resonate with your audience and help you stand out on TikTok.
Wrap-Up
Now you know how to stitch on TikTok, so use this feature to boost your content creativity and engage your audience. So, open your TikTok and embark on your stitching journey but remember to be creative, showcase your uniqueness, and stay consistent to get the desired results.
Don't settle for ordinary; let's make your TikTok presence extraordinary with SocialBu. From engaging with your audience to scheduling videos, monitoring hashtags, and gaining real-time post insights, you can manage it all from a single dashboard. Try it for free today and elevate your TikTok marketing strategy.
FAQs
How can I See/Find Stitches on TikTok?
If you want to see or find TikTok stitches on TikTok, follow the below procedure:
Go to the TikTok app and tap the search icon.
Type in '#stitch @username' into the search bar.
Replace "username" with the specific creator's name whose stitched videos you wish to view.
Press the enter button, and now you can see all TikTok users' handles who have used the Stitch feature with that creator's content.
Can I Add a Pre-recorded Video to TikTok Stitch?
TikTok Stitch doesn't support adding pre-recorded videos from your camera roll. It's designed to capture your real-time reactions or responses to other TikTok videos. However, there is a complex way to do it: download the TikTok video you want to Stitch with and then upload it with your own reaction.
How to Stitch on TikTok with Sound?
When you start a Stitch, the original video's sound will automatically be included in your stitched video. You don't need to do anything special to include the sound.
What is the Difference Between TikTok Stitch and TikTok Duet?
Duet typically involves creating content in the split-screen form that complements or responds to the original. While Stitch incorporates a part of the original video into your content to make it a little longer and repost it.
Can I Stitch Every Video on TikTok?
You can Stitch most videos on TikTok, but it depends on the privacy settings of the original video. If a user has their video set to private, you won't be able to Stitch it. Otherwise, you can Stitch public or mutual friends/followers videos.