Every business wishes to establish credibility and enhance brand visibility online in this digital age. One way to achieve that is to have a verified Facebook page and account. A verified Facebook page lets your audience know you're an authentic persona and encourages them to engage more.
However, Facebook page verification may seem daunting due to its lengthy process, but not anymore. This comprehensive guide is here to take you through the step-by-step process of how to get your Facebook page verified and provide you with invaluable tips to increase your chances of success.
Let's get started!
What is Facebook Verification?
Facebook verification is a process that confirms the authenticity and notability of your Facebook page. This verification puts a blue checkmark next to your page's name to distinguish it from a fake or fan page. This assures your audience they are engaging with an official, legitimate, and reputable page.
Verification is crucial for businesses, public figures, and brands, as it helps them stand out and fosters trust. Moreover, Facebook prioritizes verified pages and accounts in the relevant search results, showing your account at the top. This not only enhances your search results but also improves your online presence.
Remember that Facebook has been withdrawn from gray checkmark verification; now, there is only a blue badge.
Facebook's Verification Guidelines
Although everyone can get a verification on their pages or profiles, this is not always the case. There are some sets of verification guidelines that your Facebook page must follow to get that most-wanted blue tick.
These are;
Be Authentic: Ensure that your page is authentic and shows that there is a real person behind it.
Be Unique: Be professional, and ensure there is only one authority page unless you run another account or page in other languages.
Be Notable: Your page or business is notable enough and gets plenty of mentions from others.
Completeness: Ensure that your Facebook page and account provide all the necessary information and are up to date. Carefully fill all the required sections, from About to profile picture and banner, and post some content.
You must follow these bare minimum guidelines to let Facebook verify your page.
Pro tip: To increase your chances of getting the Facebook verification tag, post authentic and informative content regularly and build credibility.
Reasons to Get Your Facebook Page Verified
There are plenty of reasons and benefits to convince yourself that getting your Facebook page verified is an excellent idea. Let's discuss them:
Increase Your Brand's Credibility
A verified Facebook page increases your brand's credibility. It signals to your audience that your page is the official representation of your business or public figure persona. This badge of authenticity increases your credibility as a reliable source of information, products, or services. As a result, your followers and fans are more likely to engage with your content.
Increase Online Presence and Search Ability
Getting your Facebook page verified will significantly boost your business's online presence. Facebook-verified pages enjoy higher search results within the platform and on external search engines. When people or potential customers search for keywords related to your services or business, your verified page will appear at the top.
Build trust and Increase Engagement.
Believe it or not, that little blue badge carries magic in itself. The magic is to attract more people to your Facebook page and build trust, leading to more engagements. People are more inclined to trust your content or products when they see a reassuring blue checkmark on your page. This increase in engagement will strengthen your online presence and create a community of loyal followers and customers.
Protection Against Impersonation
In the vast expanse of the internet, impersonation is a consistent threat. A fake person using your name can harm your reputation, deceive your audience, and even commit malicious acts. Facebook verification acts as a shield against such threats. And your online identity is safeguarded with this additional layer of security.
Now that you know everything about a Facebook-verified page and why getting one is important, let's jump to the central part!
How to Get Your Facebook Page Verified: A Step-by-Step Process
Getting your Facebook page verified is both simple and complicated at the same time. Some steps are simple, while others are complicated.
Follow these eight steps and provide the platform with everything they need. Put in a little effort and get that blue checkmark on your profile.
Step 1: Open the Verification Request Form
Head over to Facebook's verification request form to start the verification process. You will complete all the following steps after opening the form.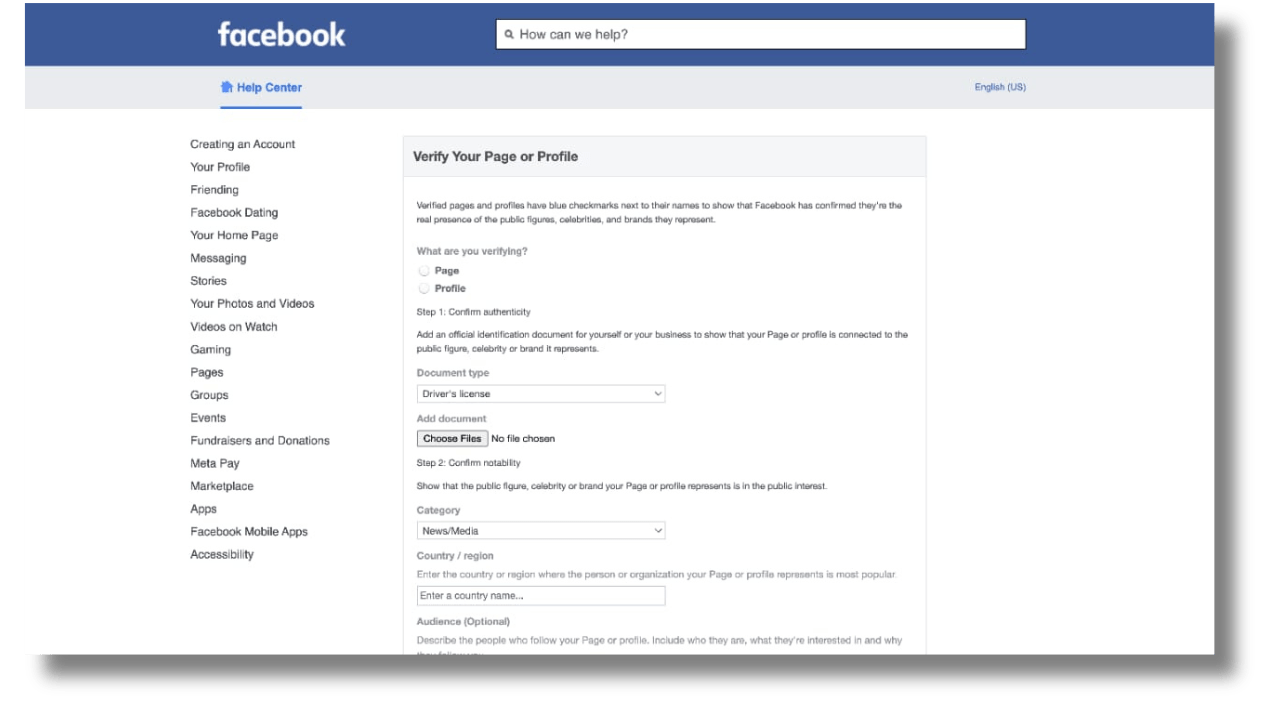 Step 2: Select what Kind of Account to Verify
If you are a public figure, Facebook also allows you to verify your personal profile. Stay logged into your Facebook account and select your preferred business page from the drop-down menu for verification. All the business pages you manage appear, making it easy for you to go through the process for your business or clients.

Step 3: Confirm your Authenticity
Now, it's time to prove your Facebook page's authenticity. Verified Facebook pages prove to your audience that your business is authentic. Therefore, Facebook demands credible documentation to approve your page's verification.

You must upload a copy of the following documents:
National identification card
Passport
Driver's license
Recent utility bills
Tax filing
Articles of incorporation
Click on the Choose Files button to upload documents.
Step 4: Confirm your Notability
You can confirm your notability by selecting a category for your Facebook business page or profile. This step is essential while verifying your profiles since Facebook wants to ensure that your page or profile has something people are searching for or find interesting before verifying it.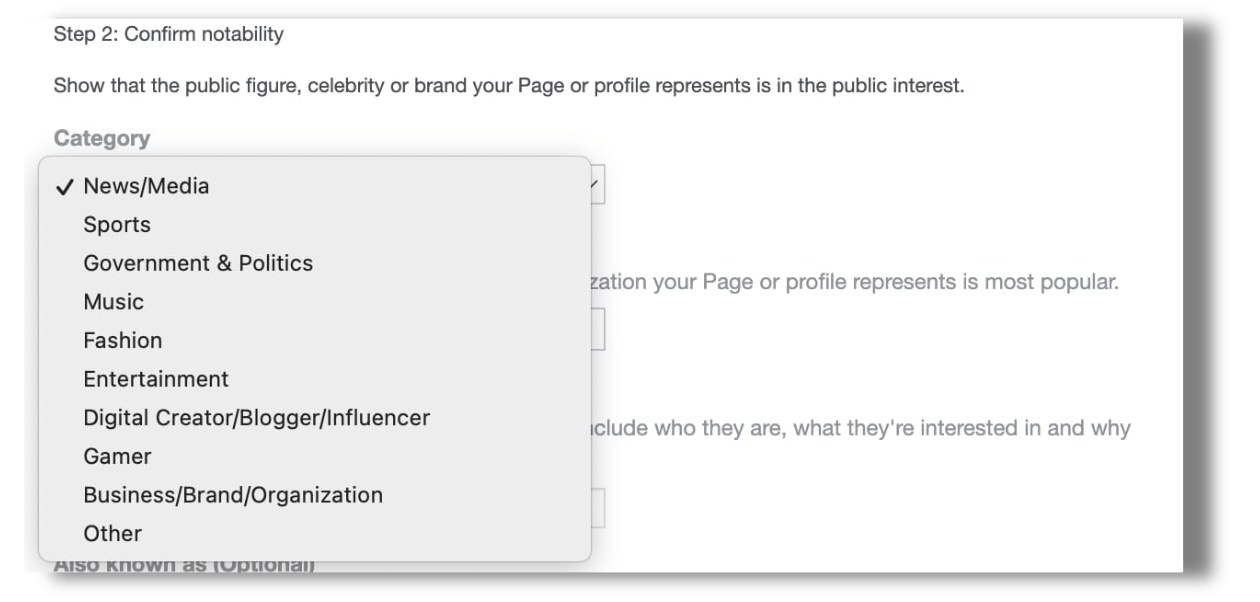 You can choose from the following categories:
News/Media
Entertainment
Fashion
Music
Sports
Government and Politics
Gamer
Digital Creator/Blogger/Influencer
Business/Brand/Organization
Other
Step 5: Add your Country

Add the country where you or your business is famous. If your company provides products or services globally, choose a region or country where most of the audience resides. Are you confused regarding adding your country? Analyze your website's Google Analytics or check Facebook insights.
Step 6: Add your Audience Type
Adding your audience type is optional, so it's up to you. However, providing more information makes it easier for Facebook's team to validate your verification. Enter basic information about your target audience's demographics. In case you have no clue, leave this section blank.
Step 7: Add Articles' Link to Showcase your Page as a Public
Like the previous step, this step is also optional, but we recommend completing it to increase your chances of verification. Completing this step is the best way to prove your worth. Include your social media profiles, articles that exemplify your business, or anything that showcases your brand. Doing this gives the Facebook team more reasons to verify your page.
Step 8: Submit the Form and Wait
Congratulations! You have successfully submitted the request for your Facebook verification. Sit back and enjoy your coffee while you wait for the platform's team to award you a blue tick.
Manage Your Facebook Page with SocialBu
After getting that Facebook-verified badge and its advantages, you can't afford to lose it. For that, you have to manage it effectively to maximize your online presence.
It is where SocialBu comes in handy. With its assistance, you can simplify the overall management of your Facebook page and grow its engagement. Whether you want to schedule posts, get analytics, or interact with your audience in real-time, SocialBu has you covered.
Takeaway
Verifying your Facebook page is a valuable step toward building trust, credibility, and online visibility. Following the steps shared above and maintaining a professional online presence can increase your chances of getting that coveted blue checkmark. So, go ahead, start the verification process, and watch your brand presence grow.
Verified Facebook Account: FAQs
What Should I Do If Facebook Rejects My Verification Application?
Facebook sometimes rejects verification applications for specific reasons. In that case, carefully review the provided feedback and address the specific issues. Improve the accuracy of your page's information, maintain a regular posting schedule, and engage with your audience. You can reapply for verification after 30 days with the necessary improvements.
What is the Eligibility Criteria for Facebook Page Verification?
Facebook typically verifies authentic, notable, complete, and unique pages. You must have a complete and active page with a profile picture, a cover photo, a complete about section with a link to your website, and regular posts. A significant presence on the platform with a following is often a key eligibility factor.
How Long Does the Facebook Verification Process Take?
The Facebook verification process can take anywhere from 48 hours to 45 days. It largely depends on Facebook's review process and the accuracy of the information you provide. Be patient and monitor your email for updates from Facebook during this period.
Why is my Facebook Page not Eligible for Verification?
There could be several reasons. Common factors include incomplete profile information, submitting blurry, low-resolution, corrupted documents, and failing to meet Facebook's authenticity criteria. To get easily verified, ensure your page follows Facebook's guidelines and submits up-to-date and valid information while applying for verification.