Have you ever wondered how ChatGPT plugins are revolutionizing digital marketing? With OpenAI's latest release, the digital landscape is witnessing a transformative era.
While the emergence of language models has already redefined many sectors, digital marketing stands at an exciting crossroads. Given the rapid shifts in jobs, markets, and resources, navigating this dynamic environment can be overwhelming.
Dive in as we unravel our top ChatGPT plugins, your ultimate tools to stay ahead and reclaim precious hours.
What are ChatGPT Plugins?
GPT-4 is mind-blowing, but it's far from perfect. It can't access links, it has limited compatibility, and the data only reaches September 2021. Luckily, plugins are here to save the day. They work alongside ChatGPT to improve its capabilities and make up for some of its shortcomings.
Sadly, plugins are only available with ChatGPT Plus, which comes at 20 dollars a month. The good news is that most of the plugins themselves are completely free. Also, if you don't have the paid version yet, there may still be hope, as OpenAI might eventually include them in the free version.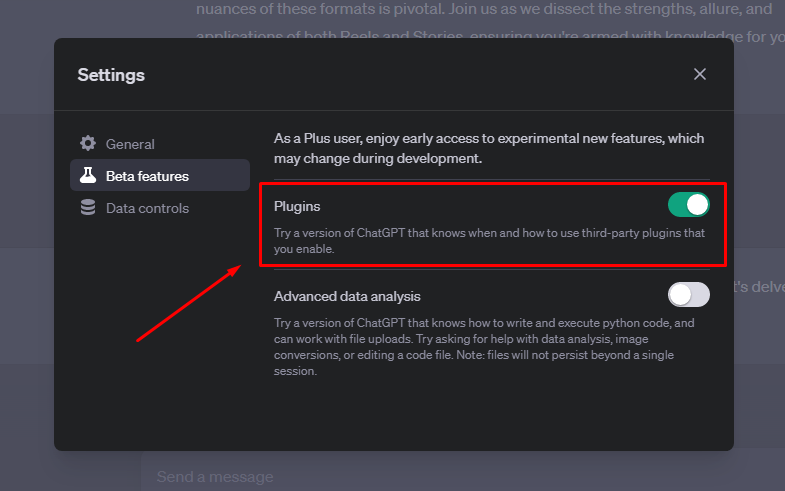 If you live in a country where ChatGPT is currently unavailable due to restrictions, don't worry; we have a solution. A quality VPN is the safest and most effective way to unblock ChatGPT. Reliable VPNs allow you to change your location and access GPT's benefits safely.
How can I access the ChatGPT plugins store?
Accessing the plugin store is easy but not necessarily intuitive. The first thing you need to do is enable them in the settings. After that, the store access option should appear when you open a new chat.
Now we know what plugins are and how to access the store. Look at the 6 best ChatGPT plugins for your digital marketing needs.
1. RoboAd
RoboAd is your go-to tool for simplifying text ad creation across major platforms, including Google Ads. It collaborates with you to generate engaging text ads that perfectly match your brand and product offerings.
The plugin analyzes your website and provides tailored texts to match your products and style. It streamlines the ad creation process, saving you time and eliminating the need for a professional copywriter.
2. SEO Assistant
The tool SEO Assistant is handy for generating keywords. Provide your website's main topic, and the assistant will create a list of SEO keywords that perfectly fit your marketing needs.
3. Zapier
As mentioned previously, one of GPT-4's main issues is compatibility. Zapier is an impressive response to that problem. It allows you to use ChatGPT with over 5000 apps, including Google Sheets, Gmail or Slack.
You can ask the software to act directly inside other apps. This makes it much faster to complete tasks and allows you to reduce the number of open tabs and windows.
4. Show Me Diagrams
This plugin is an invaluable instrument tailored for digital marketers seeking effective visualization solutions. Show me diagrams simplify intricate concepts, procedures, or data sets, rendering them in an accessible and understandable format. Think of it as your graphic interpreter, proficient in crafting instant diagrams at your command.
5. Link Reader
Once again, this plugin explicitly targets one of ChatGPT's most significant weaknesses. In this case, the software's inability to access links.
Link reader is a powerful tool that extracts, summarizes, and interprets information from any link provided. This includes websites and formats like Microsoft Word, PowerPoint, and PDF documents.
Link Reader is a game changer for ChatGPT, as it can save hours of research and analysis for marketers who need to read through mountains of documents daily.
6. Meme Generator
Memes have unexpectedly become a staple of contemporary advertising. However, the meme game can be a tough landscape, so you'll need all the help you can get. With an ever-growing menu of templates, this plugin uses ChatGPT to create brilliant memes on command.
Simply give this meme creator a prompt, and the software will match a template with a message suited to your needs. You can modify the tone to avoid pushing it too far.
Final Thoughts
In an age where technology is rewriting the rules, ChatGPT plugins emerge as the unsung heroes of the digital marketing frontier. Having delved deep into these tools, it's evident that they're not just trends but essential game-changers. As we sail into the future of marketing, arming ourselves with these plugins ensures we survive and thrive.