Visual content is a powerful tool for boosting social media engagement. Whether it's a photo, video, GIF, or infographic, visual elements can help to make your content more engaging, shareable, and memorable.
Now that most businesses have used visual content in their marketing strategies, the influence of visual elements has become more substantial. Besides, it has expanded the purpose of visual content for all kinds of goals in marketing.
From understanding the psychology of visual storytelling to leveraging the latest trends and technologies, this post will provide everything you need to know to take your social media engagement to the next level with the power of visual content.
Visual content helps build an accurate picture of your business
Images, in particular, are an effective way to increase engagement on social media. It is because images can tell a story, convey complex information and create an emotional connection with your audience.
According to Venngage, 41% of content creators post visuals between two and five times a week, and just over a quarter of marketers post visuals between five and ten times a week. Additionally, 17% of content creators post visuals even more frequently.
It highlights the importance of incorporating visual elements in your social media strategy and posting it according to the calendar and algorithm.
In addition, images may come in handy for the eCommerce business, where businesses use images to promote products uniquely.
Besides, many other industries find purpose in implementing images in their daily publishing, such as medical, accounting, trucking, and many other sectors.
If managing visual content seems overwhelming, consider doing what social media experts do. Use social media scheduler to schedule posts for all your social media accounts and save time. You can keep posting consistently and be there for your audience more frequently.
Videos help you show expertise
When done right, video can help you become a valuable source of information or a reliable service provider in your area. In addition, by mixing different types of video content, businesses can show their expertise with their products or services.
Statista shared that tutorials are the most popular video content, after music and comedy videos.
The growing popularity of using TikTok to find answers proves how visual content influences and shapes the user experience. And now, with Instagram switching to the Reels section, creating videos has become integral to any social media practice.
The only obstacle in video-generating content is that you have to be consistent to see results. Venngage study has shown that 43% of marketers state that their biggest challenge is consistency in producing visual content.
At the same time, Content Marketing Institute experts note that 63% of B2B marketers say that the lack of success in their organization's content marketing efforts is because of the challenges faced in the content creation process.
It means only 38% of marketers can consistently produce engaging visual content. But the best solution is to post videos with a scheduling tool on the fly consistently.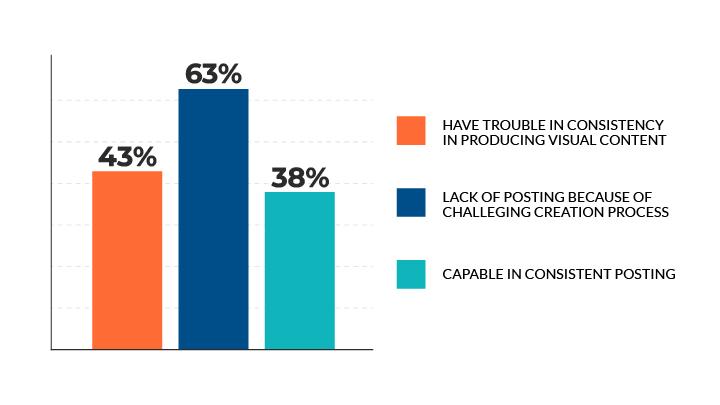 Visual storytelling helps create an emotional connection
According to Forbes, companies that utilize storytelling techniques in their visual content can create a more emotional connection with their audience, leading to increased brand value and reliability.
According to a Headstream study, if the audience loves a brand story, 55% are more likely to buy the product in the future, 44% will share the story, and 15% will buy the product immediately.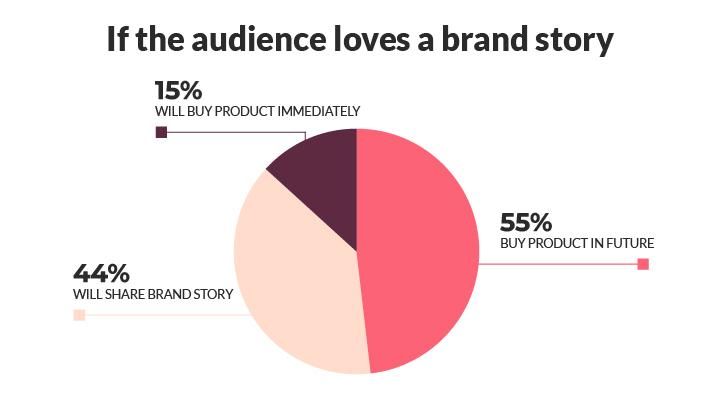 Visual content is one way to ensure your story is seen as natural and something valuable to other business owners or potential clients.
You must include both the excellent and wrong sides of your achievements in your storytelling and show why your brand is more than just transactions and success.
For example, you can create an animated timeline that shows the brand's existence and connection with the community. Or colorful infographics show how much your business has thrived over the years. Besides, you can use pictures of team members to show leads who will take care of their demands.
In that way, visual content can also help build brand recognition, increase engagement and drive conversions, making it an essential aspect of business branding.
By following best practices for creating and sharing visual content, you can ensure that your visuals are optimized for social media and more likely to be shared and generate interactions.
Visually appealing content helps to stand out
Creating visually appealing infographics and animations can make your content stand out in a crowded social media feed and capture your audience's attention.
Incorporating a solid visual identity through consistent colors, design elements, and branding can make your business more memorable and recognizable, leading to increased engagement and brand awareness.
That way, you can act on your audience's subconscious and make them easily recognize your brand while scrolling through the feed.
For example, if your logo is in green shades, you can use that color to make the whole of your social media posts and website content. That will also prove that you know what you are doing and that your brand has a real mission and vision to succeed.
The general advice is to follow your gut and what you want your brand to become, not just post whatever is in trend.
Conclusion
In conclusion, visual content is a powerful tool for boosting social media engagement. By incorporating images, videos, and infographics into your social media strategy, you can increase the likelihood of your audience engaging with your content and ultimately drive more traffic to your website.
Whether you're a small business looking to increase brand awareness or a blogger looking to grow your audience, visual content can help you achieve your goals. With the right approach and analytical tools, visual content can be a game-changer for your social media marketing efforts.
Good luck!