Twitter is one of the largest social media platforms these days, with 330 million monthly active users. This is the reason why it has become an essential part of a business's social media strategy now. To have a great presence on it, you must know what your audience wants to see. Twitter analytics tools will help you find exactly that.
Social media monitoring and in-depth analytics tools serve well in providing information on what's working and what's not. Twitter analytics tools assist in analyzing by showing the posts with high engagement, brand mentions, and keywords to know what's getting more engagement. This way, you know what's working and which topic to choose for your next tweets.
Here are the top 10 Twitter analytics tools for in-depth analysis of your Twitter;
1. SocialBu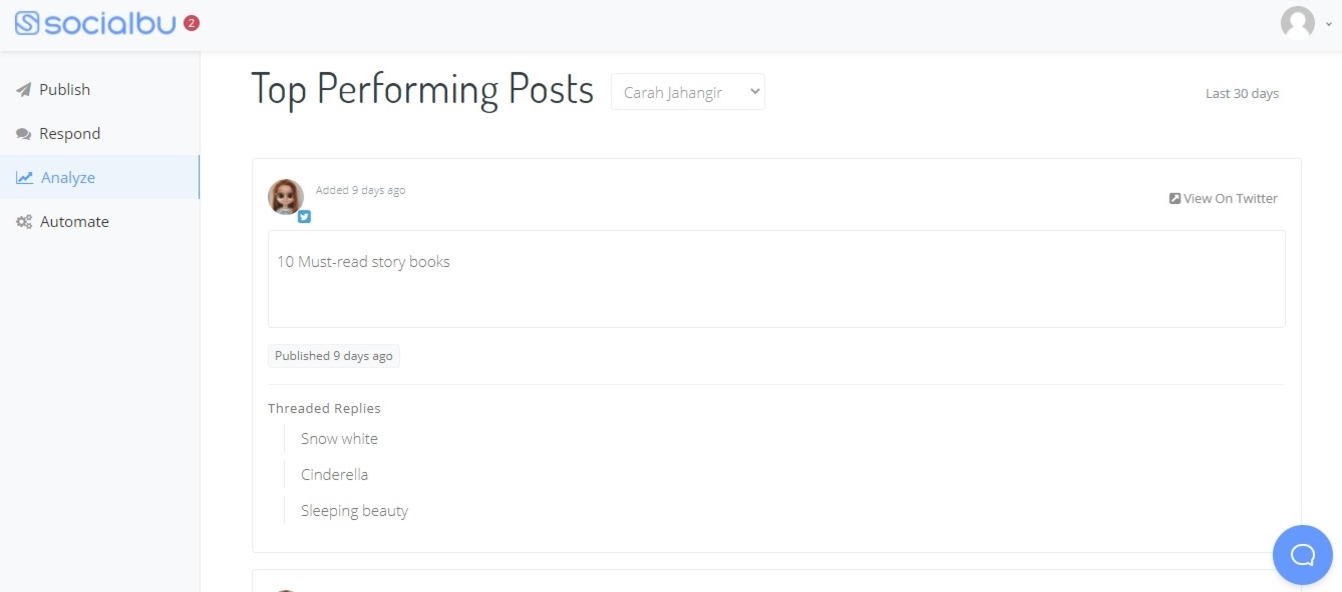 SocialBu is undoubtedly one of the best social media management tools out there. It offers excellent features and is a very easy-to-use tool. Twitter analysis through SocialBu helps in enhancing your social media performance by offering detailed insights so you can tweak social marketing strategy to get maximum results.
Social Media Scheduling
SocialBu offers unlimited scheduling across multiple platforms. For Twitter, it offers tweet and thread scheduling.
Analytics
It offers in-depth tweet insights. You can effortlessly calculate your engagement rates and learn what your top-performing tweets are. The analytics feature will also let you know the times when your followers are the most active.
Social Media Monitoring
The social media monitoring feature helps you keep track of all social conversations, keywords, accounts, and hashtags relevant to your business. They are great for time-saving and increasing your performance.
SocialBu handles this time-consuming task very easily by monitoring the trends, relevant hashtags, brand mentions, etc. All this helps you to keep up with the trends and implement them in your tweets accordingly.
Pricing
SocialBu offers a free plan. Paid plans start from as low as $8/mo.
2. Mention Mapp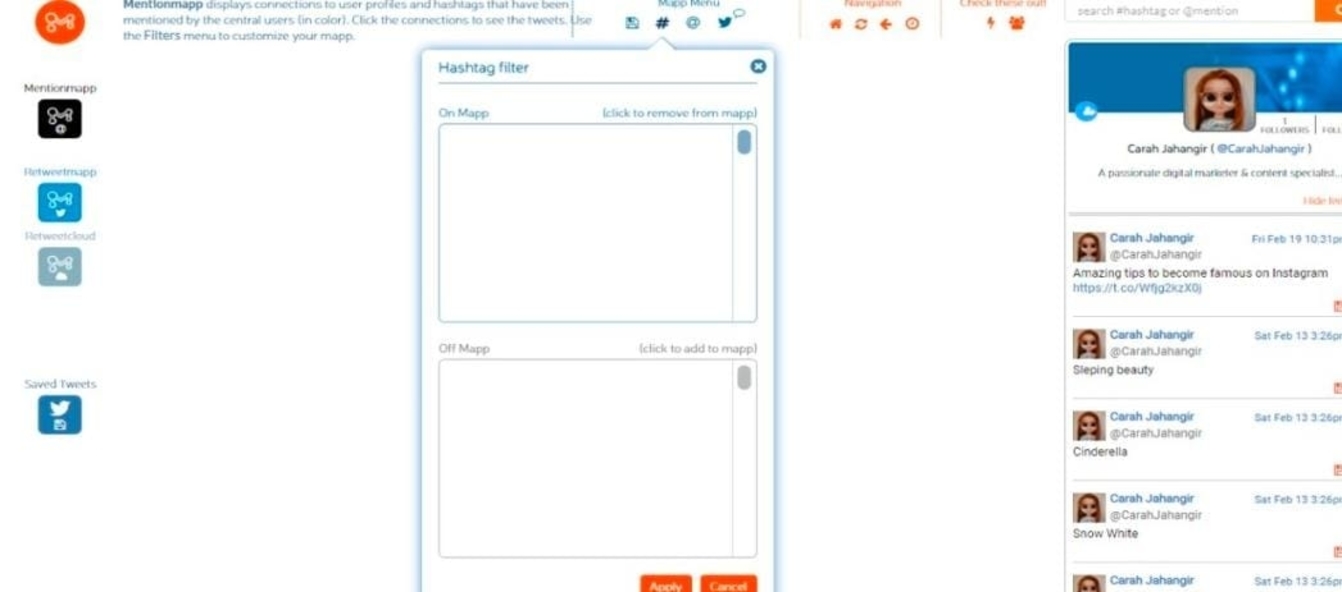 Mention Mapp is a great Twitter analytics tool that shows your results in the form of the user network and hashtag tracking. It can also be called a network visualization tool. If you want to know about using a specific hashtag or want to look into a particular user's social network, Mention Mapp can serve you the purpose perfectly.
What makes this tool one of the best Twitter analytic tools is that you can increase your tweets' engagement rate just by analyzing and evaluating the hashtags and user network. These reports can be downloaded in .png format on your computer. Start implementing things to see real results. Other amazing features of Mention Mapp are;
Trending Hashtags
This tool maps out the network and hashtag connections of a specific Twitter user for the marketers and business people. You can get an idea of what hashtag has been used the most in respective niches and what is trending. Then you can track and use that for your own business or niche. Doing this will maximize your reach among Twitter users.
Network Map
The network map feature allows participation in business-related conversations. For example, if you want to know your competitors' network connection, enter their username in the search bar. The tool will process and display their network connections. If you hover on the lines connecting the two users in the network, the line will show the number of tweets shared between them. If you search the hashtags, it will show the number of times the user used the hashtags.
Pricing
It offers a free plan, and the paid plans start from $9/mo.
3. Sprout Social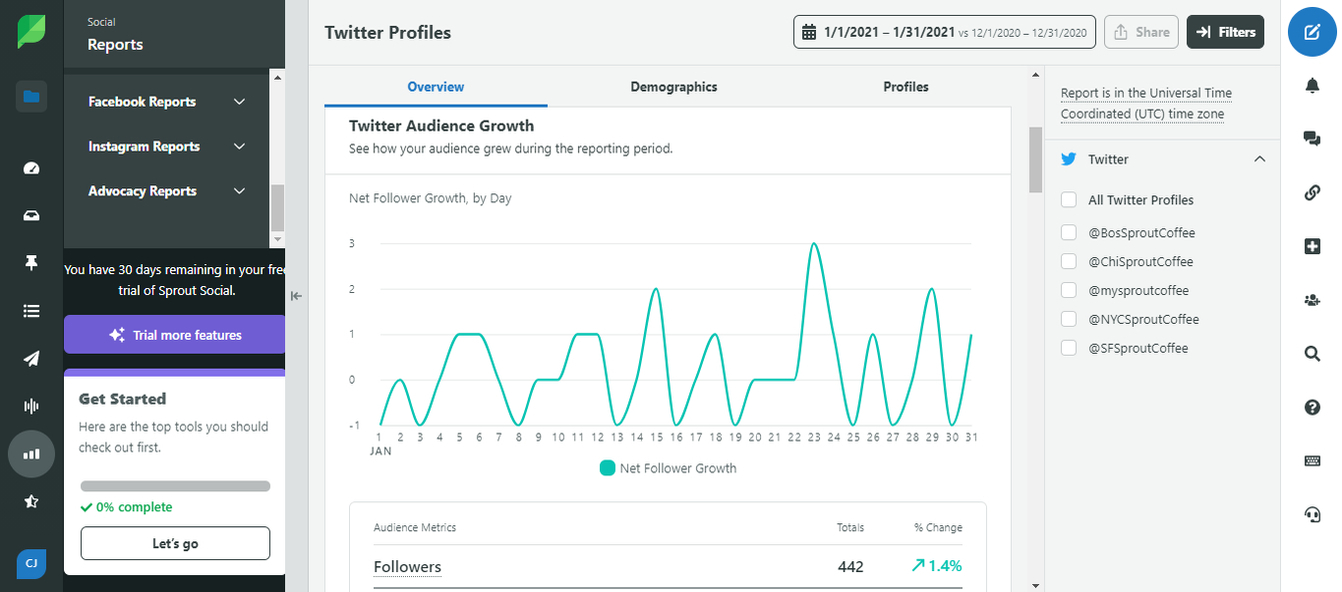 Sprout Social is an all-in-one Twitter analytics tool that enables setting up a custom reporting dashboard. The dashboard is well organized. You can easily locate messages and schedule posts. It allows selecting specific period analytics and exporting them as well.
It offers many other amazing features like;
Trend Monitoring
It shows Twitter trends, competitors, and keywords relevant to your business through insights. You can also dig deeper into the performance of individual tweets. You can monitor hashtags as well.
Engagement Reporting
With sprout social, you can easily analyze the response rate on your tweets. It also shows your top tweets according to most engagement, impressions, re-tweets, etc. This helps in setting engagement goals accordingly.
Pricing
It doesn't offer a free plan. However, you can a 30 days free trial when you sign-up for any paid plan. The "Standard Package" with 5 social profiles and multiple features costs $99/month.
4. Keyhole
Keyhole offers a user-friendly dashboard. This tool offers in-depth Twitter analytics. With Keyhole, you can track all the trending hashtags, keywords, and campaigns. This will help you stay up-to-date with the trends and will ultimately increase your reach.
It assists in social listening to provide relevant content and respond to the audience. Monitoring brand mentions helps in knowing what others say about your company. This tool also gives customized engagement recommendations. Other impressive features of keyhole are;
Account Tracking
This feature enables monitoring the activity of your Twitter account as well as that of your competitors. So, you know what strategies generate better results.
Automated Reporting
This feature provides daily benchmarking of KPIs such as Twitter account growth, best times to post, top-performing tweets, etc. It helps you know what type of content your followers interact with the most. This way you can put out similar content and increase your engagement.
Demographic and Sentiment Analysis
Keyhole has two great analytic features called demographic and sentiment analysis. The demographic analysis uses user demographics to provide you a detailed breakdown of your engagement activities on Twitter. Sentiment analysis filters all posts in your stream by neutral, positive, and negative. This is a very helpful and unique analytic feature offered by Keyhole.
Pricing
Its basic plan costs $44/month,  whereas the professional plan costs $99/month. However, you can test it with a 7-day free trial.
5. Quintly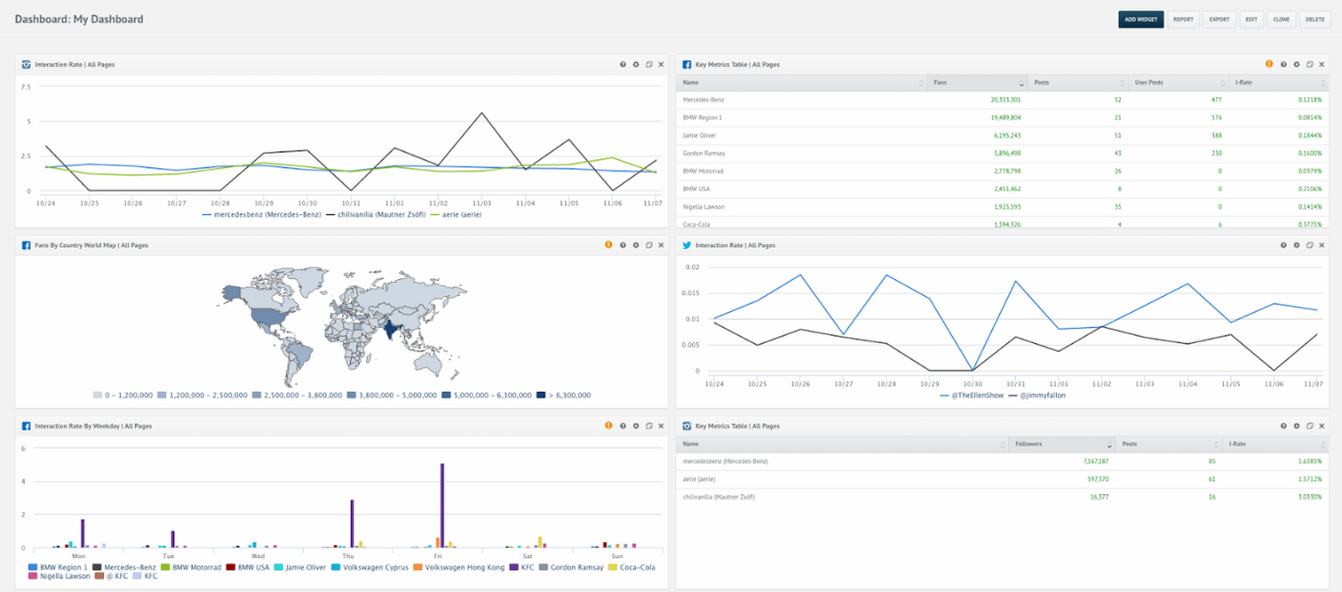 Quintly is an amazing analytic tool that uncovers Twitter insights to allow strategic decisions and alteration in social media strategy. It enables you to select from 350 metrics and the users can also add customized metrics. The flexible dashboard of Quintly provides insights in a meaningful way that is easy to understand. It allows the creation of unlimited dashboards and also offers dedicated support. Other impressive features of Quintly are;
Comparative Insights
The comparative insights feature allows you to stay ahead of your competitors. Quintly helps you compare your company with your competitors and shows the position where your company is standing. However, it doesn't provide deep insights into competitors.
In-depth Analytics
With Quintly, you can make data-backed decisions with its in-depth analytics feature. This feature lets you collect valid data-backed conclusions from your Twitter marketing performance. Using these insights, you can optimize your Twitter marketing performance.
Automatic Social Media Reports
Quintly offers automatic social media reports that you can share with your team. You can easily create PDF reports. It supports 7 platforms including Facebook, Twitter, Linkedin, Instagram, YouTube, Snapchat, and TikTok.
Pricing
This tool offers custom plans starting from $300/mo and a free trial. You have to book a demo for using it.
6. Union Metrics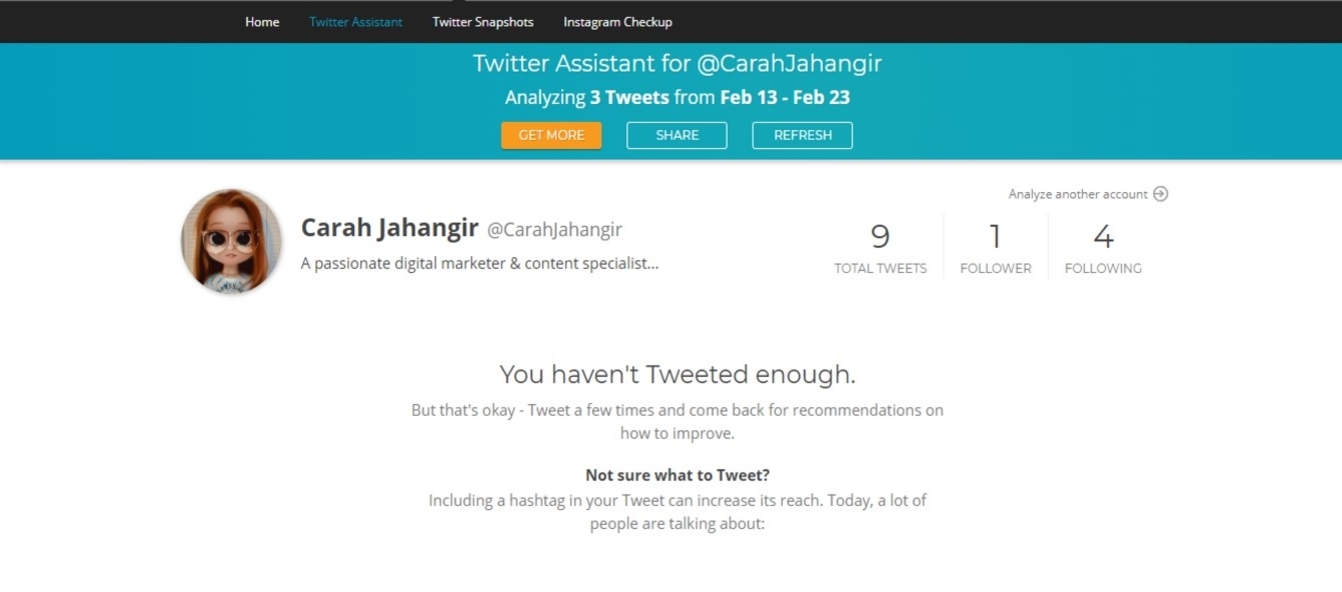 Union Metrics helps to build an effective social media strategy by displaying analytics of each day. It provides Twitter profile analysis to help you expand the reach of your tweets. It empowers you with the social marketing intelligence that helps you boost your Twitter engagement. This tool enables tracking Twitter campaigns as well. Competitor analysis assists in viewing the activity of competitors. It also allows generating eye-catchy reports to share with your business partners. Other impressive features of Union Metrics are;
Social Media Monitoring
It offers keyword analytics which helps to monitor the specific keywords to view the real-time conversations related to your niche.
Engagement Boosting Features
Research feature, queries, and collected data assists in finding relevant content to engage with your targeted audience.
Pricing
It doesn't offer a free plan. The "Social Manager Plan" is $49/month, "Social Marketer Plan" is $99/month, and the "Marketing Team Plan" is $199/month.
7. Followerwonk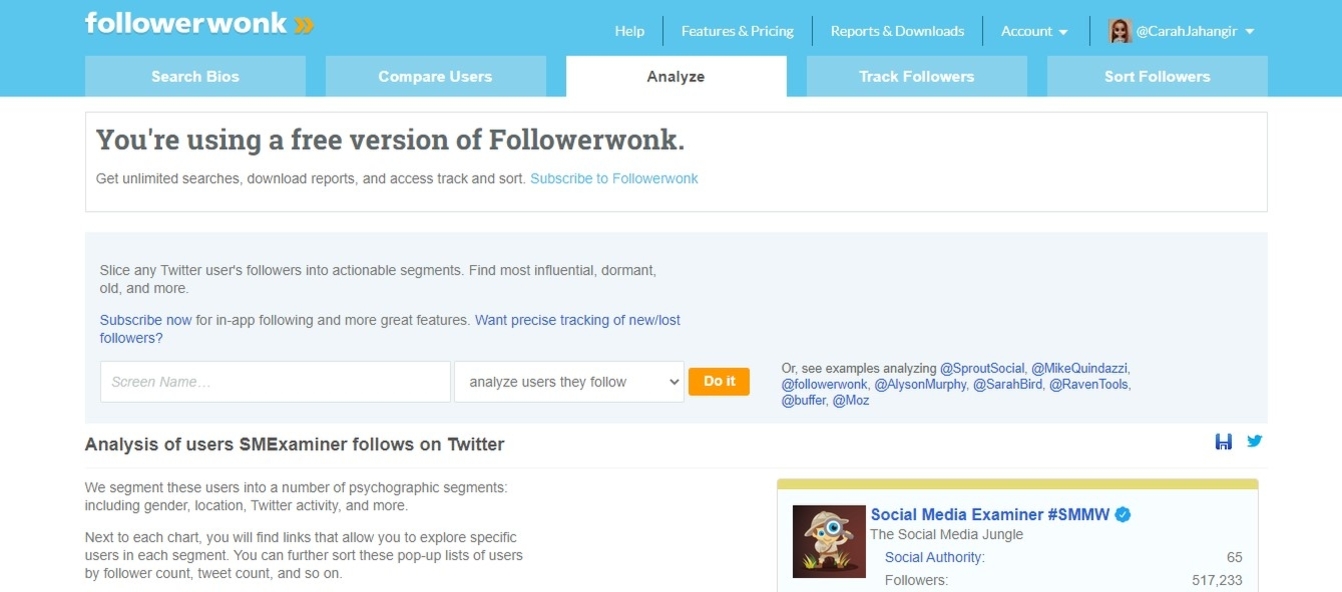 Followerwonk assists in searching Twitter bios to connect with the target market. It shows the social media analysis and also breaks down the followers according to different metrics. You can see who your targeted audience follows, and it also displays the location and other relevant information.
This tool helps to track and sort the followers to help your business grow. It also shows what your audience is tweeting and at what time they usually post. And, it calculates the best time to post when most of your followers are online. Some other interesting features are;
Comparison Feature
Followerwonk allows comparison to know what the gains and losses of your marketing strategy are. This way you can reset your strategy if your current one is not performing well.
Advanced Search
One of the most amazing features that this tool offers is the ability to use keywords to search for Twitter users and then compare them against various metrics such as (influence, followers, following, age, etc). This makes searching for influential Twitter users easy, quick, and fast.
In-depth Data
It provides you with in-depth twitter data which helps you deeply analyze your Twitter profile. This also helps you increase your engagement rate on Twitter.
Pricing
It offers a generous free plan. However, to unlock premium features, you have to become a paying member. The paid plans start from $29/mo.
8. Tweet Binder
Tweet Binder is known for generating excellent Twitter reports. This tool works well in providing information on estimated economic value and the top contributors. It also displays the potential reach of the tweet and shows the highest potential influencers. Tweet binder allows extracting historical data reports of Twitter accounts to create an effective marketing strategy and achieve huge ROI. Some other notable features are;
Hashtag Tracking
It's an amazing hashtag tracking tool that helps you know about the latest trends. Then, you can implement these trends in your Tweets and gain the benefit of increased reach and higher engagement.
Report Generation
It enables generating reports for the company mentions and keywords. You can get the live report, 30-day report, and the report of selected historical data. They assist in the comparison of your post's performance.
Sentiment Analysis
The sentiment analysis feature filters all posts in your stream by neutral, positive, and negative. This is a very helpful and unique analytic feature offered by this tool.
Pricing
Although it advertises a free trial on the homepage, it doesn't offer any powerful data in the free trial. Full report is behind a paywall. You can purchase full reports individually or subscribe to their paid plans. The lowest-paid plan costs $39.99/mo.
9. Ilo.so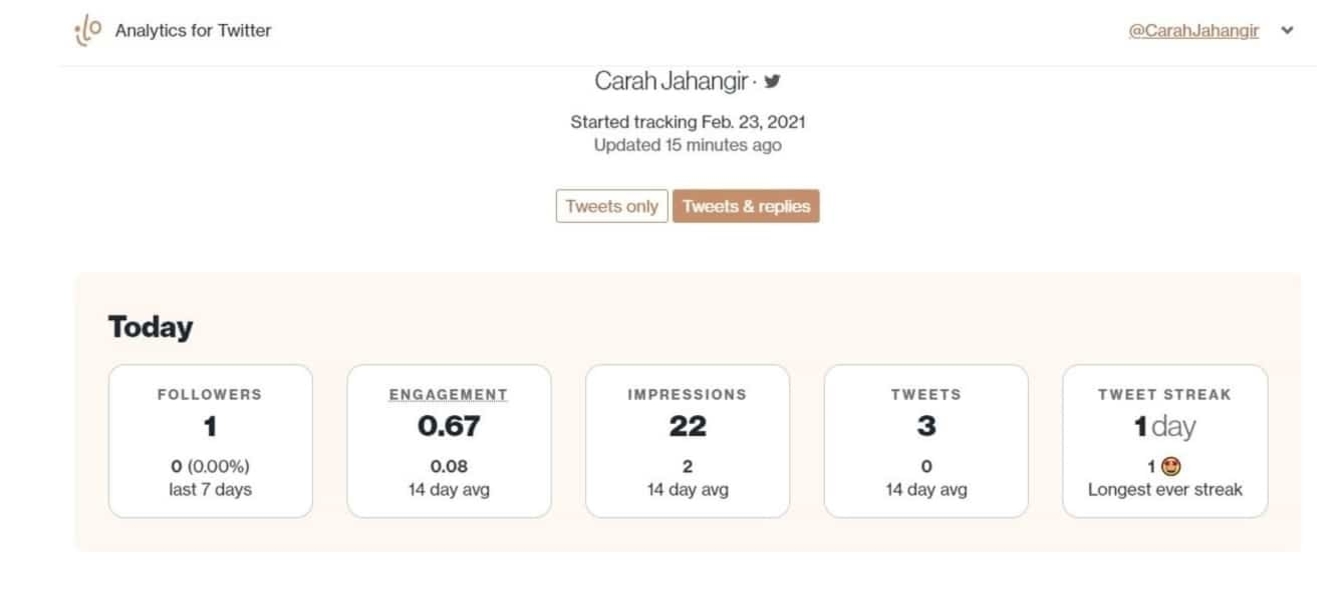 Ilo.so is another tool that made into our list of ten best Twitter analytics tools. It shows how your tweets are performing, their engagements and impressions as well. With Ilo.so, you can understand your followers and pinpoint what strategies are working best. Some other unique features are;
Informational Analytic Charts
It provides detailed analytics of your Twitter profile in the form of infographics and charts. It makes understanding information regarding your Twitter profile easier.  It offers live follower widgets for iOS and Mac. It also sends a quick overview of each day's tweet performance in your email inbox.
Tracks Follower Growth
This tool tracks your follower count over time. This way you can visually see and understand your Twitter follower growth. You can also see how different tweets affect your growth rate.
Pricing
It offers a 14-day free trial. After the trial ends, opt for a paid plan. Paid plan starts from $8.33/month.
10. Native Twitter Analytics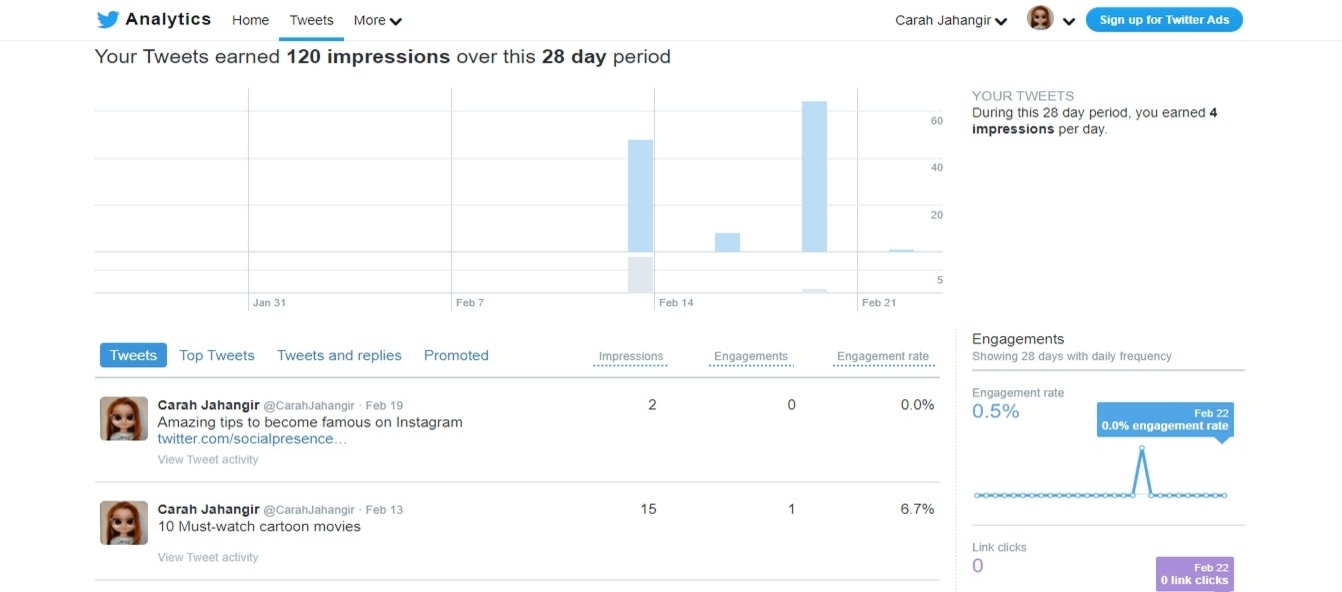 Twitter also offers analytics. It provides information on the past 28 days which includes the number of tweets, and tweet impressions. It also shows the company profile visits and an increase in the number of followers at a specific time.
The monthly overview, it shows top tweets, top mentions, top followers, and top media tweets as well. You can also view the tweet activity of all your tweets in one place or check each tweet analytics individually by clicking on "View Tweet activity".
You can view historical data from the time your account was created. Just keep scrolling on the analytics page and the previous month's data will be shown for your profile. It enables goal targeting which includes gathering specific details such as website clicks.
Pricing
It's completely free.
Conclusion
All tweets don't get maximum engagement. That's normal.
By tapping into analytics, you can identify which tweets get more impressions, and engagement. Then try to create more similar content as this content resonates with your audience. Doing this will ultimately help you increase your engagement as well as followers.
Twitter analytics assists in knowing the best time to post on Twitter. It helps in refining the marketing strategy to get a huge ROI and make your business successful. It also allows you to keep an eye on competitors and keeps you updated about the current trends. So, if you are not utilizing it, then you're missing valuable insights and the current trends as well. SocialBu is one of the best Twitter analytics as well as a social media management tool. Start using it to understand your Twitter analytics better.