If you are searching for an improved technique to streamline your social media content approval workflow, then this article is exactly what you're looking for. Firstly, we are going to answer some of the most frequently asked questions about this topic.
Now, without further ado, let's jump right in! You will get to know the best tools that will help you in streamlining your content approval workflow. And, we will also share tips and tricks related to the topic.
Some Important FAQS About Social Media Content Approval Workflow
Here are some of the most frequently asked questions about social media content approval;
What is Social Media Content Approval?
You should never skip the social media content approval procedure! With a social media content approval procedure in place, all content is edited, vetted, and approved by selective team members before publication.
The main point of a social media approval procedure is to enhance your team's efficiency and ensure that the content you're creating is perfect for your clients. You can see how individual members of your team contribute to that effort by monitoring and assessing your workflow. It is a way to make sure that content is reviewed and approved before publishing it.
What is a Social Media Content Approval Tool?
A social media approval tool is a cloud-based approval software that provides a solo platform where your team can review and collect advice\feedbacks for all of your social media content. Creating, updating, and maintaining content requires a lot of your precious time, and that is precisely where social media approval tools come in.
Social media approval tools help in streamlining the review and approval workflow. From their streamlined workflows, approval tools lead to quality output, improved consistency, and a lesser amount of time is wasted.
Why is Streamlining Social Media Content Approval Important?
It can be a crazy nightmare for both content creators and marketing strategists to manage the content workflow of all their social media accounts. Even though many great social tools are available in the market, organizing the approval procedure can be challenging without the right plan.
This is why streamlining your social media content approval is essential. It will save a lot of your time as well as hassle.
How to Build a Social Media Content Approval Process?
Before creating any content for a specific client, you need to understand what content this client needs for their brand. Monthly meetings and regular conversations between the social media manager and their clients are a must.
How to Manage Social Media Content?
Plan and arrange your content. Whether you carry out a simple file with colleagues, create ideas, and plan what you will post about each week. Schedule and organize your content posts. Have the ability to Test, learn and improve.
How To Streamline Your Social Media Content Approval Workflow [Tips & Tools]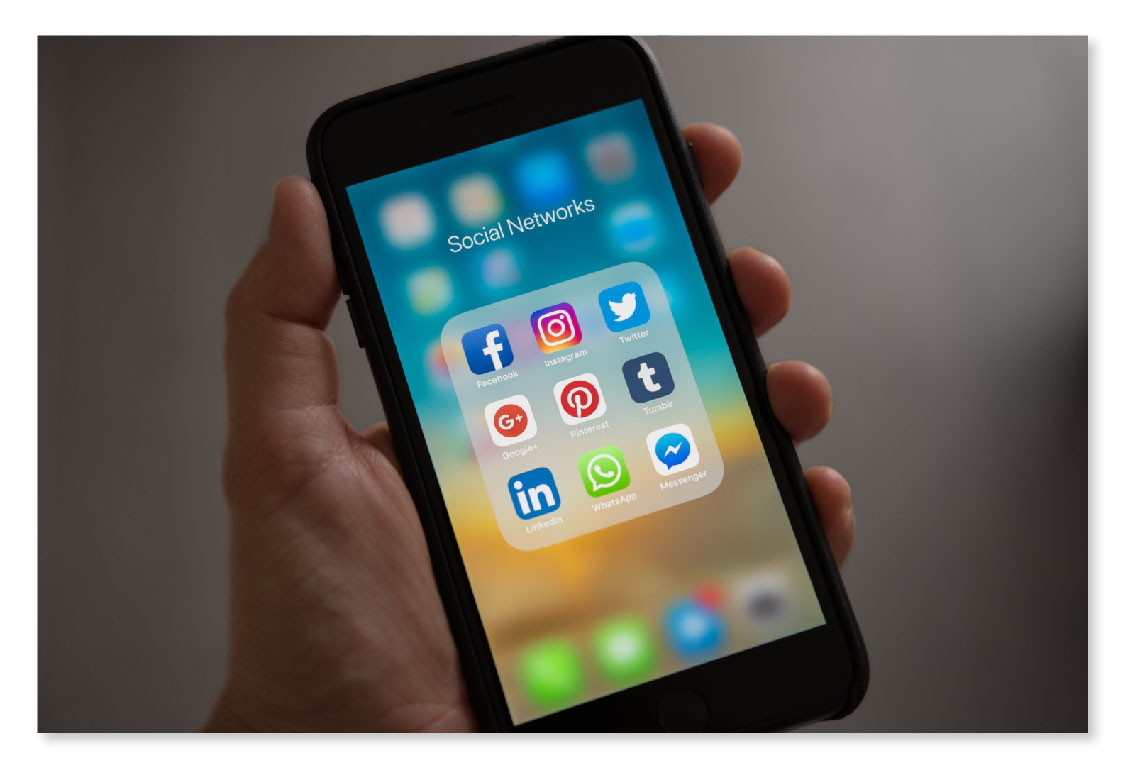 Here are our top 11 Tips and tools to help you effortlessly streamline your social media content approval workflow;
Niche
1. Study Your Niche
Understand and everything that you can about your niche. Firstly, choose a niche that you have skills in. Then get as much knowledge as you possibly can about your niche. Study your niche with complete focus. The more you know about it, the better.
2. Study Trends In Your Niche
Study all the trends that are going on in your niche. This way, you can include them in your strategy, ultimately generating sales and a more significant following on social media. So, while streamlining your social media content, you should give trends high importance.
For example, if your niche is fashion, you can follow the fashion trends. For that, you can use fashion-related hashtags. To find the relevant hashtags, you can use hashtag suggestions that are provided by tools like SocialBu.
3. Discover Relevant Content
Plan your content, so you do not have to sit down to decide what you need to write about when you're ready to write new content. Write content that interests your followers, conduct interviews, search for suggestions, and ongoing research events. Read blogs for inspiration and do a lot of research.
Content Planning and Designing
Here are some of the best content planning and designing tools;
1. Specify Your Goals
Make a goal for yourself that you need to achieve and be confident that the goal is achievable. Without any goals, you will have no idea of what you're doing and whether it is helping your business rise. Without a central, clear, and well-defined goal, you are just wasting your time.
So, you must have an idea about why you are investing in content marketing. Do you know it will help your company grow? Or are you just doing it because everyone else is doing it?
So, specifying goals is an integral part of social media content planning, and you should give it due importance.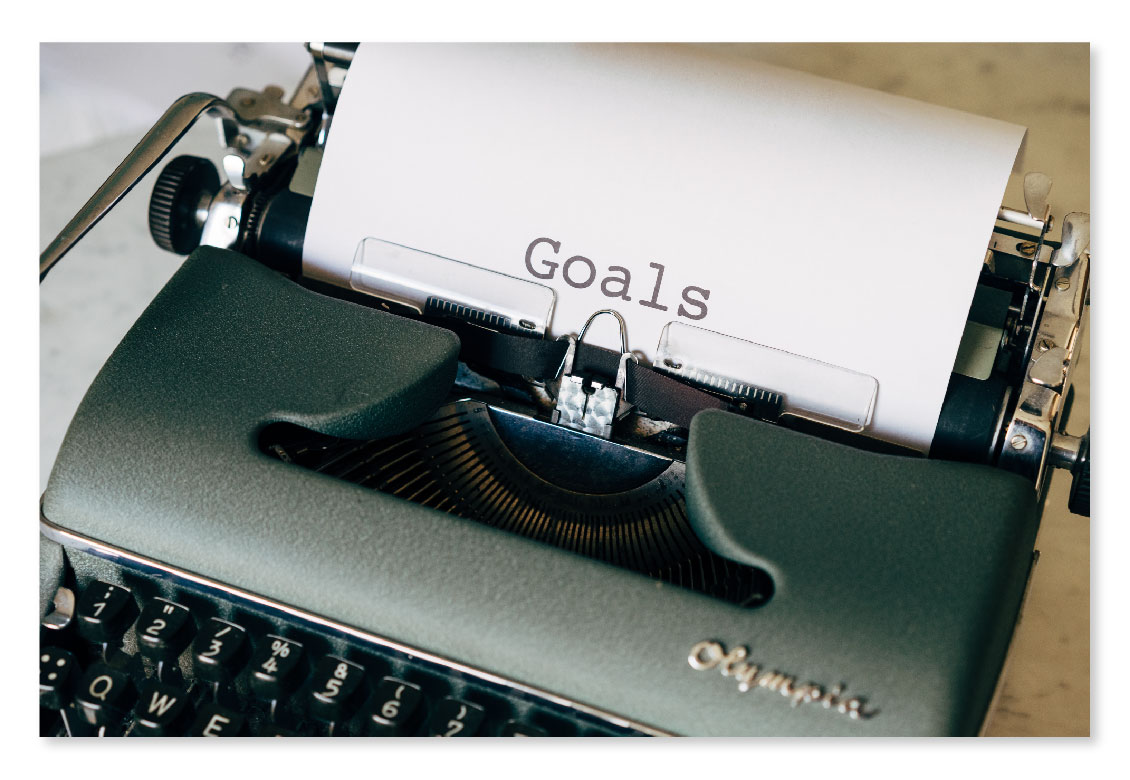 2. Brainstorm Social Media Content Ideas with the Team
The best way to get inspiration is to review the content you have already created. Go through your top-performing content. Go through your goals and remember why you started. Watch the news and interact with your followers.
To brainstorm more ideas, you can go through trends and create something similar, but not the same. This will reduce the chances of your idea flop because if something is trending, people already like it.
Do not overthink, do not think, just act. Create quantity first, then see about quality. Do not feel too bad if your idea does not work. You can always create something else.
3. Content Idea Approvals
A content idea approval workflow is mainly the steps between when an outline is finished and published. If you're used to managing a lean team where every member has their area of interest, you may not know a content approval procedure.
But as time passes and you grow, you have many people around you covering every part of the procedure; you need to make sure that they are doing the similar job the same way.
4. Plan and Design Your Social Media Content
After carefully approving the idea on which you will create your social media content, start the planning process. Start by deciding the theme you want to follow, like gradients, specific colors, boho, cool tones, vintage, etc. There are endless options to choose from.
Then start designing your content according to the decided theme. Try to make your posts related to each other, or add something like a logo or tagline in each one of them. This way, your audience will recognize that the post is from you at first sight.
Keep in mind that original content is essential. Strong headlines added to your content should also be unique.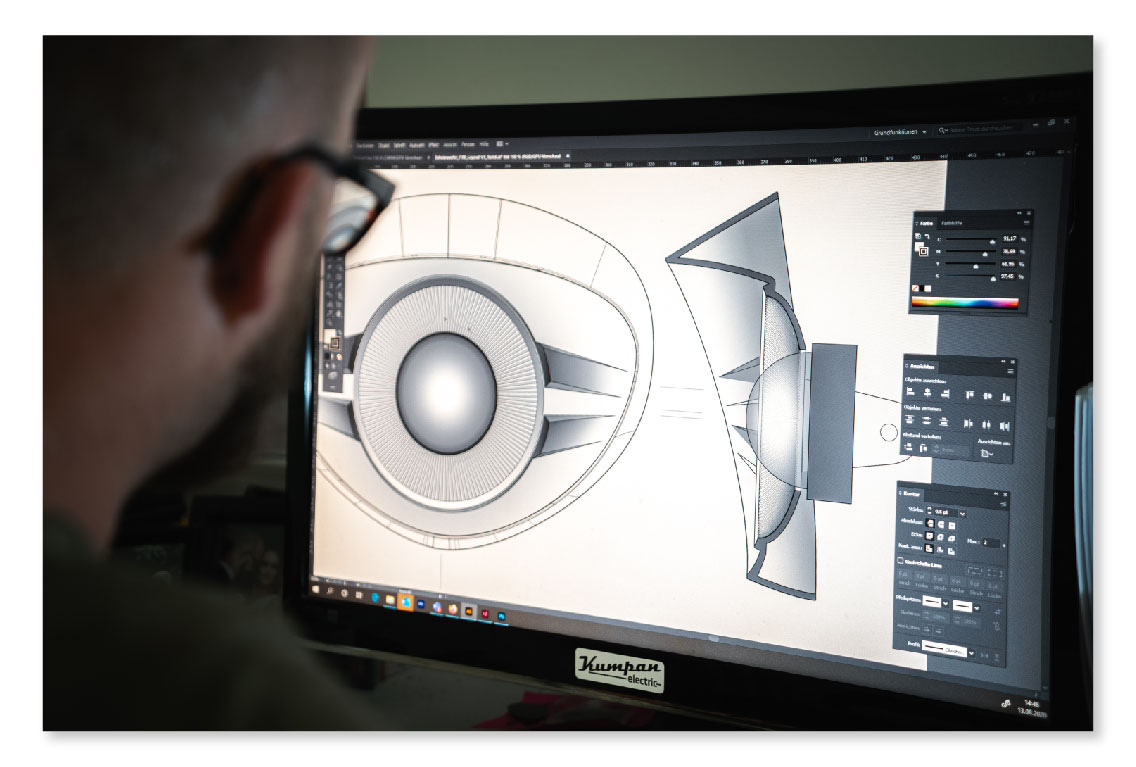 Content Calendar and Scheduling
1. Keep a Content Calendar
Keeping a social media content calendar is a must. This way, you and your teammates will not forget the content planning, designing, and posting schedule. Other than that, you can define your goals, add your original content, make use of previous content, decide what and when you want to post, and make time limits in your content calendar as well.
2. Schedule Your Content
One of the essential parts of streamlining your social media content workflow is to schedule your content. This way, you will save a lot of your time and hassle. SocialBu will do exactly that for you as well as help you stay consistent on social media. And, as you know, being consistent is a crucial part of social media success.
Approval
A. Analyze Content
To efficiently analyze content, select the content you want to analyze. Based on your study question, decide the texts you want to analyze and define the units and categories of analysis. Code the text according to the rules and regulations. This way, you can easily analyze the results and conclusions.
B. Approve Content
The approval of content is a way to confirm that it is reviewed, proofread, and approved before publishing it. When an editor has completed functioning on a content item, the item is now ready for review. After the confirmation of more than two people, the content is now ready to be published.
Social Media Content Scheduling & Approval Tools
1. SocialBu

SocialBu will help you out a lot! It is an all-in-one tool that helps you control and manage your blogs like never before. This tool will help you out in many ways and make it so much easier to manage your social media presence.
SocialBu is the ideal solution for enhancing your social media presence and making the most out of your results. You can bring out, react, Analyze, and Automate using SocialBu.
It offers unlimited scheduling across multiple platforms. This tool offers advanced features like Twitter thread scheduling, Instagram story scheduling with a swipe-up link, etc. SocailBu's efficient unified inbox is also time-saving and easy to use.
You can quickly bulk upload your media files on SocialBu and schedule them. This will save a lot of your last-minute hassle. Whenever it's time to post, you will receive a notification on your phone. Simple, isn't it?
Overall, SocialBu automation is very effective. It improves your efficiency and makes it easier for you to handle your social media accounts. SocialBu also offers efficient customer support as well as mobile phone support.
Features for Scheduling and Approval
Post and IG Stories Scheduling
Bulk Scheduling
Content Calander
Content Approvals
Scheduling via queues
Post preview
Team Collaboration
Pricing
Free plan available
Starter: $8/month
Standard: $19/month
Super: $59/month
Supreme: $199/month
2. Agorapulse
Agorapulse is a social media management tool designed to help you stay organized and manage your social media effortlessly. This tool is used by 31,000+ social media managers daily, proving that it is one of the best tools available. It is especially great for agencies as 3,000+ agencies use it daily. It is loaded with powerful features and is very easy to use as well.
Agorapulse is filled with powerful features. Save time, Stay prepared, and manage your social media with Agorapulse's inbox, publishing, exposure, monitoring, and teamwork tools. Over 31,000 social media managers use this tool daily. It scores 93% on the biggest review site in the whole world.
You can bulk upload and schedule media files and easily streamline your workflow. With this tool's social media monitoring feature, you can stay informed and ahead of your competitors.
Features for Scheduling and Approval
Content Scheduling
Approvals
Bulk scheduling
Pricing
The free plan is available
Pro: $79/month
Premium: $159/mo
A custom plan is also available
3. Loomly
This tool is an amazing cloud-based selling solution that helps influencers, freelancers, and social media managers control content on their social media platforms.no-follow
With Loomly, you can manage all your social media accounts from a single dashboard. This tool generates post and ad previews automatically for you before you hit publish. This way, you can know exactly what you are publishing and how it will look on your feed.
The analytics offered by this tool enables you to measure your posts' performances in real-time once they are published. You can then recognize at a glance which topics and content types your audience is most engaged in. Then you can add this information back into your planning process. Overall, a perfect and useful tool.
Features for Scheduling and Approval
Post scheduling
Content approvals
Post and Ad previews
Pricing
15-day free trial.
Base: $34/month
Standard: $76/month
Advanced: $159/month
Premium: $332/month
4. Sendible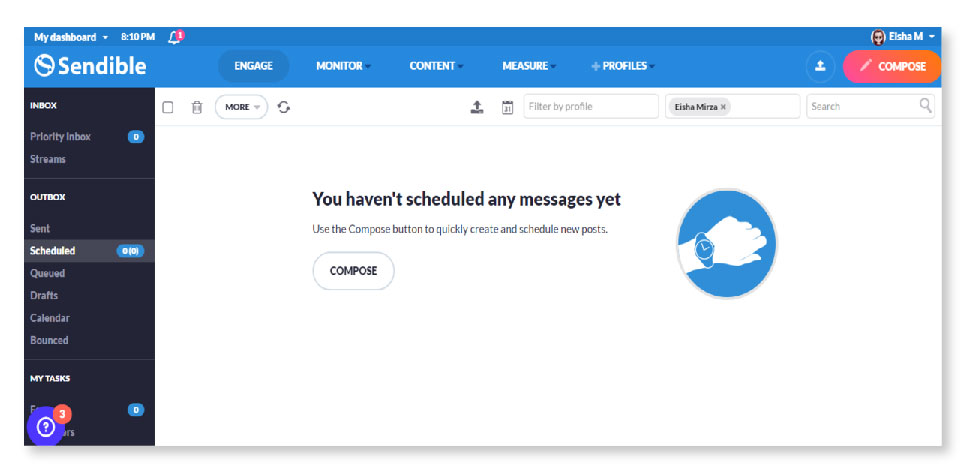 Sendible is the top social media management platform for agencies looking to deal with social media more successfully for their clients. It is one of the best social media management tools for agencies and teams. This tool has a lot of features and hence is called rich-featured. It contains excellent and customizable reports, although you will have to pay if you want detailed insights.
You can easily plan and schedule your content with this tool. It will help you free up your time with its powerful publishing features and create social media posts the way you like. You can schedule tailored posts individually, in bulk, or via queues and manage them in the calendar view.
This tool will let you obtain dynamic insights from your social data. You can use its social media analytics to describe your value to clients and team members. It also generates in-depth reports for Facebook, Twitter, Instagram, Linked In, and more.
Features for Scheduling and Approval
Content scheduling
Post approvals
Bulk scheduling
Tailored posts individual scheduling
Scheduling via queues
Pricing
Creator: $29/month
Traction: $89/month
Scale: $199/month
Expansion:$399/month
5. Sprout Social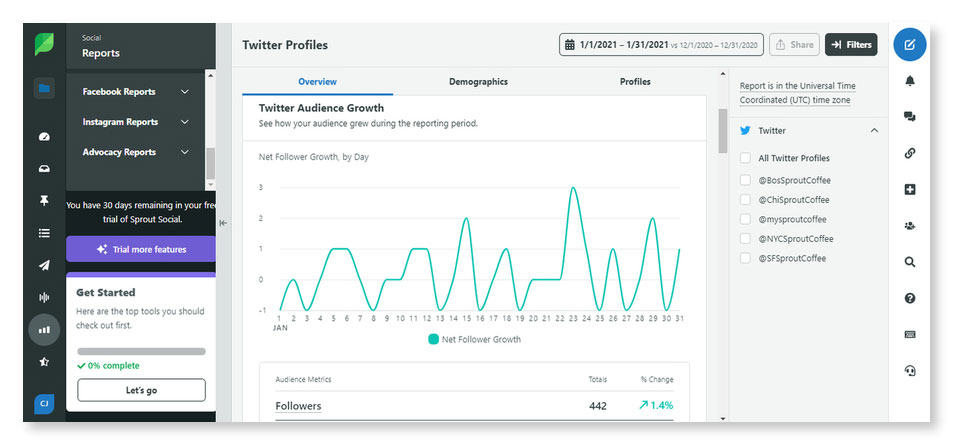 Sprout Social is a powerful, all-in-one social media management tool. It is a simple yet efficient tool. It saves your time and makes managing social media accounts easy.
Sprout Social is a great social media organization and optimization platform for brands and agencies of all sizes. This platform provides a single hub for social media publishing, analytics, and engagement across your social profiles.
This is an all-in-one tool that enables setting up a custom reporting dashboard. The dashboard is well organized. You can easily locate messages and schedule posts with sprout social.
It will help you overcome publishing obstacles with this tool. You can automate time-consuming tasks easily with sprout. It will also help you design your publishing strategy and maintain oversight from a central hub. You can unify your social accounts into a single stream to view incoming messages, foster conversations, and respond to your followers quickly.
Features for Scheduling and Approval
Content approval
Post scheduling
Scheduling for optimal send times.
Pricing
Standard: $99 per user per month
Professional: $149 per user per month
Advanced:$249 per user per month
Content Designing Tools
1. Canva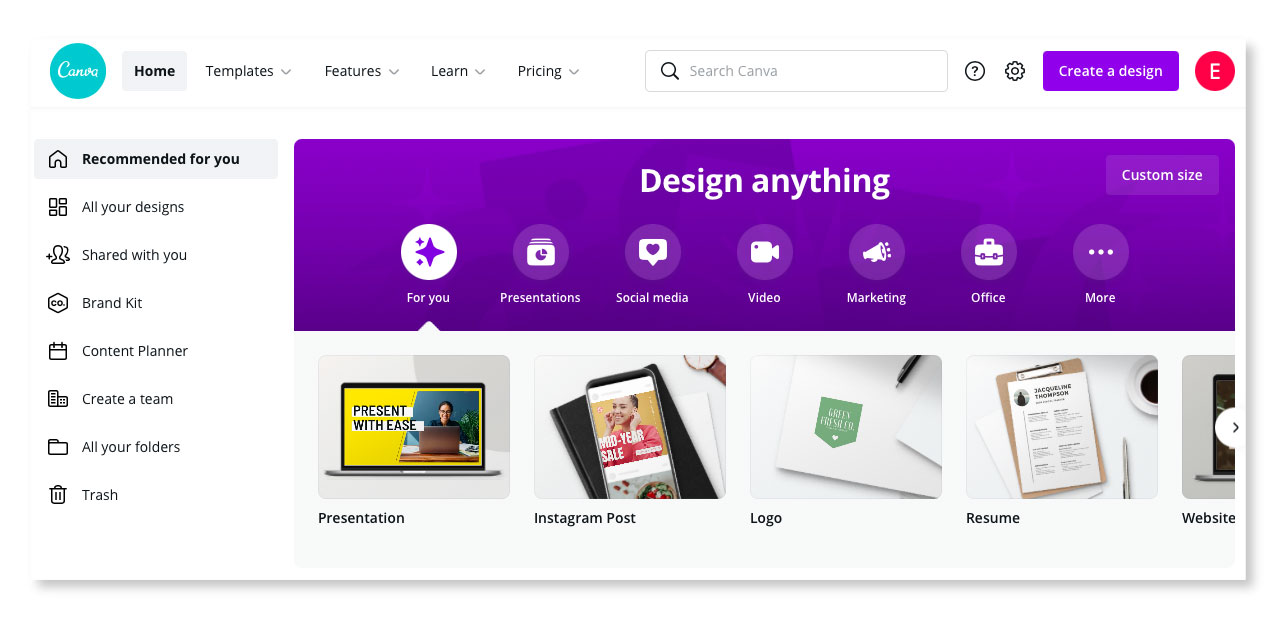 Canva is a famous graphic design platform that produces social media graphics, files, demonstrations, and posters. Templates are provided by this app for users to use. It is free to use, and it also provides paid subscriptions like Canva Pro and Canva Enterprise that offer extra functions. You can use Canva Pro for 30 days free of cost.
Key Features
Layouts for every occasion.
Stock images and illustrations.
Social media graphics.
A lot of fonts.
Drag & drop editor.
Custom templates.
Customizable branding.
Photo editing.
Pricing
Free plan available
Pro: US$119.99/year
Enterprise: US$30.00/month per person
2. Pixlr
Pixlr is an online flash-based image editing application. It is built using Flash, so it needs the plug-in to work. This tool offers a set of image tools and utilities and several photo editing and photo-sharing features.
This set was intended for non-professionals, even though the app ranges from basic to highly developed photo editing. Pixlr E is 100% safe and free for everyone. The best thing is that you can use this tool for free.
The main benefits of this tool are its rich features and ease of use. Any browser can access Pixlr. You can access the image editing suite from any device and operating system.
You also don't have to worry about buying copyrights because all the designs that you edit on Pixlr are completely free for commercial use.
Even if you are not well experienced in editing, the quick fix feature of this tool will surely help you create stunning designs.
Key Features
Effects
Layers
Color Replace
Adjustments
Image Retouching
Object Transformation
Digital inking
Photo collage
Magic wand
Lasso
Pricing
30-day free trial
Free: always
Premium: USD 4.90/month
Creative Pack: USD 14.99/month
3. Easel.ly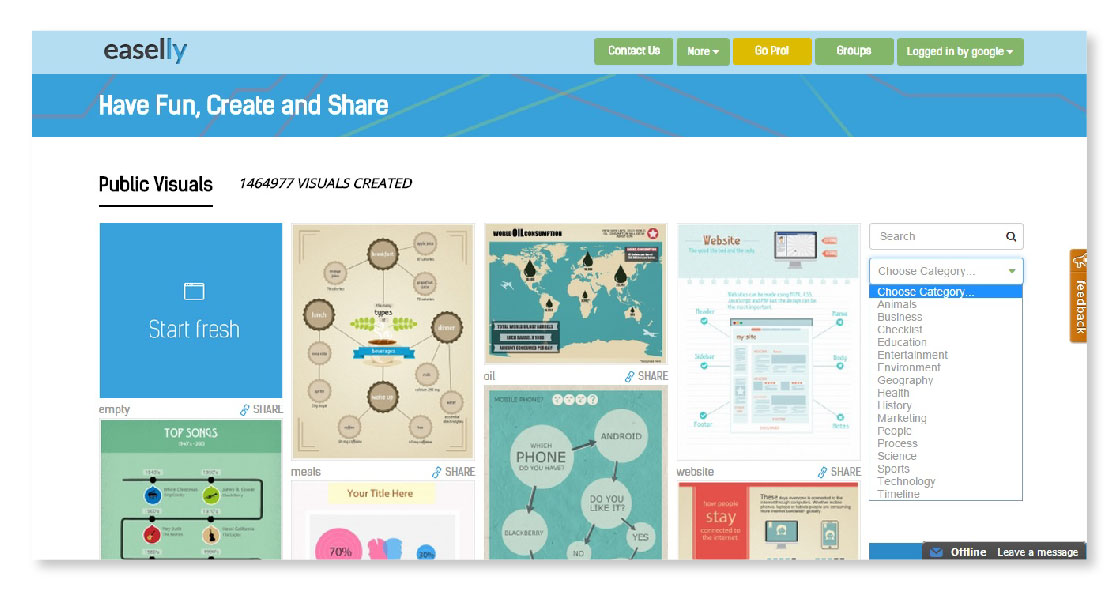 Easel.ly is a simple infographic tool that allows you to visualize any sort of information easily. You can use this amazing and easy-to-no-follow use tool to enhance and spice up your next big presentation or create stunning infographics for your social media accounts. It helps clients understand your particular product and get more people to share your content. No account is required to make a template on Easel.ly, and this makes this tool hassle-free.
With Easel.ly, you can;
Create reports people will actually read
Spice up your next big presentation
Get more people to share your content
Help customers understand your product
Make a resumé hiring managers can't ignore
Key features
Infographic Creation.
Grid view.
Dynamic Charts.
Image File Formats.
Design Templates & Images.
Objects
Background Customization.
Text menu Design Templates & Images.
Pricing
Student: $2
Individual: $4
Business: $5
4. Pablo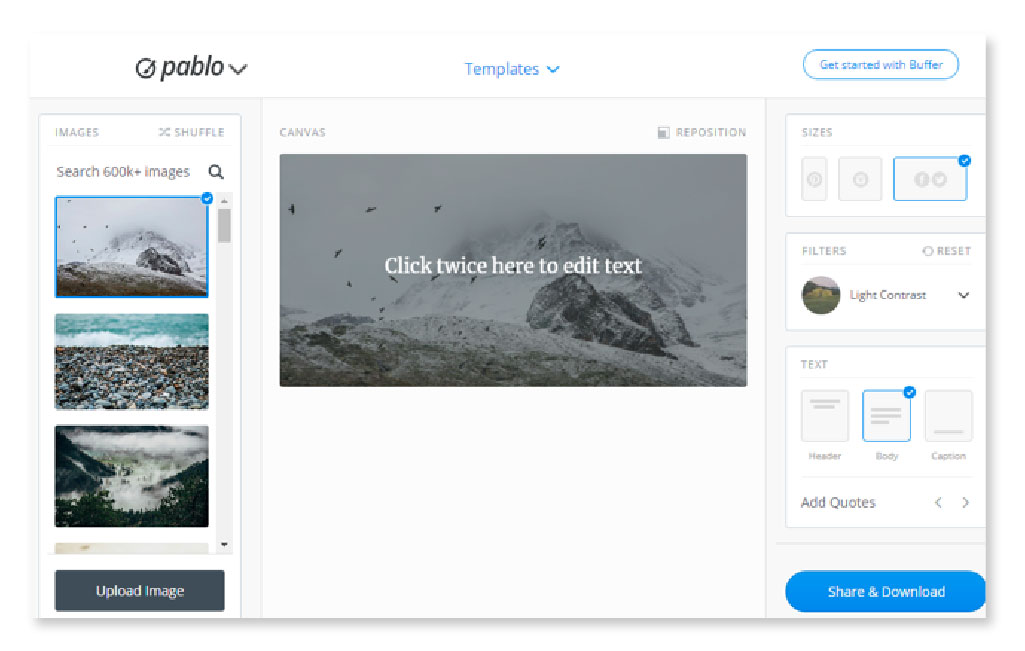 Pablo is a simple and completely free image designing tool. It helps you design a beautiful feed for your social media accounts and increase your social media engagement. It is safe copyright-wise to use a Pablo creation, but it is as long as that creation just includes the image and the text that you explore from within Pablo.
So, when you use a picture, graphic, logo, etc., that you didn't create, we encourage you to check how you can use it. This will help you avoid any sort of copyright issues.
You also don't have to worry about your designs getting leaked because whenever you upload your own asset into Pablo, it is only ever made visible to you. While the asset does remain on the servers, no other user can access it.
5. Fotor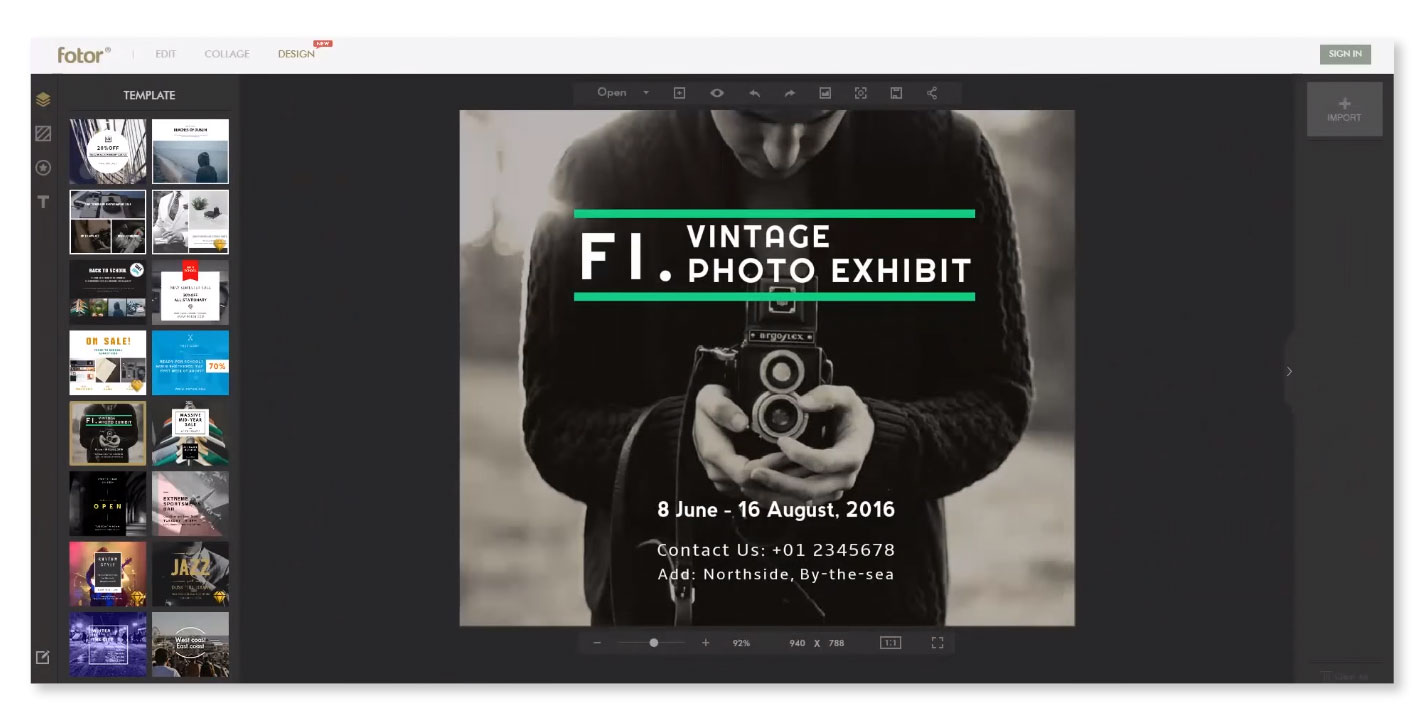 Fotor is a free and simple-to-use photo-editing platform. It utilizes elite technology to bring a never done or known-before level of editing management to everyone. There are 1,000,000+ stock photos and 100,000+ design templates available on this platform. The software of Fotor is accessible on every mobile, desktop computer, and everywhere online.
It comes planned and designed for Windows, and Mac as a WebApp. It processes photos very rapidly, allowing you to adjust the exposure, brightness, white balance, contrast, saturation, sharpen, blur, crop, straighten, rotates, text, red-eye removal, and much more.
Key features
Photo editing
Exclusive effects
Portrait retouching
Preset templates
Social media covers, posters, and photo cards.
Large collection of fonts
Unlimited stickers
Advanced design tools
Pricing
Fotor Basic: Free
Pro: $8.99/month
Fotor Pro+: $19.99/month
Streamlining Content Workflow Tools
Here are some of the best tools for streamlining content workflow;
1. Rivuu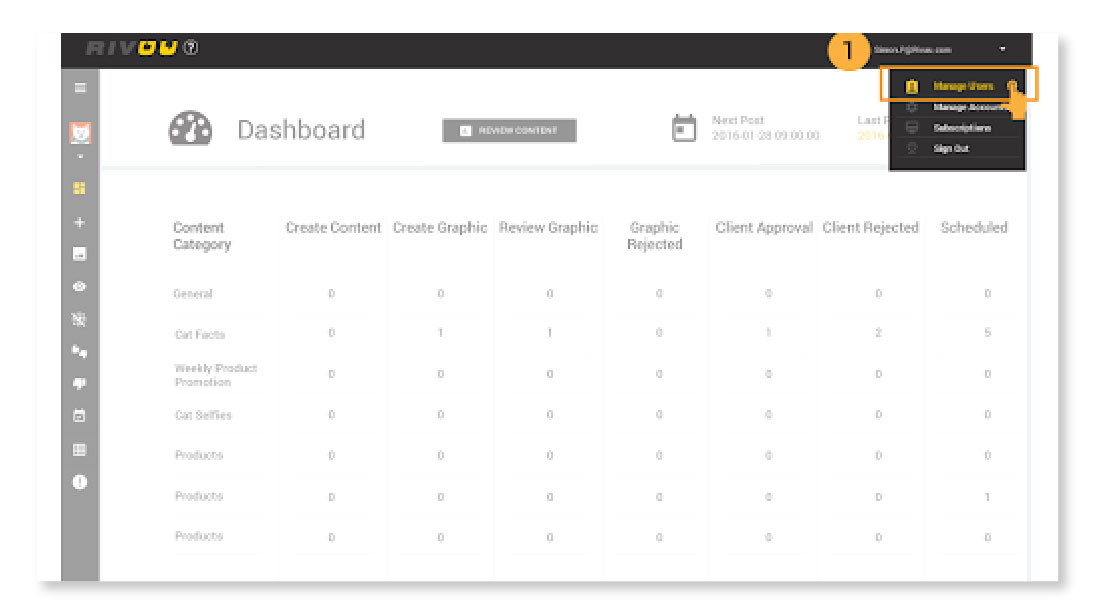 Rivuu is called the champions' social media content approval tool because of its advanced features and hassle-free usage. It is an application that schedules social media and makes your teammate's and clients' lives easier. This tool can match your team's workflow easily. It enables you to effortlessly schedule your posts for Facebook, Linked In, Instagram, and Twitter.
At the center of Rivuu is its ability to match your team's workflow. However you work, you can configure Rivuu to support your team end-to-end. This way, you can efficiently streamline your content workflow.
To create content on this tool, you can use one of the preset templates or creano-follow te your own. Your team and your clients can see all the content in a step here. You can edit the content and send the content to the next steps based on how the workflow is configured.
Overall, this is an amazing tool to streamline your social media content workflow.
Pricing
14-day free trial
$10/month (per profile)
2. Planable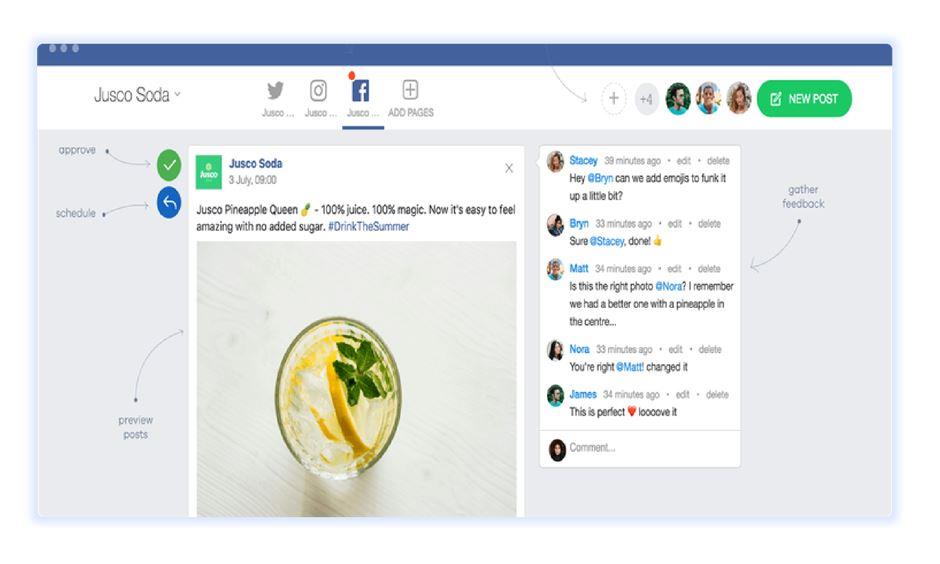 Planable is the control center of social media campaigns that brings your people and your content in the same place. This platform allows agencies, social media managers, freelancers, influencers, and communication teams to produce social media campaigns and swap the responses in the most visual method.
With this fantastic tool, you can get content created, reviewed, and approved six times faster than most other tools. So, you can easily streamline your content approval workflow with this tool.
Key features
For enterprises;
Team onboarding and training
Dedicated account manager
Unlimited users and workspaces
Multi-level approvals
Granular access control
For agencies;
A workspace for each client
At-a-glance calendar view
Multiple users
Pixel-perfect previews
One-click approvals
Post preview
Flexible publishing
Audit trail
Easy client invites
Pricing
The first 50 posts are free
Starter: $39/month
Premium: $99/month
Enterprise: custom
3. Later
For the top social networks, Later is the all-in-one social marketing platform. Arrange, analyze, and publish your content in just a few clicks so that you can save some time and grow your business. You can use it later when you are referring to time.
Pricing
Free: $0/month
Starter: $12.50/month
Growth: $20.83/month
Advanced: $33.33/month
4. Kontentino
Kontentino is the most user-friendly social media tool. It is especially beneficial for brands and agencies. This tool makes your social media management a piece of cake.
Kontentino is an intuitive social media content tool modified for social media managers, agencies, and clients. You can allot, plan, and approve posts easily through this tool. The great thing is that it also provides a free trial.
This tool is created in a digital advertising agency, tailored for an effective agency, and client collaboration. You can manage multiple clients, plan social content, and easily publish your content on social media.
So, you can effortlessly streamline your content approval workflow with Kontentino.
Key Features
Social Ads
Content Library
Social Campaigns
Engagement
Analytics
Brand Safety
Content Calendar
Social Sharing
Pricing
Starter: $99/month
Standard: $130/month
Pro: $240/month
Enterprise: custom
5. Socialbakers
Socialbakers is indeed an all-in-one solution for all your social media marketing activities. It helps brands to work smartly on social media through AI‑powered marketing. It is a trusted social media marketing associate to thousands of undertaking brands and SMBs, together with almost over a hundred companies on the listing of Fortune Global 500.
With this amazing tool, you can easily drive growth by understanding your audience, creating content they love, analyzing engagement, and improving cross-channel care.
Overall, this tool is excellent, but it only works great with all of the paid features they provide. 10,000+ marketers drive success with this tool, ensuring you that you can trust this tool further.
Key Features
Social listening
Audience analysis
Customer targeting.
Advertising engagement tracking.
Track the reach and visibility.
Visualize & analyze business impact.
Nurture communities.
Analytics
Real-time data.
Actionable dashboards & reports
Total ad spends tracking.
Campaign management.
Community performance indicators.
Pricing
Essential package: $240/month (for 10 profiles)
Final Words
Streamlining your social media content workflow is very important. Your productivity will increase, and as a result, your social media growth will fasten up as well.
It can be a nightmare for both content creators and marketing strategists to manage the content workflow of all their social media accounts. This is why streamlining your social media content approval is important. It will save a lot of your time as well as hassle.
For effectively streamlining your social media workflow, you can use a social media tool. SocialBu is one of the best social media tools you can use, and some others that we have mentioned in the article above.
After following all the tips and using the tools you like best from this article, we hope that you will be able to streamline your social media content workflow effortlessly.
The best way to manage your social media content is by focusing on quality and by using the best tools. Be unique and create content that your audience will love. This way, you can easily find your way to success on social media and easily streamline your social media content approval workflow as well.