Retweet with a comment? Yes, it's called Quote tweet as well. Let's know more about it and the easiest way to schedule Quote tweet for free.
Twitter is a widely used social media platform where you can share your thoughts as tweets and fleets. You can publish your tweets or share other's tweets as well. Sharing others' tweets is called a retweet.
Retweeting a tweet by adding your personal view or response is known as a Quote tweet.
Quote tweet allows retweeting other's tweets by adding a comment on it. It's also called a retweet with a comment. It's an exceptional way of engaging with other users. It also displays your response to the followers and serves to begin a conversation.
How to Schedule Retweet with Comment?
SocialBu is a user-friendly social media management tool that makes it hassle-free to schedule retweets as well as Quote tweets. All you have to do is sign-up for a free account and start scheduling tweets, quote tweets as well as Twitter threads.
Here are the exact steps for scheduling Quote tweets.
1. Navigate to the "Publish" tab of SocialBu.
2. Select the account on which you want to schedule a retweet with a comment.
3. Add your comment or review in the box and paste the tweet link under it to schedule a Quote tweet.

4. Choose the option "Post Now" or "Schedule".

5. It's done, your retweet with the comment will look like this.

How to Schedule Quote Tweet Using Mobile?
Twitter users find it convenient to schedule retweets through their mobile. So, they look for how to schedule retweets with a comment on the phone.
SocialBu understands user requirements, so it offers dedicated Android as well as iOS apps. You can schedule social media posts on the go using them. It eliminates the requirement of a laptop for every time you have to schedule tweets on Twitter.
You can schedule retweets with a comment through the phone easily.
Steps to Schedule the Quote Tweet
1. First of all, copy the tweet link you want to retweet. To do so, click on the share icon, and copy the tweet link.
2. Log in to your SocialBu account via the mobile app.
3. In the "Scheduled" section, select the "New" option on the top right corner.
4. From "Select Accounts", choose your Twitter account on which you have to schedule the Quote Tweet.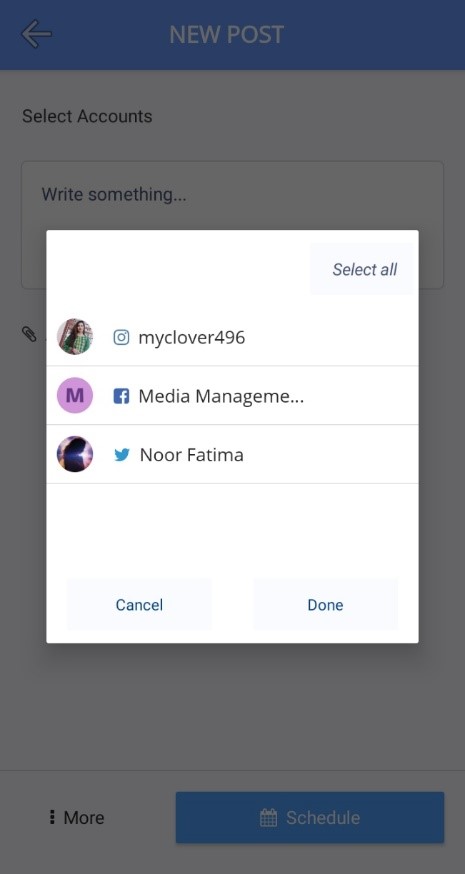 5. Then create your tweet. Add your comments or reviews for a certain tweet. Then paste the link to that tweet below.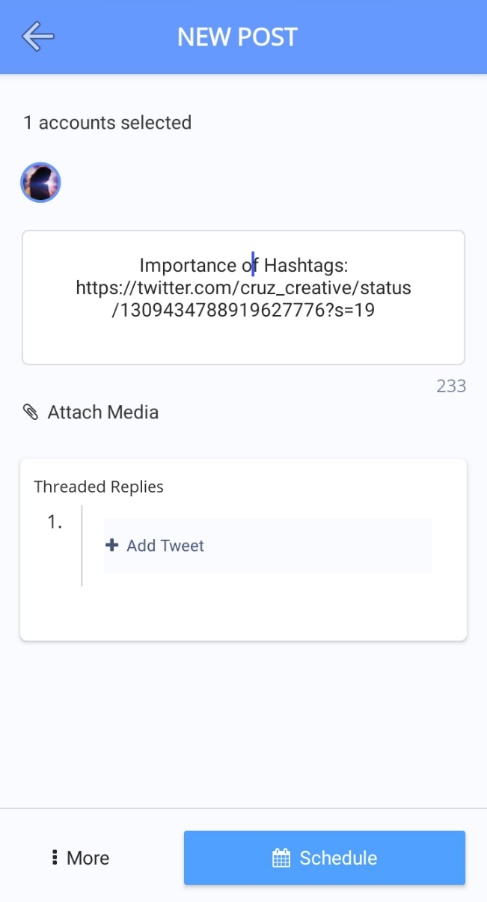 6. Now, pick the date and time and schedule it.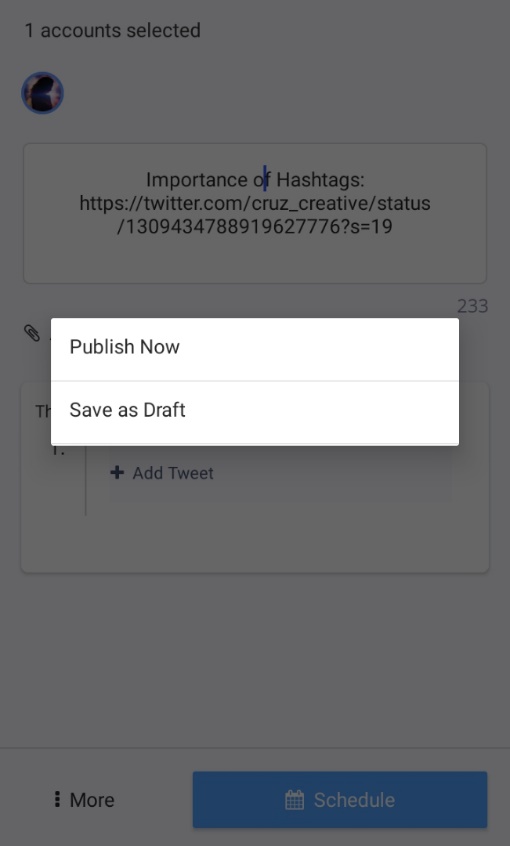 7. After publishing, your post will look like this.
That's easy. Right!
Final Words
Social media platforms are the hub to share your reviews and opinions on almost every matter. Quote Tweets are an easy way to do so. It helps you engage with your audience and enlighten them with your reviews, and opinions.
Sometimes, you don't want to share your opinion immediately. In that case, scheduling it is handy. And if you are using mobile, you can schedule Quote tweets using our mobile app. Just copy the tweet link and add your thoughts on top of it. Then hit schedule. Boom! It's scheduled now.