In this age of global networks and increasing connections, it gets harder each day for marketers to make their mark.
With an increasing number of businesses coming online to target the same audiences on different platforms, it has become increasingly important to pursue newer avenues of marketing.
Or, try enhancing your strategies on existing platforms such as LinkedIn, which haven't been over-saturated with advertisements (yet!).
For this exact purpose, here are 9 tips that will lead your LinkedIn Marketing Strategy to Success in 2020:
1.   Establishing the Company Profile
Consider how much care you put into maintaining your personal social media account: The right type of image crafted by a specific kind of published content that reflects your values and interests but is sure to keep your friends interested.
Yet, we see company founders of small businesses using their personal LinkedIn profiles as their only mediums of PR to convey business-related updates on too many or too few occasions.
This either annoys their social circle in the long run or reaches too few of the right people for the message.
This is where Company Pages come in.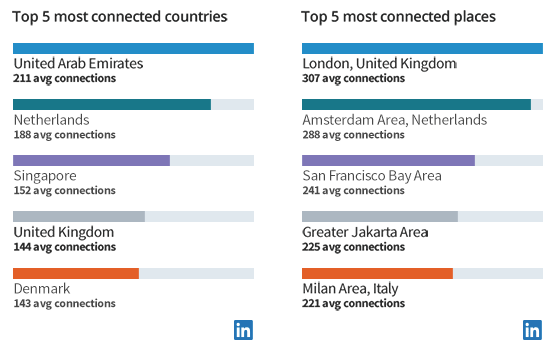 Source: LinkedIn community
As this chart also shows, another caveat of communicating on behalf of businesses from a personal profile is that your connections are likely to be geographically local and limited in number.
Setting up a website or an app to reach users internationally at a large scale require capital investment.
LinkedIn offers Company Pages as a free feature for companies to launch their social media presence and grow across borders, not just in the U.S.
Set up your Company Page with a professional assortment of images, keywords, and descriptions along with your company's links to other social media accounts.
Make this the hub for all your professional updates and content to attract and inform a broad user base for your business.
This Company Page will form the foundation of your Marketing Strategy and is the first key to success on LinkedIn in 2020.
2.   Keeping Content Fresh!
Now that your Company Page is all set up and ready to talk to its following, what do you post?
That's where your Content Engagement Strategy comes in: figuring out what kinds of content get the most engagement in your field of business, what keeps people coming back from more, and how you can optimize your content based on these factors.
Content Engagement analytics will surely help you once you have a few pieces of content out there, but before then, you're in the research phase.
For this, check out trending posts and pages of already established content publishers in your field so that you get an idea of what to write about and gauge audience interests.
This research, coupled with writing that includes your insights and opinions, so that it doesn't seem boilerplate, will keep readers hooked.
3.   Setting Up Content Calendar
Once you've gotten the hang of your company's preferred style, tone, and formats, readers will start to enjoy your content and miss it when not consistently delivered.
This is where a Content Schedule fits in.
This can take form in the medium of a simple list format or a more efficient visualization, such as the calendar format.
A tool such as SocialBu, which has the Content Calendar feature, can facilitate you in this process by scheduling your posts by date, type, and platform so that your messaging stays consistent across LinkedIn and all other social media accounts.
While you can always add ideas or content outlines in this calendar to finalize later, a step further would be to form and pre-schedule your final posts.
This makes sure that campaigns and special events can also be catered to, all in one go.
4.   Significance of LinkedIn Publishing
While you might read everywhere on social media that attention spans are decreasing exponentially across the board and short-form content is the only way ahead, this is not wholly true.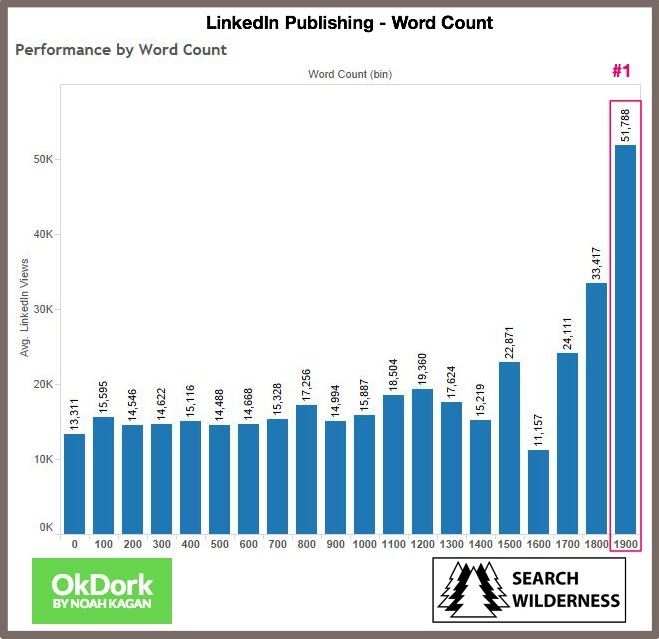 Source: LinkedIn Statistics
This research by OkDork analyzed 3000 posts on LinkedIn and found that posts with word counts between 1900 and 2000 words got the highest amount of Likes and Shares on the network.
While the research dug up several highly valuable insights, the highlights can teach us the following: Make the articles simple to read, write in neutral language, and shorten the headline to 40 words.
Combine these guidelines with the previous tips of solid research, fresh content, and consistency in scheduling, and you stand the best chance at gaining maximum viewership and engagement.
5.   The Network of LinkedIn Groups
Considering LinkedIn's private groups are individual communities within themselves, members will only respond to fresh and relevant articles, content, or inputs to ongoing discussions.
Once these standards are met, thousands of group members from communities, which reflect your professional values, interest, and consumer base, will interact with your Page.
This makes sure to earn a boost in your profile views, and engagement, and even bring in new business.
If you're a new business in a budding industry, niche or simply not finding the people you want in existing groups, there is an alternative:
Create your own group and recruit members of choice, for the discussions you want to have.
You can find a comprehensive guide on how to create a LinkedIn group here.
6.   Getting an Email Marketing Boost!
Now you might be wondering, how does LinkedIn Marketing relate to Emails?
LinkedIn does offer a replacement to Email Marketing via its InMail feature (discussed in our next tip), but what's remarkable is how one of LinkedIn's features also serves as its own avenue for marketing through Emails.
One added benefit to creating your own group, which was not discussed in the previous tip, is this feature of LinkedIn Announcements.
Through it, you can reach each member of your group's Email Inbox directly with a weekly personalized message (similar in frequency to a newsletter).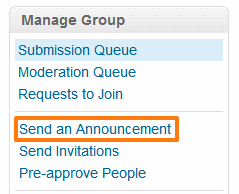 If your group has already gotten the memberships of your preferred ideal prospects, this is a great way to boost your Lead Generation Campaigns.
You can do this by first creating an Announcement Email with a compelling Call to Action, a catchy subject line, and engaging Email copy.
After this, share this with all your social media accounts and monitor the feedback on your announcement so that you can attract new members to your group and gauge the feedback of existing ones.
For important updates, make this a Featured Announcement so that this stays on top of the Group Page to thus, achieve constant mindshare from Group members.
This method is especially important because Business Pages cannot import the contact details of connections as personal profiles can, making this the only way to directly access the Email Inboxes (at no cost) of your LinkedIn Communities on a large scale.
7.   The InMail Plug
First Telephone, then Email.
These two methods were most popularly used across time by businesses to make initial contact with prospective clients and employees, known commonly as 'Cold Calling or Emails'.
But what if there was a way to get 3x the response rate of Emails?
LinkedIn InMail is that way.
Offering direct contact to the 675 Million Users on LinkedIn, InMail enables Businesses a convenient 'in' to the Inboxes of all prospects that are being eyed by your business as potential clients, partners or employees.
The striking characteristics of InMail are those that make it an excellent tool for marketing:
No word Limits, Ability to design Call to Action Buttons, and the way LinkedIn only shows the message to recipients when they are online.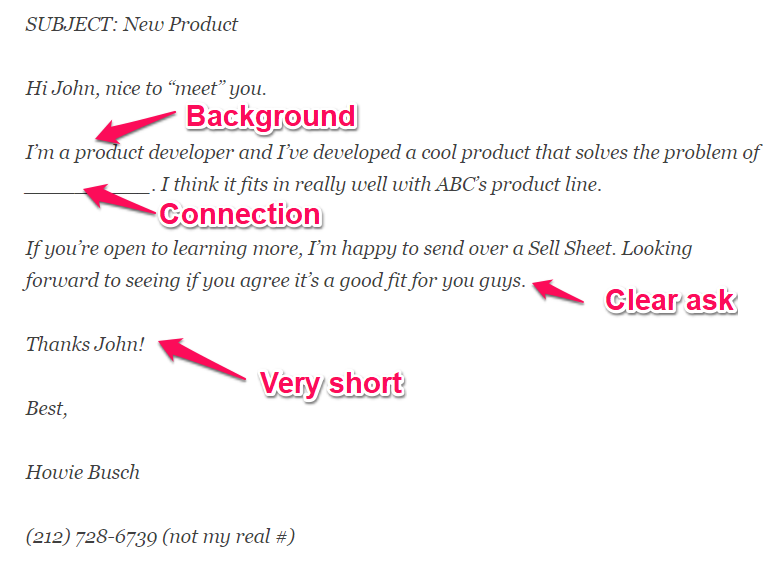 Source: Social Media Cold Outreach
As a template, you'll want to check if your messages are in line with the format shown in the image above, as shared by Neil Patel.
Keep your messages short, simple, positive, and send them to a narrow audience so that you can test the response rates of your messages.
Optimize your content according to the responses, and your business can be in absolute control of an effective LinkedIn Marketing Campaign.
8.   LinkedIn Targeting & Custom Audiences
While InMail is just one way of reaching out to prospects or leads, there are many other aspects to LinkedIn Advertising.
In previous years, the bulk of marketing budgets of companies went to Facebook and Google because they offered customization of audiences and a wide reach to businesses.
LinkedIn used to not have Quality/Relevance Scores or even the most basic of analytics for optimization and was thus ignored by marketers, but not anymore.
With new features such as Account, Content, and Web (Re)targeting along with tools such as Matched Audiences, advertising has become exponentially more effective on LinkedIn.
Taking the example of Account Targeting, you can now reach a vast set of employee and decision-maker accounts, which fulfill any criteria of your choice.
One example of this would be targeting employees of a company that you're looking to partner with, such as Tesla.
You can upload the names of Tesla, and any number of other companies (up to 30,000) in a CSV file to LinkedIn and LinkedIn will begin to show your chosen ads to all of their employees.
If your audience isn't as simply segmented, you can use the Matched Audience tool to show ads to consumers who have already given you their details and, through retargeting, funnel them towards a sale.
The Lookalike Audiences feature goes even a step further by taking the information of those existing leads and matching their characteristics with a new set of users so that your marketing budget is spent solely on these new, ideal prospects.
These are just a few of the advertising features that you can leverage as a part of your LinkedIn Marketing Strategy in 2020.
9.   Implementing Employee Advocacy
Sure, you can have the best content and ad campaigns out in the market, but will people buy your message if your employees aren't on the same Page?
For any successful campaign, employees need to first get onboard for its implementation, but another way to leverage their social media presence is employee advocacy.
This method involves getting your team members to share specific posts, crafted for their accounts, onto their socials.
Acting as a testimonial, this share will also have the added benefit of reaching their social media community on LinkedIn, which will most likely include members of the same industry.
On Facebook and Instagram, employees will have their friends and family be parts (who will express annoyance at the business talk) of their following and make them hesitant to post business talk on a personal page.
The network of professionals found on LinkedIn will not get team members hesitant to post and will get the message to the right people, which makes this platform especially potent for this method.
Final Note
Getting your team to recognize LinkedIn as a vital part of your omnichannel marketing strategy may be the strategy's most challenging step.
Once you cross that obstacle, your LinkedIn Marketing Strategy should be guided by the principles of community building, value addition, and lead generation.
Your unique, consistent content will help to build the community around your Brand while LinkedIn's Advertising and Sponsored Tools will help to give your Company Page's Reach and Engagement the boost needed for success in 2020.