Everyone knows about the remarkable growth in Instagram users, especially during this global pandemic COVID-19. So, if you own a small or a large-scale business, you should definitely utilize Instagram for marketing your business.
If you still think Instagram might not be suitable to use for marketing your business, check the following stats;
As compared to Facebook, Instagram can generate 4 times more leads for businesses.
Nearly 71% of businesses in the US use Instagram.
80% of Instagram users use this platform to determine what product or service they should buy.
Now, knowing the importance of Instagram for business marketing, we will discuss the top 20 Instagram marketing tips for small businesses. These tips will guide you to use Instagram as a marketing channel for your business.
1. Create a Business Profile
To use Instagram as a marketing channel, you must have a business account. The business account offers additional features such as;
Instagram analytics (Insights)
A Call to Action button (located under your profile bio)
Inbox with primary and secondary messages
Instagram Shop
Running Instagram ads
If you have a personal Instagram account, you can switch to a business account in 6 simple steps.
Log in to your Instagram account.
Go to your profile interface.
Open the profile options from the top left corner.
Choose "Settings"
Select the "Account".
Then click on "Switch to Professional Account" and you're all set.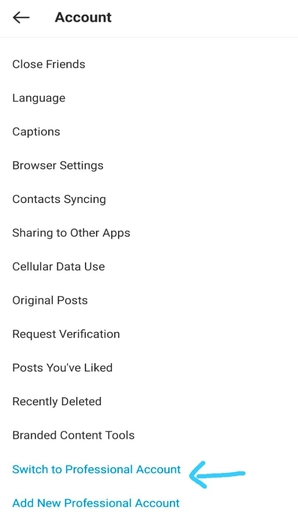 For more details, check to switch Instagram personal profile to a business account article.
Once you have a business account, you have to set up your Instagram business profile.
Your profile photo should showcase your business logo.
Setup the username as the name of your business.
Use the bio to describe your business briefly to the users. You can add a link to your business website in the bio as well. Just like  @hudabeautyshop did.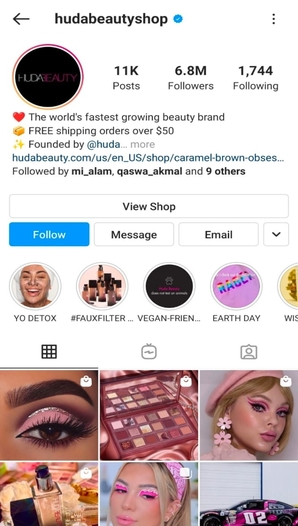 Source: @hudabeautyshop
2. Post Consistently
After the profile is set up, comes the content that you will be posting to your Instagram business account. Content will differentiate your business from your competitors. And posting valuable content is the best way to grow on Instagram. On average, brands post 1-2 times daily on Instagram. Posting consistently is the key to increasing your followers and boosting your engagement.
However, you can post more than once or twice as well. But do not over-post as users can get irritated and disinterested. Apart from keeping a constant appearance for your followers, be mindful of the content you are posting. To post interesting as well as informative content you should;
Research about your competitors, and what they are up to. Then try to come out with better content than them.
Keep a pleasant aesthetic of your Instagram feed that matches the gist of your business niche. Use content pillars (theme) for this as they prove to attract the audience more.
Always plan the content ahead of time. Using a social media scheduling tool like SocialBu will help you plan and schedule content in advance. It offers the calendar view as well so you know what will be posted today etc. This will save your time and hassle too.
3. Use Hashtags Strategically
Hashtags are a powerful way to appear in Instagram users' feeds that aren't following you (but are following specific hashtags).
It's a common practice to add up to 30 hashtags in a post. Some add them in the post description whereas smart people post them in the 1st comment. And the good thing is SocialBu offers scheduling 1st comment as well. This way, your post description looks beautiful and hashtags are posted in the 1st comment.
When adding hashtags in your post, only add hashtags that are relevant to your business and the content of your post. For example, if you are posting about apparel, you should not choose hashtags for nature or cooking ideas. Also, do not use meaningless hashtags like #follow4follow as it portrays posts as unprofessional.
If thinking about relevant hashtags is a problem for you, SocialBu is here to help you again. It automatically generates hashtags for your caption – saving you the headache of searching for relevant hashtags. For more details about hashtags and their importance, check why hashtags are important in social media marketing.
4. Create Instagram Stories
In 2016, Instagram launched the amazing story feature for its users. Stories appear at the top of your feed and they disappear after 24 hours. The business profiles are using it regularly to stay on top of their follower's feeds and keep them updated about the brand. The following stats explain why Instagram stories are great for business marketing;
Every day, 500 million Instagram accounts post stories.
Every month, nearly 4 million businesses use story ads.
According to a survey, 58% of people admitted that they decided to buy a product when they saw it in Instagram stories.
Also, 50% of the people admit that they visited a brand or website after seeing it in Instagram stories.
45% of Instagram users say that to acknowledge new trends, they prefer Instagram stories.
Source: @lushcosmetics
The best thing about stories is that you can post multiple stories a day without cluttering your follower's feeds. There are many ways you can promote your business using Instagram stories like;
Share the latest product in your stories and encourage followers to check it by swiping up.
Offer limited-time deals and discounts in Instagram stories.
Use Instagram's poll sticker to conduct a poll. Just add these stickers on top of a photo or video and share them with your followers.
Share behind the scenes. People are always interested to see what is behind those closed curtains.
Educate your audience by making How-to videos and sharing them in your stories.
For more Instagram story ideas, check this article where we shared 25+ Instagram story ideas.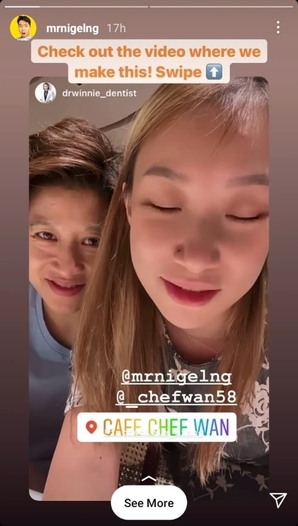 Source: @mrnigelng
5. Interact With Your Followers through Stories
Apart from posting updates and BTS videos, as a business owner, you can also use Instagram stories to interact and engage with your followers. To interact with your followers through Instagram stories you can;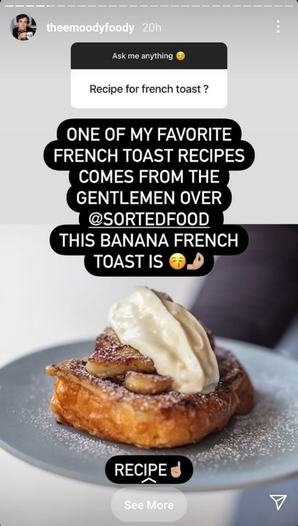 Source: @theemoodyfoody
Conduct a poll & ask for suggestions by posting Instagram stories.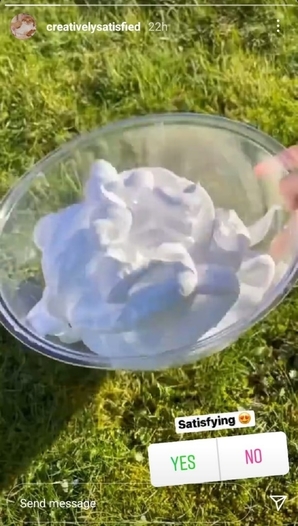 Source: @creativelysatisfied
Share your personal life with the audience.
If you are feeling irked, use Instagram stories to rant about it. As a business owner, you cannot do this directly on your feed.
Give shoutouts to fellow businesses or the ones related to your niche. This will develop a positive emotion in your audience regarding you. It will strengthen relationships with fellow brands as well.
You can host giveaways in your Instagram stories. It will prevent you from cluttering your Instagram feed. And, it's a fun way to interact with your followers.
6. Use Instagram Highlights
Instagram Highlights feature allows you to save your stories, so they do not disappear after 24 hours. You can use this feature to highlight your top products or services and these highlights appear under your bio. You can categorize these highlights and set custom covers for each category. Also share other social media links of your business as Instagram Highlights.
For businesses, Instagram Highlights are a great way to showcase their products and services. So, they never miss the best of your business. Just like @lushcosmetics did here;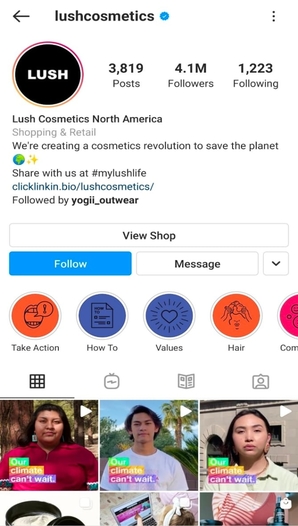 Source: @lushcosmetics
7. Geotag Instagram Posts
Geotagging the posts means adding your location to your Instagram posts. It is a great way to get recognized in your area. When people are searching for products around their area, your business profile can pop up in their searches.
An example of geotagging your Instagram post is the image below.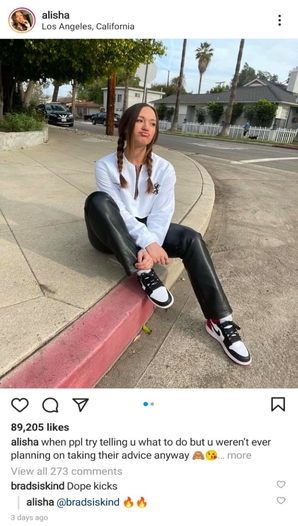 Source: @alisha
8. Always Follow the 80/20 Rule
The 80/20 rule means that 80% of the content should be non-promotional. It can be anything from answering the fans to posting informational stuff related to your business niche. Only 20% of the posts should contain promotional content. When the audience gets the additional information and latest updates of a niche, they remain engaged with your brand.
9. Collaborate With Influencers
Collaborating with an influencer or a business related to your niche is always a great way to utilize Instagram for business marketing. According to research, half of Instagram users bought something because it was suggested by an influencer.
Here lifestyle and beauty influencer @alisha promotes the brand @functionofbeauty;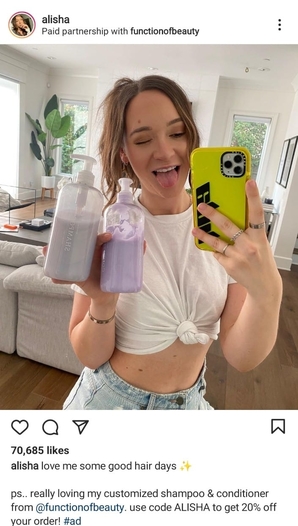 Source: @Alisha
Also, you can invite an influencer to take over your Instagram business account for a day. It will give your audience a fresh change and something different to watch.
10. Respond to the Comments
Engaging with your followers or top fans is extremely important for growing your brand on Instagram. Whenever you post something, try to be active at least for a while after you post. And answer the comments on your posts quickly. Doing this will encourage the users to engage with your posts and it will ultimately maximize your reach. Also, your followers will feel appreciated and noticed by you which will keep them engaged.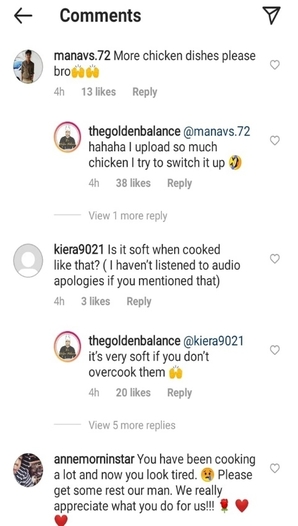 Source: @thegoldenbalance
11. Publish User-generated Content (UGC)
For a business, it is all about keeping your followers or potential Instagram customers happy. If they are satisfied with your services or products and the way you deal with them, you are successful.
If your business is flourishing on Instagram, it is because of your audience and their support for you. So, it's the perfect time to give back by posting user-generated content.
User-generated content is the content posted by your fans or customers using your product or services. Sometimes, users tag the brand as well to get noticed. So, repost those posts or share them as in your Instagram stories. This shows recognition and gratitude towards your followers or customers. Just like @theemoodyfoody did here;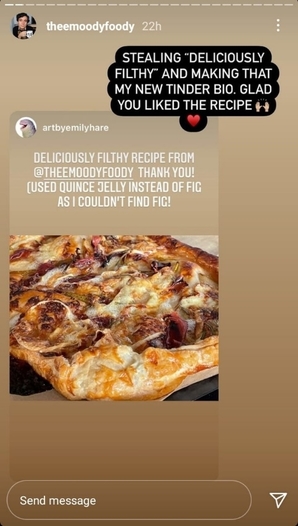 Source: @theemoodyfoody
12. Engage with Competitor's Posts
In the business world, you must acknowledge and analyze your competitor's work. It is a great way for businesses to tap into their competitor's followers. It will attract more followers to your business as well. Big brands and celebrities use this effectively and grow their Instagram profiles.
13. Repost Other's Content
Reposting other's content on your feed means you are sharing other user's posts. These posts can be informational or user-generated content. It's a great way to show a token of appreciation for your fans and keep them engaged. Just like Starbucks did it;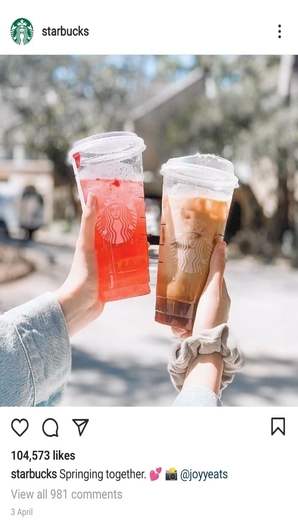 Source: @starbucks
14. Create Instagram Reels
Instagram Reels are similar to TikTok videos. Reels allow you to capture and share short videos with your audience. You can edit them by adding special effects and stickers. Businesses can post their short BTS videos, sneak peek of their upcoming products, unboxing videos, etc.
Source: @mitchleeuwe
15. Post IGTV videos
IGTV is a stand-alone app as well as an in-app feature of Instagram. Normally, Instagram allows you to post videos that are 60 seconds long. But, on IGTV you can post longer videos as well. Only 1 minute of the IGTV video can be viewed directly in the feed. Then, the user has to watch the remaining video in the IGTV window. To get more views, you must know how to build and maintain their interest.
What IGTV can do for business marketing? Well, it can help in numerous ways like;
You can post "How-to" videos regarding your product or service. It can be a detailed video of how to clean a dirty pool if you provide pool-cleaning services. This can surely bring more engagement as people love in-depth knowledge.
Everyone knows that what can be said in 60 minutes cannot be said in 60 seconds, so businesses can use IGTV for providing their users with detailed information about their products or services. For example, @michaelligier posts IGTV videos to show how he prepares the recipes from start to finish.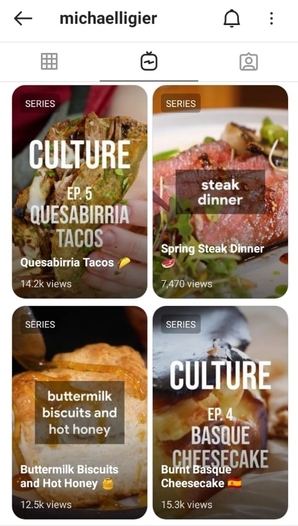 16. Analyze Your Performance
Where posting engaging and interesting content is important, keeping track of its progress is also essential for businesses. Tracking and analyzing your performance is also important because this way you know what type of posts your audience has engaged with the most. So, you can create similar content in the future. It also shows the best time to post when most of your audience is active on the platform. Thus, your posts get maximum engagement as most of your audience is active at this time. To unlock these insights, you have to switch to the Instagram business account.
17. Post at Peak Times
For maximum engagement, post at the peak times when most users are active. When you post at peak times, your posts get the maximum impressions and engagement. It will increase followers and bring more customers as well.
18. Host Giveaways
Hosting giveaways is a nice marketing strategy. Contestants compete for winning the product samples. This benefits business owners in 2 ways;
It increases their reach and followers
Giveaway winners get a chance to try your products. If they like them, they become a lifelong customer.
The best way to host a giveaway is by partnering with influencers. You may have to pay these influencers as well, but it's worth it. When you are hosting a giveaway, set conditions like;
The participant must follow you
Tag their friends to enter the contest
Set a time limit for your giveaway
Ask participants to post it on their profile
19. Add Instagram Handle on Your Website
All the viewers on your blog or website are already interested in your content, so they might follow you on Instagram as well. Adding an Instagram handle in the footer of your website will let them follow you easily.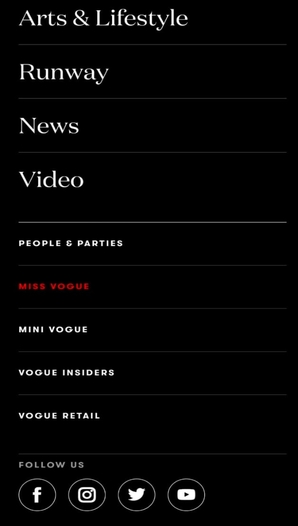 The better way to do so is to showcase your Instagram feed on your website. Many WordPress plugins offer this functionality but Smash balloon is the best. It will show your Instagram content on your website. This way, visitors get a sneak peek at your Instagram feed.
20. Run Instagram Ads
Ads are a great way to attract new followers and customers. They appear in both user's feeds and stories and are very effective. Based on the data you collect about your followers with the Insights feature, you can create ads based on:
Their location
Demographics
Their interest (what your audience likes the most)
Their availability on Instagram
You can create a new ad, or use your best-performing post as an ad. Both ways are fine. Just keep the following things in mind while creating an ad for your business;
Always give importance to the visuals of your ads. The image or video should be eye-catchy and interesting for users.
Try to add captions in your ads if it is a video because 69% of the audience watch video ads on mute when in public.
Just like @tropicana_juices did here;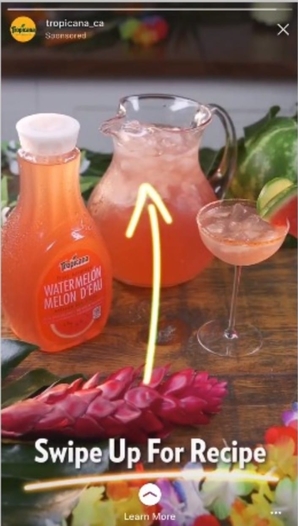 Conclusion
Instagram is undoubtedly one of the best platforms for marketing. To use Instagram as a marketing channel, you have to post consistently. While making your content strategy, always follow the 80/20 rule. Otherwise, you will lose followers, and your engagement rate will drop.
Hashtags are the backbone of Instagram. So, use hashtags in every post but post them in 1st comment to keep your posts clean. Stories are a great way to stay on top of your follower's feeds. And don't forget to save the best stories as Instagram highlights.
Creating videos on Instagram is a great way to reach a big audience on Instagram. If you want to post longer videos, use IGTV. For shorter videos, post them as Reels.
Collaborating with influencers, hosting giveaways, and sharing user-generated content are great ways to grow on Instagram. Also, try Instagram ads to get new followers and potential customers.
Instagram can increase your business reach on a global level. Now, it depends on how you use this platform to maximize your business reach and attract new customers.