The digital marketing trends are getting more and more advanced every day. And their importance is so high now that every small business should follow and implement these trends if they want to take their business to the next level and boost their sales. So, if you want to do the same, you've come to the right place because we will tell you everything you need to know about the 15 latest digital marketing trends for small businesses for 2022. So, now without further ado, let's jump right in!
Importance of Digital Marketing for Small Businesses
Digital marketing is, without a doubt an essential for small businesses to grow their customer base and boost their brand visibility. With careful digital marketing and by using the latest digital marketing trends, small businesses can understand the online habits of their customers. This way, they can better target their focussed audience and turn them into their customers. 
Another one of the revolutions that came with digital marketing is the high level of personalization in the marketing approach. Previously the same messages or adverts were run across and were expected to appeal to all kinds of people. Digital marketing displayed how different sets of people require distinctive approaches that closely appeal to them. And that's precisely why a small business needs it
There is no denying the truth that a successful digital marketing strategy gives small businesses more conversions and helps them expand their business. As a result, the revenue and popularity of the small business increases, which is their ultimate goal. 
15 Latest Digital Marketing Trends for Small Businesses in 2022 
Here are the 15 latest digital marketing trends for small businesses in 2022;
1. Artificial Intelligence
Artificial Intelligence is by far one of the biggest digital marketing trends in online marketing right now. And because of its extreme popularity, it won't be wrong to say that it will continue to be a trend in 2022. A few years back, what seemed to be a far-fetched novel idea has accessible applications that can be highly beneficial to small businesses.
The marketing spending and budget allocations are key decisions and areas that AI can help with, as they can aid in more efficient customer segmentation, retargeting, and click tracking. In addition, it gives amazing insights into customer behavior and accurate data for better decision-making which is essential for the growth of small businesses. 
All of these give small businesses clearer insights into who their customers are, how to target them online, plus how much to spend on this effort.
In 2022, we are also expected to see a rise in the natural language processing and generation abilities of AI assistants such as Google Duplex.
These will help form the foundation for more 'human' chatbots that don't make the other person realize they are conversing with a robot.
Such advanced bots will allow for less dependence on customer support personnel, which are costly for SMB's and offer real-time, instant customer interaction or marketing messages that are personalized on the fly.
2. Voice Search Integrations
Voice search integration is another digital marketing trend to follow for 2022 if you want to boost the sales of your small business in the coming year. The voice search digital trend has been dominating the search landscape these days. So in 2022, digital marketing is surely set to change much more, all thanks to the changing ways people search for information online.
Now it's the era in which businesses are advised to optimize their platforms, websites, and interfaces to keep up with the ever-evolving landscape of voice search. 
And this can be proven by the PwC report showing that 65% of 25-49-year-olds talk to their voice-enabled devices at least once per day. Also, the global smart speaker sales have reached an ultimate all-time high of 150 million units sold and are expected to grow much more rapidly in the coming years. And, according to "Global Market Insights," smart speaker sales will surpass $30 billion by 2024. 
With Voice Search usage rising rapidly in this era of convenience, more and more users rely on Alexa, Siri, and Google Assistant for their web browsing and tasks. 
This fact makes it essential for your product, website, or App to integrate with the Voice Assistant that most of your users already use or all of them.
Hence, this is one of the "digital marketing trends for small businesses" that has great potential to put your user base at ease and, thus, promote further engagement.
3. VR and 360-Degree Content
Companies such as Facebook set usage trends for consumers, and to do that; they figure out what the tech and interests of today are moving towards.
This is why Facebook is heavily invested in and is planning to launch next year their Virtual Reality World- Facebook Horizon that will enable users to 'explore, play, and create' in an immersive environment.
One can infer from this that a Virtual Reality Content and Platform was an integral part of their vision when they bought Oculus, the company powering this VR Experience.
That is why tech and new entertainment-centric media businesses need to plan or begin crafting Virtual Reality Experiences that are supported by the Oculus VR platform to remain future-proof.
Such a library of VR-ready content or applications will then allow businesses to have a first-mover advantage when VR Content does become mainstream in their respective sector in 2022. 
4. Social Media Management & Automation
With 96% of small businesses investing in social media in 2021, the competition may hence be predicted to be even more intense in 2022. It is one of the favorite digital marketing trends these days and is highly expected to be the same in 2022 too. 
As more and more businesses come online, competing for the same customers' attention, the resources required to do so will become even more expensive (in terms of personnel and ad spending).
This is why businesses are seen to be moving towards social media management platforms, such as SocialBu, that can help in saving them time and money. Tools like SocialBu help you stay consistent on social media, which ultimately helps you grow your business and boost your sales. 
Some amazing features of SocialBu are fully dynamic automation in Posts Uploading, sourcing Content from RSS, and auto replying to Customer Comments and Queries. The additional value comes from their other features such as Post Recycling, Instagram Stories Scheduling, Team Collaboration, and Social Media Monitoring.
Hence, small businesses in 2022 should take full advantage of such platforms to reduce their expenditure and enhance their efficiency on social media websites.
5. Video-format Content
As we already see with the rise of video-centric platforms such as TikTok, we can expect in 2022 that this trend will continue, and so will the demand for such content.
Considering most of such content is viewed on mobile phones, experimenting with 18:9 (Fullscreen Wide for Bezel-free devices) or 9:16 ratio (Vertical-IGTV) can also prove beneficial in boosting engagement on your immersive videos.
Forbes has reported that Instagram and Facebook Live videos keep the audience watching an average of 3x more than the duration of recorded ones.
This is because users are notified of each Live Video starting on their followed pages, and the exclusivity promotes their engagement in the Live Chat if their answers get answered.
In 2022, hence small businesses should experiment with immersive, authentic content by switching up the video content format on their platforms and seeing their audience grow.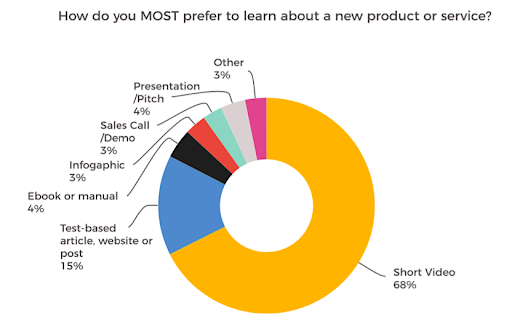 Source: "Impactplus.com research report"
6. SERP Prime Position
The Google Search Engine Results Page (SERP) is one of the top digital marketing trends and most competitive areas that you can find in digital marketing as each brand seeks to get its brand to the top of the search page on any search. 
Previously, this competition was limited to being ranked on a list of websites and their description.
Position 0 (as illustrated below) means that even if your small business isn't organically the 1st search result, a text snippet will be displayed above your website name, and this will be before any other searched items.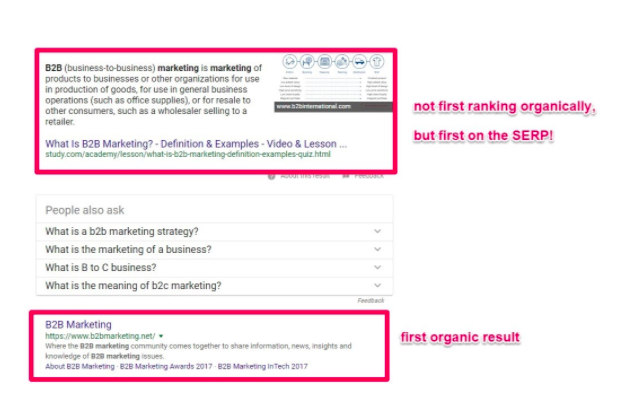 Hence, this position is THE PLACE all small businesses should strive to attain in 2022 so that their website is the first choice for all Google Users and, generally, the only destination for them to make a purchase.
Do you want to boost your search engine ranking? Check out the latest this On-Page SEO Checklist for 2021.
7. Programmatic Advertisements
Programmatic advertising is also another top-used digital marketing trend that is expected to continue in 2022. Advertising Programmatically means to have a system capable of automating the ad-buying and placement process for all websites, apps, and devices. 
Such systems allow marketers to purchase their ads and targeted messaging in real-time. AI is one of the ways such a system can be operated.
Artificial intelligence will automate the ad-buying process so that any small business can target a highly specific audience.
This is done by making the buying process more efficient, analyzing numerous targeting signals to individualize the content, and then targeting the customers instantly.
That's one way of digital marketing for small businesses that's sure to help compete more effectively in 2022.
8. Personalization
While we're on the topic of targeting and analyzing targeting signals via AI, it's also important to discuss what the human side of the marketing team can do to personalize their message.
According to a survey by Epsilon, 90% of customers from 18-64 state that they find personalization appealing, and 80% say they are even more likely to do business with a company that offers personalization.
On digital media, small businesses can personalize their content by always keeping in mind their target users and setting up systems to cater to their individual needs.
One of these mechanisms can be the post-click landing page platform that can be full of persuasive elements, personalized offers, or dynamic content to boost your conversion rates.
Such content and conversion optimization are essential for your small business to compete in 2022 with other companies that have other such advanced practices in place.
9. Influencer Marketing
The online equivalent of word-of-mouth marketing, influencer marketing leverages your brand's partnerships with community leaders and activists to broadcast your message to a large audience. Influencer marketing is one of the most successful digital marketing trends in 2021 because of its benefits for both the company and the influencer. In this digital era, people love and loyally follow their influencers and are ready to buy anything they would recommend.
Using the influencer's trustworthiness, brands have been elevating their product/service sales and have become big shots. Influencer marketing is beneficial for the influencer as well as the brand, and with the ever-rising popularity of social media platforms, we can surely say that this trend is here to stay for 2022 as well as many upcoming years. 
That is the reason this industry is projected to reach $10 Billion by 2021, but one vital note for small businesses is remembering to choose their influencers carefully. Your brand and, as such, marketing managers have to be wary in putting their money behind the ambassador that best reflects their brand identity.
One wrong message, post, or video might bring backlash to your brand, and as such, marketing managers have to be wary in putting their money behind the ambassador that best reflects their brand identity.
10. Social Media Stories
Already in 2021, most digitally active brands have hopped onto the Stories bandwagon with each of their target audience's preferred social media platforms: Snapchat, Facebook, and Instagram.
This timeline exhibits how each of those platforms followed Snapchat by following the Story format and sets the base for why they are so crucial for small businesses.
Stories are so effective because on each platform, they are the first item on the landing pages (Feeds) of every Social Media app, with halos circling them until they are seen, auto-playing one after another.
These mechanisms form the foundation for a common phenomenon in the Social Media User; Fear of Missing Out.
Daily/Routine interesting content from brands keeps the users waiting and has them checking back to the App for the content from certain uploaders.
This makes Stories one of the latest digital marketing trends, and a highly viable, cost-effective feature to leverage when considering brand positioning and digital marketing for small businesses.
11. Long-Form Content
Storytelling has cut across time and generations by retaining its popularity and piquing the interest of humans since the dawn of time. Nowadays, the medium and format might have changed, but Story is still King. This is why Long-form content is one of the latest digital marketing trends and is expected to be a trend in 2022 as well. 
As this infographic displays, the appreciation for written digital content has been steadily increasing in the past number of years across a select audience.
While competing for seconds of attention on platforms such as Vine, Instagram, and now TikTok won't be the right choice for many brands, the written content is one avenue that most can take in the pursuit of engagement.
This can be practiced in the form of publishing blogs, research posts, or ebooks/whitepapers at a consistent rate. Working hard and putting in the hours to produce such quality content is surely one lucrative opportunity to exploit in 2022.
12. Augmented Reality Tech
The global AR market is expected to reach a value of $340billion by 2028, starting from 2022, and as such, small businesses should be ready to develop their teams and products for this medium. Mobile AR is already a part of many people's daily lives as of today and will continue to be in 2022 as well. This is because VR is flashy and gets the most media coverage, but AR is the more practical and implementable medium for marketing. It is even predicted to outrun VR in the long run.
Apps such as ModiFace (shown below) apply AR to visualize the products on the faces of individuals, allowing women and men to see how any product would appear and then compare it with others.
13. User-Generated Content (UGC)
Similar to influencer marketing, User-Generated Content is also one of the latest digital marketing trends that is gaining relevance due to many of the same reasons.
People want to participate in activities, particularly activities relating to their favorite products or services. User-Generated Content or UGC provides this excitement to the customer and prompts them to build something of their own with the concerned product and share it with the world. And this is why UGC is a popular digital marketing trend in 2021 and will continue to be in 2022. 
The principle of trusting fellow consumers more than the advertising brand is also at play here and is why customer testimonials are important in gaining credibility with users.
Brands such as GoPro have built the whole of their brands' social media handles on the back of User Generated Content, as visible on their YouTube Page.
This allows them to market their product's abilities without portraying bias, leverage customer trust, and get hold of organic content without paying a dime, all potent keys to success for small businesses in 2022.
14. Neuromarketing
One of the relatively harder-to-imagine trends on this list, neuromarketing, is one of the most promising and awe-inducing digital marketing trends expected to be seen in 2022.
For most of us that have never heard of this term before, neuromarketing is a technique that relies on the measuring of a subject's brain activity to ascertain exactly which of the content they find most engaging.
Accordingly, marketing messages and mediums are decided to produce specific reactions in the brain associated with impulse buying or routine purchasing.
It sounds scary, but in the hands of a small business, it can be a powerful tool to digitally market products in 2022.
15. 5G Technology
Considering our increasing usage of our smartphones and our utter dependence on them, one must look forward and predict what comes next in the mobile cycle.
2022 is expected to be the year when digital marketing for small businesses can drastically change in certain regions as it is the year 5G will come to the mainstream and affect the marketing landscape in a significant way, even more than it already has in 2021. 
5G can introduce billions of new customers from rural areas to the Internet due to its widespread reach while also more efficiently and reliably forming the new benchmark for existing internet users.
With an expected 100x increase in the number of devices connected by the Internet, one can only predict a huge shift and market opportunity is coming alongside 5G in 2022.
FAQs
Q. What is the latest trend in digital marketing?
The latest trend in digital marketing that has become immensely popular in a short time is Chatbots. Chatbots are an AI-based technology. They use instant messaging to chat in real-time, night or day, with your clients and customers. It saves time and effort and puts a great impression on your clients and customers as they don't have to wait long hours for your reply. According to surveys, chatbots have powered 85% of customer service as of now and will only continue to become more powerful. 
Q. Do small businesses need digital marketing?
The simple answer is yes; every business, no matter small or big, needs digital marketing to grow its business in today's digital era. Effective digital marketing will help small businesses learn their customers' online habits, so they can target them better. It will allow you to create personalized and accurately targeted marketing campaigns for specific types of people. This will eventually turn them into your buying customers. So, yes, small businesses absolutely need digital marketing.
Q. What are the five future trends in digital marketing?
Here is the list of 5 future trends in digital marketing for 2022;
Conversational marketing

Multi-Channel marketing hubs

Personalization engine

Artificial intelligence

Machine learning 
Q. What is a marketing trend that companies should start planning for in 2022?
The marketing trend that companies should start planning for in 2022 is personalization. Small businesses and big ones should embrace personalization in 20222. This is because it helps you gain useful insights into your customers/targeted audience. By knowing these insights, you can exactly design your marketing strategy to attract your targeted audience. And convert them into your customers. 
Q. What are the top 10 trends in digital marketing media today?
Here is the list of all the top trends in digital marketing media today;
Artificial intelligence

Voice search optimization

Chatbots

Programmatic advertising

Augmented reality

Video marketing

Personalization

Automated and personalized email marketing 

Influencer marketing

Shoppable content 
Conclusion
Now we have discussed everything about the 15 latest digital marketing trends for small businesses. So, we hope that you can get amazing results by implementing these trends. And utilizing them to your benefit as much as possible. 
And, now that you're more aware of cutting-edge technologies, such as artificial intelligence, chatbots, and neuromarketing or 5G. Alongside being reminded of the ongoing importance of concepts such as Social Media Automation, Stories, and Personalization. This way, you're ready to go out and conquer 2022. We assure you that by carefully implementing these digital marketing trends, you can take your business to the next level.